Panasonic Microwave Ovens Review
With its history of quality products and a spirit for innovation, it's no surprise that Panasonic has an excellent range of microwave ovens to choose from, which we'll review in this report. Buying appliances for your kitchen is an important decision, and is not one that should be made lightly. Therefore, we will examine the cost and special features of Panasonic's most prominent microwaves to help you determine if they are worth your money.
What microwaves does Panasonic offer?
Panasonic manufactures and sells a wide range of microwave ovens, and has introduced a handful of innovations to help set its products apart from competitors. In total, there are 24 Panasonic microwaves that can be divided into three categories:
Grill/convection microwave ovens
Steam microwave ovens
Traditional benchtop microwave ovens
Since 24 is too many to review individually, we will instead discuss a select few of the products that we feel best represent each of these categories as a whole.
Panasonic grill/convection microwave ovens
Convection microwaves are excellent for both time and space saving convenience, and you can use them for just about any cooking purpose. In total, Panasonic has five of them available, the prices of which range from $549 to a whopping $1,329. So they are a bit on the pricey side, but as you'll soon see, they back this price up with a healthy range of innovative cooking features. They include:
Genius sensor cooking and reheating: adjusts the cooking time and power to suit the food being cooked based on pre-programmed cooking cycles
Recipe prompting: informs you of the ingredients and baking dishes required as well as the power level and length of time
Word prompt: setting the oven up is easy, and done in a step-by-step process without having to read the manual
Inverter cooking technique: this technology is exclusive to Panasonic, and ensures a constant cooking time and thoroughly cooked meal by emitting a constant power output all the time
Turbo defrost: apparently allows you to defrost items 43% faster
Flatbed technology: removes the need for a turntable, giving you more room and flexibility
Before we take a close look at a couple of specific microwaves in this category, let's first pause for a video:
The cheapest: NN-GD682S Grill Microwave Oven ($549)
The NN-GD682S is a 31L capacity appliance with a 340mm turntable in the middle. It's made of a stainless steel finish and a blue LCD display, and has a maximum power output of 1,400W, so it is quite powerful and can store more than the average amount of food.
At $549, this is the cheapest of Panasonic's convection models, but is higher than the average cost of a microwave in Australia. Does it back this price up? Looking at its extra features, it has genius sensor and inverter cooking technology, giving you true control over your meal preparation. This is about all it has in regards to features, if you don't count the fact that it can both grill and toast food as a feature.
The mid-price: NN-CF770M Convection Flatbed Microwave Oven ($809)
This model is slightly smaller, carrying a 27 Litre capacity with a max power of 1400W. Made of a metallic silver finish, it is designed to give more space both inside and on your kitchen bench. It is even more expensive at $800, so it really has to prove that it's worth your money. As well as having 15 auto-cook features and six variable power levels, this microwave has flatbed technology, meaning you can cram larger dishes in there. It also comes with the inverter technology and turbo defrost.
The most expensive: NN-CD997S Convection Microwave Oven ($1,329)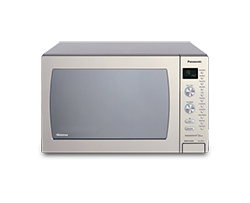 Last of all is the most expensive microwave, the NN-CD997S convection microwave oven, which will set you back a considerable $1,329. This stainless steel model has a whopping 42L capacity, combined with a power output of 1800W, so you can zap pretty much anything in a heartbeat if you want to. But does it justify this price further with its extra features? With six different power-levels and nine auto-cooking categories, it has less variation than the considerably less expensive flatbed microwave oven. So, this begs the following question.
Are Panasonic convection microwave ovens worth it?
At first glance, it's hard to find good value in Panasonic's convection microwave range. At a minimum of $500+, these models are already more expensive than the majority of convection microwaves on the market. And unlike a lot of the others out there, there is a relative lack of extra cooking features to justify these prices.
Most of them only have inverter and smart sensor technology, which are features that a lot of microwaves already have their own variations of. They do have a decent number of auto-cook menus, with the mid-price model having 15. But again, this is nothing special, and there are much cheaper models out there that can do the same. So it is hard to justify the prices of Panasonic's convection microwaves ovens. But at the end of the day, only you can decide.
You may also be interested in:
Panasonic steam microwave ovens
In the category of steam ovens, Panasonic has just two options available, so we'll have a look at each of them. Steam ovens and microwaves are just like ordinary ones, except they use hot pressurised steam to cook food. This is usually faster, and usually provides healthier results. They are not suitable for browning and steaming however, and they are usually more expensive.
Panasonic's two steam microwaves – the NN-CS894S CombiSteam microwave oven and the NN-DS592B CombiSteam microwave – have the following unique features in addition to the ones already discussed previously:
100% pure TurboSteam: quickly heats the food without microwave power assist while still preserving the natural flavours
Crispy grill: excess fats are drained off by the grooves in the grill tray, so the outside is crispy and the inside is juicy
EcoNavi: only necessary space is heated, saving time and energy
EasyClean interior cavity
NN-DS592B Steam Combi Microwave Oven ($860)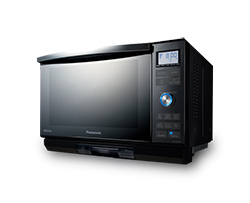 The cheapest of the two is the NN-DS592B model. This microwave is a steam, double grill and microwave all in one package, hence the name 'CombiSteam'. It is a 27 Litre, 1,300W power output appliance made of a black glass material, giving it a sleek and modern aesthetic. It has a whopping 22 auto-cook menus and six variable power levels, making it the most flexible microwave so far. In terms of extra features, it has the fairly standard steam defrost, LCD display, flatbed technology and inverter technology.
NN-CS894S Steam Microwave ($1,099)*
The second steam microwave at Panasonic's disposal is the near $1,300 CS894S model. This is an extremely versatile microwave, as it lets you steam, bake and grill your food to perfection. With an above average capacity of 32L and two levels of convection cooking, you can prepare large amounts of food in this appliance. Extra features include the following:
Turbo steam and steam plus
Crispy grill and many more cooking modes
Sensor cooking
EcoNavi
Inverter technology
Turbo defrost
Smart operation
Easy clean interior cavity
So now that we've had a look at each of Panasonic's steam microwaves, are they worth the money?

Are Panasonic steam microwave ovens worth it?
It is a bit easier to find value in these steam microwaves, as steam appliances in general tend to be a bit more expensive than traditional ones. Therefore, Panasonic's steam microwaves are more the norm in this regard. $860 is good value for a steam microwave, particularly a combination one like Panasonic provides. This microwave can not only steam, but bake and roast, and it comes with a healthy 22 auto-cook menus.
At $1,280, the other steam microwave Panasonic has is very expensive, but it is definitely quality, and it has a huge range of features that help back up this price. Namely, the TurboSteam and crispy grill technologies help make extremely high-quality food, and a 32 Litre capacity mean you can cook larger than normal quantities.
So to summarise, Panasonic steam microwaves are possibly worth the money, but if you can't afford a luxury steam microwave then it might be best to look towards cheaper options.
Traditional benchtop microwave ovens
Up to 20 of Panasonic's microwaves can be considered traditional benchtop models, even some of the ones discussed already. The prices of these microwaves range from $139 to $1,200, so there is a great deal of variance in what you can buy. However, most of them are towards the cheaper end. After looking at quite a few of these microwaves, we have selected a few for each of the following categories to discuss.
The cheapest: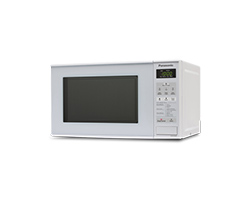 The NN-ST253W microwave oven ($139)
The NN-SD351M silver inverter ($229)
The NN-ST671S stainless steel microwave oven ($369)
The cheapest model is the ST253W microwave oven, which boasts about supporting all kinds of delicious cooking through easy operation. It is extremely small, hosting a capacity of just 20 Litres and power output of 800W. So this shouldn't be your ideal choice if you want something big and powerful, but there is definite value to be found here if you're on a budget. It has nine auto cooking menus, but that's about it if you're looking for extra features.
Moving up in price by less than $100 is the SD351M, a black metallic model with a capacity of 23 Litres and 950W of power. It is much more advanced than its cheaper counterpart, as it has an impressive 16 auto-cook menus and six power levels. It also has the auto reheat and turbo defrost features, as well as inverter technology.
The final 'cheap' microwave we will examine is the ST671S, This microwave is much larger than the others, with a decent 32 Litre capacity combined with 1100W of power giving it impressive cooking capabilities. It is a one touch sensor microwave that has 14 total auto-cook menus, plus 10 variable power levels – more than any Panasonic microwave so far. Other extra features are turbo defrost, an LCD display, reheating and inverter technology.
Mid-price: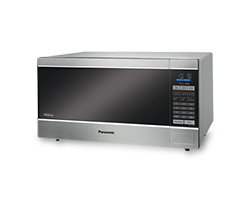 The NN-ST780S microwave oven ($609)
In the mid-price range, Panasonic has options such as the ST780S, which costs $609. This microwave has a massive 44 Litre capacity and 1100W of cooking power, leading Panasonic to refer to it as 'family-sized'. It has a stainless steel exterior with 12 one-touch auto-cook menus, plus 10 different power levels. Additional features include turbo reheat and turbo defrost, smart sensor and inverter technology. So it doesn't have a huge range of flexibility, but it is ideal for those who need to provide simple meals for large numbers of people.
The most expensive: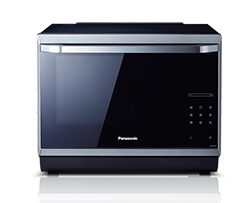 The NN-CF874BQPQ premium convection oven ($1,190)
The final microwave we'll review is the NN-CF874BQPQ microwave, which is quite the mouthful. It is called the premium convection oven (so it clearly has convection capabilities too), and it has a 32 Litre capacity. Focusing on stylish design and delicious taste, as it has cooking functions such as micro power, turbo defrost, grill, bake and convection cooking, just to name a few. Other features are:
A 45% larger cooking area
Inverter technology
Simultaneous combination cooking, which apparently reduces cooking time by 2/3
Sensor cooking with 11 different sensor programs
Easy clean cavity
So to finish off our review of Panasonic microwaves, we will need to answer that same question: are these microwaves worth your money?
---
Read more: How much energy does a microwave use?
---
Are Panasonic microwave ovens worth it?
If you're after more budget friendly options, then Panasonic has a plethora of cheap microwaves available in this category (although when we say cheap, it really means that they cost the same as most normal microwave ovens). The $139 option probably shouldn't be considered unless you're really short on time and money, as the only 'feature' it has is nine auto-cook menus. It also has a tiny capacity, so there isn't much value to be found here.
The other two are definitely more worthwhile. For between $200 and $350, these budget microwaves have more than a dozen auto-cook options each, with the standard Panasonic trademarks of inverter technology and turbo defrost. Given that they are relatively cheap and have a good number of capabilities, Panasonic's less expensive microwave range is mostly worth the money.
Panasonic's more expensive microwave ovens also have some value attached to them. The mid-price option goes for around $600, and has a huge family sized capacity of 44 Litres, which is almost twice the size of a lot of common microwaves. It does lack a good range of features, but this is not an issue for the most expensive one, the premium convection oven. At $1,190, it is hard to justify spending so much on a microwave, but it promises excellent results with simultaneous sensor cooking.
Panasonic's traditional benchtop microwave ovens are worth the money, but it would probably be better to go with some of its cheaper options rather than the $600+ models, as the features these expensive microwaves have don't really justify the high prices.
*Prices taken from Appliances Online, correct as of October 2019
About the author of this page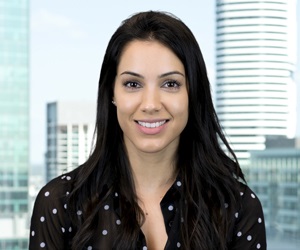 This report was written by Canstar Blue's Home & Lifestyle Content Lead, Megan Birot. She's an expert on household appliances, health & beauty products, as well as all things grocery and shopping. When she's not writing up our research-based ratings reports, Megan spends her time helping consumers make better purchase decisions, whether it's at the supermarket, other retailers, or online, highlighting the best deals and flagging anything you need to be aware of.
What do customers think about Panasonic Microwaves?
In 2019, Australian customers gave Panasonic 4 out of 5 stars for overall customer satisfaction for microwaves.
Panasonic Microwaves
Canstar Blue
Award:
Overall Satisfaction