Review of Philips Clothes Irons
There isn't much that Philips doesn't produce, from everyday appliances such as hair straighteners and blenders to healthcare products including MRI scanners and respiratory machines. Philips seems to take a people-centric approach with innovation at the core of its business and it certainly doesn't stop with its clothes irons, packing in a variety of intuitive features into the range.
Philips clothes irons
Philips clothes irons are organised into three categories – EasySpeed, PowerLife and Azur – with prices ranging from about $50 and going up to $180. Some features across its full range include an anti-calc function, which is designed to help remove any built-up calcium or limescale in particular when you use tap water to refill the water tank. It is recommended that you use the built-in calc-cleaner once a month to maintain performance. Philips also claims its clothes irons are designed with a drip-stop function, which allows you to iron delicate fabrics on a low temperature without the worry of water drip stains. Read on for a number of other features included in each range.
Philips EasySpeed Range
For a clothes iron on a budget, the EasySpeed range may have an option for you, with prices starting at $50 and maxing out at $75.
Philips EasySpeed Steam iron GC2040/70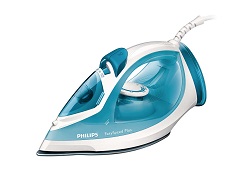 This model provides 2100W of power with continuous steam up to 30g/min and 100g steam boost for the removal of stubborn creases. It features the anti-calc and drip-stop functions with its design. It also has a fine mist spray function to help moisten fabrics evenly and iron out creases. This clothes iron allows for vertical steam for removing creasing in hanging fabrics.
The Philips EasySpeed GC2040/70 model is equipped with triple precision – a pointed tip, button grove and a sleek nose design – to help you reach between pleats and around buttons. Its soleplate is coated in a non-stick layer for glide ability across all fabrics. The soleplate design claims to have even heat distribution for fewer strokes to use less time to complete the job. It comes in a white colour with blue features.
Philips EasySpeed Steam iron GC2048/30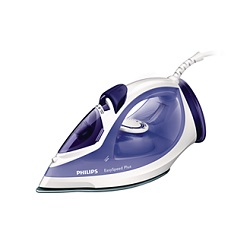 For about $15 extra, this model provides 2300W of power with 35g/min of steam and 120g of steam boost. It uses a ceramic soleplate which Philips claims glides well and is scratch resistant.  It also has a new design for the heel-rest with improved stability when it is in a vertical position.
Similarly to the previous model, the Philips EasySpeed GC2048 model has an anti-calc and vertical steam functions as well as a triple precision tip and drip-stop feature. It is equipped with an auto-off safety feature that automatically shuts off the iron in 8 minutes if it is left on its heel-rest and in 30 seconds if left facing down on its soleplate or on its side. It comes in a white colour with purple design features.
Philips PowerLife Range
In the mid-range, Philips produces its PowerLife clothes irons. The most distinct feature between this and the previous category is the improvement in the soleplate material, which is the main addition to the price.
Philips PowerLife Plus Steam iron GC2981/20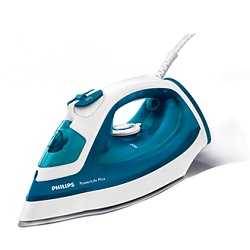 Philips PowerLife Plus model provides continuous steam up to 35g/min and 120g of steam boost that can also be used with the vertical steaming function. It features an anti-calc and drip-stop system with 2200W of power.
The SteamGlide soleplate in this range is stated to be Philips premium soleplate with scratch resistance and excellent glide ability as well as easy maintenance. It claims to be non-stick and durable with a 5-layer coating that includes an anti-corrosive base to help make it last longer. It also has an improved heel-rest with extra stability and comes in a white colour with teal features.
Philips PowerLife Steam iron GC2997/40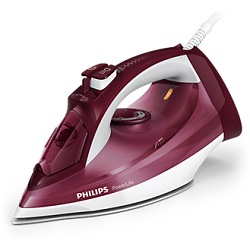 For a clothes iron with a little bit more power, the Philips PowerLife GC2997/40 model provides 2400W with consistent steam output up to 40g/min and 160g steam boost to help remove creases even faster than previous models. An extra design feature includes an improved textured handle for a comfortable, ergonomic grip.
Similarly to the previous model it uses Philips' SteamGlide soleplate and allows vertical steaming. It is equipped with an automatic shut-off function if you leave the iron unattended, a built-in calc-clean slider and a drip-stop function. It comes with a 320ml water tank and maroon coloured features.
Philips Azur Range
This category is in the high-end range for clothes irons with higher quality materials being used in the soleplate design and as a result increasing the price.
Philips Azur Performer Steam iron GC3811/80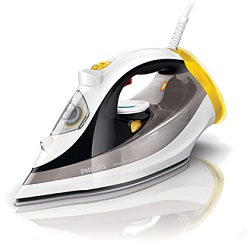 This model provides a continuous steam output of up to 40g/min with a 160g steam boost and 2400W of power. Similarly to several other models, it has an anti-calc function and a triple precision tip for control and visibility when ironing buttons and pockets. It has a 2m power cord and 300ml water tank capacity. Philip claims this model is an optimal weight for easy manoeuvrability over fabrics. It uses a SteamGlide Plus soleplate with carefully designed vents that aim to maintain a balanced steam distribution.
A new feature in this model includes an auto steam control to take away the worry out of selecting how much steam you need for the fabric. It is also equipped with a double active-calc system that aims to help prevent calcium build up through anti-scale pills and an easy-to-use calc clean function. Philip claims this feature results in less white stains and gives longer steam performance. It comes in a sleek black design with grey and gold features.
Philips PerfectCare Azur Steam iron GC4913/30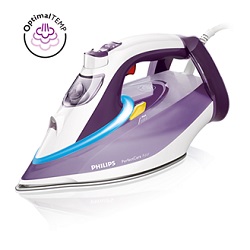 The Philips PerfectCare Azur iron is claimed to be 100% safe for all garments with OptimalTemp technology, which has been tested and approved by independent textile institutes. It is stated to deliver a perfect combination of steam and temperature and is specifically designed for speedy ironing. It also uses a Smart Control Processor that sets the right temperature and HeatFlow technology that enables an even steam and temperature balance. If you are ironing a whole batch of clothing with different materials, Philips claims you won't need to wait or adjust the irons temperature.
This Azur clothes iron has a safety auto off feature and double active-calc clean system. It provides a continuous steam up to 45g/min and 200g steam boost with 2400W of power. It has a 2.5m power cord and 350ml water tank capacity. Philips GC4913/30 model is also designed with a smart light feedback indicator to show the status of the iron at any time. It uses T-ionicGlide soleplate, which Philips claims to be its premium soleplate that has a patented new coating as well as a new design with vent holes for even steam distribution. It comes in a white colour with violet features.
Should I go home with a Philips clothes iron?
Getting the ironing done shouldn't be a task to avoid when there are a number of advanced clothes irons in the market.  From the Philips EasySpeed range to the more advanced Azur category, it packs in a variety of intuitive features including the vertical steam and a triple precision tip. With a variety of price points, the Philips clothes iron range can also suit any budget.
Some key considerations when making your choice would be the user friendliness of the iron with its cord length and water tank capacity, as well as its durability with the soleplate design. The Philips Azur range certainly uses higher quality soleplates compared to the other categories as well as packing in some ergonomic features. These irons are also equipped with what Philip claims as "rigorously" tested cords for maximum safety and durability. You may like to check out our online ratings to see how Philips compared to other brands in the clothes iron category.
Clothes Irons Reviews & Ratings
About the author of this page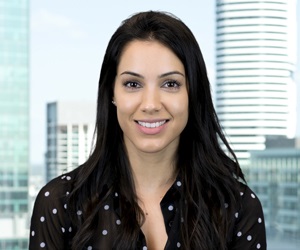 This report was written by Canstar Blue's Home & Lifestyle Content Lead, Megan Birot. She's an expert on household appliances, health & beauty products, as well as all things grocery and shopping. When she's not writing up our research-based ratings reports, Megan spends her time helping consumers make better purchase decisions, whether it's at the supermarket, other retailers, or online, highlighting the best deals and flagging anything you need to be aware of.
What do customers think about Philips clothes Irons?
In 2019, Australian customers gave Philips 4 out of 5 stars for overall customer satisfaction for clothes irons.