Smeg Coffee Machines Review & Guide
Smeg is a high-end domestic appliance manufacturer, founded in Italy. From fridges and dishwashers to washing machines and ovens, Smeg also offers a range of retro appliances including its espresso coffee machines. A Smeg coffee machine might be the ultimate style statement for your kitchen. Read on for all the specs and features of the range.
Smeg Espresso Coffee Machines
Apart from the retro design, Smeg espresso machines aim to provide the functionality to match. From cappuccino to macchiato – one shot or two – Smeg's espresso coffee machines are claimed to deliver a consistently rich brew each time.
Smeg ECF01 50s Retro Style Espresso Coffee Machine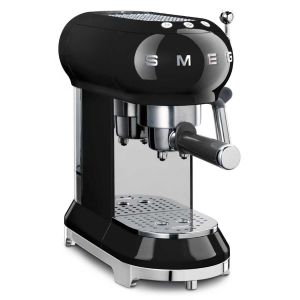 Featuring a 3-button operation and the option to use ESE paper pods, Smeg says you don't have to be a Barista to feel at home with this machine. It can prepare one or two cups of coffee simultaneously and you also have the ability to prepare a cappuccino or latte with steam & flow stop functions, customising coffee length. Expect a slim design in the iconic 50s style to catch the eye of family and friends.
In terms of functionality, it's designed with a Thermoblock heating system, 15-bar of pressure at the pump and an anti-drip system. You'll also find a removable drip-tray with a water level indicator, a descaling light indicator and a 1L removable water tank for ease maintenance. It features a metal wrap with coloured polycarbonate housing, a metal steam lever and a chrome plated base. Colour variants include black, pale blue, cream, red and white to suit any kitchen style.
Dimensions (HxWxD): 303 x 149 x 330mm
RRP: $499
Smeg Automatic Coffee Machine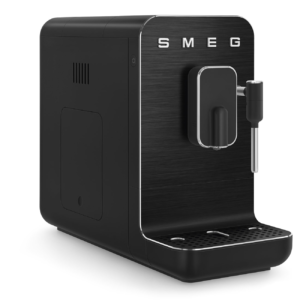 With a sleek and stylish design, the Smeg Automatic Coffee Machines are a convenient addition to the kitchen. Featuring a heating system with Thermoblock technology, water is kept at an optimal temperature once the machine is turned on so you can make as many coffees as needed. It has pre-programmed settings with a 'one touch' approach to coffee making, a built in coffee grinder and a steam wand to make your milky coffee how you like it. 
Other notable features include 19 bar pump pressure for precise coffee extraction, six coffee drinks in its program and a hot water and steam function. It comes in a black, red white and taupe finish to suit your kitchen's décor. 
Dimensions (HxWxD): 433 x 495 x 336mm
RRP: $799 
Smeg Built-in Coffee Machines
If you're serious about your coffee, you might like to consider a Smeg built-in, fully automatic coffee machine. The machines are claimed to be easy to use and allow you to tailor your cup to suit your personal taste, giving you the option to regulate the:
strength of coffee (from extra-mild to extra-strong)
length of coffee (from espresso to long)
temperature
grind
It can also be adjusted for different height mugs. Each cup is freshly ground, boasted to optimise the flavour and crema, or if you prefer pre-ground blends, you could use a scoop option instead. Here is Smeg's built-in line up:
Smeg CMS6451X Classic Coffee Machine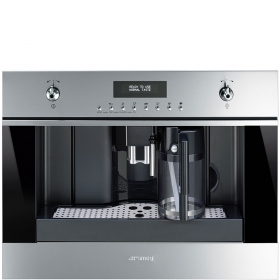 In Smeg's classic range you'll find the CMS6451X model, sitting in at just under $5,000. What you can expect from this hefty machine is versatility, allowing you to prepare different coffee almost intensity from extra light to light, medium, strong and extra strong. The coffee temperature and coffee length (short/expresso, medium and long) can also be adjusted. In addition, it offers a steam function with a frothing nozzle to whip up a cappuccino or latte as well as a hot water function for tea or other hot drinks.
The design features a multilanguage LCD display (if perhaps you wanted to practice some Italian while making you're morning coffee), a drip tray, removable milk jug and a 1.8L removable water tank. There is also a container for coffee beans and adjustable coffee grinder with a separate container for ground coffee. Similar to the retro espresso machines, it's boasted for 15-bar of pressure at the pump. To help with the clean-up expect automatic descaling and automatic rinsing. There is a two year warranty for peace of mind.
Dimensions (HxWxD): 455 x 595 x 381mm
RRP: $4,790
Smeg CMS645X Classic Coffee Machine
The CMS645X is almost identical to the CMS6451X model above. It's the same size and capacity as the above except without a few extra functions. Nevertheless, it's still equipped with adjustable programs and a rinsing function stated to also be used as a way to heat up the cup before pouring a coffee – a technique used by connoisseurs to "exalt the aroma and taste" of the coffee, according to Smeg.
While it features a steam function to foam up milk for cappuccinos and lattes, it isn't equipped with an automatic cappuccino maker or removable milk jug, making the price differ by $200. A water connection isn't necessary for either models, so it's possible to connect the coffee machine anywhere in the kitchen.
Dimensions (HxWxD): 455 x 595 x 381mm
RRP: $4,590
Smeg CMSC451NE Linear Aesthetic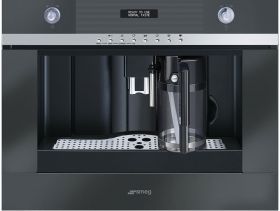 In the Linear range you'll find a black finish coffee machine, sticking to the black appliance trend. In terms of functionality, expect the same features as the Classic line. There is a similar model – Smeg CMSC451 Linear Aesthetic – which offers a silver finish. Linear Aesthetic is boasted for a fingerprint proof stainless steel Stopsol reflective glass as well as an automatic milk frother.
Dimensions (HxWxD): 455 x 595 x 381mm
RRP: $4,790
Are Smeg coffee machines worth the money?
Italians can't live without their coffee, so it makes sense for Smeg to take pride in its coffee machines. There is certainly versatility to the Smeg range, but you'll have to consider your budget and decide exactly what you want your coffee machine to be capable of doing. Its built-in range is boasted for adjustable coffee strength, length, temperature and grind to appeal to a variety of coffee palates.
Smeg coffee machines, in a similar manner to its other appliances, offer functionality along with modern, trendy designs. While this means a high retail price, if you're looking for a standout coffee machine – that doesn't just make coffee but also boasts all the bells and whistles – then the Smeg range might be one to consider. It would be wise to do your research when you are expecting to pay top dollar on a small appliance. You might like to check out our online ratings to see how other coffee machine brands stacked up.
Coffee Machine Reviews & Ratings
About the author of this page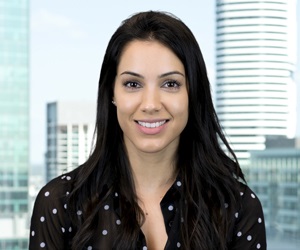 This report was written by Canstar Blue's Home & Lifestyle Content Lead, Megan Birot. She's an expert on household appliances, health & beauty products, as well as all things grocery and shopping. When she's not writing up our research-based ratings reports, Megan spends her time helping consumers make better purchase decisions, whether it's at the supermarket, other retailers, or online, highlighting the best deals and flagging anything you need to be aware of.