Review of Smeg ovens
Smeg is an Italian home appliance brand that has been providing "elegant contemporary living solutions" for over 60 years globally, and is a leading provider of home appliances in Australia. Its products focus on style and technology, combined with high performance, and this is reflected by the high-quality of its ovens.
This review will examine all of the ovens that Smeg offers to its Australian customers in order to determine if they are worth spending your hard earned money on. We will have a look at the price of each product and the special features they possess that set them apart from their competitors.
What ovens does Smeg offer?
Smeg has a huge range of ovens – larger than any other oven brand Canstar Blue rates. According to the company website, Smeg offers a whopping 93 separate oven models, which is far more than any other manufacturer here in Australia. This is far too many for us to discuss individually in this article, so instead we will just discuss the key ovens in each of the different categories and the features that are the most common among them.
Generally, Smeg ovens can be separated into six different categories:
600mm electric ovens
Double ovens
Pyrolytic ovens
Steam ovens
Large wall ovens
Upright ovens – gas & electric
Let's kick things off with a video overview of Smeg ovens.
Smeg 600mm electric ovens
Smeg's electric ovens are said to deliver reliable and constant temperatures through the best European craftsmanship. What really sets its electric ovens apart from other brands, however, is the thermoseal sealed oven construction. Thermoseal inhibits the exchange of air between the interior and exterior of the oven, reducing the food's expose to the drying effects of vented air and helping to retain moisture. This technology, which is unique to Smeg, helps make succulent meals and reduces the amount of excess fats.
Looking at Smeg's range, it has a large amount of traditional single wall ovens. We encourage you to have a look at Smeg's website if you want to learn about all of them specifically. The prices of these Smeg single ovens range from $1,352 to $3,477, and there are plenty of differences between the cheapest and most expensive options. We will cover just a few of the highest rated ones, to give you an idea of what they can do.
SFPA395X Electric Wall Oven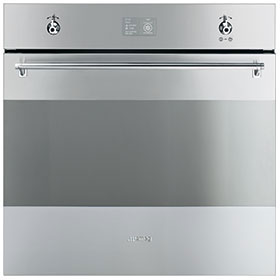 This product is one of Smeg's more expensive ovens, and upon looking at the specifications, it's not hard to see why. This stainless steel, 79L oven has a number of useful features that make it highly rated from its owners, who would have paid around $3,000. In addition to the Smeg thermoseal ability, this oven also possesses the following:
10 different oven functions
Rapid pre-heating
Cool door
Auto end-cooking with alarm
Control locks
Eco function
50 'smart sense' personal programs
Thermostat control 30–280°C
Please note this model is currently not available to be purchased.

SFPA140 Electric Wall Oven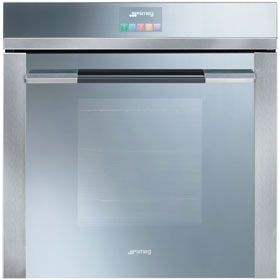 The SFPA140 model is extremely similar to the previous one, but costs slightly less. It too is a stainless steel, 79L single oven with an integrated grill. Like the other, it is a thermoseal oven, and has the same features:
10 different oven functions
Rapid pre-heating
Cool door
Auto end-cooking with alarm
Control locks
Eco function
50 'smart sense' personal programs
Thermostat control 30–280°C
Please note this unit is currently not available.

SFA125 Electric Wall Oven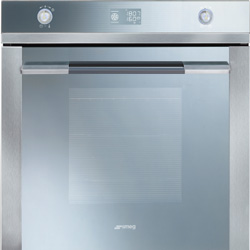 The final example is the SFA125 thermoseal oven which, despite the vast difference in price (just under $2,000), is still fairly similar to the previous two electric ovens. The main differences are that it has nine different cooking functions instead of 10 and lack of the 'smart sense' personal programs. Otherwise, the features are largely the same:
Vapour clean
Rapid pre-heating
Thermostat control 50–280°C
Delayed start, automatic end cooking with alarm
Are Smeg single electric ovens worth it?
Smeg's single oven range is huge, with plenty of different options available to choose from, and most of them are worth the money. Products like the SFA7390X have even more features than the ones described here, with some ovens having up to 15 different cooking functions and LCD displays which improve their aesthetic value.
Overall, the majority of Smeg's single ovens all seem to have an acceptable number of additional features that help them stand out over basic ovens. At a minimum of $1,300, they are a little on the pricey side, but for a lot of people this extra outlay is worth the convenience and quality they can give you. If they're within budget, then definitely consider Smeg's single ovens.
Smeg double ovens
As you probably already knew, double ovens are ovens with two (or more) separate compartments that allow you to cook multiple different meals at once in different conditions. One section is usually bigger than the other, but this is not always the case. Smeg's website states that it stocks 9 different double ovens, but the prices are only available for a select few of them. We will have a look at these ovens to see the kind of features that make them worth buying.
DOSPA6395X Thermoseal Oven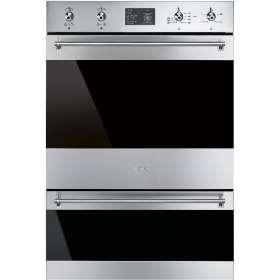 The DOSPA6395X double oven is fairly small for its type, as it is just 884mm tall, yet has an extremely generous capacity of 120 Litres. This oven is very pricey at just over $4,000, but this price is backed up by the abundance of features it possesses. These features include, along with thermoseal:
Cool door technology
Pyrolytic cleaning
SmartSense plus – up to 50 auto menus
Control lock
Thermal protection system
5 cooking levels
No matter what you want to cook, this oven can support it, as it has 17 different cooking functions in the main oven and four in the auxiliary oven.

DOSFA6390X Thermoseal Oven
This 79 Litre, classic aesthetic oven is extremely similar to the previous model, but costs a little less, largely because it has a reduced capacity. One again, however, it's pretty feature-packed:
18 cooking functions
20+ SmartSense auto menus
Large LCD display
7 different cooking levels
Cool door technology
Thermal protection system
DOSPA6925P Thermoseal Oven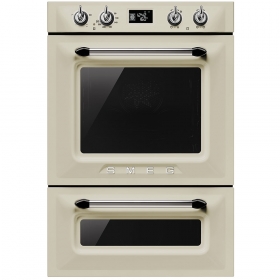 This Victorian thermoseal double oven has a cream exterior and a 79 Litre capacity. It is 884mm tall, which is the standard size for double ovens, and has fewer features than the other two, despite being very similar to the other two in terms of price (around $4,000):
14 oven functions (main oven), 4 functions (aux oven)
Large LCD display
Cool door technology, thermal protection system
Ever clean enamel
7 different cooking levels
Are Smeg double ovens worth it?
In short, yes, they might be worth it for some. Double ovens tend to be quite expensive, since they are essentially a 2-in-1 product. So the prices of around $3,000 are not at all expensive, although you can definitely find cheaper options out there. You get good value for these prices, as each of these double ovens come with a good range of features that make cooking quality food easier. They are very flexible, and the thermoseal technology allows higher quality meals to be made. So you should certainly consider a Smeg double oven if you can afford one.
Smeg pyrolytic ovens
Pyrolytic ovens use high-temperatures to break grease and leftover food waste into a fine ash to be swept away, negating the need for you to actually clean the oven yourself. Smeg ovens take just 90 minutes to completely clean themselves, and there are about 30 different models to pick from. We're going to take a look at some of the highest rated ones. Some of the ovens mentioned above are also pyrolytic in some way.
SFPA7395X Thermoseal Pyrolytic Oven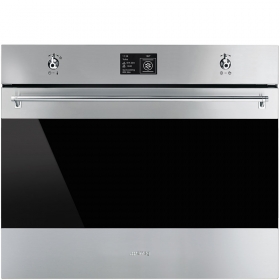 The SFPA7395X is a stainless steel, 90 Litre self-cleaning oven with an integrated electric grill. It is a very classic looking oven that has a wide variety of features that help to justify its hefty price tag of more than $5,000:
High visibility black glass
17 cooking functions
50+ SmartSense auto menus
3 cooking levels
Cool door technology, thermal protection system
Ever clean enamel
This model is slightly larger than standard ones, as it is 698mm wide instead of the usual 590 mm, so you would need to make sure it fits in your allocated space before committing to a purchase.

SCA712N Thermoseal Pyrolytic Oven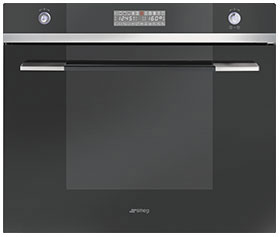 The SCA712N is a black stainless steel oven that is 70cm wide instead of the usual 60. It has a generous 90 Litre capacity, and has the following additional features:
12 different cooking functions
Controllable thermostat 50–250°C
Digital clock, programmable-cooking
Thermal overload cooking
Triple-glazed door
Forced-air door cooling
Ever-clean enamel
Please note, this oven is currently not available.

Are Smeg pyrolytic ovens worth it?
Overall, prices in the Smeg pyrolytic range of ovens stretch from a hefty $7,642 at the highest to $2,000 at the lowest. You have a lot of options to choose from when looking for a pyrolytic oven. The $7,000 model doesn't seem to be worth the money it costs, but the rest of them all seem to justify their prices in one way or another based on the number of extra features they have.
Pyrolytic ovens are in high-demand these days due to how convenient they are, and also for the fact that they can prolong the life of your oven due to constantly being cleaned. Therefore, other oven brands like Bosch, Blanco and Electrolux all sell an abundance of pyrolytic ovens. So Smeg's range of is likely to be worth the money, but you should also check out other brands before making a decision.
---
Read more: Electric vs gas oven running costs 
---
Smeg Steam ovens
Steam ovens give you a range of healthy cooking options by enhancing the flavour of your dishes while retaining natural vitamins and minerals. Foods cooked in steam ovens can also be healthier, as additional fats and oils are left out.
Smeg has a total of 17 different steam ovens, which can sterilise and defrost your food, and contain a range of advanced functions to help you make the best, healthiest food you possibly can. Some of the best models include the following.
SFA4395VCX Compact Combi-Steam Oven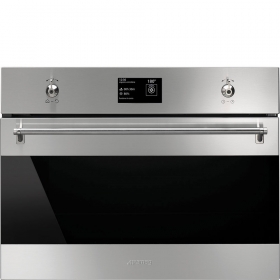 The compact combi-steam oven is a stainless steel model that has a small capacity of 50 Litres. However, it doesn't need to be large, as steamed meals tend to be quite small. To compensate for this small capacity, the combi-steam oven – valued at around $3,000 – has the following extra features:
16 cooking functions
3 cooking levels
20+ SmartSense auto menus
2 Litre water tank capacity
Soft close door, thermal protection system
Steam stop
Ever-clean enamel, vapour clean
Please note, this model is currently not available for purchase.

SA45VX2 Compact Multi-Function Steam Oven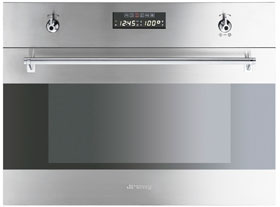 This multi-function steam oven has an even smaller capacity than the previous one, coming in at just 35 Litres, but costs around the same. With a height of just 455mm, it is definitely not designed to take up a lot of space, but it does its job of steaming food well. In terms of extra features, this oven has the following:
6 different cooking functions
2 Litre water tank
4 different cooking levels
LED display
Electronic timer with an endcooking alarm
Double glazed door
This oven is currently not available.

Are Smeg steam ovens worth it?
Steam ovens are tricky, since they are not that common and are only used for a specific purpose. You should only buy a steam oven if you are genuinely interested in steaming your foods. Due to being such a niche product, steam ovens tend to be more expensive, which means that the prices of $3,000 are around the average for steam ovens in Australia.
However, going by our reviews of other steam oven providers such as Electrolux, it is apparent that there are steam ovens on the market for a little cheaper. So Smeg's steam ovens aren't not worth it by any means, but you should definitely consider other options before landing on one of its products.
Smeg large wall ovens
Last but not least, there are large wall ovens. Large wall ovens are typically much wider than normal single ovens, which makes them great if you have a big family or do lots of entertaining. Smeg has three large wall ovens available, ranging in price from $3,137 to $3,222.
SFA9315XR Large Wall Oven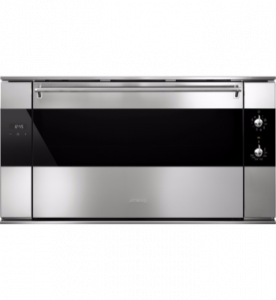 This thermoseal oven (which is also pyrolytic), is made of stainless steel and has an above average capacity of 90 Litres. It is 90cm wide, which enables you to fit larger quantities of food inside, and explains the cost of a little over $3,000. In terms of extra features, this model has a few that should make you consider buying it:
Cool door technology
Vapour clean
Ever-clean enamel
4 cooking levels
Touch display
Thermal protection system
9 different cooking functions
This model from Smeg is currently not available.

Are Smeg's large wall ovens worth it?
Basically, no, Smeg's marge wall ovens are not worth it. For the price that they cost, they don't really offer anything that double ovens don't, as they are quite lacking when it comes to additional features and new technologies. For around the same price, you can buy one of Smeg's double ovens which are also useful for cooking large quantities of food, yet they have more cooking functions to make life easier. So it might be a good idea to look to other providers when searching for large wall ovens.
*Prices taken from Appliances Online, correct as of September 2019.
About the author of this page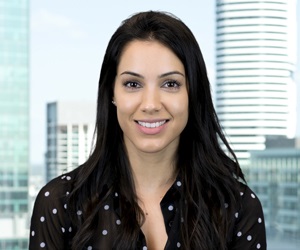 This report was written by Canstar Blue's Home & Lifestyle Content Lead, Megan Birot. She's an expert on household appliances, health & beauty products, as well as all things grocery and shopping. When she's not writing up our research-based ratings reports, Megan spends her time helping consumers make better purchase decisions, whether it's at the supermarket, other retailers, or online, highlighting the best deals and flagging anything you need to be aware of.
What do customers think about Smeg Ovens?
In 2019, Australian customers gave Smeg 3 out of 5 stars for overall customer satisfaction for ovens.