Smeg Rangehoods Review & Guide
Smeg is an Italian appliance manufacturer providing "elegant contemporary living solutions" for Australian homes. Its rangehoods reflect the elegance and style you'll find with a number of its appliances, including fridges, ovens and coffee machines. Smeg also boasts both quality and performance. Read on to find out all the specs and features of its rangehood line.
What rangehoods does Smeg offer?
There are over 70 rangehoods in Smeg's line up at the time of writing, categorised by the following types:
Wallmount
Island
Undermount
Downdraft
Telescopic
Along with the type of rangehood, models can either be part of the Classic, Linear, Victoria or Portofino design range, each with different characteristics. Dimensions include 40 to 180cm in width. On top of this, Smeg offers a variety of colour options whether you're looking to add character to your kitchen with black or some colour with a pop of red, Smeg might have something for you. You also have the choice of stainless steel, cream, white, orange and green finishes.
Smeg boasts careful research and development to ensure that its hoods are quiet with high extraction performance. When ducting is not possible, active charcoal filters are also available to suit all cooking ventilation needs.
Wallmount
The wallmount range is one of Smeg's largest, totalling 41 models. Smeg wallmount rangehoods are designed to give maximum visual impact while stating to be highly-efficient air extractors. With varying power and widths from 60cm to 150cm, you might find exactly the wallmount rangehood you're looking for here.
Smeg SHW910X 90cm Classic Aesthetic Canopy Rangehood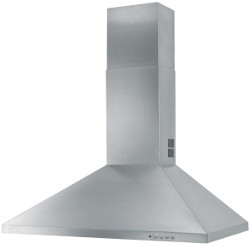 This 90cm canopy rangehood has a Classic Aesthetic style with a 250W motor. It features four fan speeds with a progressive button, two 20W halogen lights and three aluminium filters. In terms of noise level, it's stated to produce 71dBA when working, which is similar to that of a vacuum cleaner or a TV in the living room.
It's stated to be made in Turkey with a two-year warranty on parts and labour. You have the option of installing a ducted variant of this rangehood or if there's no external vent or ducting, you can opt to recirculate the air to the kitchen.
Dimensions (HxWxD): 740mm x 898mm x 490mm
Maximum Height: 1140mm
Maximum Air Capacity: 920m³/hr
RRP: $1,590*
Smeg KT110BLA 110cm Victoria Aesthetic Canopy Rangehood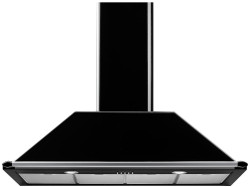 For something a little more retro and designer, the Smeg 110cm canopy rangehood features a Victorian Aesthetic with a trendy black enamel finish to give your kitchen a sophisticated look. It features a 210W motor and three fan speeds with push button controls. Similarly to the model above, you'll find two 20W halogen lights and the option to install it with charcoal filters for recirculation. It features three stainless steel grease filters that are dishwasher safe.
Expect a noise level from 41 to 56 dBA, which can be compared to that of background music or an air conditioner unit 30m away. There is also two years warranty on parts and labour for this model.
Dimensions (HxWxD): 900mm x 1100mm x 476mm
Maximum Height: 1150mm
Maximum Air Capacity: 760m³/hr
RRP: $2,790*
Island
This range is designed to be fitted above an island bench and away from the wall. Smeg offers some beautiful design options for all styles of décor and dimensions – from 40cm to 180cm. There are more than 10 models within this line up.
Smeg SHIG910X 90cm Classic Aesthetic Island Rangehood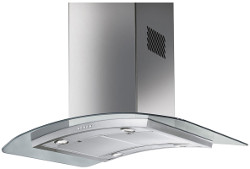 Smeg's 90cm stainless steel island rangehood features a glass canopy and a 250W motor. In addition, you'll find four fan speeds with a progressive button and four 20W halogen globes. It produces a noise level from 45 to 68 dBA and is fitted with two aluminium grease filters. The country of origin for this model is stated to be Italy and has a two-year warranty on parts and labour.
Dimensions (HxWxD): 850mm x 898mm x 490mm
Maximum Height: 1050mm
Maximum Air Capacity: 690m³/hr
RRP: $3,090*
Undermount
Undermount or under cupboard rangehoods are integrated into a kitchen cupboard to be hidden away from sight. Smeg offers 11 models in this range ranging from 52cm to 120cm.
Smeg SHU970X 90cm Classic Aesthetic Under Cupboard Rangehood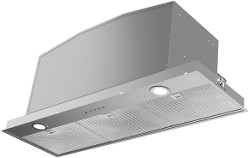 This is another 90cm model with a 250W motor. It's fitted with two 1W LED lights, plus three fan speeds and three stainless steel grease filters. In terms on noise level, it's stated to produce between 53 to 70 dBA. Note it doesn't feature a delay stop, which might come in handy if you want to the rangehood to automatically switch off at a specific time. Expect a two-year warranty on parts and labour.
Dimensions (HxWxD): 339mm x 900mm x 290mm
Maximum Air Capacity: 690m³/hr
RRP: $1,790*
Downdraft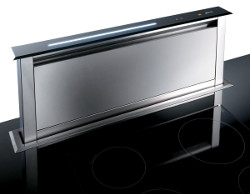 Downdraft rangehoods are installed in the benchtop either to the rear or one side of the cooktop, and to take up no visible space. The Smeg downdraft rangehoods are available in two styles – black glass or stainless steel. It's boasted to be a sophisticated, yet discreet and powerful tool for your cooking needs. Both models have a dimension of 90cm and are fitted with LED lighting, touch controls and four fan speeds. Expect noise levels between 51 and 60 dBA as well as a two-year warranty on parts and labour.
Dimensions (HxWxD): 1051mm x 900mm x 110mm
Maximum Air Capacity: 760m³/hr
RRP: $6,489 (LIFTFPX900)* and $6,490 (LIFTB900)*
Telescopic
Telescopic rangehoods are designed to almost disappear into your upper cabinets for a sleek kitchen finish. There are six telescopic units to consider with dimensions sitting from 60cm to 90cm. Expect Smeg's Classic style for this range all with a stainless steel appearance.
Smeg SA520TX90 90cm Classic Aesthetic Slideout Rangehood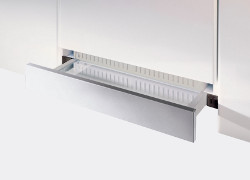 This model is built into overhead cabinetry featuring a stainless-steel rail and silver frost carcase. There are three speed levels to select from, with a pre-set fan speed and lights. It's equipped with washable aluminium mesh piece filters and two 20W halogen lights. Noise levels are stated to range between 37 to 53 dBA.
For the 90cm model expect a 100W single-shaded pole motor with impellor. Note for this style you will require a 125mm duct pipe for installation, which isn't supplied. There is also a 60cm version if you have a smaller space to work with.
Dimensions (HxWxD): 170mm x 898mm x 300mm
Maximum Depth: 485mm
Maximum Air Capacity: 273m³/hr
RRP: $1,150*
Is a Smeg rangehood worth the money?
Smeg doesn't really foray into the budget end of the rangehood segment. The full line up sits between $790 and $4,090 RRP. If you're hoping to add a touch of colour in your kitchen, expect to pay around the $2,400 mark for the brightly coloured Victorian Aesthetic Canopy rangehoods.
However, while these might not be for every budget, if you're looking to add a standout appliance into your kitchen, Smeg might be one to consider. It also boasts super-quiet performance with some models stated to have a noise level as low as 37dBA. Compare Smeg rangehoods via our customer satisfaction ratings on a number of key factors.
*Prices taken from Appliances Online and respective retailers, correct as of August 2018
About the author of this page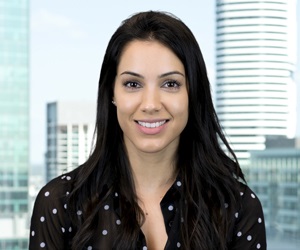 This report was written by Canstar Blue's Home & Lifestyle Content Lead, Megan Birot. She's an expert on household appliances, health & beauty products, as well as all things grocery and shopping. When she's not writing up our research-based ratings reports, Megan spends her time helping consumers make better purchase decisions, whether it's at the supermarket, other retailers, or online, highlighting the best deals and flagging anything you need to be aware of.
What do customers think about Smeg Rangehoods?
In 2019, Australian customers gave Smeg 4 out of 5 stars for overall customer satisfaction for rangehoods.