Fact Checked
Miele exhausts competition in rangehood ratings
While you might enjoy the sweet aroma of food cooking in the kitchen, you're still producing a lot of heat, smoke, moisture and grease during the process. Not only can this damage your kitchen cabinetry and walls, but it's not ideal for your health either. Thankfully, rangehoods are designed to remove the bad odours and provide ventilation so that these fumes are replaced with fresh air, making it a worthwhile installation in your home.
Rangehoods are not typically the first appliance that many consider when upgrading their kitchen, but they're important to help keep your kitchen smoke free. From traditional rangehoods to modern canopy designs, they can be a stylish addition to your kitchen aesthetic. So, which brands are keeping Australian families happy and which… suck? To find out, we surveyed almost 400 households who have installed and used a rangehood in the last three months. Respondents rated their respective brands on performance, quietness while operating, features, ease of cleaning, design, value for money and overall satisfaction. Manufacturers that met the minimum required survey sample size of 30 responses are featured in our results.
Our latest rangehood ratings served Miele on a gold plate, with the brand receiving the only five-star review for overall satisfaction. It also achieved full marks in several other categories.
Best Rangehoods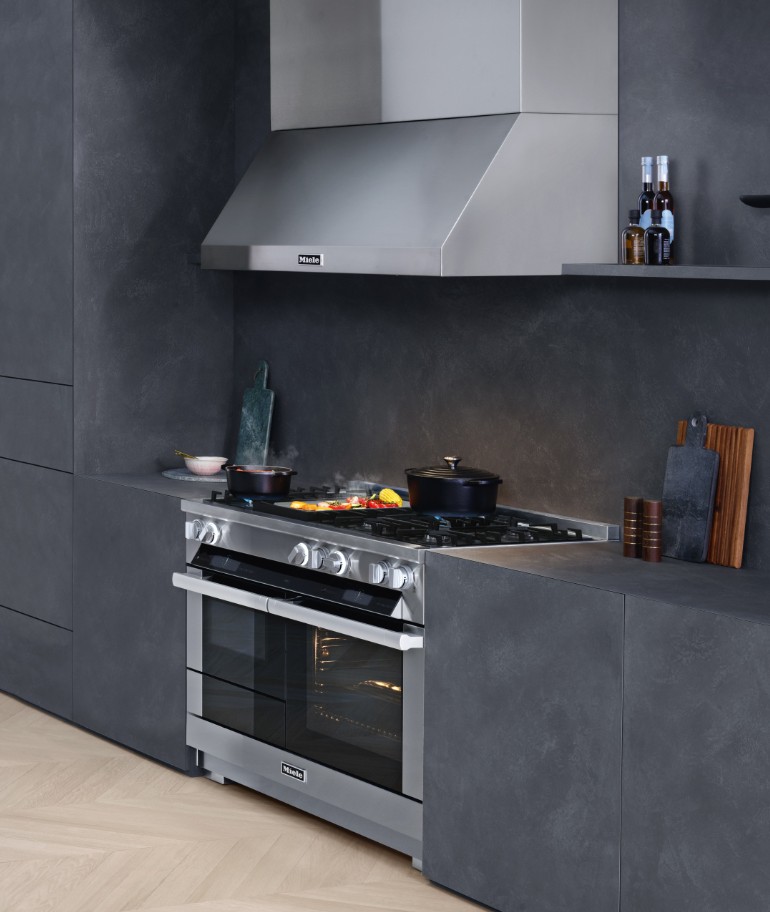 Here are the best brands for rangehoods in Australia, as rated by consumers in Canstar Blue's latest review.
Miele
Bosch
Westinghouse
Fisher & Paykel
Smeg
Miele topped our ratings for rangehoods with five stars for performance, quietness, design, ease of cleaning and overall satisfaction. Runner-up Bosch also managed to score full marks in various categories including performance, quietness, features and ease of cleaning. Notably, Westinghouse was the only brand to score five stars for value for money, while also getting the thumbs up for performance, design and ease of cleaning. Fisher & Paykel received top marks for features.
To help you make an informed decision, read on as we review what each brand currently has to offer in the rangehoods department, followed by some of the things you'll need to consider before making that final purchase.
Top Rangehoods
Miele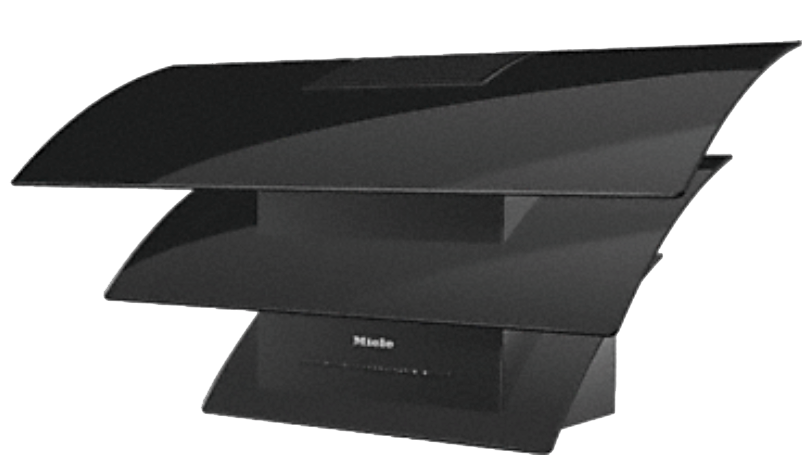 Miele has a reputation as a high-end brand, with its premium prices boasting German craftsmanship. It offers five rangehood designs including wall, island, built-in, downdraft and ceiling extractor models to accommodate a variety of styles, sizes and functions to suit any kitchen. Miele's units are said to be made for those who are looking for something a little out of the ordinary, with their eye-catching designs. Its built-in models come with a customised kitchen design, so it's out of sight when switched off to save space, making it a possible solution for minimalist kitchens. Across the range, you'll find features such as automatic operation, where the required fan output is automatically controlled by the cooktop settings, a ten-layer stainless steel grease filter and an automatic switch-off system for safety.
Miele's premium rangehoods can cost anywhere from $999 and upwards of $6,000. Some currently available include:
Miele Slimline Rangehood (DA 3366): $999 RRP*
Miele Classic Wall-Mounted Rangehood (DA 399): $1,999 RRP*
Miele Downdraft Extractor System (DA 6890): $4,499 RRP*
Miele Aura Edition 6000 Island Décor Rangehood (DA 6708 D): $6,299 RRP*
Miele dominated with five-star reviews for performance, design, quietness while operating, ease of cleaning and overall satisfaction. It got four stars for features and three stars for value for money.
Bosch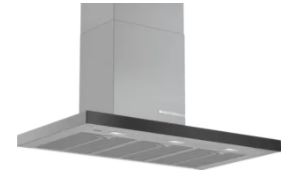 Bosch is a well-renowned name in the home appliance world, with the German manufacturing giant synonymous with both quality and technology. Featuring wall-mounted canopy rangehoods, slide-out rangehoods, integrated rangehoods and integrated ventilation models. These are typically available in widths including 60cm and 90cm, with other sizes also available. There are several collections, including the Serie 2, Serie 4, Serie 6 and Serie 8. Both the 6 and 8 series are equipped with electronic operation displays and boast a quiet operation.
The full range starts from a low $449, while its most expensive model can set you back a cool $3,999. Many of the models are said to filter out more than 85% of the grease from kitchen air and contain features such as three-speed power level options to match certain cooking styles and recipes, LED lighting and dishwasher-safe metal grease filters. Some Bosch rangehoods also use an EcoSilence Drive motor, which is claimed to help save energy without sacrificing performance. If you like Bosch cooktops, then it may be useful to know that its integrated ventilation range comes with the same settings you would expect from the brand, including PowerBoost for supposedly 50% faster heating and CombiZone which lets you combine two cooking zones to accommodate larger cookware.
Bosch's rangehood models include:
Bosch Serie 2 53cm Under Cupboard Rangehood (DLN544AA70A): $599 RRP*
Bosch Serie 6 52cm Under Cupboard Rangehood (DHL575CAU): $999 RRP*
Bosch Serie 6 90cm Canopy Rangehood (DWB97LM50A): $1,499 RRP*
Bosch 90cm Canopy Rangehood (DWB91PR50A): $2,199 RRP*
Bosch landed five-star reviews for performance, quietness while operating, features and ease of cleaning, plus four stars for overall satisfaction and everywhere else.
Westinghouse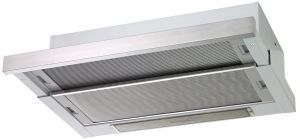 Part of the Electrolux Group, Westinghouse is a long-standing Australian brand covering more budget-friendly options than most. It offers a variety of canopy rangehoods, undermount rangehoods, slide-out rangehoods, fixed rangehoods as well as rangehood filters. Westinghouse rangehoods commonly come in 60cm and 90cm widths, with many claimed to contain a powerful extraction rate over 800m3/hr, a three-fan speed option and LED lighting. Certain models also come with touch control panels and dishwasher-safe aluminium micro-mesh filters.
Westinghouse has by far some of the cheapest rangehoods, with prices starting from $149 for a 60cm fixed rangehood and reaching up to $999 for a 90cm alternative. While it might not come with as many bells and whistles as other brands, it still offers several attractive features as well as an affordable price tag.
Rangehoods currently available from Westinghouse include:
Westinghouse 60cm Fixed Rangehood (WRF610SA): $219 RRP*
Westinghouse 90cm Slide-Out Rangehood (WRR926SB): $549 RRP*
Westinghouse 80cm Under Cupboard Rangehood (WRI814BB): $699 RRP*
Westinghouse 90cm Canopy Rangehood (WRCG940SB): $949 RRP*
Westinghouse was the only brand to achieve five stars for value for money, and also impressed on performance, design and ease of cleaning. It scored four stars for features and overall satisfaction, and three stars for quietness while operating.
Fisher & Paykel

Founded in New Zealand, Fisher & Paykel is a company that has been around for more than 80 years. It has emerged as one of the most technologically advanced appliance brands and often a popular choice in Aussie kitchens. Boasting intuitive controls with touch panels, Fisher & Paykel offers several collections including Classic, Contemporary and Integrated. According to the brand, there are three different styles to look out for when buying a rangehood. Depending on the model, you can find these in Fisher & Paykel's wide range of canopy, slide-out and undermount rangehoods. For households that need something powerful and quiet, Fisher & Paykel recommends a rangehood with an external blower or a rangehood that's inserted into the cabinetry above the cooktop. Most models are available in widths including 60cm, 90cm and 120cm.
Fisher & Paykel caters to a wide range of budgets, with rangehoods starting at the mid $300 mark and reaching up to $2,600.
Fisher & Paykel's rangehood models include:
Fisher & Paykel 60cm Slide-Out Rangehood (HS60LXW4): $369 RRP*
Fisher & Paykel 90cm Curved Class Canopy Rangehood (HC90CGX1): $979 RRP*
Fisher & Paykel 90cm Canopy Rangehood (HC90DCXB3): $1,299 RRP*
Fisher & Paykel 90cm Classic Series Canopy Rangehood (HC90PCB1): $2,549 RRP*
Fisher & Paykel earned five stars for features, plus four stars for performance, design, value for money and overall satisfaction. It landed on three stars everywhere else.
Smeg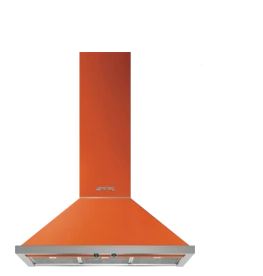 Smeg is an Italian appliance manufacturer providing 'elegant contemporary living solutions' for Aussie kitchens. Smeg's rangehoods reflect the elegance and style you'll find with a number of its appliances, including ovens, dishwashers and dryers. It has a wide variety of canopy, island, slide-out and undermount rangehoods in various designs. There are various styles to look out for, including integrated, fully integrated, downdraft and decorative island rangehoods. On top of this, Smeg offers a variety of colour options whether you're looking to add a pop of red or a trendy black to your kitchen. Smeg also boasts super-quiet performance with some models stated to have a noise level of 53dB. When ducting is not possible, active charcoal filters are also available.
Smeg doesn't foray into the budget end of the rangehood segment. Prices start from $699 for the Smeg 52cm Classic Aesthetic Concealed Under Cupboard Rangehood and reach up to $7,490 for the Classic Aesthetic Canopy Rangehood. While these might not be for every budget, if you're looking to add a standout appliance into your kitchen, Smeg might be the way to go.
Smeg's rangehood models include:
Smeg 52cm Classic Aesthetic Concealed Under Cupboard Rangehood (CLASSIC592SS): $699 RRP*
Smeg 90cm Under Cupboard Rangehood (CLASSIC992): $1,175 RRP*
Smeg 90cm Aesthetic Canopy Rangehood (KT90BLA): $2,850 RRP*
Smeg 90cm Classic Aesthetic Island Rangehood (SHI970X): $4,590 RRP*
Smeg rounded up the scores on four stars for design and ease of cleaning, plus three stars for performance, value for money, overall satisfaction and everywhere else.
Other rangehood brands
Aside from the major rangehood manufacturers rated in this year's review, there are several other brands worth considering. Some include:
Electrolux
Omega
Blanco
Chef
Robinhood
ILVE
Electrolux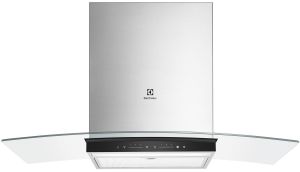 Perhaps best known for fridges and washing machines, Electrolux is a Swedish brand with a focus on technology and sophisticated designs. In terms of rangehoods, it offers slide-out, wall-mounted and integrated options. Expect sleek and stylish touch on glass controls and removable filters for an easy clean. Some models also boast Hob2Hood technology that features sensors to automatically adjust the hood when cooking heat increases.
The Electrolux range usually starts at around $399 in price for a 52cm integrated rangehood, maxing out at about $1,499 for the brand's most expensive integrated model or $1,199 for the brand's top-of-the-range canopy rangehood. Its most expensive 90cm canopy hood is stated to provide a maximum airflow of 790m3/hr and can apparently operate with a noise level as low as 50dB. This also comes with Hob2Hood, which automatically switches on when you start cooking and adjusts the fan speed to match your cooking style.
Electrolux's rangehood models include:
Electrolux 60cm Slide-Out Rangehood (ERR627SA): $599 RRP*
Electrolux 52cm Integrated Rangehood (ERI522DSD): $849 RRP*
Electrolux 90cm Canopy Rangehood (ERC925DSD): $1,199 RRP*
Omega

The Omega range of appliances is aimed to combine classic design elements and quality workmanship with affordability and versatility. Offering a range of appliances from ovens and cooktops, to washing machines and dryers, its rangehood line features fixed, slide-out, canopy and under-cupboard designs to suit a variety of households. Expect stainless steel and black finishes and different sizes from 52cm all the way up to 90cm. These are said to be easy to maintain and come with removable aluminium mesh filters that you can chuck in the dishwasher. Prices are pretty budget-friendly, with the cheapest model costing just $199 for a 60cm fixed rangehood and reaching up to $899 for a 90cm canopy rangehood.
Some rangehoods from Omega include:
Omega 60cm Fixed Rangehood (ORF60XL): $199 RRP*
Omega 60cm Slide-Out Rangehood (ORT6WXA): $299 RRP*
Omega 90cm Canopy Rangehood (ORC98G): $799 RRP*
Blanco

Combining precision engineering and stylish good looks, Blanco rangehoods aim to make a statement in your kitchen. Founded in Germany, Blanco has a focus on innovation and design. The rangehood line-up features under-cupboard, slide-out and canopy models. Expect some models to come equipped with touch control operation, various speed options to suit the type of cooking, as well as a timer that switches the rangehood off automatically after 15 minutes. The Blanco Clean Air function is also boasted to 'activate' the rangehood for 10 minutes every hour to help reduce those lingering cooking odours. Prices are fairly affordable, typically starting from $539 for a retractable rangehood and going up to $1,025 for a 90cm canopy rangehood.
A few rangehood models from Blanco include:
Blanco Retractable Rangehood (BRSR60X): $539 RRP*
Blanco 53cm Under Cupboard Rangehood (BRU53X): $719 RRP*
Blanco 90cm Canopy Rangehood (BWCE9X): $1,025 RRP*
Chef

Chef is part of the Electrolux family, so you might find a few similar aspects to those featured in the range mentioned above. Chef is also one to offer some of the cheapest prices, retailing between $159 and $659. There are several different styles to choose from, including canopy, fixed, slide-out and undermount rangehoods – so you can find what looks and functions best in your kitchen. Expect up to three fan speeds, push button controls and some with slide controls. In terms of noise levels, the Chef rangehoods are stated to typically produce 62dB when working.
Several rangehoods from Chef include:
Chef 60cm Slide-Out Rangehood (CRR612DB): $289 RRP*
Chef 50cm Under Cupboard Rangehood (CRI514DB): $449 RRP*
Chef 90cm Canopy Rangehood (CRC914SB): $599 RRP*
Robinhood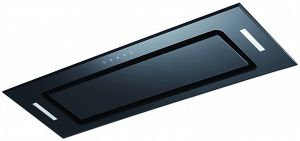 Robinhood is an Australasian brand, offering both kitchen and laundry products. Robinhood's products are claimed to be sourced globally from leading manufacturers, and are well-designed boasting modern technology. The range features laundry tubs, ironing centres, waste disposers as well as rangehoods and ducting solutions.
Types of rangehoods include wall canopies, island canopies, compact canopies, slide-out rangehoods and powerpack rangehoods. Expect touch-screen switches and dimmable lighting, stated to generate very little heat. Robinhood is another budget-friendly brand, with prices starting from just under $160 and going up to $449 for a 90cm canopy rangehood.
Robinhood's rangehood line-up includes:
Robinhood 60cm Slide-Out Rangehood (RLES61SS-WH): $179 RRP*
Robinhood 60cm Wall-Mounted Canopy Rangehood (RWC3CL6WHT): $339 RRP*
Robinhood 52cm Undermount Rangehood (RPD3CL6BK): $499 RRP*
ILVE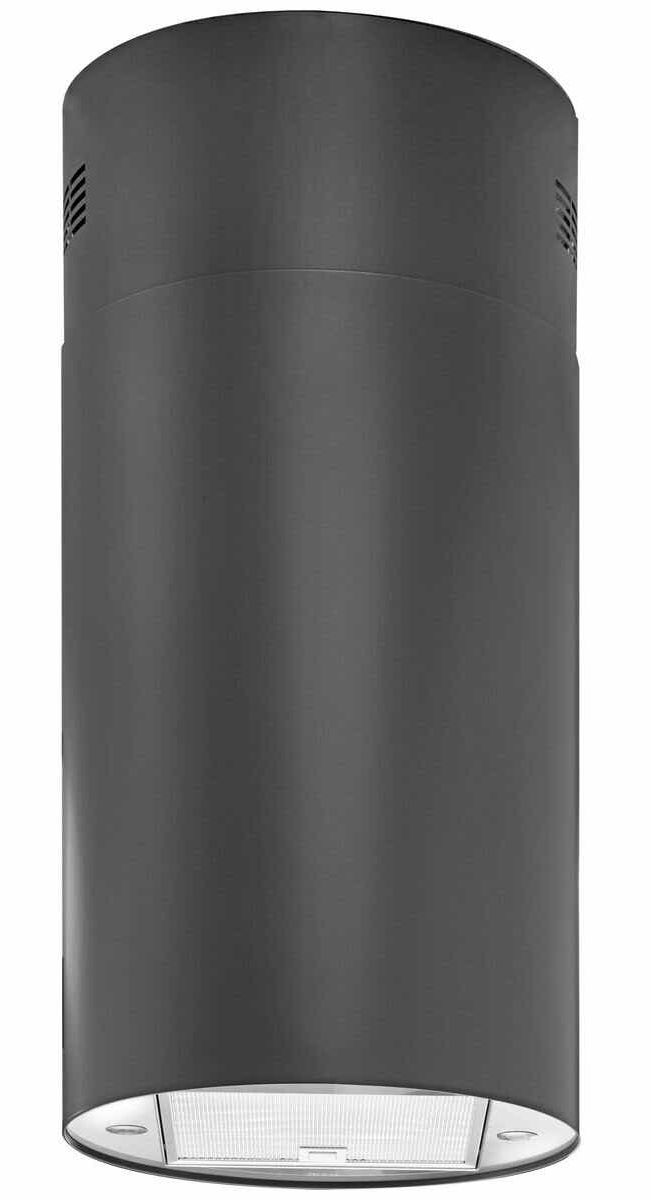 ILVE offers rangehoods for the passionate home cooks, as well as professional chefs. It's dedicated to bringing the versatility and performance of its unique Italian brand to Australian kitchens. ILVE has different types of rangehoods available, including canopy, ceiling, concealed, island and slide-out models. While many brands typically provide 50cm and 60cm models, ILVE does offer a 37cm cylinder island rangehood for kitchens requiring a more compact design. This Italian-made island rangehood from ILVE's X370 Series is said to contain a powerful high-speed fan and features such as auto fire shut-down sensors and an ECO-booster function.
ILVE rangehoods can cost between $899 and just over $4,000, although most top-of-the-range models from the brand are priced around the mid $2,000 mark. A few models include:
ILVE 60cm Under Cupboard Rangehood (IVUM60X): $899 RRP*
ILVE 90cm Canopy Rangehood (X400/90): $1,799 RRP*
ILVE 37cm Island Rangehood (X370GM): $2,759 RRP*
What's the best rangehood to buy?
Things to consider
Now that we've wrapped up the different brands you might like to consider, there are several other aspects to think about when buying a new rangehood, in particular your budget. Our research revealed consumers spend an average of $389 on new rangehoods, which has significantly dropped since we conducted the survey last year ($540). We also found the following insights:
Types of rangehoods
Half of our survey respondents (54%) indicated that they have a ducted rangehood, while 25% own a recirculating type. The difference between the two is that ducted rangehoods – also referred to as extractor rangehoods – are claimed to offer better performance by extracting the cooking fumes from the kitchen and expelling them to the outside via ducting. Non-ducted or recirculating rangehoods, on the other hand, are designed for kitchens where there is no external vent, thus the rangehood extracts cooking fumes and passes them through active charcoal filters, recirculating the cleansed air back into the room. Once you know which option is suitable for your home, you can consider other key factors such as style, size, power settings and features.
Rangehood Style and Size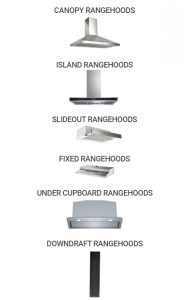 Deciding on which type of rangehood to choose from will depend on your kitchen setup. All rangehood types are typically available in 60cm and 90cm widths, covering off the most common sizes of cooktops. Different styles include the following:
Canopy rangehoods: produce high power and cover a large air collection area over the stove.
Island rangehoods: attach to the roof of the kitchen and are designed to sit over an island bench or a freestanding island cooker.
Slide-out rangehoods: use a fan that turns on as you slide out the rangehood. They will cover a smaller air collection area, thus are typically less efficient at collecting steam than a canopy or fixed rangehood but can be pushed out of sight once you finish cooking.
Fixed rangehoods: are generally cheaper to buy than most other types, and cover a larger air collection area compared to slide-out rangehoods, although offer a smaller air collection area compared to a canopy rangehood.
Under-cupboard rangehoods: are integrated into a kitchen cupboard and can be hidden away from sight. They have a limited air collection area and are therefore not as efficient as a canopy rangehood.
Downdraft rangehoods: are not as visible as other rangehoods because they are installed in the benchtop, either to one side of the cooktop or to the rear, allowing them to blend seamlessly into the countertop.
Lighting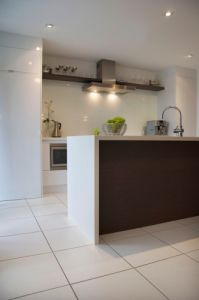 Depending on the type of rangehood, many models come with different lighting fixtures. You can choose from incandescent, fluorescent, halogen and LED. Some rangehood brands boast dimmable lighting, so you can select the level of light that works for you. It can also be used as mood lighting when you finish cooking!
Noise
Noise level is important because you should still be able to hold a conversation when your rangehood is on. Many models feature settings that help minimise the noise, with different brands now also creating more rangehoods that have a remote motor to ensure even quieter operation. Our survey found that low noise levels were the second biggest driver of customer satisfaction for rangehoods, just behind performance. A handful of respondents also said they avoid using their rangehood because it's too noisy (19%).
Controls

Typically, there are sliding, push buttons and touch control panels, which are easy to reach and operate. Some retractable models will feature controls on the underside of the hood, and others increase the fan speed the further you pull the hood out. Consider what would be most comfortable and suitable for you when buying.
Speed
Rangehoods often have from three to six fan speeds, with some models also offering an automatic variation of speeds. The higher speeds are used when cooking, while the lower speeds can be utilised once finished. Generally, you shouldn't need more than three speeds, although this will come down to what you plan on cooking for dinner.
Whether you're after a simple rangehood or one with all the bells and whistles, we hope this guide has been a useful tool to help with your rangehood purchase.
About the author of this page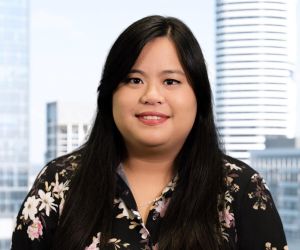 This report was written by Canstar Blue's home & lifestyle journalist, Tahnee-Jae Lopez-Vito. She's an expert on household appliances, grooming products and all things grocery and shopping. In addition to translating our expert research into consumer-friendly ratings reports, Tahnee spends her time helping consumers make better-informed purchase decisions on all manner of consumer goods and services, while highlighting the best deals and anything you need to be aware of.
*Prices are taken from retailer websites, Appliances Online and Bing Lee, correct as of September 2021.