It's hard to imagine life without the humble fridge. Not only do they stock necessary nourishments, they also store cheese and wine, and that's important too. Australians love a good fridge. In our customer satisfaction ratings, it was found that Australians own an average of 1.5 fridges, which means that a lot of us own a second fridge, either for drinks or simply more storage space. The average amount spent on fridges was $1,298, which certainly isn't cheap by any stretch.
So, what's the deal with cheap fridges? Seeing that Aussies commonly own a second fridge, it's understandable that many don't want to shell out more than $1,000 for one. As such, we can assume that a second fridge is bought on the cheap. However, what are you really getting with a cheap fridge? Find out more with Canstar Blue.
Cheap fridges: What am I really paying?
Many of us are making do with old fridges that have been doing us proud for around a decade or more (we found the average life expectancy to be 10.8 years). As the old saying goes "if it ain't broke, don't fix it". But for some people, it may be that the cost of buying a new, improved refrigerator will be a major put-off. With Aussies spending an average of almost $1,300 on their new fridges, you can understand why many households will delay buying one for as long as possible, or buy the cheapest fridge they can get away with.
There's a lot more to pay than just the sticker price when deciding on a fridge. The most important thing to look at when buying a cheap fridge is its energy efficiency rating label. Often, the cheapest fridges can use over 400kWh, which can equate to $132 a year! Think about that the next time you go for a second fridge.
Cheap full-sized fridges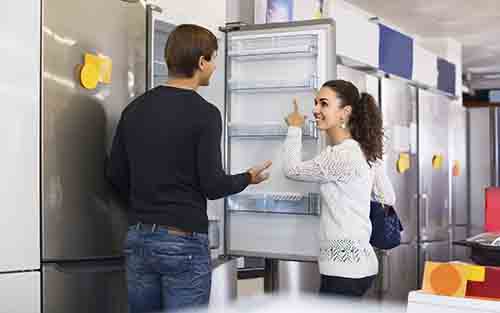 So summer has hit, and you've got time off over Christmas to watch the test cricket, and you're looking for a handy second fridge to put the Milton Mangoes and the barbecue meat in. It's only right to be concerned with money at this point because the kids' Christmas gifts have sucked you dry. Let's take a look at some cheap, full size fridges, and what they really cost.
Midea 268L Top-Mount Fridge (MTM268W)
Perfect as a handy second fridge, the Midea has simple refrigeration at the core of its mind. It's perfect for a drinks fridge with its ice maker and ample, flexible door storage. It retails for less than $700, and can be found for under $500, so it's an easy buy for that extra fridge space. However, what are you really paying?
Energy star rating: 2 stars
Energy consumption: 425kWh
Energy costs per year (33c/kWh): $140.25
Approximate energy costs over decade: $1,402.50
Now consider that last point. Over $1,400 is spent in electricity consumption for this fridge alone. This is also not taking into consideration that electricity prices have risen 72 per cent from 2003-2013. If we use that figure for the next decade, you could expect to be paying over $2,000 in electricity costs for this fridge. This is also not taking into account inflation or the fact that your provider may charge for electricity differently, so it's impossible to correctly guess how much it's going to cost over the decade – but it's not so cheap after all!
Samsung 400L Top-Mount Fridge (SR399WTC)
In the other corner, this Samsung fridge sits with confidence knowing that it can deliver both a reasonable price and reasonable electricity costs over time. With a comparatively massive 400L capacity, this Samsung retails for close to $1,200, but can be found for less than $700. With its size, it could not only be suitable for drinks, but for a small family, too. Let's see what you're really paying.
Energy star rating: 3.5
Energy consumption: 349kWh
Energy costs per year (33c/kWh): $115.17
Approximate energy costs over decade: $1,151.70
Let's compare these two fridges together…
Of course, your mileage may vary, but this is a telling case of how buying cheap doesn't always equal saving money in the long run. This of course doesn't take into account retail prices, inflation, or fluctuating electricity usage charges. It's worth doing a little research to determine whether that cheap fridge really is actually saving you money.
Cheap bar fridges
Bar fridges may be small, but don't be fooled by their stature. Many are lucky to get a one or two-star energy rating, and while they don't consume much more than a regular fridge, their energy consumption per litre of capacity can be astounding. Take for example the Hisense 47L model (HR6BF47); it retails for under $200 so for the budget-conscious it's an alluring prospect, but what's really ticking under the hood?
Energy star rating: 1 star
Energy consumption: 248kWh
Energy costs per year (33c/kWh): $81.84
Energy costs per litre of capacity: $1.74
So, if the humble bar fridge is on your radar for a cheap second fridge this summer, you may want to rethink your purchase as their power consumption can seem grossly out of proportion to their small capacities.
Should I buy a cheap fridge?
In Australia, the land of near-constant heat and humidity, not owning a refrigerator is unthinkable. Unlike some countries, we don't have the luxury of a climate that makes houses into one big icebox, which means that unless we fancy our food going off in hours, a fridge is a necessity. And with budgets tightening, it's only understandable to want the cheapest fridge you can get away with.
Before buying cheap, it also makes good sense to consider the long-term running costs involved. Our findings show that cheap fridges generally have lower energy-efficiency ratings and will thus result in higher electricity costs. The big questions is: Do you save on running costs by buying a more expensive model up front, or plan for higher bills by buying a cheaper appliance? Either option has its pros and cons, but we suspect the best option is to:
Try and find a reasonably efficient fridge on sale
Opt for a fridge that strikes a balance between price and energy-efficiency
In the end, there's more to buying a fridge than just sticking it in the back of your car, and plugging it in when you get home. You'll have to consider your household needs and budget in relation to its ongoing costs. This means that only you can decide which option is best for your household.