Fact Checked
The 1950s 'Retro Style' is back in town in the refrigerator space, bringing some bright colours with it – think fire engine red, cool blue, black and even mint. Perhaps we feel like we're born in the wrong era or envy our ancestors who had more colourful appliances back in their day. Nevertheless, the range is here with slightly more advanced features than what was available in the 50s, but it comes at a price. Read this Canstar Blue guide to learn all you need to know about retro fridges in Australia.
What is a retro fridge?
Retro fridges typically have a classic design that is reminiscent of a mid-twentieth century style. This form of fridge is generally smaller and narrower, making them great appliances for kitchens that lack space. The common hallmarks of a retro fridge include a bright colour scheme, a curvaceous design, and smaller sizing.
Who sells retro fridges?
A variety of brands offer retro fridges in Australia. This includes Smeg, CHiQ, Husky, and Gorenje.
Smeg retro fridge

Smeg is synonymous with the iconic 50's retro style. This range features unmistakably vintage designs that combines curvaceous lines, vibrant colours, and cutting-edge technology. Smeg's eclectic range includes freezers, washing machines, dishwashers, refrigerators, and a number of smaller household appliances.
The Smeg 50's Style Bottom Mount Refrigerator hosts an iconic retro design that is sure to make your kitchen pop. This fridge also features a digital LED display, a controlled temperature zone designed for a better and longer preservation of perishable food, and elegant chrome finishing. This model will cost you around $4,300.
CHiQ retro fridge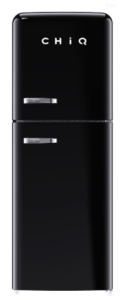 If you're looking to jazz up your kitchen – the bright colours of CHiQ's retro refrigerator range may just do the job. This series seamlessly pairs modern technology with classic design. With multiple colours and capacities available, along with some bar fridge options, you'll be sure to find a CHiQ refrigerator that compliments your house.
The CHiQ 202L Retro Fridge takes you back to the past with a sleek rounded design. This fridge is equipped with an electronic control system, interior LED lighting, a humidity-controlled crisper, anti-frost technology, and an even air-flow system. This model will cost you around $1,200.
Husky retro fridge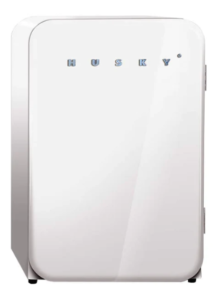 Husky offer a 1950's inspired retro range to boost the aesthetics of your kitchen. Fridges in this range will fit comfortably under standard bench tops or can function as standalone appliances. Husky also offer custom brand servicing on products in this range.
The Husky 112L Retro Style Bar Fridge features will keep your drinks chilled with a classic retro design. This model features dual-temperature control, a large door storage shelf, LED lighting, grip and recessed handle options, open-door alarms, and a twin crisper. This fridge will cost you around $950.
Gorenje retro fridge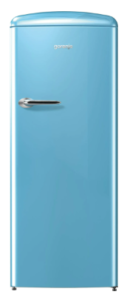 The Slovenian brand Gorenje has an appliance manufacturing history that reaches as far back as the 1950s. It develops household appliances that are technologically advanced, innovative, energy-efficient and beautifully designed. The Gorenje retro fridge range is no different, with a variety of colour, size, and style options available.
The Gorenje Freestanding Retro Refrigerator combines aesthetic design with high functionality. This fridge is equipped with simple slide shelving, a fresh zone drawer that will preserve the quality of your food, LED lighting, and an advanced fan system that ensures even temperature distribution. This model will set you back around $2,500.
How much does a retro fridge cost?
The price of a retro fridge depends heavily on design, size, brand, and other additional features, but are generally more expensive as a whole compared to traditional standard fridges. Cheaper retro fridge models will cost you around $900, while more expensive options may cost more than $4,500.
Purchasing a retro fridge
Before jumping on the retro fridge bandwagon, you may like to consider if aesthetic is more important to you than functionality. Most retro fridges, while looking great, come with minimal added features. It should also be noted that retro fridges come at a premium, often costing around double that of a similarly sized regular refrigerator. However, if you're desperate to add a pop of colour to the home, a retro fridge might just be the solution. To help you decide which appliance is the best fit for you and your home, check out some of Canstar Blue's best-rated fridges.
Refrigerator Reviews & Ratings
Original Author: Veronika Hleborodova