With most household appliances, you'll get what you pay for. If you buy a cheap dishwasher, you can expect disappointing cleaning results. And if you buy a cheap vacuum cleaner, you can expect it to suck (you know what we mean)! But when it comes to microwave ovens, aren't they all more or less the same? When you simply need to heat or defrost some food, surely they can all do the job?
There is some truth to this theory – all microwaves should be capable of doing the basics when you get home in the evening and need a bite to eat. But just like with dishwashers and vacuum cleaners, the issue is not so much that they can do the job, but how well they can do it. With microwaves, it all comes down to what you want from it.
If you're just looking for a simple microwave to zap yesterday's leftover lasagne, then the good news is you have plenty of cheap options, which we'll examine in this review. If you're keen on a microwave oven that is capable of roasting, crisping and cooking meals from scratch, you're in the wrong place.
What are the cheapest microwaves in Australia?
You'll find several microwave ovens for under $100 in Australia. They can usually be found at budget department stores such as Target and Kmart, as well as from cheap online retailers like Kogan. This table shows the cheapest microwaves in Australia at the time of writing:
| Price | Brand | Model | Type |
| --- | --- | --- | --- |
| $48 | Kmart | 20 Litre White | Electric |
| $59 | Target | TESMO110 Target Essentials | Electric |
| $75 | Kmart | 28 Litre White | Electric |
| $89 | Target | TMOSS25 Stainless Steel 25 Litre | Electric |
| $89 | Kmart | 25L White Stainless Steel | Electric |
| $129 | Midea | MMW20S 20L Stainless Steel | Electric |
| $149 | Kogan | KAMWO28CSSA 28L Stainless Steel | Convection |
Prices compared from respective retailer websites and Appliances Online, July 2018.
For more information on each of these models, we've prepared a brief review on each of them, discussing the specs, features and power of each model compared to some of the more expensive options on the market. This should hopefully give you a good idea of whether or not they're a worthwhile purchase.
Kmart 20L White Microwave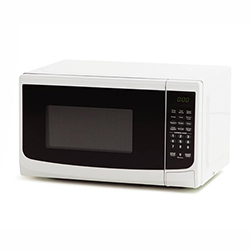 The first of Kmart's three sub-$100 microwaves is this $48 option. It's probably the cheapest microwave you're ever likely to find in Australia, but then it is extremely basic. So what can this microwave oven do? For starters, it's not very powerful – packing only 700 watts of power. This means you won't be able to quickly zap a lot of foods, and might need to put things in longer to get your desired results. It also has a very small capacity, as most ovens tend to be around 25 litres or more.
More expensive microwaves tend to have a long list of added features, but this model still has a decent amount considering its price. It has the following features:
A push-open door for easy access
Up to 99 minutes of cooking time
Six auto-cooking menus + a defrost setting
Child safety lock to keep out curious hands
11 power-levels to give you plenty of options depending on what you're after
How does it compare?
In terms of features, this microwave really doesn't compare to more advanced models, although it does an admirable job considering its price. Speaking of price, the cheapest microwave listed on Appliances Online costs $116, so the Kmart 20L model costs less than half, which just goes to show how cheap and basic this one it. That microwave also brings 700W of power, so Kmart's option is much better value in that regard. As you go up in price though, you'll find that a lot of Australian microwaves have power levels of 1000W or more.
Is it worth it?
If you're restricting yourself to a budget and don't care about getting a super powerful microwave with plenty of advanced cooking functions, then this microwave is definitely worth considering. It can perform all the basics you'd expect from a microwave, and is a perfect option for students living out of home too, or for people who really aren't too fussed about getting the perfect microwave results.
However, maybe a few extra bucks are worth spending?

Target TESMO110 Essentials Microwave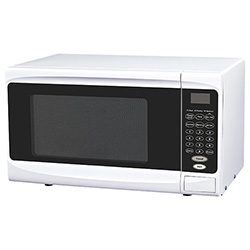 Target is the other powerhouse of the cheap microwave world, and its $59 Essentials model definitely fits the requirements of a budget oven. Apparently designed with style and value at heart, this microwave is very similar to the Kmart 20L appliance reviewed above, in that it has 700W of power, 10 power levels (as opposed to 11) and a child lock.
Cool features of this microwave – considering the price – are its weight and jet-defrost settings. 'Jet-defrost' is exactly what it sounds like – it defrosts your food as quickly as possible. The weight defrost allows you to automatically set a defrost time based on the weight of the food you have in there. The express turntable also helps give better cooking results. This all sounds promising!
How does it compare?
Since it's so similar to Kmart's cheapest microwave, it doesn't compare to more expensive models when it comes to cooking features, although its convenient defrost modes mean it does fare a little better overall. It also has the same capacity and power output of the Kmart microwave, which is less than the market average.
Is it worth it?
It's up to you to answer this question, although in our opinion this microwave represents excellent value at just $59. The nifty defrost settings help to justify its $10 price increase over the Kmart model. All in all, it should be another great purchase for those on a tight budget, or for people who need to buy a microwave in a hurry.
But what happens when we jump up in price a little?

Kmart 28L White Microwave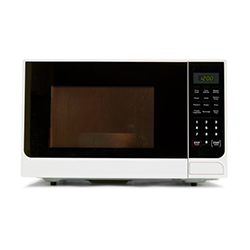 Going back to Kmart, we have its 28L white microwave. It is very similar to the 20L version with some key differences. First of all it has a 28 litre capacity, meaning you can store much more food in there. This is near enough to the industry average capacity, and affords you some added heating convenience.
Another major difference is that it has an increased power output of 900 watts. So in addition to holding more food, you can also zap it in less time, which makes it ideal for someone feeding more than just themselves. Extra features include 10 variable power levels, a touch pad control with 6 auto menus, and a weighted defrost option, so it's a suitable microwave for any kind of meal.
How does it compare?
It compares much more favourably to more expensive microwave options than the three models already reviewed, as its capacity and power are comparable with microwaves that cost significantly more than this one. It really doesn't have that many features, but it does have a good enough range of cooking levels and programs to give you plenty of options.
Is it worth it?
For just $75, this microwave is perhaps the best value so far. The cost aside, you can expect similar features on plenty of other microwaves that somehow demand much higher prices, so it seems you're getting a great deal. So if you want to spend an extra 20 to 30 dollars for a bit of extra quality, then you should definitely consider Kmart's cheap 28 litre microwave.

Target TMOSS25 Stainless Steel Microwave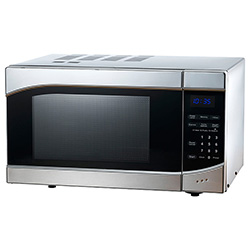 Back to Target again and we have the TMOSS25 stainless steel microwave. This one is much closer to the $100 threshold at $89, but like the others in this review, it is of course extremely basic. It comes with a 900W power output and a 25 litre capacity, making it relatively easy to prepare food and reheat meals.
Other key features of this model include a kitchen timer (which the others don't have), auto-defrost, a completed food timer, 6 pre-set menus, and 5 variable power levels – which is notably less than the cheaper models we've previously mentioned. It also has a child lock feature to stop nosy children from injuring themselves.
How does it compare?
This one is much closer to the cheaper models listed by the major providers, but there is still enough of a difference to make it a good budget purchase. Unfortunately though, it's worse off in a lot of ways, especially when it comes to litre capacity and power levels. The only advantage it has is the different timers, but there are probably other appliances in your kitchen that can do that job for you anyway.
Is it worth it?
It still seems a good, cheap microwave, and can perform all the basic functions you'd need it to. But the cheaper microwaves listed above, such as the $79 Kmart model, can seemingly do the same or more, for less.

Kmart 25L Stainless Steel Microwave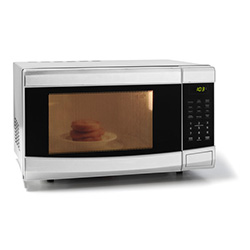 This is Kmart's 'fanciest' microwave. The stainless steel front, white interior cavity and black exterior give it an aesthetic appeal that will look impressive in any modern kitchen. It still represents a bargain buy at $89, but we're starting to get closer to what you can expect to pay for a lot of other microwave brands.
It still only has the most basic of microwave functions, but it fairs slightly better than the previous two Kmart microwaves. It has the following features:
Electronic touch pad controls
10 variable power levels
Defrost by weight and time
6 auto-cooking modes
900W of power
A 99 minute timer for safe food preparation
A child safety lock
How does it compare?
Once again it's less capable than more expensive models, but on the upside it's cheap, user friendly and compact. It's hard to find fault with this microwave, but at about $90, you could spend a little extra and get a lot more.
Is it worth it?
If you're going up to $90, then you can probably afford to add another $20 or $30 and look for some more advanced models. The general rule is that the more expensive the microwave, the more features it has, so check out Appliances Online and other websites to have a look at some other budget buys. If you don't want to spend that extra cash however, then this microwave still seems solid value for money.

Midea MMW20S 20L Microwave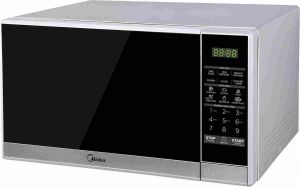 Over the $100 mark, you'll find the Midea microwave. It comes with a 700W power output and a 20L capacity, making it slightly smaller than the Kmart and Target microwaves above. Nevertheless, it offers some convenient features for all your heating and grilling needs as it's also equipped with an integrated electric grill. Expect a few auto menus for popcorn, potato, frozen veggies, beverages, dinner plates and pizza. This might help reheat food to just right – instead of the half-hearted effort that some microwaves leave you with!
In terms of design, it features an LED display with touch controls as well as the standard internal light and glass turntable. There is an identical model available in a white finish instead of stainless steel. Additional functions include:
10 power levels
99 minute cooking timer
30 second quick start
Express cooking
Memory
Multi-stage cooking
Inquiring function
Weight & time defrost
Child safety lock
How does it compare?
The Chinese brand aims to offer a bang for your buck with this 20L model, however, its capacity is a downfall with other larger models being slightly cheaper. On the other hand, you have the additional grill functionality, so if that's something you're after, then the extra $40 might be well spent.
Is it worth it?
If you're already budgeting towards a microwave for more than two $50 notes, then perhaps the Midea microwave is one to consider. It also features a few convenient features such as automatic menus to save you from taking your food out before it's heated through, making it a noteworthy model.

Kogan KAMWO28CSSA 28L Convection Microwave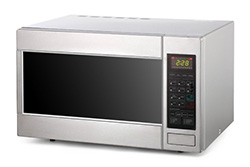 The last sub-$150 microwave we'll review here is the only one that isn't from Kmart or Target – the Kogan 28 litre convection microwave. As the name suggests, this is a convection oven, which means that it circulates the hot air inside with a fan. This means the food cooks more quickly as hot air is blown onto all areas of the food. When using the convection mode, the power of this microwave increases to a massive 2300W!
In addition to the convection function, it also has a grill, so you can achieve delicious food results any way you like. The 28 litre capacity also means you can cook more food at once. With a sleek stainless steel design, this microwave from Kogan looks like a safe bet for the family.
Features of this model include:
900W of power, 2300 when using the convection function
A stainless steel interior that makes it easy to clean and wipe
10 pre-set cooking menus, like pizza, vegetables, fish and more.
A 31.5 cm round turntable
It should also be noted that this microwave has an average consumer score of 4.5/5 stars after more than 260 reviews – so it comes highly recommended from those who have previously bought it.
How does it compare?
Despite being less than $150, this cheap microwave has some of the capabilities of microwaves much more expensive than itself. It has mostly the same features as the models we've mentioned already in this article – different cooking menus, an interior turntable etc. – but what really sets it apart from them is the presence of its three different cooking functions.
These are usually reserved for microwaves that are much more expensive, and these functions give it much more variation and power when it comes to cooking. And generally speaking, convection and grill cooking tends to give better results than a standard electric microwave. And with 28 litres of capacity to play with, you won't have any trouble fitting the necessary amount of food in there.
Is it worth it?
Based on its capabilities, low price and reviews from satisfied buyers, the Kogan 28L convection microwave seems like a great choice. In fact, it's probably one of the best value microwaves around right now.

The bottom line on cheap microwaves
This concludes our reviews of cheap microwaves in Australia. Each of these microwaves cost less than $100, and they each represent good value for money in their own way. If you're able or willing to spend a little bit more, there are still plenty of cheap microwaves out there that cost only slightly more than those we talked about here. Make sure you check out Appliances Online and the various different manufacturers to find one that suits your needs. For more on microwaves, make sure you read our Canstar Blue microwave reviews.
Original Author: William Jolly