Feel like you're running out of steam when smoothing out the stubborn creases on your favourite shirt? The cordless clothes iron is gliding its way into Aussie homes and helping us break free from the chains of ironing, or at least the annoyingly long and inflexible cable.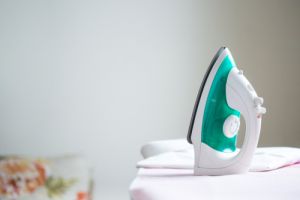 What is a cordless clothes iron?
Cordless clothes irons are designed to be a more convenient alternative to the traditional cabled option. They're aimed to reduce the chances of the cord snagging on material and removes the need to iron at awkward angles. Each cordless iron comes with a base, typically with a long cable, which you can use to recharge the appliance. The charging time is usually between 5-10 seconds, although it can take up to 30 seconds. Depending on the model, you can get up two minutes of continuous ironing before it needs to return to the docking station. Certain cordless irons like the Kogan 2200W Cordless Iron can also be used as a traditional iron, so you can connect the plug for continuous use.
Who sells cordless clothes irons in Australia?
Australia doesn't have as many options to choose from compared to shoppers overseas, especially with some companies still yet to release their range of cordless clothes irons Down Under. But here are a few brands:
Here's how they compare on price:
| Model | Price |
| --- | --- |
| Kogan 2200W Cordless Iron | $39* |
| Kmart 2400W Cordless Steam Iron | $45* |
| Tefal Freemove FV9951 Cordless Steam Iron | $199* |
Source: Respective retailers, January 2020.
Cordless Clothes Irons
Kogan cordless clothes irons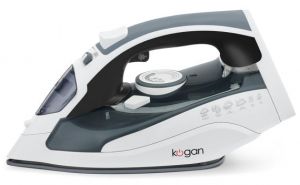 Kogan has a couple of cable-free options, including the low cost Kogan 2400W DuoGlide Cordless and Corded Steam Iron. The Kogan 2200W Cordless Iron is alternatively available for just $79, which is still comparatively cheaper to some models from other brands.
Despite the price, the Kogan 2400W DuoGlide Cordless and Corded Steam Iron is claimed to have slightly stronger and longer-lasting power than the more costly option. It's said to provide up to 45 seconds of continuous steam, compared to 35 seconds, 2400W power instead of 2200W. This model is claimed to give a maximum of 130 seconds of continuous dry ironing time, similar to the two-minutes expected from the other iron. The water tank is also slightly larger at 280ml, compared to the 245ml in the 2400W model. But you may need a bit of patience, with the 2400W cordless iron having a recharge time of 27 seconds. This is a fairly big difference to the charging time of the Kogan 2200W cordless iron, which only takes five seconds to recharge, as well as other cable-free clothes irons on the market.
If the iron runs out of battery, you can plug the cable into the appliance and use it like a regular iron. Otherwise, you can always wait a few seconds for it to recharge. The cord itself is said to be lengthy, and features a 360-degree design to make sure you'll "never have to iron on a tough angle again", according to the brand.
Charging time: 27 seconds
RRP: $39
Kmart cordless clothes irons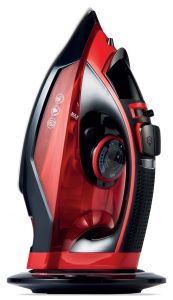 If the idea of paying around $100 for a cordless clothes iron is more likely to leave a wrinkle on your forehead than smooth out your clothes, Kmart has an affordable option for almost four times cheaper than some brands. The Kmart 2400W Cordless Steam Iron comes with a ceramic coated soleplate, and provides a self-cleaning function and continuous steam. Other features include anti-drip and auto shut-off for safety.
Charging time: 10 seconds
RRP: $45
Tefal cordless clothes irons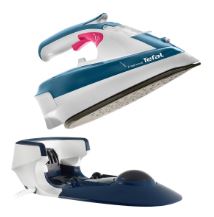 Tefal keeps the choice for a cordless iron short, with only one option available — the Tefal Freemove FV9951 Cordless Steam Iron. The Durilium Airglide Autoclean soleplate technology is claimed to ensure "effortless ironing" by preventing the fibres and impurities which tend to stick to the plate and reduce its glide. The non-stick Durilium AirGlide AutoClean soleplate technology is said to remove the fibres and impurities that apparently often clog the plate and reduce its glide.
If you're not sure how much steam to use, the Auto Steam function allows you to pick the type of linen you want to iron and it will automatically adjust to what it considers to be the appropriate temperature and steam flow.
Charging time: 4 seconds
RRP: $199
Are cordless clothes irons worth the money?
If you're ready to un-tie the knot and commit to a cordless clothes iron, don't forget to do your research when deciding whether to make the change. Since a number of the models provide approximately two minutes' worth of dry ironing time before it needs recharging, a cordless iron might be more useful for smaller piles of items. When it comes to cost, there's barely any difference between a cordless iron and a regular iron. You can still snag wallet friendly options from places like Kmart and Kogan, and invest in higher-end brands like Tefal.
Picture credits: AhmedAdel/shutterstock.com