Ironing can feel like a tedious task, so why not make it easy and seamless by using a cordless iron? Cordless clothes irons have grown in popularity across Australia due to their simple user-friendly design that avoids the hurdles of a long and tangled cord – especially if you're in a rush to get out the door. We've put together a simple guide to cordless clothes irons to help you make the right choice if you're switching to a cordless alternative. 
What is a cordless clothes iron?
Cordless clothes irons are exactly what you think they are – a traditional clothes iron, just without the cord – and are designed to be a more convenient alternative to traditional cabled options. They're aimed to reduce the chances of the cord snagging on material and removes the need to iron at awkward angles. Each cordless iron comes with a base, typically with a long cable, which you can use to recharge the appliance. Some models also have the option to use them traditionally by plugging in the cord for continuous use if it runs out of charge. 
How does a cordless clothes iron work?
Much like a mobile phone or other battery operated device, a cordless iron has a dock that is used to charge the battery housed inside the iron, meaning that a cordless clothes iron could also be thought of as a battery-operated iron, meaning as long as you have some charge, it'll keep running. Some models of cordless irons will have a charging cord as opposed to a dock which can be useful in laundry rooms with limited bench space. 
How much does a cordless clothes iron cost?
Cordless clothes irons range from $30 to $200, with prices varying between brands and models. Brands like Kogan and Kmart offer more of an entry level price, whereas brands like Tefal come at a more premium price, but also generally come with more features to make up for the increased price tag. 
Who sells cordless clothes irons in Australia?
Fortunately, cordless clothes irons have grown in popularity the last few years and are becoming more available in appliance stores and online. Brands like Tefal, Sunbeam, Kmart and Kogan all sell cordless clothes irons online or in electronics retailers like The Good Guys.
Kogan cordless clothes irons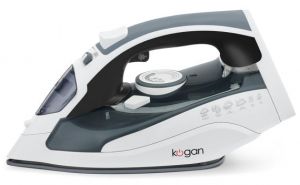 Kogan has a couple of cable-free options, including the low cost Kogan 2400W DuoGlide Steam Iron and the 2200W Cordless Iron. You can expect features like quick charging from just 10 seconds, 35 to 45 seconds of continuous steam and with generous water tanks ranging from 245ml to 280ml. Both models retail between $40 and $80 but each have their own features and functions that affect price.
Kmart cordless clothes irons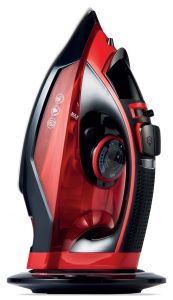 If the idea of paying around $100 for a cordless clothes iron is more likely to leave a wrinkle on your forehead than smooth out your clothes, Kmart has an affordable option for almost four times cheaper than some brands. The Kmart 2400W Cordless Steam Iron comes with a ceramic coated soleplate, and provides a self-cleaning function and continuous steam. Other features include anti-drip, auto shut-off for safety and a quick 10 second charging time.
Tefal cordless clothes irons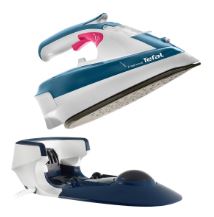 Tefal keeps the choice for a cordless iron short, with only one option available — the Tefal Freemove FV9951 Cordless Steam Iron. Sitting at the top of the range for price, it has a speedy four second charge time and the Durilium Airglide Autoclean soleplate technology is claimed to ensure "effortless ironing" by preventing dirt and fibres from sticking to the soleplate. 
If you're not sure how much steam to use, the Auto Steam function allows you to pick the type of linen you want to iron and it will automatically adjust to what it considers to be the appropriate temperature and steam flow.
Aspects to consider when purchasing a cordless clothes iron
When purchasing any household appliance, it's best to think about your needs and how it can help make your life simpler. When looking to purchase a cordless iron, there are a number of factors to consider that can help inform your decision:
Volume of ironing:

Due to some cordless irons only having up to two minutes of ironing time once off the charger, they may be a good choice for households that have smaller volumes of ironing requirements. 

Laundry room space:

Because a lot of cordless irons have a charging port, bench space needs to be available for them to be placed on charge easily and ready for use. If you have a smaller cupboard as opposed to a dedicated laundry room with plenty of bench space, they may not be the right choice. 

Price:

Cordless iron prices sit at each end of the spectrum offering more choice – and bang for your buck. You can choose to purchase a cheaper iron from Kmart or Kogan, or if you're looking for a longer-term investment, Tefal may be the right pick.
Do I need a cordless clothes iron?
While a cordless clothes iron could save you plenty of time and avoid the turmoil of a tangled cord, they may not be the best choice for all. There are plenty of brands and models that won't break the bank, ensuring even those on a budget can find a potential match, however space creates an issue for some, meaning those with limited cupboard space may need to do some additional research. It's always best to look into all your options before making a purchasing decision, but if you're ready to upgrade your laundry room then a cordless clothes iron may be the next item in your basket. 
Picture credits: AhmedAdel/shutterstock.com
Original Author: Tahnee-Jae Lopez-Vito