Fact Checked
De'Longhi is a breath of fresh air in dehumidifier & air purifier ratings
Humidity doesn't just make rooms uncomfortable and stuffy. Humidity from water vapour in the air or produced by vented dryers and other household appliances can actually cause excess moisture in our homes, increasing the risks of growing mold spores or developing mold-related allergies. It can also lead to musty smells and form rust and dark spots on the walls.
And if the humidity wasn't enough ─ pollen, dust mites, and bacteria also often circle around rooms and affect the quality of the air we breathe. All of this can be harmful to our health, especially if you suffer from asthma or allergies.
To help you breathe a sigh of relief, we tried seeing what works by asking almost 500 Australian consumers for their feedback on the dehumidifier(s) or air purifier(s) they purchased and used in the last three years. Respondents rated brands on effectiveness, functionality, quietness while operating, appearance & design, reliability, value for money and overall satisfaction. Those that received at least 30 responses are compared in this year's report.
De'Longhi took the lead in our first-ever dehumidifier & air purifier ratings, earning a five-star review for overall satisfaction and most other categories!
Best Dehumidifiers & Air Purifiers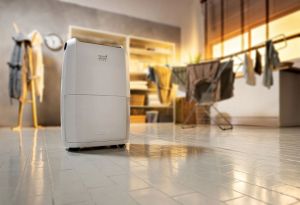 Here are the best dehumidifier and air purifier brands in Australia, as rated by consumers in Canstar Blue's inaugural review:
De'Longhi
Breville
Dyson
Beurer
Philips
Kmart
De'Longhi was rated the best for effectiveness, functionality, quietness while operating, reliability, value for money and overall satisfaction. Breville, Dyson and Beurer landed on four stars for overall satisfaction, while Philips and Kmart rounded up the scores on three stars overall.
Notably, Dyson got the edge over De'Longhi when it came to design, before matching the winner's five-star score for reliability and effectiveness. Breville similarly got full marks for value for money.
How do you know if your home is too humid?
While experiencing humidity is normal, health problems can arise when there's too much humidity in the home. Here are some signs to look out for:
Condensation
Mold
Musty smells
Dark spots on walls
Rust
Peeling paint
Allergies and respiratory problems
Our research found that a third (30%) of people who took part in our survey use their air treatment appliance daily during summer. About two in five survey respondents (38%) bought a dehumidifier or air purifier to help with allergies or other medical conditions. Meanwhile, one in four (26%) said they purchased the product to make the air feel nicer.
What is a dehumidifier?
A dehumidifier aims to lower humidity levels in the air by collecting excess moisture. This helps minimise the risk of growing mold, mildew and allergens in the home, as well as to create a much more comfortable living environment, especially in summer.
What is an air purifier?
An air purifier is designed to improve overall air quality in the home by eliminating small harmful particles from the air, such as fine dust, pollen and bacteria. Keep in mind that air purifiers contain different types of filters which vary in size and efficiency between models. Filters available include high-efficiency particulate air (HEPA), carbon, ionic and UV lighting.
Dehumidifiers & Air Purifiers Compared
De'Longhi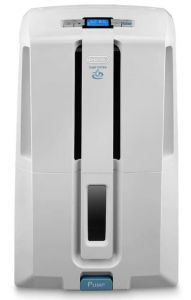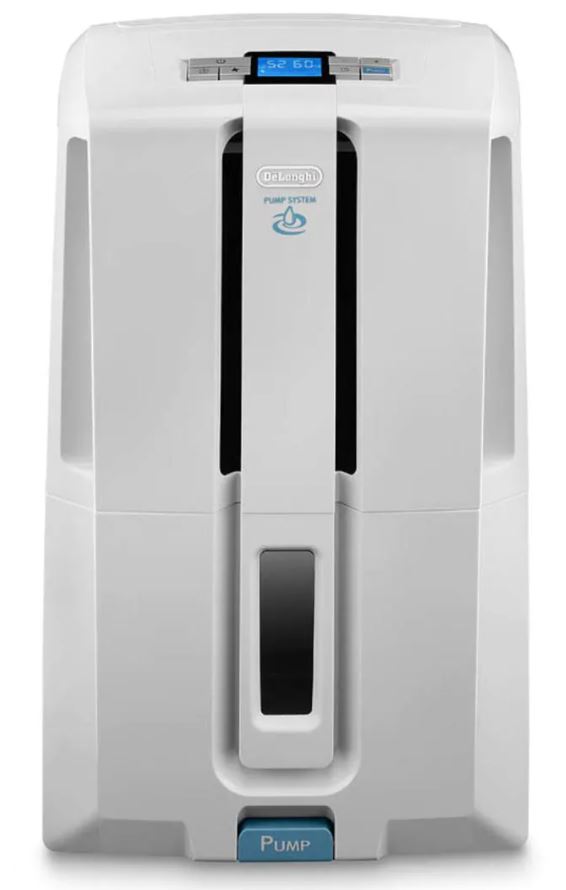 Clearly, the smell of fresh coffee isn't the only thing De'Longhi is leaving around the home. The brand also offers several dehumidifier models, designed to keep a healthy level of humidity around the home by absorbing any excess moisture from the air.
Aside from purifying air, De'Longhi's range includes a few useful features including a laundry function which helps to supposedly dry clothes faster, while some models also come with a PTC ceramic heating element that allows the appliance to dehumidify more air in a shorter amount of time, according to the brand.
You can buy De'Longhi dehumidifiers from The Good Guys, Appliances Online, Bing Lee, Bunnings and Harvey Norman. The models currently available include:
De'Longhi Ariadry Slim Dehumidifier 16L: $449 RRP*
De'Longhi Ariadry Compact Dehumidifier 25L: $499 RRP*
De'Longhi Tasciugo Ariadry Pure: $649 RRP*
De'Longhi Ariadry Pump Dehumidifier 30L: $649 RRP*
De'Longhi was rated best in most categories, such as effectiveness and overall satisfaction. The only exception was appearance and design, where it got four stars.

Breville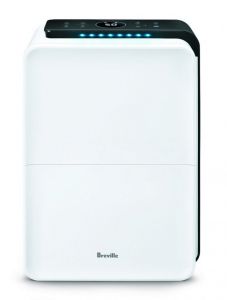 To tackle the dangers of mold and mildew, such as those created by everyday household appliances, Breville offers several dehumidifiers that each target different room types and sizes, as well as climates.
Each model is said to produce a fine, pure cold or warm mist that helps restore humidity levels. The brand claims this can relieve dry skin, eyes and sinus passages and ultimately help you breathe easier. The four-stage filtration system contained in each Breville dehumidifier is also said to help reduce allergens, dust, viruses and bacteria.
For an environmentally-friendly dehumidifier, Breville's All Climate Dehumidifier uses silica dioxide crystals which supposedly absorb moisture more naturally.
Breville's dehumidifier range currently includes:
Breville the Smart Dry Dehumidifier: $379 RRP*
Breville the Smart Dry Plus Dehumidifier $489 RRP*
Breville the All Climate Dehumidifier: $499 RRP*
Breville the Smart Dry Ultimate Dehumidifier: $649 RRP*
Breville earned a five-star review for value for money and four stars everywhere else.

Dyson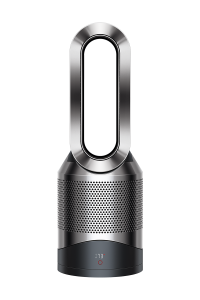 Dyson's high-end air treatment line includes three types of purifier fans. The different collections include the Dyson Pure Hot+Cool, Dyson Pure Cool and the Dyson Pure Cool Me. These typically retail between $499 and $899.
For a year-round air purifier, Dyson's Pure Hot+Cool and Pure Hot+Cool Link models can be used for both cooling and heating. Although you can find many of the same features between the different collections.
If you suffer from asthma or allergies, Dyson's air purifiers are approved by the Sensitive Choice program. These purifier fans are claimed to eliminate up to 99.95% of allergens and pollutants. Plus, these models are designed to automatically detect airborne particles and gases, before diagnosing and reporting the information in real-time.
Available in different designs, Dyson's purifier models include:
Dyson Pure Cool Me Personal Purifier Fan: $499 RRP*
Dyson Pure Hot+Cool Link: $799 RRP*
Dyson Pure Cool Tower Fan: $799 RRP*
Dyson Pure Hot+Cool Purifier Fan Heater: $899 RRP*
Dyson achieved full marks for effectiveness, reliability and appearance & design. It got four stars for most of the remaining categories, including overall satisfaction, plus three stars for value for money.

Beurer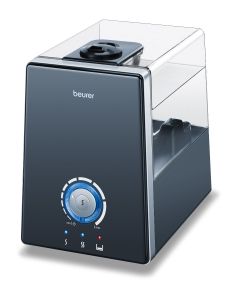 If you're looking for variety, Beurer offers a large range of air purifiers, air humidifiers and air dehumidifiers. Prices also cater to most budgets, typically starting from just under $100 and reaching up to the $800 mark. Accessories such as replacement filters are additionally available.
Many of Beurer's air purifiers are claimed to filter out up to 99.95% of fine particles, such as bacteria, viruses, dust and pollen. This is apparently thanks to its three-layer filter system, which contains a prefilter, activated carbon filter and HEPA filter.
New models including the LR500 use Wi-Fi compatibility to give households greater control and access to their air purifier. This model also comes with a function that automatically adjusts its settings based on the air quality in the room.
Some Beurer air purifiers and dehumidifiers currently available include:
Beurer Air Humidifier with Aromatherapy: $149.95 RRP*
Beurer Triple Filter Air Purifier: $269.95 RRP*
Beurer Triple Filter Air Purifier LR310: $399.95 RRP*
Beurer LR500 Air Purifier Wi-Fi Enabled: $799.95 RRP*
Beurer scored four-star reviews for overall satisfaction and quietness, and three stars in all other categories.

Philips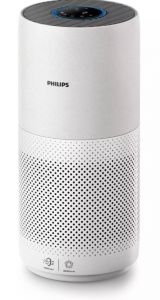 Similar to Beurer, appliance brand Philips sells multiple types of air treatment products, including air purifiers and humidifiers. The range has a mid to high price tag, with models costing between $259 and $1,399. Although a Money Back Guarantee option is available for specific models, including the Philips Series 1000 Air Purifier and the Philips Air Purifier Series 6000.
Most Philips air purifiers are claimed to eliminate up to 99.99% of pollen allergens. Certain models, such as the Philips Series 3000 Air Purifier, contain a Special Allergen mode which apparently increases its cleaning performance when it detects a change in air quality.
Some models you can expect to see include:
Philips Series 800 Air Purifier: $259 RRP*
Philips Series 2000 Air Purifier: $649 RRP*
Philips Series 3000 Air Purifier: $949 RRP*
Philips Air Purifier Series 6000: $1,399 RRP*
Philips received a solid four-star rating across majority of the board, before ultimately ending on three stars for value for money and overall satisfaction.

Kmart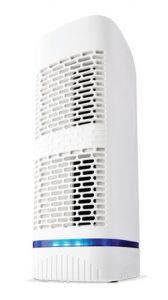 Kmart is a go-to place for budget-friendly appliances like air fryers and microwaves, so it makes sense consumers are also heading to the retailer for affordable air treatment products. When it comes to air purifiers, Kmart attempts to blow away shoppers with a range targeted at different household sizes and budgets.
Features are fairly similar across all models, with area coverage being the major difference. The small option is designed for rooms no bigger than 6m2, while the largest model is said to be suitable for spaces measuring up to 38m2. Kmart's Medium Tower Air Purifier offers a middle-ground option. Priced at $99, this HEPA filter tower air purifier is claimed to remove contaminants and improve indoor air quality of spaces measuring up to 7.2m2.
Other common features include three fan speeds (or four for the Large Family Air Purifier), and an hourly timer. Kmart's air purifier range includes:
Kmart Small Tower Purifier: $49 RRP*
Kmart Medium Tower Air Purifier: $99 RRP*
Kmart Large Family Air Purifier: $159 RRP*
Kmart achieved four stars for value for money, and three stars for overall satisfaction and everything else.

Should I get a dehumidifier?
Dehumidifiers are generally recommended for those who suffer from allergies. They're also suitable for any households that regularly dry clothes indoors, or otherwise have high levels of condensation which ends up creating a moist or humid environment.
Should I get an air purifier?
Air purifiers are said to be especially useful for homes that have higher levels of dust, pollen, smoke, and other allergens. They can also be helpful for allergy sufferers. Pet owners might similarly benefit from having an air purifier, especially with pet dander, hair and odours lying around.  Plus, air purifiers are even said to help people achieve a better quality sleep.
About the author of this page
This report was written by Canstar Blue's home & lifestyle journalist, Tahnee-Jae Lopez-Vito. She's an expert on household appliances, grooming products and all things grocery and shopping. In addition to translating our expert research into consumer-friendly ratings reports, Tahnee spends her time helping consumers make better-informed purchase decisions on all manner of consumer goods and services, while highlighting the best deals and anything you need to be aware of.
*Prices are taken from respective retailers, correct as of December 2020.