1. De'Longhi
---

Ratings result
De'Longhi was rated five stars for performance, ease of use, features & functionality and overall satisfaction, with four stars for design, value for money and quietness.
Editor's notes
Clearly, the smell of fresh coffee isn't the only thing De'Longhi is leaving around the home. The brand also offers several dehumidifier models in the AriaDry range, designed to keep a healthy level of humidity around the home by absorbing any excess moisture from the air. Aside from purifying air, De'Longhi's range includes a few useful features including a laundry function which helps to supposedly dry clothes faster, while some models also come with a PTC ceramic heating element that allows the appliance to dehumidify more air in a shorter amount of time, according to the brand.
Shop online now
2. Philips
---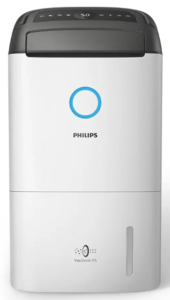 Ratings result
Philips was rated five stars for features & functionality, design, value for money, quietness and performance, with four stars for ease of use and overall satisfaction.
Editor's notes
Spreading its wings across multiple appliances and areas of the house, Philips' range of dehumidifiers may not be as extensive as other brands, only offering one model in its line-up. The Series 5000 2-in-1 Air Purifier and Dehumidifier aims to clean up and make your home more comfortable, with multiple features centred around comfort, including multiple modes and humidity settings, manual speed settings, wheels for mobility, child lock, a 4L water tank, timer and display light to help you keep an eye on your machine while it works away. It has a dehumidification rate of 25L per day, with a HEPA filter to help clear the air.
Shop online now
3. Kmart
---

Ratings result
Kmart was rated four stars for performance and value for money and features & functionality, with three stars for design, quietness, ease of use and overall satisfaction.
Editor's notes
Kmart is a go-to place for budget-friendly appliances like air fryers and microwaves, so it makes sense consumers are also heading to the retailer for affordable air treatment products. Offering a select range of dehumidifiers, Kmart's range is primarily split into sizes, with the larger model suited for larger spaces, while the smaller models suited to smaller rooms and areas. The large Kmart dehumidifier has a 2.2L water tank, carry handle, auto-turn off, and can extract up to 10L in a day to help keep your home feeling fresh.
Shop online now
Other dehumidifier brands
Not all brands in the market qualify for our ratings (based on minimum survey sample size), but that doesn't mean they're not worth considering. Here are several more brands to check out before making a purchase decision.