From vented dryers and condenser dryers, to heat pump dryers and gas dryers, who knew clothes dryers could get us in such a spin? In this guide, we tackle one type of tumble dryer ─ the vented clothes dryer. We'll look at the pros & cons of using a vented option versus a non-vented machine, and explain what exactly makes it different to a condenser dryer.
What is a vented dryer?
A vented dryer is a type of clothes dryer which applies hot air through your clothes when it tumbles inside the drum. This causes the water to evaporate into warm air, which is then channeled outside the machine via venting ducts (hence the name). These can vent either outdoors or indoors. Most models also offer the option of choosing between rear venting and front venting when installed.
Do dryers need to be vented outside?
Ideally yes ─ vented clothes dryers should be installed in an area which has good airflow. Preferably, this means having the dryer vent outside. You can alternatively vent indoors, but it's recommended that you use a vented dryer in a well-ventilated room and open windows and doors to encourage maximum airflow.
Are vented dryers good?
Here are a few things to consider when deciding whether a vented dryer is the best type of clothes dryer for you.
| Pros to vented dryers | Cons to vented dryers |
| --- | --- |
| Cheaper than other types of clothes dryers | Can create lint and excess moisture leading to mold |
| Dries clothes faster than condenser dryers | Can cause a fire risk if not used in a well-ventilated area |
| Can be more affordable to run | Must be installed somewhere with good ventilation |
| Wall-mountable | May shrink clothes |
General guide only
Advantages of vented dryers
The main advantage of vented dryers is that these are typically cheaper than other types of clothes dryers. Models typically cost between $500 and $3,000, but most models will usually be under $800. Meanwhile, prices for a heat pump dryer or a condenser dryer can start closer towards the $1,000 mark.
However, both condenser dryers and vented dryers often have low energy efficiency ratings of two stars or thereabouts. With that said, vented dryers typically use less energy than condenser dryers because there's no need to turn the moisture into water.
In terms of installing tumble dryers, vented clothes dryers are more flexible than condenser units. Washing machines and clothes dryers are generally available as freestanding, built-in or stackable models. But vented dryers usually give you the additional option of mounting it to the wall and typically comes with all the bits you need.

Disadvantages of vented dryers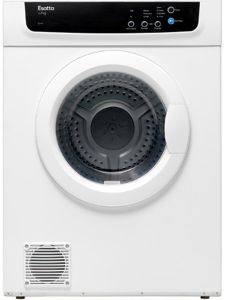 Venting in a closed, confined space can increase the risks of growing mold spores and mold-related allergies. This is because the humidity that's generated by the warm air from the exhaust can create pockets of moisture that increase the risk of attracting mold spores. Aside from mold, lint is another trigger for people who suffer from allergies or breathing problems.
Plus, since lint can be a flammable material, there's also a chance that a vented dryer can become a fire hazard if it's being used in an indoor space that isn't well-ventilated. While many vented dryers contain features that collect lint, this doesn't necessarily guarantee that the machine will stop every single piece from passing through the dryer's exhaust.
Another potential issue with vented dryers is clothing care, or lack thereof. Online retailer Winning Appliances suggests that vented dryers use a process called 'elemental' drying, which might damage your garments over time. This essentially involves the machine applying heat that's less controlled, which can cause your clothes to shrink. It's apparently especially problematic for items made from woollens. The same process is also claimed to weaken certain materials, potentially making it more prone to wear and tear sooner.

What's the difference between a vented and condenser dryer?
The main difference between a condenser tumble dryer and a vented dryer is how each machine removes the moisture or water vapour.
When warm air passes through clothes in a vented dryer, the moisture in the fabrics evaporates. The evaporated air is then vented outside through a hose. This means the water exits the hose as steam, not liquid like in a condenser dryer. A condenser dryer extracts the heat from your load and converts it into water. The water is then passed through a reservoir inside the clothes dryer.

Who sells vented clothes dryers?
Part of the reason why vented dryers are so inexpensive is that many models have a low energy efficiency rating of 1.5 stars or two stars. Brands also mostly offer a larger range of vented dryers in 4.5kg or 7kg capacities, rather than larger (and pricier) 8kg or 9kg capacities. Here are a few major appliance brands you might want to consider.
ALDI vented dryers
There aren't many places where you can grab a clothes dryer along with your laundry powder or liquid, and even washing machine, in a single shop. But ALDI's Special Buys do offer a few household appliances from time to time, including a 7kg vented dryer for just $249*. Key specs include:
Two-star energy efficiency rating (consumes 311kWh/year)
Front venting
Can be wall mounted
This ALDI version comes with basic features, including four drying programs, auto-off function and a safety thermostat heater.

Fisher & Paykel vented dryers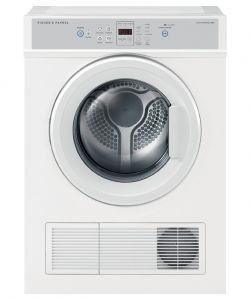 Fisher & Paykel offers flexible options for installation and ventilation. Each vented dryer can vent from the front or back, and the control panel can be inverted to suit whichever way you choose to ventilate. Each model additionally comes with a wall-mounting kit.
Here are some vented dryers available from Fisher & Paykel:
Fisher & Paykel 4.5kg Vented Dryer (DE4560M2): $579*
Fisher & Paykel 6kg Vented Dryer (DE6060M2): $599*
Fisher & Paykel 7kg Vented Dryer DE7060G2): $749*
Fisher & Paykel 7kg Vented Dryer (DE7060P2): $939*
The auto-sensing technology is boasted as being one of the standout features in Fisher & Paykel's vented clothes dryers. It's said to detect moisture levels inside the drum and automatically turn the machine off once the contents are dry in order to avoid under and over drying. This function is also claimed to reduce energy consumption and minimise wear on the materials to help clothes last longer. There are currently only 4.5kg, 6kg and 7kg models available. Each model has a two-star energy efficiency rating. Fisher & Paykel vented dryers have a two-year warranty.

Haier vented dryers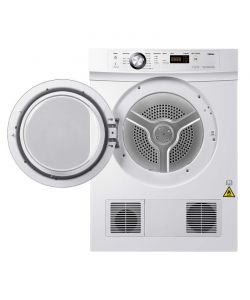 Haier is one of the more affordable brands for clothes dryers. It features seven or nine programs, depending on the model, and provides many of the same functions offered from other brands. This includes reverse tumble action to help distribute heat evenly across the load, as well as sensor drying to prevent clothes from being damaged by over-drying.
Haier's vented dryers allow you to choose front or rear venting, and provide a lint filter inside the door. Wall-mountable brackets and reversible decal are included, along with a stacking bracket to install the dryer on top of a Haier front load washing machines.
Check out the vented clothes dryer range from Haier:
Haier 4kg Sensor Vented Dryer (HDV40A1): $469*
Haier 5kg Sensor Vented Dryer (HDV50E1): $549*
Haier Sensor 6kg Vented Dryer (HDV60A1): $549*
Haier Sensor 7kg Sensor Vented Dryer (HDV70E1): $689*
Haier's range of vented clothes dryers are available in capacities between 4kg and 8kg, all featuring a two-star energy efficiency rating. For a more efficient model, Haier's 8kg Condenser Dryer has an eight-star energy rating and is one of the most energy efficient clothes dryers in the market. Haier vented dryers include two-year parts and labour warranty.

Kogan vented dryers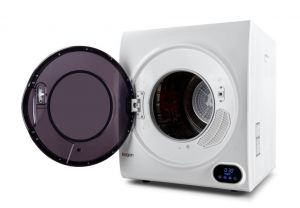 For a cheap vented dryer, Kogan has its own small range of models ranging around $300 to $600 in price. The least expensive option is the Kogan 6kg Vented Tumble Dryer ($299 RRP*), which includes four settings and a 2.5-star energy efficiency rating. It also has an intelligent humidity sensor that functions similarly to other technologies from other brands, and measures the amount of moisture in the garments and turns the machine off when dry.
For double the price, Kogan packs its 7kg vented dryer ($599 RRP*) with two vents and a whopping 15 drying programs and built-in overheating control. Kogan's vented dryers come with a 24-month warranty. The range includes:
Kogan 6kg Vented Tumble Dryer: $299*
Kogan 7kg Vented Series 7 Vented Dryer: $599*
The online retailer itself also provides a large selection of clothes dryers from a variety of brands, with prices starting at $558* for a 6kg tumble vented dryer from Devanti.

Electrolux vented clothes dryers
Electrolux is also often another popular pick for laundry appliances. It has a couple of vented clothes dryers, both of which have a two-star energy efficient rating. Common features in Electrolux vented clothes dryers include the Clean Filter Indicator, SensorDry technology and Reverse Tumbling Action. Many of these machines come with a durable stainless-steel drum, and provide a wall mount option with a reversible control panel decal. Electrolux's vented clothes dryer range is fairly affordable, with models generally sitting under the $750 mark. Two models you can find include:
Electrolux 6kg Vented Dryer (EDV605HQWA): $649*
Electrolux 7kg Ultimate Care 500 Vented Dryer (EDV705HQWA): $749*
Electrolux vented dryers have a two-year manufacturer's parts and labour warranty.
*Prices taken from respective retailers and correct as of August 2020.
*Picture credit: Didecs / Shutterstock.com