Whether you're renovating your home or simply upgrading the dishwasher, it's important to know the costs involved. In this guide, we offer estimated prices that might be involved in installing a dishwasher, as well as how much a new dishwasher costs.
What costs are involved in installing a dishwasher?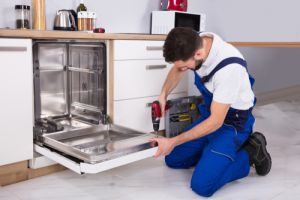 There's plenty to consider when installing a new dishwasher, with labour generally the biggest expense as the area needs to be prepared for installation. These are the costs that are usually involved:
Removing the dishwasher
Connecting the dishwasher to electricity
Connecting the dishwasher to water
Connecting the dishwasher to drains
Installing a dishwasher cabinet if required
A dishwasher needs to be connected safely, including all the plumbing and wiring. Additionally, a new dishwasher might require different valves compared to your previous unit. The cost of labour should include all the necessary materials such as the pipes and valves.
It's important that you note down all the measurements to ensure the new unit will fit into the existing cavity. Any necessary cabinet work will need to be done before the new dishwasher is installed. You will also need to make sure that there is a power point, tap and drainage point nearby, otherwise you'll also need to have these installed prior to the installation.
How much does it cost to install a dishwasher?
There are many factors that can influence the cost of installing a dishwasher. This includes the type of dishwasher you purchase, and whether or not you need your old dishwasher removed. The following prices don't include the dishwasher cost:
A fully or semi-integrated dishwasher can cost $150 to $180 for a simple installation.
More complex dishwasher installations can cost more than $500.
To get your dishwasher removed can cost between $115 and $140.
In Australia, plumbers generally charge between $100 and $150/hour. There might also be a call-out fee of between $60 and $100 if they need to replace an old dishwasher. The price of pipes, sinks and taps will also be included, which can increase the cost to $500 – $1,500, depending on how much piping is required and any additional costs.
If you require a power point to be installed before fitting in a dishwasher, an electrician can install this for around $140 – $180, depending on how much work and time is required for the installation. There might also be a call-out or service fee, which can vary between $60 and $100.
If you also need a cabinet built and installed, this will be an additional expense. While it may be cheaper to find a cabinet that matches your kitchen instead of having one built specifically for you, it might not be an option for some. So, a cabinet maker will be needed to take all the measurements for your built-in dishwasher.
How long does it take to install a dishwasher?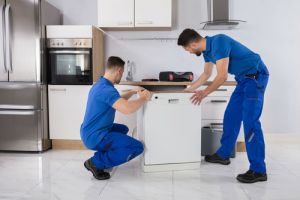 Specific requirements for each installation can vary and the installer can advise you on how long it will take after assessing the installation required. In turn, the time it takes will also impact the cost. For a simple installation, it may take about 20 minutes to an hour. However, having a cabinet built for you may further extend that time, meaning it may be worthwhile putting aside a good chunk of your day just in case the installation runs into any problems.
Can my retailer install a dishwasher for me?
Yes, certain retailers offer installation along with your new dishwasher purchase. While some offer this service for free, others require a small payment. For example, The Good Guys states on its website that it offers dishwasher installation at an additional charge. Appliances Online similarly indicates that pricing and availability of installing appliances are provided with each product. It's important to use a qualified appliance sales company for this.
How much do dishwashers cost?
The cheapest dishwashers can be had for around $400, while the high-tech models can fetch prices of $5,000 and up. Here are some prices you can expect:
| Type | Price |
| --- | --- |
| Underbench Dishwashers | $800 – $2,500 |
| Fully-Integrated Dishwashers | $500 – $5,500 |
| Semi-Integrated Dishwashers | $500 – $4,000 |
| Freestanding Dishwashers | $400 – $2,000 |
General Guide Only
When looking for a new dishwasher, it would also be wise to consider the energy and water efficiency ratings, as this can impact the price in the long-run. A dishwasher with high ratings can help you save money with lower electricity and water bills.

The bottom line on dishwasher costs
It's important to shop around to not only find a good deal on a new dishwasher, but also when it comes to the installation costs. Buying a new dishwasher and installing it isn't cheap, so do your research. Ask your retailer about the cost of installation before you buy the dishwasher and make sure that you're not stung with an unexpected charge later on. If you're paying someone else for the installation, make sure you get the full quote before agreeing, because you won't want any nasty surprises when the installer says he needs an extra part or something…
There's plenty to think about before getting a new dishwasher, but once you have all the specs and details, we hope it's smooth sailing from there.
Picture credits: Andrey_Popov/shutterstock.com, Lazy_Bear/shutterstock.com