Fact Checked
Once you buy a new appliance the next thought is "I can't wait to start using it", but you're forgetting the next crucial step – installation. Getting an appliance installed, particularly a dishwasher, is something that needs to be done correctly to make sure there's no damage further down the line. Read on to find out what you need to know about dishwasher installation and have your burning questions answered. 
How to prepare for your dishwasher installation
There are a handful of steps and different aspects to consider in preparation of installing a new dishwasher. The first consideration is to measure the space to ensure that the dishwasher will fit (although this should be a first step before you purchase it). Secondly, double check you have all the correct parts for the hose to connect to your plumbing. Whoever is installing may have the parts you need and make any adjustments, but it's best to double check first. Lastly on the day of installation, make sure you have the space prepared for the work person to easily fit the appliance.   
How much does it cost to install a dishwasher?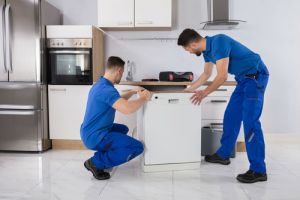 Majority of the costs associated with appliance installation will fall to labour and the rest is spread across connecting the dishwasher to electricity, water, drains and any extra fittings required. You can expect to spend varied amounts depending on the type of dishwasher. As a general guide:
A fully or semi-integrated dishwasher can cost $150 to $180 for a simple installation.

More complex dishwasher installations can cost more than $500.

To get your old dishwasher removed can cost between $115 and $140.
In addition to the installation itself, if you have a more complex installation plumbers in Australia generally charge between $100 and $150 an hour with a potential call-out fee between $60 and $100. If you have any other queries prior to installing a dishwasher it's best to speak to either an electrician, plumber or appliance expert for advice.
How long does it take to install a dishwasher?
How long it takes to install a dishwasher will depend on a few factors and your unique requirements. An installer will generally advise on how long it would take and would ask a series of questions so they have a better idea of the requirements. For a simple installation it could take no more than 20 to 30 minutes, but a more complex installation may take up to an hour.  
Can my retailer install a dishwasher for me?
Yes, some retailers do offer dishwasher installation at an extra cost. You can choose to add it to the purchase of your dishwasher or call and ask about it once you've bought the appliance. Retailers like Appliances Online and The Good Guys both offer installation but it's best to call for specific prices which will depend on where you live and which dishwasher you purchase. 
How much do dishwashers cost?
Dishwashers across the board can cost anywhere from $500 to upwards of $5,000. For under bench models you can expect to pay $800 to $2,000, for fully integrated you'll pay a little more at $500 to $5,000. For semi-integrated units you'll pay from $500 to around $4,000 and for freestanding you'll pay $400 to $2,000. You can find dishwashers direct from the brand or you can shop around at retailers like The Good Guys and Appliances Online. 
Which dishwasher should I get installed?
Which kind of dishwasher you should install will come down to a number of factors: how much space you have in your kitchen, the functionality you wish to have and your personal preferences for how often you use it and so on. It's best to shop around before making a decision so compare dishwasher brands below to help get you started.  
Original Author: Veronika Hleborodova