Fact Checked
Dyson is one of the biggest names in the cleaning appliance space, known predominantly for its stick vacuums. The Dyson Stick Vacuum is a compact and lightweight appliance that many choose as the main vacuum in their home, but how do you know which vacuum stick vacuum is the right one for you? Read on to find out more in this Canstar Blue guide.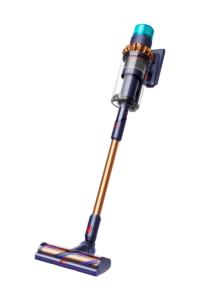 Dyson Gen5 Vacuums
Thy Dyson Gen5 vacuums are the brand's most powerful HEPA cordless vacuum cleaners. With up to 70 minutes of run time, the motor runs at 135,000rpm generating a powerful suction. Other features include a fluffy optic cleaner head with laser light to see dust and dirt you can't normally see, and intelligent reaction technology that switches from different floor types to make sure you don't miss any dust or dirt.
There are two sizes available – gen5 detect and gen5 outsize – meaning you can choose how you clean and the capacity needed for your home. Retailing from $1,000 to upwards of $1,600 all models also include additional cleaner heads and other cleaning assist tools and accessories.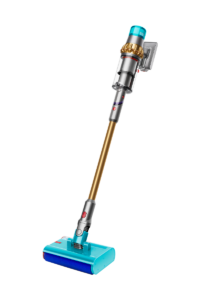 Dyson V15s Submarine Vacuums
For those looking for a two-in-one solution that saves time on cleaning and mopping, the Dyson V15s Submarine Vacuums may be the ideal choice. WIth deep cleaning across all surfaces with a wet roller, you can now clean up dust, dirt, food spills and any other liquid messes around the home. The vacuum also includes advanced filtration to capture 99.99% of particles as small as 0.3 microns.  
With the attached water tank you clean up to 110 square metres with a full tank without the stress of emptying and refilling dirty water again and again. These models also include two additional vacuum heads so you can also vacuum carpets and rugs in the home as well as a built-in crevice tool and other attachments. Retailing from $1,500 to $1,700 you can get more bang for your buck with a vacuum and mop stick vacuum when you spend a little more.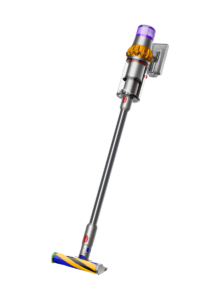 Dyson V15 Vacuums
The Dyson V15 Vacuums are superior for deep cleaning. Able to reveal invisible dust, trap pet dander and allergens and detangle long hair and pet hair, it's ideal for those with furry friends. This intelligent vacuum calculates and categorises the types of dust and allergens it collects displaying the data on the LCD screen so you can see just how many particles you've collected. 
Powered by a Dyson Hyperdymium motor that provides up to 60 minutes of suction time you can expect to spend from $1,300 to $1,500. It also comes with added attachments like a hair screw attachment to vacuum mattresses and other soft surfaces.  
Dyson V11 Vacuums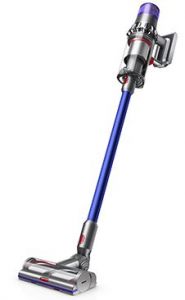 Dyson V11 Vacuums are one of the more all-rounder models of stick vacuum from the brand. Designed with radial cyclone technology and powered with a hyperdymium motor you can expect minimal clogging and a generous run time up to 60 minutes. 
Engineered for homes with pets, the vacuum includes a motorbar cleaner head and hair screw tool to remove dust and hair from around the home. The LCD screen also displays available cleaning time and other information like suction power and maintenance reminders. This model of vacuum will cost around $1,200 and includes additional attachments such as a crevice tool and mattress tool.    
Dyson Cyclone V10 Vacuums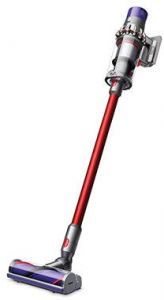 The Dyson V10 Cyclone Vacuum provides 30% more suction power than a V8 vacuum and has up to 60 minutes of run time. It also offers similar flexibility to other Dyson vacuums, and can be transformed from a stick vacuum to a handheld vacuum as well as provide three different power modes to adapt to different floor types. Plus, the fully-sealed filtration system traps 99.97% of particles to provide cleaner air, while also providing enough power to send microscopic particles such as pollen and bacteria to the bin.  
Designed with an axial airflow, cooler air is drawn in to reduce the temperature allowing the motor to spin at up to 125,000rpm. Retailing for between $1,000 and $1,300 you can choose the Basic model or Absolute model with five added tools and attachments.
Dyson V12 Detect Slim Vacuums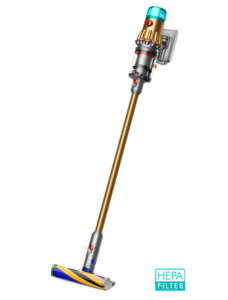 The Dyson V12 Detect Slim Vacuum is a versatile and powerful lightweight vacuum designed for whole home deep cleaning. WIth the capability to size and count dust particles you can get a better understanding of the dust and dirt in your home. With a single button control you can expect up to 60 minutes of fade free power. 
Retailing between $1,200 and $1,400 you can choose between the Complete or Absolute models with the Absolute including six additional cleaning tools. The additional cleaning tools include the hair screw tool, docking station, fluffy optic brush and more.  
Dyson V8 Vacuums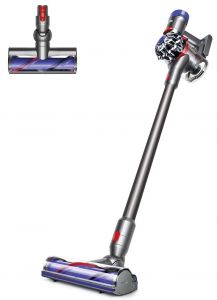 The Dyson V8 collection might be an affordable middle ground for those looking for a high-end stick vacuum. It promises the same 'whole machine filtration' system used in pricier models to ensure cleaner air, and offers a longer runtime than the Dyson V7 range.
The suction power in this vacuum makes it better at capturing fine dust, at least compared to the Dyson V7 Animal Origin, and gives a longer runtime of 40 minutes. It also uses 'whole machine filtration' to capture allergens and provide cleaner air. Retailing between $500 and $1,000 it's a cheaper choice of Dyson vacuum cleaner with some models offering up to eight additional tools and accessories. 
Dyson V7 Vacuums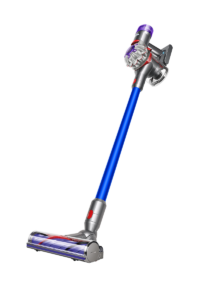 The Dyson V7 Vacuums are a cheaper model of Dyson again offering the basic functions with the same powerful suction. This vacuum provides a runtime of up to 30 minutes on the Powerful mode, or six minutes when operating on the Max mode. It comes with a 0.54L bin capacity, as well as a combination tool and docking station. 
Retailing for between $400 and $600 it's an ideal choice for those not looking to break the bank but still get the same Dyson performance. It also comes with additional tools and accessories and a cleaner head.  
Buying a Dyson Stick Vacuum
Whichever Dyson stick vacuum you choose will come down to the very specific needs of your household. If you're after a two-in-one cleaning solution the V15s Submarine could be an ideal choice, or for a more budget friendly option a V7 or V8 model could suit better. Before diving head first into a purchase consider the exact needs you have and compare it against each model. Still not sold on a Dyson? Compare stick vacuum models below. 
Vacuum Cleaner Reviews & Ratings
*Prices taken from Dyson website, correct as of September 2023.
Original Author: Tahnee-Jae Lopez-Vito