Fact Checked
Eggs are an extremely versatile ingredient. You can have them poached, fried, scrambled or boiled, and can add them to plenty of different cuisines. If you're an egg enthusiast and looking for an easier way to prepare your eggs in the morning or for the week, an egg cooker could be an ideal choice. With plenty of different types on the market, you're sure to find one that suits how you like your eggs, so keep reading to find out more with this Canstar Blue guide.  
Types of egg poachers
There are a few different types of egg poachers, each offering different kind of convenience. While they all serve the same purpose with similar outcomes, they each slightly alter the process of poaching the egg. The different types of egg poachers include: 
Electric egg cookers

In-pan egg poachers

Microwave egg poachers 
It's important to note that while they have two names – egg poachers and egg cookers – they are essentially the same appliance. They use water to poach and cook eggs in other ways like boiling. Some egg cookers will also have added features like egg bite makers and omelette makers.
How much do egg cookers cost?
Egg cookers and egg poachers will generally cost from as little as $15 up to $100 depending on the type of appliance and the brand. More expensive models will generally be electric models with added features. 
Who sells egg poachers?
There are a number of brands and retailers that sell egg poachers including Kmart, Baccarat, Décor, Sunbeam, Kitchen Pro and Breville. Each of these brands sell microwave egg poachers, electric models and stovetop accessories. You can buy direct from the brand or at retailers like The Good Guys and Harvey Norman.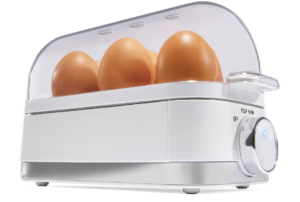 Kmart Egg Poacher
Kmart's egg cooker is a cheap and cheerful option at around $20 that boils six eggs. You can choose soft, medium or hard-boiled eggs and with a keep warm function you won't have to re-heat in the microwave. It features a lift out tray to easily remove your eggs once they're cooked and is a small enough size that storage after use isn't an issue.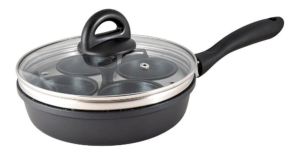 Baccarat Egg Poacher
Baccarat offers a number of two-in-one egg poacher and fry pans. You can expect to pay from $70 to upwards of $100 for one of these egg poachers. It features four non-stick poaching cups that slot into the frying pan with ease, is made with a stone-like hard wearing interior and is suitable for any cooktop, including induction models.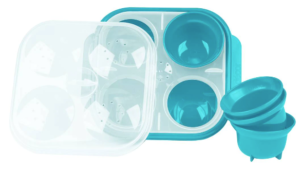 Decor Egg Poacher
Décor are known for its range of microwave safe plastic containers which includes its egg poacher. Costing around $15, it features four removable egg cups and a clear lid with a water bath base. You simply fill the base with hot water and microwave until your egg is cooked how you like it. All parts are dishwasher safe and BPA free.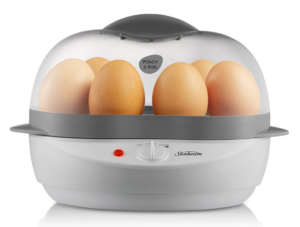 Sunbeam Egg Poacher
Whether you like your poached eggs runny, soft or hard, this Sunbeam egg cooker has you covered. It can poach, boil or make an omelette with up to six eggs at a time, so that you can make brekkie for the whole family in one go. Retailing for around $70, it features a handy buzzer to let you know when your eggs are ready, a non-stick coating for an easy post meal clean-up, and is  compact for easy storage.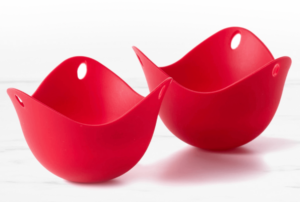 Kitchen Pro Egg Poacher
The Kitchen Pro Oslo Poach Pod is a simple accessory for poaching eggs that costs no more than $12. It features two silicone cups that you place into boiling water to quickly and efficiently cook poached eggs exactly how you like them. They're dishwasher safe and easy to clean, making them an ideal accessory if you're a fan of poached eggs.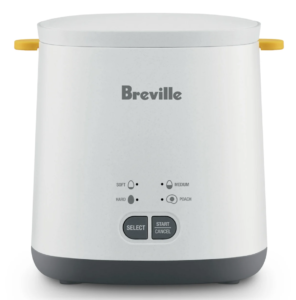 Breville Egg Cooker
Breville are well known in the kitchen appliance space and its egg cooker is no different. Retailing for around $70 it's a simple electric egg cooker with a soft, medium and hard-boiled function as well as a poached function. It comes with an easy lift out tray for boiled eggs and a two-egg poaching tray for perfectly cooked eggs.  
Which is the best egg cooker?
Which egg cooker is the best comes down to how you like your eggs cooked, how many you would need made at one time as well as your budget. Price always plays a role in purchasing appliances but luckily egg cookers and egg poachers come at a range of price points so you can choose how much you want to spend. If you're someone who eats eggs almost daily, an egg poacher or cooker could be an ideal choice for your kitchen.