When it comes to carving the Sunday roast, an electric knife is an essential tool to help prepare the perfect portion for friends and family. While it might not be on your top-five list of essential kitchen appliances, electric knives will save you plenty of time, as well as effort, when it comes to hooking into roast turkey, ham and other delicacies. You won't appreciate one until you own one!
With a number of electric knives available on the market, you may find it tricky to find one a cut above the rest, with factors such as handle type, blade length and durability all things to consider before you cut into your budget. With plenty to consider, Canstar Blue reviews a number of top brands to help you find the best for your needs.
Electric Knives
Breville

Retailing for under $50, Breville offers households the Ezy Carve, a corded model for all your cutting needs. Powering a 150W motor, Breville's electric knife comes with dishwasher safe stainless steel blades, along with a dual safety switch for increased safety while operating. Along with the quick blade release, Breville also offers a one year warranty on Ezy Carve models, giving consumers peace of mind.

Kenwood
One of the more expensive options on the market, the Kenwood KN500 has up to 25 minutes of cordless operation time, allowing you to make light work of whatever you've cooked for dinner. With dishwasher safe stainless steel blades and a safety switch within easy reach, the KN500 also comes with a one year warranty, all for under $80.

Sunbeam

Priced under $50, the Sunbeam Carveasy is a corded model with an ergonomic handle and 130W motor to make short work of dinner while fitting in your handle comfortably. With additional features including an easy blade release, neon power light indicator and two sets of blades, Sunbeam may be the brand for many households.
Both sets of blades are serrated, with the longer, finer blade built for delicate foods such as cakes and artisan breads, while the shorter, coarser blade is what you'll want for carving meats. Both blades are dishwasher safe, making cleaning and maintenance as easy as carving.

Black & Decker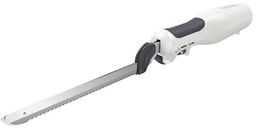 With two products on offer, Black & Decker may be a worthwhile option for those looking for an electric knife on a budget, with both models retailing for around $20. And you'll still get a 24 month warranty.
The EK700, known as the Slice Right Knife, comes with non-slip tabs for easy cleaning and blade removal, in addition to a safety lock to prevent accidental starts. The EK500W model, known as the ComfortGrip, also offers similar features, in addition to the ergonomic handle for increased comfort during use.
Black & Decker also offers a knife stand with each electric knife model
Cuisinart

While at the higher end of the price spectrum, the Cuisinart electric knife may be a worthwhile addition to your kitchen, with an ergonomic handle, 1.5m cord and dual blade system able to make easy work of dinner.
With a carving knife for meat, and a bread blade for slicing, both blades are dishwasher safe, with the handle just as easily cleaned with a damp cloth. Households are also treated to a storage stand, making it easy to pack away for next time.

Things to keep in mind when buying an electric knife
While they may all seem the same at first glance, electric knives may be vastly different, with various handle types, blade length and safety functions all factors to consider before you buy one.
To find the best model for you, the recommended first step is to do your own research, as how often you cook roasts, and how big these roasts are, will influence which brand you walk away with. A corded model will be able to last longer than a cordless, which will suit those big family dinners where you have plenty of meat to slice, with an ergonomic handle also preventing any hand soreness or cramps when it comes to sitting down for dinner.
If you're no stranger to the weekly roast, then a model with plenty of grunt and a comfortable grip would likely be the option for you, whereas those who like to carve outside might need to consider cordless models. Ultimately though, the electric knife makes life easier, helping you to cut down your time in the kitchen and spend more time at the table, which would be a winner in anyone's books.