The humble fridge is a necessary part of any home, and at different stages of life, there might be a need to invest in a new one. The end of financial year sales time provides a great opportunity to consider an upgrade with retailers keen to sell off their current stock to make way for the new stuff. This means you could just bag yourself an absolute bargain! Where can you find the best deals? Read on for our guide to fridge sales during EOFY.
Who has the biggest EOFY fridge discounts?
Aussie households spend an average of just over $1,500 on new fridges. For this price, you can generally expect to find the standard 450L family-sized fridges, with a bottom or top mount design. You might be lucky and also find some brands offering the large side-by-side fridges in this price category during the sales time. Some of the brands that do well in our annual fridge ratings include Mitsubishi Electric, Samsung, CHiQ, and more, so read on to find out what they have to offer this year.
| | | | |
| --- | --- | --- | --- |
| Model | Size | RRP | Sale Price |
| CHiQ Bottom Mount Fridge (CBM432W) | 432L | $1,199 | $607 |
| Fisher & Paykel Upright Fridge (RF373SRDW1) | 373L | $1,599 | $1,187 |
| Samsung Side-by-Side Fridge (SRS675DLS) | 676L | $2,499 | $1,454 |
| Electrolux Bottom Mount Fridge (EBE5307BC-R) | 529L | $2,449 | $1,603 |
| Mitsubishi Electric French Door Fridge (MR-LX630EM-GSL-A2) | 630L | $4,389 | $2,540 |
Prices taken from respective retailers and current as of June 2021. 

CHiQ EOFY fridge sales
Chinese brand CHiQ offers a range of budget-friendly electronics and electrical home appliances claimed to be designed to help meet the lifestyle needs of everyday Australians. Prices start from under $1,000, so it's a great brand to consider if you're looking for something cheap and cheerful. Check out this EOFY deal.
CHiQ 432L Bottom Mount Fridge – $607 (save $592)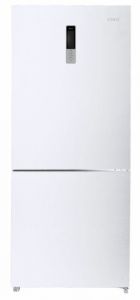 This medium-sized ChiQ fridge is ideal for small families and households of up to four people. It's the perfect combination of efficiency, convenience, and price. This model features a Multi Air Flow System to ensure every shelf gets adequate chilled air to maintain an even temperature throughout the refrigerator.
It has four operating modes including Fast Freezing, Fast Cooling, Smart ECO, and Vacation, plus a self-defrost function which means you'll never have to clean out ice build-up. There's LED lighting throughout the inside to help you easily find your cheese and wine. LED lighting is more efficient than incandescent lighting as it lasts longer and emits less heat.
Fisher & Paykel EOFY fridge sales
Fisher & Paykel competes with the likes of LG and also offers a wide array of fridges. It focuses on innovation and forward-thinking, and while you typically won't find many Fisher & Paykel fridges priced at under $1,000, you might score some great discounts at the EOFY sales.
Fisher & Paykel 373L Upright Fridge – $1,187 (save $412)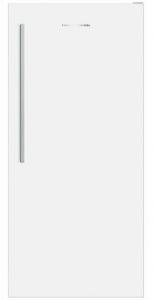 This Fisher & Paykel upright fridge is designed to make storing, accessing, and removing foods easy peasy lemon squeezy! Storage bins give you full access to your stored goodies when open and can be easily removed for cleaning, while the adjustable shelving gives you the flexibility to arrange your fridge as you like. The shelves are also spill-safe so you don't have to worry about liquids leaking throughout your fridge if there's a spill.
You also get three adjustable door shelves, two egg trays, two single bottle holders, humidity control lids, LED lighting throughout, and more. The only downside is that this refrigerator only has a two-star energy efficiency rating.
Samsung EOFY fridge sales
Samsung has a wide selection of fridges across a range of different price points. Whether you're looking for a top mount or a side-by-side-fridge, Samsung has it all. Expect prices from around $1,000, going up to $8,000 for its French Door models.
Samsung 676L Side-by-Side Fridge – $1,454 (save $1,045)
This Samsung side-by-side fridge boasts a generous 676L capacity and offers a reliable and convenient storage solution for busy families and households who love to host. The SpaceMax design of the fridge interior means it's been engineered to give you more space and room to stash food and drinks, with thinner walls giving you extra space without increasing the actual size of the fridge. Meanwhile, the All-Around Cooling technology ensures cold air distribution throughout each compartment.
This model also features Power Cool and Power Freeze functions, a frost-free mode, and a deodorising filter to help prevent flavour transfer and keep your food optimal at all times. This model comes with a 2.5-star energy efficiency rating.
Electrolux EOFY fridge sales
Electrolux is a premium appliance brand with prices typically sitting towards the higher end, however, there are some reduced models available this EOFY, including the one below.
Electrolux 529L Bottom Mount Fridge – $1,603 (save $846)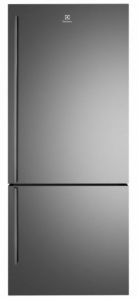 This Electrolux bottom mount fridge comes with an impressive 4.5-star energy efficiency rating, meaning savings can be had on both upfront and running costs. It comes with three operating modes including a Boost, Eco, and Holiday mode, plus a Fast Ice function. There's also a drink chill and freezer temp alarm to let you know when it's time to take your bottles out of the freezer.
This model also has a deodoriser filter that removes odour particles and keeps your fridge smelling fresh, a shelf bottle rack, egg tray, and two twist ice makers.
Mitsubishi Electric EOFY fridge sales
The Japanese multinational electronics company might be better known for its vehicles than appliances, but it also manufactures some quality fridges. Its prices start from around $1,000 for smaller sized fridges and go up to $5,000 for its French door models, but there are a few bargains to be had this end of financial year sales time.
Mitsubishi Electric 630L French Door Fridge – $2,540 (save $1,849)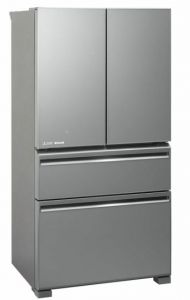 For a family-sized fridge with a luxe feel, you can't go past this Mitsubishi Electric French door model which features glass front panels for a striking finish and an exterior that's easy to keep clean. This unit features wide shelves, perfect for large platters, and dishes, plus a Superchill Cooling space, separate vegetable and freezer drawers, and a non-plumbed automatic ice maker.
It also has a touch control panel, solid tempered glass shelves, and a Multi-Flow Airflow system to circulate chilled air throughout the unit. It has a four-star energy efficiency rating. This model is available in three colours including silver, black and white.
Should you buy a new fridge this EOFY sales time?
If your current fridge just isn't meeting your needs – for example, your family has grown and you need more capacity, or possibly the kids have moved out and a smaller fridge might help reduce your electricity costs – then you might like to consider looking out for a bargain at this time of year. When you're shopping around, it's important to consider energy efficiency star ratings, as well as fridge capacity, to ensure you're buying the right fridge to suit your household. There's plenty of choices, so shop around before you settle on one.
Refrigerator Reviews & Ratings

Picture credits: Bangkoker/Shutterstock.com.