Kelvinator named king of the fridges
If your refrigerator is on the fritz, or you've simply outgrown your old kitchen mate, it may be time for a new one. But where do you start? If you're looking for a new fridge, chances are it's been a while since you had to buy one, but fear not because Canstar Blue is here to guide you through everything you need to consider. With modern fridges usually costing more than $1,000, you really should do your research. That's where our annual customer reviews and ratings can help as we give Aussie consumers a platform to express their opinions on their latest fridge purchase, giving you a good idea of what to expect if you choose one of the nine leading brands compared this year.
Once again we have sought the views of more than 1,000 consumers, asking them to rate their fridge on factors including reliability, food freshness, the quality of fixtures and fittings, internal layout and value for money. This time there is a new highest-rated brand in town – Kelvinator. Replacing Hisense and LG at the top of the table from last year, Kelvinator's refrigerators achieved five stars for overall customer satisfaction, as well as every other research category.
Fisher & Paykel, Haier, Hisense, LG, Samsung and Westinghouse got four stars overall
Bosch and Electrolux both recorded just three stars for overall customer satisfaction
It's the third time in eight years that Kelvinator has topped our refrigerator ratings table. However, the last time was in 2012. Since then four other brands have enjoyed a spell at the top, with LG also winning on three separate occasions.
Our fridge reviews provide a helpful guide to which brands are rated highest in Australia, but picking the best fridge for your household's needs requires a little more research. Read on as we guide you through the factors to consider before getting out your credit card. We'll then look more closely at what each of the nine brands in this year's review have to offer.
What to consider when buying a fridge
Buying a new fridge is a significant investment – and before settling on the right brand for your kitchen, you first need to consider a few of the basics, such as:
The type of fridge you need
Any bonus features you want
The energy efficiency star ratings
A price point that suits your budget
Let's begin by explaining the different types of fridges available to buy in Australia. You may have always had one particular type, but you might be convinced to switch. Keep in mind that the following all come with freezer compartments – it's really just a case of how much priority you give this. Here are the five main types of refrigerators:
Top mount: Top mount fridges are the most common type in Australia. They come with a single door fridge and smaller single door freezer compartment at the top.
Bottom mount: Bottom mount fridges are in reverse, with the smaller freezer compartment at the bottom of the unit instead. These models are not as widely seen as top mounted fridges, but they are still very popular.
Side by side: These fridge freezer units give more priority to the freezer, with side by side doors and two vertical compartments. Usually, the slightly smaller freezer compartment is on the left and the main fridge area is on the right.
French door: These fridges are effectively bottom mount and side-by-side fridges combined as they have a two-door fridge at the top and typically a single door freezer at the bottom. Some models have two doors at the bottom.
Single door: Breaking from traditional fridge-freezer models, single door fridges simply dedicate all of their space to the fridge unit, with no freezer.
Other smaller types of fridges include your trusty beer or wine fridge.
Fridge Features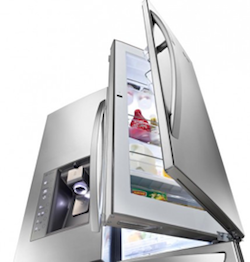 There's no doubt that manufacturers are becoming more adventurous with refrigerators, driven by the consumer demand for something that does a little more than just keep your food and drinks cold or frozen. LG has been one of the brands leading innovation in the fridge space, including its imaginative 'door-in-door' feature (pictured). Meanwhile Samsung could be your go-to brand if you want in-built cameras that allow you to see what's inside your fridge without having to open it up! Other notable fridge features that have become common include flexible spacing – allowing you to swap or change certain sections to suit your own food storage preferences – and multi-zone climate and humidity settings, letting you create separate cooling spaces for certain types of foods or drinks.
Energy Efficiency
Energy efficiency largely comes down to how large your fridge is. Big fridges obviously use more power, but smaller fridges can be notoriously inefficient relative to their size. The following table is a guide to what you can expect to pay every year to run your fridge, depending on its size. Seeing as fridges need to be used 24 hours a day, there is no real way around saving energy on an energy-inefficient fridge, bar sending your food to an early grave. The best and easiest option is to purchase an energy-efficient fridge in the first place, but be wary of paying too much because it could take some time for the extra cost to pay off.
| Fridge Size | Typical Annual Energy Consumption (kWh) | Estimated Cost Per Year |
| --- | --- | --- |
| 100-199 litres | 358 | $118.14 |
| 200-299 litres | 410 | $135.30 |
| 300-399 litres | 490 | $161.70 |
| 400-499 litres | 495 | $163.35 |
| 500-599 litres | 738 | $243.54 |
| 600-699 litres | 1356 | $447.48 |
Cost calculations based on electricity usage rate of 33 cents per kWh. Details sourced from SA.GOV.AU.
Check the energy star ratings sticker on your fridge to see how efficient it is. If your fridge doesn't have one of these ratings, it's probably time for an upgrade! The maximum star rating a standard fridge can have is six stars. Super-efficient fridges, however, can have between 7-10 stars, as shown by the 'crown' of stars on top of the label (pictured).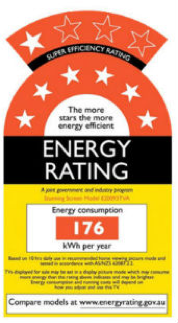 Of course, it takes a lot for a fridge to earn a maximum energy rating. Most fridges struggle to earn any more than five stars. One such fridge to earn five stars is the Electrolux 540L top-mount fridge. It comes with an annual energy usage of 282kWh, and based on an electricity usage rate of 33c/kWh, you could expect to pay around $93 to power this fridge over the year! Of course, energy costs are also dependent on how your electricity provider sets its electricity rates. Be aware that a flexible pricing tariff will mean your fridge costs more to run at peak times of day, but less to run at off-peak times.
Should I buy a cheap fridge?
Everyone wants their money to go the farthest, so a cheap fridge can be an alluring prospect. Our survey found that Aussie households spend an average of just over $1,100 on new fridges.  This is pretty much smack bang in the middle of the fridge price range. Fridges can range anywhere from about $400, all the way up to and over $3,000 for the latest and greatest. However, cheap fridges can be the silent killer in your kitchen as far as your electricity bill is concerned.
A fridge's cheap sticker price can be just the tip of the iceberg. Often, what you save in the initial outlay, you'll pay for in energy inefficiency over time. Take the Midea 207L top-mount fridge for example. This fridge costs around $500 to buy, and you may think its fairly small capacity means lower electricity bills. Unfortunately you'd be mistaken because it consumes 380kWh annually and has a 2 star energy rating.
The annual power bill would equate to around $125, which is more than $30 more per year than the Electrolux model featured above
To break it down further, that equates to about 61c per litre of capacity for the Midea, versus a hint over 17c per litre for the Electrolux
This doesn't count for any increases in electricity prices, and over time an increase in electricity prices could increase the consumption gulf between cheap and energy-efficient fridges
These are extreme examples, but it could help illustrate how you might be better off spending more on a greater capacity fridge that's also energy-efficient. Not to mention, you can also expect pricier fridges to come with superior quality fittings and fixtures. As is the case with most other household appliances, you often get what you pay for. The trick is to find a quality product at a reasonable price.
Top Fridge Brands
In our customer ratings, Kelvinator was rated highest overall, but other brands also earned strong scores in specific areas. Let's dive in and see what each brand in these ratings can offer you around the average Aussie consumer spend of $1,156.
Kelvinator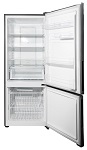 Kelvinator covers the most straightforward traditional top mount and bottom mount refrigerators. The range targets the most important parts of keeping your food and drinks cool through Aussie weather – this isn't the brand to go to for expensive features such as automatic ice cube makers. This means that Kelvinator fridges stay well within a generally affordable price range. For example, the Kelvinator 453L bottom mount fridge has one of the brand's highest fridge retail prices yet is still very close to average consumer spend on a new refrigerator, at $1,349. This model has glass shelves, LED lighting, FlexStor adjustable door bin storage, two full-width wire freezer baskets and one full-width crisper. Kelvinator has defeated several high-end brands to top this year's ratings. Its fridges received an outstanding five stars for overall satisfaction and five stars across every ratings category.