When it comes to fridges, portability isn't exactly what most people look for. But for those who are partial to travel or camping, a portable fridge can be the difference between eating simply and eating like a king, with portable fridges packing much more than an esky. Readily available at most camping and fishing stores, portable fridges come in a variety of brands, sizes and capacities, meaning consumers have a wide range to choose from. If you've got a camping trip coming up, read on to find out just what you can get for your money.
Portable Fridges
Bushman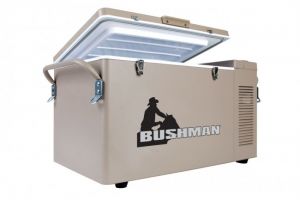 Offering three ranges of portable fridges, Bushman has an option for everybody. The 15L Roadie model is best suited for those who spend a lot of time behind the wheel as its size and capacity make it perfect for stowing away in your vehicle. With insulated drink holders, the Roadie fridge will no doubt be a fan favourite on those long roadtrips.
Other models include the traditional 3-Way model, which can be used as a chest, fridge or freezer, depending on your needs. With a 61L capacity, the 3-Way model is able to run on gas or electricity, with Bushman claiming you can run the fridge on a 9kg gas bottle for a whole month if you're looking for a long escape. Bushman's final model is the SC, which comes in capacities ranging from 35-52L, and is a more of a traditional model for those that don't need anything special.

Companion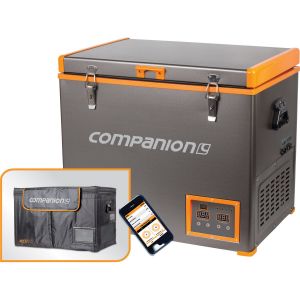 While it may not offer much in terms of range, Companion does offer enough models for all storage needs, with 45L, 60L and 75L capacities available. All models come with a transit cover for easy carrying, as well as a sturdy steel exterior, meaning that it will survive on the back of your ute over those bumpy terrains.
All models come with a touch control panel, allowing users to set the desired temperature for their food and drink, as well as a fast freeze function to save the ice cream from melting. Companion also offers an app for both IOS and Android, allowing users to control the fridge settings from their mobile phone.
Companion fridges operate on either a 12V DC or 240V AC currents
Companion fridges also come with a handy USB outlet, perfect for phone chargers
While only available at camping stores such as BCF, Companion fridges may be worth looking into if you're after something that's durable and easy to use.

Dometic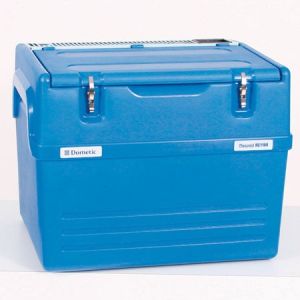 A pioneer within the refrigeration market, Dometic, previously known as Waeco, has diversified its product range to include a wide variety of portable models, available in three series. The CFX series, Dometic's flagship model, contains eight fridges, all with different capacities and powering capabilities. Capacities range from 28L all the way up to 100L to suit all camping adventures, with most models also coming with Wi-Fi capabilities to help you control the settings via your mobile.
Other models include the CF and CDF series, which are more portable than the CFX models. Designed to be easily carried via handles or shoulder straps, these fridges are better suited for those long hikes or for those that need to travel a little bit from the car to the camp site.
Dometic also offers a wide range of portable coolers for those who may not need the full fridge and freezer setup
Engel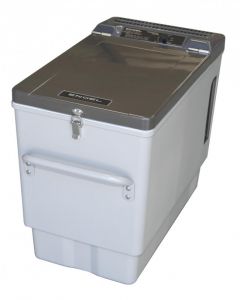 Engel offers a wide variety of portable fridges and freezers for all consumer needs. While it may not be the cheapest option on the market, it does have a huge range of portable fridges and freezers to choose from.
For those after a more traditional feeling, Engel offers a variety of upright fridges, ranging from 40L to 95L capacities, all built similarly to a bar fridge. Other models include the Digital series, which comes with a digital readout so you know what temperature the fridge is currently set at – handy for those after a nicely chilled drink.
Other models include the Eclipse series, for those a fan of the more traditional esky design, as well as the smaller M Series for those who don't need a lot of space
EvaKool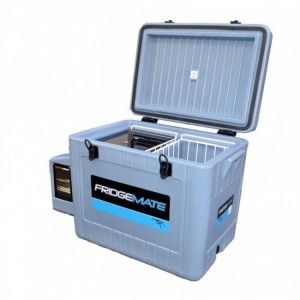 An Australian company, EvaKool offers possibly the largest range on the market. With the majority of its products made from fibreglass, EvaKool fridges are seemingly made to last.
EvaKool's traditional portable fridges range from 40L capacities to 150L, meaning consumers aren't short on options, with EvaKool also offering low profile models to allow for easy storage. Other models include the Fridgemate, which comes with both a fridge and freezer compartment, allowing food to be properly stored.
For those really after something portable, the Travelmate series should suit your needs, with capacities ranging from 38L up to 80L. With a fridge cover to help insulation, as well as handles for easy portability, the Travelmate may be the best option for those who prefer portability over capacity.
EvaKool also offer the Glacier model, ideal for taking on fishing trips
Is a portable fridge worth the money?
With camping and fishing trips a popular option for many when it comes to long weekend getaways or family holidays, products like portable fridges are becoming increasingly popular, with larger capacities and sturdy designs drawing many consumers away from the traditional esky. While almost as expensive as the fridge you would find in your kitchen, the convenience of having a fully operational fridge while you camp could outweigh the price tag.
As appealing as a portable fridge and freezer may be, finding a brand and model that suits your needs can be a tricky process, with the market expanding dramatically over recent years. As a result, it's best to do your research before you buy, as some models may work better than others, especially where size and capacity is concerned.