A camping and outdoor living essential, the portable washing machine is almost a third of the size of a regular washer and can be used almost anywhere. It can save you from packing too much on your next caravan or camping trip and is designed to be lightweight, easy to use and move around. It's also ideal for a small apartment without a washer/dryer connection. Read on for a review of portable washing machines from Canstar Blue.
Why buy a portable washing machine?
Portable washing machines are able to wash your clothes almost anywhere – and at any time, with no permanent water line required. This small appliance is designed to move easily from a storage area such as the wardrobe to the kitchen or bathroom to hook up to a faucet. The downside is its comparatively small wash capacity, with most portable washing machines only fitting a few shirts and socks.
Single tub vs twin tub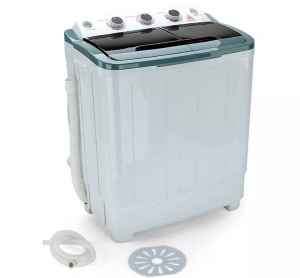 Most portable washers are top loaders, with models being either in a single or twin tub style. Twin tubs have two drums – one washes and the other spins clothes dry. Having dual drums helps the machine to reach faster spin speeds and dry more effectively than a single tub machine. However, this increases the size of the machine, so it will depend how compact you want your portable washing machine to be.
How much do portable washing machines cost?
Typically, portable washing machines cost around $100 – $300, but you could go up to $500 if you want more features and faster spin speeds to accommodate different types of fabric. For those who travel a lot or move home frequently, it might be worth it, otherwise a regular, full-size washing machine might be more effective. If space is an issue, you may like to consider a small washing machine instead.
Features to look for in a portable washer:
Tub capacity: sizes range from around 2-5kg and you may like to choose according to how much laundry you expect to wash. The capacity will also influence the amount of water you'll need, so keep this in mind.
Wash cycles: some offer a variety while others may only have one or two. If it will only be used for short camping trips, a couple of cycles may suffice.
Controls: some have manual controls, including a knob, while others have digital soft-to-touch buttons with an LED display. The digital control machines typically feature a timer.
Water levels: having the ability to choose different water levels allows you to wash different size loads, especially if you only have one shirt to chuck in.
Design: castor wheels and handles are ideal for easy transportability.
Who sells portable washing machine?
ALDI Portable Washer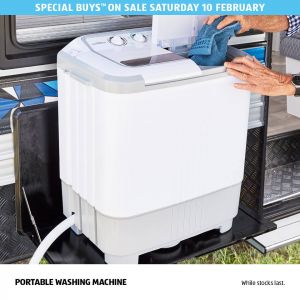 With such a large variety of special buys, ALDI brings in a portable washer. ALDI's Duo Portable Washing Machine is a top load twin tub model featuring a spinner and a drop down hose. Expect a self-draining system and a timer for convenience. The 2kg wash and spin capacity model is equipped with a bottom mounted agitator to agitate the wash action and spin cycle. Its total weight is 12.4kg and has a 240V AC operation. It was priced $99.99 with a 1 year warranty.
Size (HxWxD): 650 x 360 x 560mm
YiREGO Portable Washer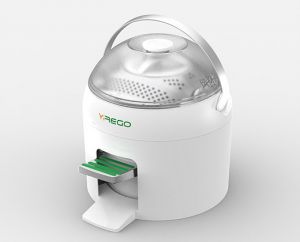 The Drumi by YiREGO is said to be inspired by the frustration of accommodation with communal laundry facilities. It's the size of a water cooler bottle and weighs 9kg, giving you a washer that could fit almost anywhere. Its small 2.25kg capacity can wash about three shirts, three pairs of socks and three pairs of underwear at once or a single pair of jeans, according to the designers. However, it won't handle towels or bedsheets.
While it can't completely replace a full-sized washing machine, it could still be an option for small loads, in particular for areas lacking access to electricity on your camping getaways. Unlike other automatic portable washers, the Drumi uses the manual power of your foot, being designed with a foot pedal to rotate the drum. It's stated to take two minutes of pumping to wash, another two minutes to rinse and one minute to spin, so you can skip leg day at the gym once you're done. It's available to purchase for around $300, but with an additional $65 shipping fee to Australia.
Size (HxWxD): 492 x 400 x 416mm
Lemair Portable Washer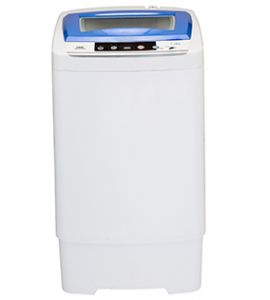 Lemair's most portable washing machine is the Lemair XQB32 Automatic Top Loader Mini Washer. It's a fully automatic washer with a cold water connection, ideal for caravans, motor homes and holiday even houses. It has 3.2kg wash capacity and a maximum spin speed of 850RPM. There are three water levels to choose from – low, medium and high – as well as four process selections of wash, rinse, spin and gentle. The XQB32 is designed with a stainless steel wash tub, washable lint filter and wash completion alarm, as well as a time display. It's one of the largest in this guide and will cost you $499 with a 1 year warranty.
Size (HxWxD): 740 x 410 x 410mm
Gecko Portable Washer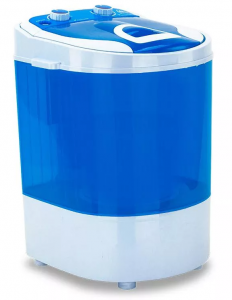 Gecko portable washing machines in Australia are available to purchase through the Kogan website. There are currently the following models on offer:
Blue or Black 4kg Mini Portable Washing Machine GPW-4BL ($199 RRP): the 4kg capacity model features three wash programs – normal, delicate and heavy – and can be completed in a 15 minute cycle. Wash settings include sprinkling and spin-dry, plus a self-draining feature. The machine itself weighs less than 6kg.
Blue/White or Grey/White 4.6kg Portable Washing Machine GGPW-5RD ($209 RRP): uses a wave pulsator with a 4.6kg tub capacity. It features a 2-in-1 wash and spin program with a timer. It weighs in at 7kg and is stated to complete a wash in 15 minutes. Its total size is 650 x 390 x 420mm (HxWxD).
5kg Twin Tub Portable Washing Machine GPW-6BK ($299 RRP): the 5kg capacity Gecko washer is a top load twin tub pulsator style model, with a plastic body casing. It features three wash programs – normal, delicate and heavy – and is designed with a 1.2m inlet house, plus 0.86m drain hose. It's the heaviest of the Gecko pack sitting at 12.35kg and is 730 x 650 x 390mm (HxWxD) in size. It requires a 230V 50Hz power source.
Is a portable washing machine right for me?
Evidently, a portable washer doesn't compare to the energy efficiency and luxury of a full-sized washing machine, but as a replacement for when you're on the road or lacking space, it might be the way to go. They're conveniently designed with minimal set-up required and can provide you with a few extra pairs of clean underwear when you need them most. With a number of different types now available, you can even use one without any access to electricity.
There are portable dryers too, designed in the same way as a full-sized dryer – tumble clothes with the addition of blowing heat. However, this would be an additional cost in terms of money and energy, so a simple clothesline may do the trick if you're only washing a couple of items at a time. While you're here, you may also like to check out our online ratings for washing machines, which you can access via the link down below: