Fact Checked
Portable appliances make our lives much simpler and allow us to bring the luxuries of home with us. Portable washing machines are no exception, allowing us to keep our clothes fresh and clean on road trips or camping. Read on to find out more about portable washing machines in this Canstar Blue guide. 
What is a portable washing machine?
A portable washing machine is a compact version of a standard washing machine. You can find models that are powered by electricity or some that are manual and can be used for off-grid scenarios like camping. Portable washing machines can only usually manage washing loads no more than 5kg and will only offer a single wash function as opposed to multiple like a standard washing machine. 
Types of portable washing machines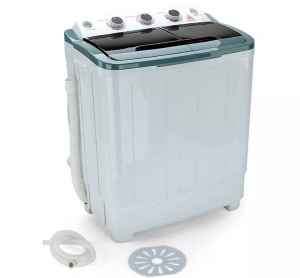 There are two main types of portable machines: single tub and twin tub. Twin tubs have two drums – one washes and the other spins clothes dry. Having dual drums helps the machine to reach faster spin speeds and dry more effectively than a single tub machine. However, this increases the size of the machine, so it will depend how compact you want your portable washing machine to be.
How much does a portable washing machine cost?
Typically, portable washing machines cost around $100 – $300, but you could go up to $500 if you want more features and faster spin speeds to accommodate different types of fabric. For those who travel a lot or move home frequently, it might be worth it, otherwise a regular, full-size washing machine might be more effective. If space is an issue, you may like to consider a small washing machine instead from a retailer like The Good Guys or Appliances Online. 
Who sells portable washing machines?
Portable washing machines are tougher to come by in comparison to a standard top loader washing machine. Some brands that sell portable washing machines include Devanti, Ezywash and Advwin.  
Devanti Portable Washing Machine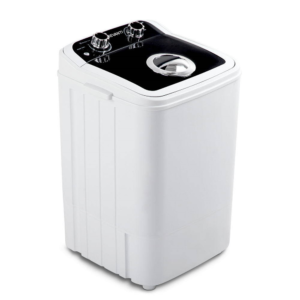 Devanti has a wide range of small, portable washing machines ranging in price from $150 to upwards of $350. They come in sizes from 3kg to 5kg, making them light and extremely portable for camping trips and road trips. Some features include a 2-in-1 wash and spin dry design with a powerful wave pulsator, a detachable spin basket and easy access lint filter. With a reliable copper-wire motor you can expect an efficient but quiet performance that leaves your clothes clean and undamaged. 
Ezywash Portable Washing Machine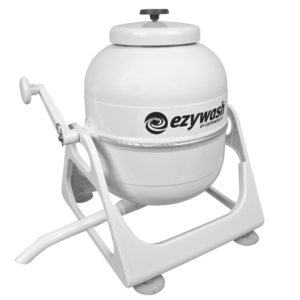 An Ezywash portable washing machine looks almost like a cement mixer in its design, however it is an efficient washing machine. Retailing for around $130, it's a small lightweight portable washing machine capable of handling small 1kg loads and requires no electricity. As a manual washing machine that you spin using the handle on the side, it uses far less water than hand washing and still gives you positive results for your clean clothes. 
Advwin Portable Washing Machine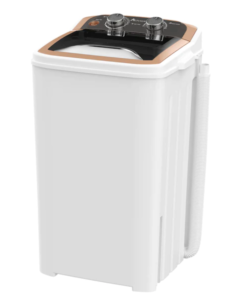 Advwin has a single tub portable washing machine sold at Woolworths that can handle up to 4.6kg of laundry at around $200. Including features such as a wash and spin 15 minute timer, the ability to imitate handwashing clothes and easy set up and installation, it's an ideal choice for those with limited space or on the move. 
Features to look for in a portable washer:
If you're looking to buy a portable washing machine, there are a few features to keep an eye out for. 
Tub capacity:

Sizes range from around 2-5kg and you may like to choose according to how much laundry you expect to wash. The capacity will also influence the amount of water you'll need, so keep this in mind.

Wash cycles:

Some offer a variety while others may only have one or two. If it will only be used for short camping trips, a couple of cycles may suffice.

Controls:

Some have manual controls, including a knob, while others have digital soft-to-touch buttons with an LED display. The digital control machines typically feature a timer.

Water levels:

Having the ability to choose different water levels allows you to wash different size loads, especially if you only have one shirt to chuck in.

Design:

Castor wheels and handles are ideal for easy transportability.
Purchasing a portable washing machine
When it comes to buying a portable washing machine there are a number of factors that will contribute to your decision. Price may not play a pivotal role being that portable washing machines are relatively cheap, but factors like when and where you may use it and whether it will benefit you in that context may be the deciding factor. If you're an avid camper, it could be an ideal purchase, however if you only camp for a night then it may not be a necessary purchase. If you're not sure a portable washing machine is the go for you, compare washing machine brands below. 
Original Author: Veronika Hleborodova