Fact Checked
LG unloads 2nd win as best-rated brand for top load washing machines
Whether it means seeing white underpants turn pink, finding mystery holes in shirts, or getting sore arms from doing multiple washes, there are loads of problems that come with doing the laundry. But is there a top loader that can help wash away those issues?
To find out, we asked more than 1,000 Aussies for their feedback on the top load washer(s) they purchased and used in the last five years. Respondents rated brands on performance and reliability, additional functionality, quietness while operating, design, value for money and overall satisfaction. Manufacturers that received the minimum survey sample size of 30 responses are featured in our results.
LG rinsed the competition in our latest ratings after receiving five-star reviews in five out of six research categories, including overall satisfaction! To see how other brands fared, check out our review below. The idea is to give you as much information as we can before you head in-store or online to buy your next washer. Think of it as like asking hundreds of your friends and family about their personal experiences with their washing machines.
Best Top Load Washing Machines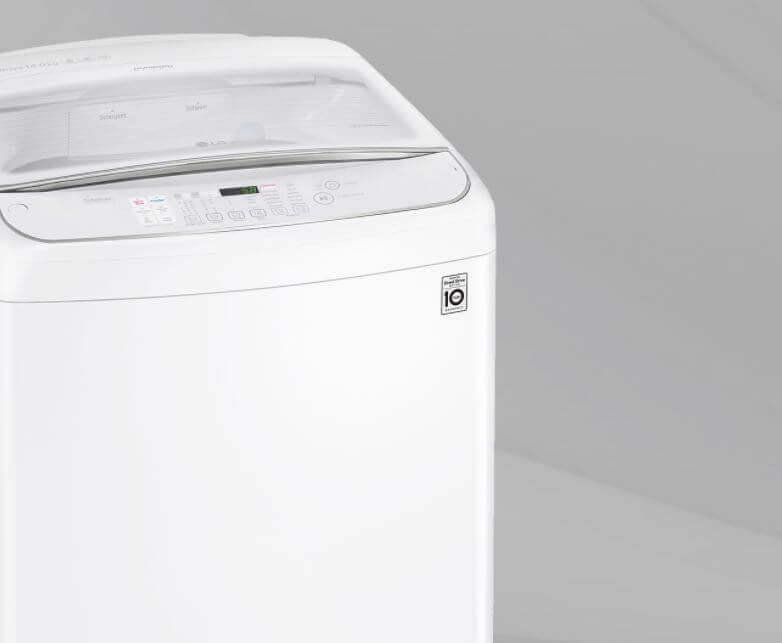 Here are the best top load washing machines in Australia, as rated by consumers in Canstar Blue's 2021 review:
LG
Fisher & Paykel
Samsung
Simpson
Haier
Whirlpool
Consumers rated LG five stars in most categories including design, performance and reliability, additional functionality, value for money and overall customer satisfaction. The majority of other brands landed on four stars overall, while Whirlpool ended on three stars for overall satisfaction.
Notably, Fisher & Paykel and Samsung were the only manufacturers able to edge out LG in a category, both achieving full marks for quietness while operating. Fisher & Paykel also scored top marks for performance & reliability and value for money, as did Samsung for additional functionality.
To help you decide which top loader is best for your needs and budget, here is a guide to the six brands featured in our 2021 review, as well as some of the other leading contenders available.
Top Load Washing Machines
LG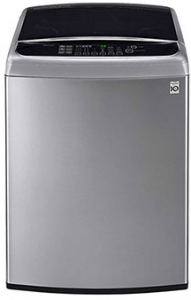 South Korean appliance giant, LG sells a fairly large selection of family-sized top load washers as well as a few smaller sized washing machines. Prices for LG's top loaders start from around $870 and reach up to the $1,800 mark. Most of these machines can handle big loads, typically anything weighing between 9kg and 13.5kg. There are also top loaders with smaller capacities between 6.5kg and 8.5kg, or an extra-large 14kg capacity.
Many LG washing machines don't contain an agitator. Instead, the top loaders feature an inverter control motor that mimics hand washing motions to move the water in the tub. The addition of the TurboDrum is also claimed to deal with stains but without the wear and tear, which the brand claims can be a common problem with washing machines that come with an agitator. This function supposedly uses an agitator-like action to rotate the drum clockwise, while the pulsator pushes the water the opposite way.
LG washing machines also usually provide both hot and cold inlets, in addition to 6 Motion Wash Technology, multiple wash cycles, delayed start function and load sensors designed to reduce water consumption. Another common feature is the Smart Diagnosis technology, which allows you to connect your washing machine to your smartphone via an app and troubleshoot different issues.
Unless stated otherwise, LG top load washing machines typically come with a total 10-year warranty. This includes a two-year warranty for parts and labour and an eight-year warranty for the smart inverter motor or inverter compressor parts, depending on which type of washer you get.
Here are a few top load washing machines from LG:
LG 7.5kg Top Load Washing Machine With Smart Inverter Control (WTG7520): $869 RRP*
LG 9kg Top Load Washing Machine With Smart Inverter Control (WTG9020V): $1,097 RRP*
LG 10kg Top Load Washing Machine With 6 Motion Direct Drive & Smart THINQ (WTG1032WF): $1,179 RRP*
LG 14kg Top Load Washing Machine With TurboClean3D (WTG1434BHF): $1,799 RRP*
LG topped our ratings with five-star reviews for design, performance and reliability, additional functionality, value for money and overall satisfaction. It got four stars for quietness while operating.
Fisher & Paykel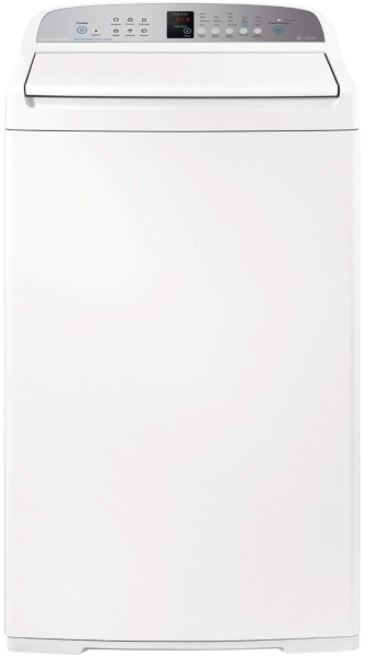 One of New Zealand's most successful exports, Fisher & Paykel sells a variety of top loaders in plenty of capacities to suit different households. Like its front loaders, Fisher & Paykel's top loaders generally fall into several categories – WashSmart, FabricSmart, CleanSmart and QuickSmart – with a clue to their features in their names. WashSmart models from Fisher & Paykel feature short wash cycles, while FabricSmart washers are 'gentle on clothes'. The CleanSmart units boast particular technologies to help clean tough stains faster, while QuickSmart models are claimed to get a full load cleaned faster.
Fisher & Paykel provides a few capacity options, typically ranging from 6kg to 10kg. Although there is a smaller 5.5kg unit alternatively available. The brand's entire top load washing machine collection can cost anywhere between $850 and $1,600, with most products sitting around the $1,300 mark. Unlike some cheaper brands, Fisher & Paykel offers top loaders with varying levels of energy efficiency ranging from 1.5 stars to 4 stars. But most models have a 4-star energy rating, making it one of the most budget-friendly efficient options for top loaders. For water consumption, the majority of the washers have a 3.5-star efficiency rating. Fisher & Paykel top loaders usually come with a two-year warranty.
Fisher & Paykel's top load washing machine range includes:
Fisher & Paykel 6kg QuickSmart Top Load Washing Machine (MW60): $879 RRP*
Fisher & Paykel 7kg WashSmart Top Load Washing Machine (WA7060G2): $989 RRP*
Fisher & Paykel 8kg CleanSmart Top Load Washing Machine (WL8060P1): $1,499 RRP*
Fisher & Paykel 10kg FabricSmart Top Load Washing Machine (WA1068P1): $1,569 RRP*
Fisher & Paykel earned five-star reviews for performance and reliability, quietness while operating and value for money. It also maintained four stars for design, additional functionality and overall satisfaction.
Samsung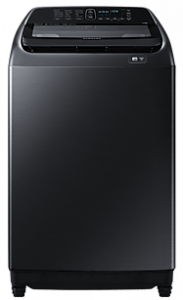 Another global leader in technology and home appliances, Samsung offers top loaders that generally boast very large capacities ranging between 8.5kg and 13kg. What sets Samsung apart from the rest is its Activ DualWash sink. The built-in sink is designed to offer a space to soak stained or extra-soiled garments before tossing them into the washer or give certain items an extra scrub. You can also use the sink to hand-wash delicate items. The removable Magic Filters are boasted as being another unique feature, allowing you to collect lint and fluff after every wash. Plus, there's the Magic Dispenser which supposedly dissolves detergent and water by creating what the company calls a 'vortex' to ensure even and consistent washing.
Samsung top loaders usually have a two-year manufacturer's warranty and an 11-year parts warranty on the digital inverter motor. Samsung's top load washing machines come with a mid to high-end price tag, with the cheapest model being around the $749 mark.
Here are the top loaders currently available from Samsung:
Samsung 8.5kg Top Load Washer (WA85R6350BW): $749 RRP*
Samsung 8.5kg Activ DualWash Top Load Washer (WA85N6750BV): $879 RRP*
Samsung 11kg Activ DualWash Top Load Washer (WA11M8700GW): $1,199 RRP*
Samsung 13kg Activ DualWash Top Load Washer (WA13M8700GV): $1,399 RRP*
Samsung got five-star reviews for quietness and additional functionality. It received four stars everywhere else, including for performance and reliability, value for money and overall satisfaction.
Simpson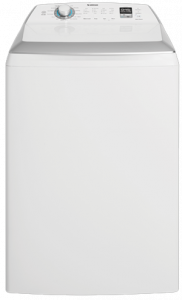 Australian manufacturer Simpson is one of many popular brands under the Electrolux Group. Simpson top loaders are generally fairly budget-friendly compared to other major brands but expect basic designs and functionality for the lower prices. Capacities start from 6kg and max out at 10kg. Simpson's range is somewhat efficient, with some top loaders offering a four-star energy efficiency rating while water efficiency usually sticks to 3.5 stars.
Common features include a time delay so that you can hang out the laundry when you wake up or when you get home from work, plus EZI controls and a fast wash program. Compared to Simpson's older washers, the drum is also claimed to be gentler on clothes and contains thousands of holes to improve water flow. Prices for Simpson top loaders tend to sit between $850 and $1,500, with the smaller 6kg and 7kg units available for just under $900. These usually come with a two-year warranty.
The top load washing machine range from Simpson includes:
Simpson 6kg Top Load Washing Machine (SWT6055TMWA): $849 RRP*
Simpson 9kg Top Load Washing Machine (SWT9043): $1,249 RRP*
Simpson 11kg Top Load Washing Machine (SWT1154DCWA): $1,399 RRP*
Simpson 12kg Top Load Washing Machine (SWT1254LCWA): $1,499 RRP*
Simpson achieved four-star reviews for most research categories such as performance and reliability, quietness, design, value for money and overall satisfaction. It got three stars for additional functionality.
Haier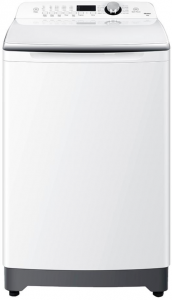 Major Chinese appliance brand Haier has numerous budget-friendly top loaders on offer. While you may not find as many 'smart' features compared to other brands, it does pack in everything you'd expect from a washing machine, plus more. Some features include a pulsating wash action, a soft-close lid to prevent accidents, a memory program for convenience, both hot and cold water inlets, and a Direct Motion motor that's claimed to contain fewer parts to ensure the machine works with minimal noise. There are also many wash programs to suit a variety of fabrics and needs, including an allergen cycle to get rid of dust mites and other allergens.
To suit different budgets, Haier provides a bit of variety by offering a couple of models with the same capacity at slightly different price points. Its cheapest top load washing machine costs close to $600, making it one of the cheapest top load washers on the market. On the other end, Haier's 12kg top load unit costs $1,249, which is around the mid-price range for many brands listed in our review.
Here are some top load models from Haier:
Haier 6kg Top Load Washing Machine (HWT60AW1): $589 RRP*
Haier 7kg Top Load Washing Machine (HWT80AW1): $769 RRP*
Haier 9kg Top Load Washing Machine (HWT09AN1): $949 RRP*
Haier 12kg Top Load Washing Machine (HWT12MW2): $1,249 RRP*
Haier scored four stars for overall satisfaction and three stars everywhere else, including for performance and reliability, design and value for money.
Whirlpool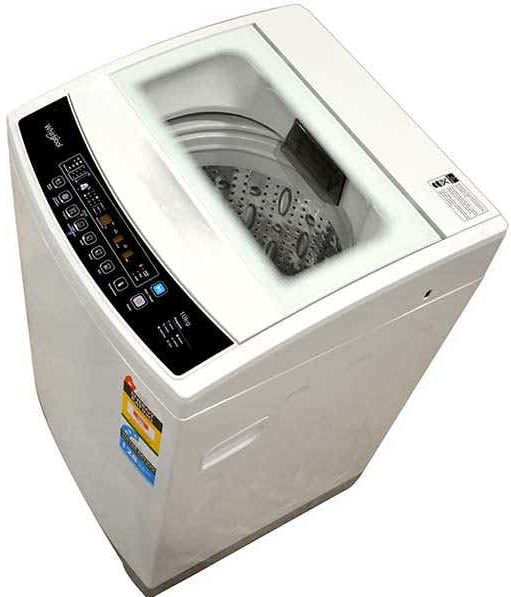 Whirlpool might be considered an underdog in the appliance world, especially when it comes to laundry. Most of its products are designed for the kitchen, with a variety of built-in ovens, microwaves, cooktops, rangehoods, fridges and dishwashers available. But despite having been around for more than 100 years, Whirlpool still manages to get plenty of recognition for its arguably modest selection of top load washing machines.
The standout feature in its top loaders is the ultrasonic pump, which is said to create vibrations into the washtub to help remove stains and dirt as well as reduce the time it takes to clean the clothes. There's also a memory function you can use to get the washing started much sooner, and a 24-hour pre-set timer that allows you to set and choose the time when you want the cycle to finish. Whirlpool top load washers additionally have different programs to suit various types of loads, such as Blanket Wash for blankets and bulky items. Whirlpool top load washing machines generally have a two-year warranty.
Some top load washers available from Whirlpool include:
Whirlpool 7kg Top Loader Washing Machine (WB70803): Price not advertised
Whirlpool 10kg Top Loader Washing Machine (WB10037): Price not advertised
Whirlpool was rated three stars in all areas, including performance and reliability, quietness, additional functionality, design, value for money and overall satisfaction.
Other brands
Aside from the six major top load washing machine manufacturers rated in this year's review, there are several other brands worthy of your consideration, including:
Esatto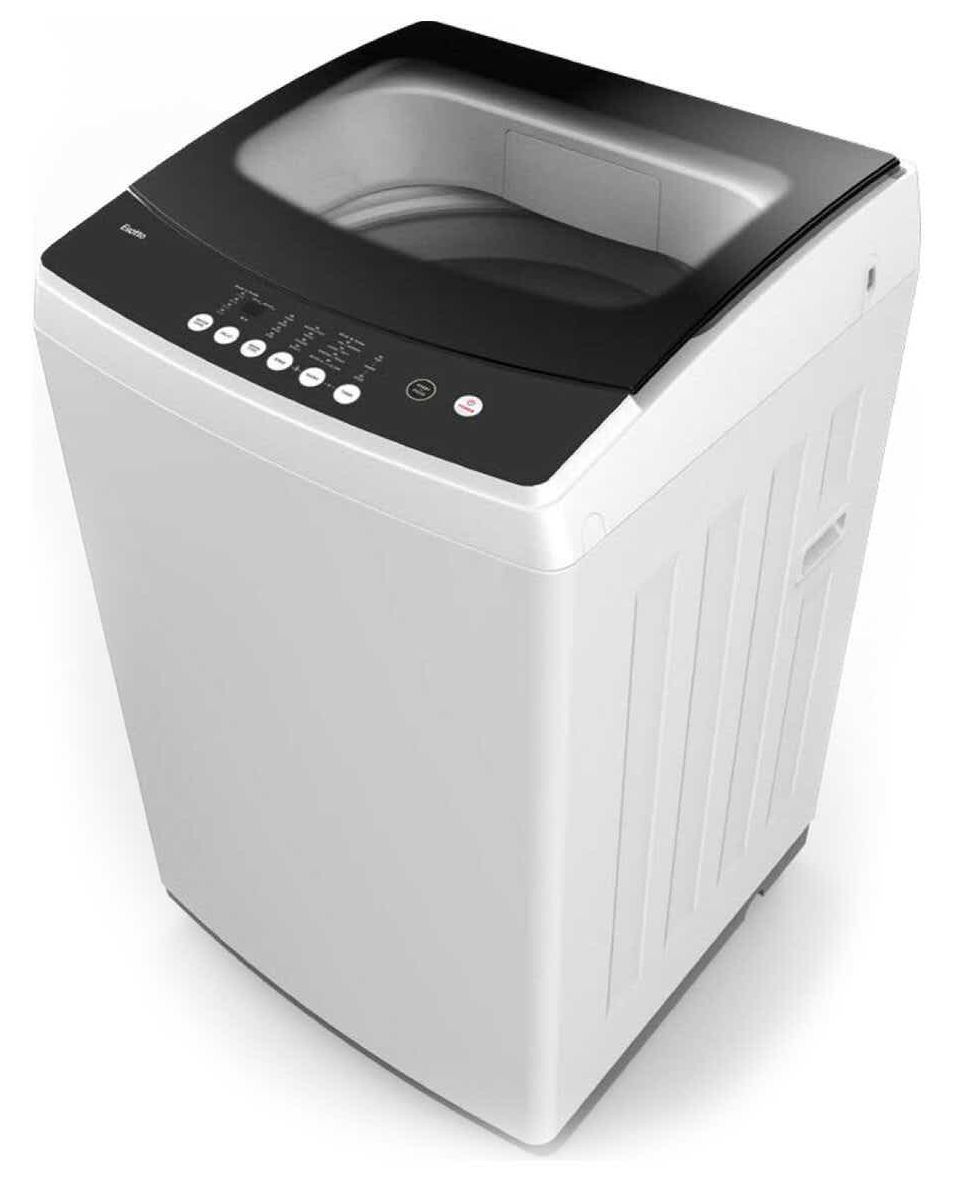 The Esatto range sits on the budget-friendly side for top loaders. Prices start at around $400 and max out at $600. Even with the cheap units, you can still expect large load capacities such as 8kg and 10kg, in addition to the standard 7kg and compact 5.5kg. These models are not the most efficient, producing a three-star rating for water efficiency and two stars for energy. All have similar energy efficiency ratings, so you might not save long term on your electricity bills. However, you won't be left out of pocket from the low upfront cost.
Some Esatto washing machines include:
Esatto 5.5kg Top Load Washing Machine (ETLW55B): $399 RRP*
Esatto 8kg Top Load Washing Machine (ETLW80B): $489 RRP*
Esatto 10kg Top Load Washing Machine (ETLW100B): $599 RRP*
Euromaid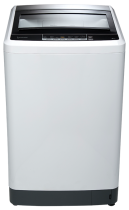 Australian-owned Euromaid is another brand that caters to those looking for a fairly affordable washing machine. Euromaid has top loaders available in 5.5kg, 7kg, 8kg, 10kg and 12kg, usually retailing between $829 and $1,499.
A key design feature of the Euromaid range is the transparent lid, allowing you to keep an eye on the washing. There's no agitator (the vertical column usually in the centre of a drum) inside the drum, which you may find helpful for fitting in bulky items such as large blankets. Euromaid top loaders typically contain eight different cycles and a delay start option, giving you the ability to make use of off-peak electricity times.
Several Euromaid washing machines include:
Euromaid 10kg Top Load Washing Machine (ETL1000RCW): $829 RRP*
Euromaid 7kg Top Load Washing Machine (ETL700FCW): $1,039 RRP*
Euromaid 8kg Top Load Washing Machine (ETL800FCW): $1,499 RRP*
Aussies' washing habits
When it comes to maintaining their top loader, 54% of people regularly empty and clean the filter in their washing machine. A fifth (20%) admitted to overloading the washer with too many clothes, while 27% play it safe and use the same wash settings regardless of the type of load. Additionally, 9% of those we surveyed were simply confused about all the different washing cycles.
What to consider when buying a top loader
Naturally, there are pros and cons to buying a top loader instead of a front loader. But with each type being constantly improved and advanced, there's certainly merit to both. If you're positive a top loader is right for your home, here are some things to consider.
Top load washing machines fall into two categories – agitator and impeller:
Agitator top loaders: have a round, plastic column in the middle of the unit, which twists and turns to deliver a thorough clean. This technology has been incorporated into more new washers; despite being criticised for being rough on clothes.
Impeller/pulsator top loaders: Instead of a central column, these top load washers have a propeller-like device at the bottom of the barrel, to produce a gentler cleaning performance.
Whichever type of top loader you decide is your best bet – both should do the job perfectly fine – you'll need to give serious thought to factors such as capacity and energy efficiency, which will have a direct impact on purchase prices and ongoing energy costs. However, the good news is that owing to their generally more modest features, top loaders tend to be cheaper than front loaders.
Capacity
The larger your washing machine capacity, the more it will generally cost you upfront. But as top loaders are generally cheaper than front loaders, you can find a large selection of washing machines at a wide range of price points.  You'll find a few brands offering top loaders with size capacities of between 10 and 14 kilograms (this refers to the weight of your clothes), but units around 7kg tend to be the most common.
It's tempting to buy a large capacity washer just in case you'll need it, but consider whether or not you'll really be getting your money's worth – not just in terms of the purchase price, but the wasted energy of running a half-empty machine. For average households of three or four people, a 7kg or 8kg top loader should be sufficient.
| Washing Machine Capacity | Household Size |
| --- | --- |
| <5.5kg | 1-2 people |
| 5.5kg – 8kg | 3-4 people |
| >8kg | >4 people |
General Guide Only
Water and energy ratings
It's easy to get distracted by an appealing purchase price and forget about an appliance's water and energy ratings. You can learn how energy-efficient a washing machine is or isn't by checking out its star rating – the more stars, the more energy-efficient it will be, and the less it will cost you in ongoing bills.
There are separate star ratings for water and energy efficiency. However, keep in mind that the higher the energy ratings, the higher the purchase price will usually be. You will need to consider whether you want to save money at the time of purchase, or instead over the course of several years through reduced energy consumption.
Features
You'll typically find more interesting features with front load washing machines rather than top loaders. Nevertheless, there are still plenty of functions that can be found in the top loader range to entice you, including:
Delay Start: this feature is designed for easier planning by giving you the option to delay the washing start time, so that the load gets done when you get home or wake up in the morning instead of sitting in the tub for hours.
Wi-Fi Connectivity: some brands feature Wi-Fi capabilities, which allow you to monitor your washing as well as troubleshoot certain issues via your smartphone. This helps to save time if your washer suddenly stops working.
Transparent lid: allows you to keep an eye on the washing throughout the cycle just like on a front loader.
Soft-closing lid: lowers gently and quietly, so that you don't accidentally drop the lid on your fingers.
Price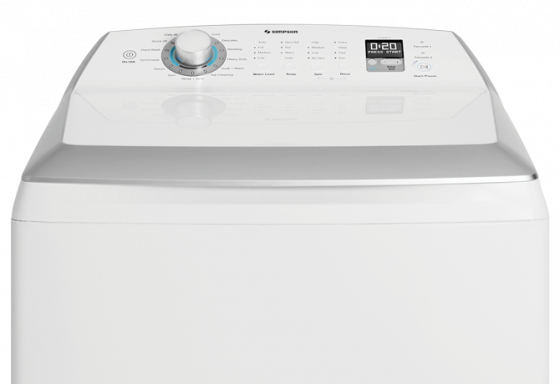 At the end of the day, the decision for many will come down to price. But, considering the lifespan of a washing machine is about 10 years, or at least that's how long consumers we surveyed said they keep their machine for before investing in a new one, your final decision shouldn't be based on upfront cost alone. Our research shows people spend an average of $699 on a new top loader, with price being the main factor helping shoppers decide on which model to get (35%). Plus, around one in four (24%) survey respondents said they purchased their machine during a sales period. Size and load capacity (29%) and brand (16%) were considered to have the next most influence on consumers' decisions, while design and appearance (3%) and special features (3%) came at the bottom of the list.
Unfortunately, a handful of people wished they spent more on a better washing machine (7%). Another small number of respondents said they should have bought a front loader washing machine instead (4%).
Sure, everyone wants to bag a bargain, but the last thing you'll want is buyer's remorse when something goes wrong with your cheap washer. So, be sure to compare a wide range of options before deciding which is best for your family, as you may find something that fits you like your favourite jumper.
About the author of this page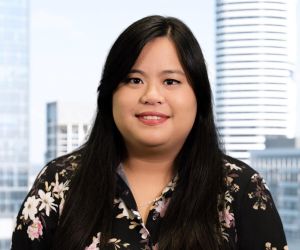 This report was written by Canstar Blue's home & lifestyle journalist, Tahnee-Jae Lopez-Vito. She's an expert on household appliances, grooming products and all things grocery and shopping. In addition to translating our expert research into consumer-friendly ratings reports, Tahnee spends her time helping consumers make better-informed purchase decisions on all manner of consumer goods and services, while highlighting the best deals and anything you need to be aware of.
Front Load Washing Machine Reviews
*Prices taken from retailer websites, correct as of August 2021.