In a world where self-driving vehicles are about to become a thing, it should come as no surprise that a self-cleaning vacuum has already been invented, and has already been popular in homes worldwide for several years.
In America, robot vacuums have become extremely popular – you can insert your own jokes here about Americans being fat and lazy – but they seem to have been comparatively slow to catch on in Australia. However, if you think it's time to put your feet up and let the technology do the hard work, this review of robot vacuum cleaners will guide you in the right direction.
This guide will seek to answer the following questions about robot vacuum cleaners:
What are they and how do they work?
How much do they cost?
What features do they have?
How long do they last?
What are the pros and cons?
Should I buy one?
And who provides them in Australia?
What are robot vacuum cleaners?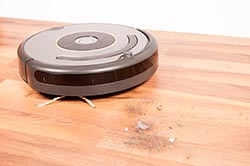 It's really quite a simple concept. Robot vacuum cleaners (also called Robovacs) are vacuum cleaners that clean your floors and carpets without you having to direct it. They are compact little appliances, usually no more than 10cm high, so they can easily fit into those hard to reach places like the underside of chairs, couches and other cabinets. They are circular in nature, and glide across your surfaces using little wheels to pick up any dirt and grime, so you don't have to!
How do they work?
The biggest attraction to robot vacuum cleaners is the convenience factor. They are autonomous in their range of cleaning and operation, with their path determined by an inbuilt algorithm which attempts to achieve complete floor coverage (though this varies by manufacturer). They are equipped with infrared sensors, which they use to scan their surroundings and determine the location of obstacles. They're also outfitted with 'cliff sensors' on their underside, which constantly checks for sudden drops – such as the tops of staircases – that could potentially damage them. They use sensors to adjust their course through your home, so you don't need to lift a finger.
How much do they cost?
There is no definite answer to this question, since the prices of robot vacuum cleaners can vary according to the brand and factors within the vacuum. You can buy budget models that cost less than $100, whereas some higher end models go for well in excess of $1,000. You can check the prices of various different models through different retailers like Harvey Norman or The Good Guys. The price differences are mainly down to the power of the vacuum, longevity, and extra features of each model. We will discuss some of these features and the longevity of common models below.
Robot vacuum features to look for
The most advanced robot vacuum cleaners come with advanced features that can help to justify the higher prices. Some common features of robot vacuums include:
Stair detection: This feature is standard across most basic models, and it helps your robovac detect if it's about to walk off a ledge. Falls can obviously damage a small piece of technology like this, so this feature is a must have.
Noise cancelling: Some models can be quite noisy, whereas others can be quitter than normal vacuums. The noises that they make tend to be a kind of mechanical whirring, which can really get on your nerves if you're sitting nearby. You might want to consider getting a quitter vacuum.
Virtual wall: This accessory can create invisible, virtual walls that create a barrier solely for your robot vacuum cleaner, to prevent them from entering certain areas.
Scheduled cleaning: You can schedule your new robot vacuum cleaner to clean rooms of your house or apartment while you're away. This is one of the key appeals of purchasing this type of appliance.
Charging sensors: Some models come with sensors that automatically move the vacuum back to the charging station when it's either finished or running low on batteries. This can be extremely convenient when combined with scheduled cleaning.
Vacuum power: The more powerful a vacuum cleaner is, the better they will be at sucking up dirt and debris. Interestingly, the difference in price between vacuum cleaners is usually due to the efficiency of their navigation – size and power tends not to vary much to preserve mobility and battery life. If power is your priority, you're better off simply buying a cheaper model.
How long do robot vacuum cleaners last?
Being honest, the batteries of these little machines doesn't last all that long. For the high-end models, you'll find that a fully charged battery will last for about two hours, which will obviously decrease for cheaper ones. Some brands like iRobot promise that its Robovac batteries will survive for about 400 charges before needing replacing, but you can increase this number if you take good care of it. Some tips for taking good care of your robot vacuum's batteries are:
Regularly clean the brushes of any debris, dust and hair (weekly, if necessary)
Keep it charged and use if often, as you shouldn't over-charge it by leaving it in the charging dock for days at a time
Exhaust the battery. Drain it every so often by running it until it dies
Keep it cool, as overheating is bad for most batteries. Keep it out of direct sunlight if possible
Put it in vacation mode. Doing so will ensure it remains healthy while not being used for weeks at a time
The pros and cons of robot vacuum cleaners
You might be in love with the idea of a robot vacuum, but you should be aware of the disadvantages that come with owning one. Robot vacuum cleaners aren't perfect, and we've compiled a list of pros and cons to simplify it for you.
Pros
Cons
You can buy some models extremely cheaply

They are super convenient, and can even clean the house for you while you aren't there

They are perfect for dealing with pet hair on a regular basis

They are ideal for the elderly or people with disabilities

They save a lot of time accumulatively

HEPA filters in the device can eliminate allergens in the air, making your home healthier and safer!

They can't travel up or down stairs

They are less powerful than normal vacuums

They require more regular maintenance

They struggle with obstacles and clutter

They also have low capacities, and need to be emptied regularly

The best models are quite expensive

They are limited to certain surfaces, mainly flat ones, as the small wheels and propulsion motor means that they can get stuck on tough surfaces

They can be noisy, but not always
Should I buy a robot vacuum cleaner?
There are a number of reasons why a robot vacuum might be perfect for you, including if you:
Are physically unable to vacuum your home: Robovacs are perfect for people with disabilities or those who are too frail to operate an upright vacuum for an extended period of time. If you are one of these people, then a robot vacuum could be a godsend, requiring minimal effort to clean small spaces.
Have wooden or tiled floors: Robot vacuums sometimes struggle on carpets, but they work superbly on hard surfaces without pumps of rough textures. You need to reset your robot vacuum every time it gets beached like a tiny little whale, which can be extremely annoying. Having hard surfaces all but entirely eliminates the chances of this happening.
Clean regularly: For the neat freaks out there, robovacs are the perfect solution to everyday cleaning. They are designed with ease of use in mind, so they out clunky regular vacuums to shame in this regard.
Live in a small place: Robot vacuums are ideal for people who live in small houses/apartments or just want to clean one or two rooms. Most of the non-expensive Roombas can only clean a couple of rooms before needing to be charged.
Own a pet: If you're a pet lover, then you'll surely understand how annoying your lovable companions can be, particularly when they shed hair everywhere. Robot vacuums might not be the best solution for sucking up pet hair, but they are great at keeping on top of it in regards to regular cleaning. Plus, pets and robot vacuums make a hilarious combination, as you can see in the video below.
In addition the above points, Roombas themselves are just funny. So if you like robots or just want a good laugh, a cheap robot vacuum can easily entertain you with its stupidity. It'll be a while before robots enslave us if they are any indication!
Who makes robot vacuum cleaners?
The robot vacuum market is still a relatively niche one here in Australia, with a few major brands dominating. There are a total of 13 robovac providers in Australia, but the most prominent ones are Samsung, LG, Hoover, iRobot and Dyson. These are the ones which are the most likely to give you a bang for your buck.
Are robot vacuum cleaners worth the money?
Robot vacuums are a perfect solution to the time-poor, the physically unable and for those who simply hate vacuuming. However, what you get in a robot vacuum often does not stack up to the sheer power that traditional vacuums provide – not only that but they often come at a cost premium. So you'll have to weigh up if reduced functionality and increased cost is worth the convenience of 'setting and forgetting' that robot vacuums provide.
Moreover, if your house is primarily carpet-floored, we suspect that it'll be a wasted venture buying a robot vacuum. For just a little bit of your time every week or so you can save money, and get a more thorough clean with a traditional vacuum. However, many of us don't have the time or are physically unable to vacuum, and this is where a robot vacuum shines.