Blanco downs the competition in sinks review
A beautiful sink can be the centrepiece of a kitchen or bathroom. Whether you're designing your home from scratch or renovating, it's worth investing the time and money in a sink area you can take pride in. After all, think about the time you spend standing there, be it washing the dishes or brushing your teeth! Home renovation shows have helped put sinks back on the agenda, meaning you'll find lots of weird and wonderful designs in retail showrooms. So where can you find a great deal at a reasonable price?
Do you go with a standard sink, or do you splurge and get his-and-hers matching sinks to wow guests? Do you update your home with a shiny stainless steel sink, or do you try something new and contemporary? A good starting point will be finding the right brand for your personal tastes and budget, which is where Canstar Blue's 2018 review can help. We've surveyed more than 400 Australian households to get their feedback on the sinks they have purchased in the last three years, with their experiences reflected by the star ratings table you see above.
You'll find lots of different options if you head to the right places, but our review sees four of the biggest names in the industry compared, rated in the following order for overall customer satisfaction:
1st Blanco
2nd IKEA
3rd Oliveri
4th Clark
While Blanco claimed top spot, competitors IKEA and Oliveri threw everything at them but the kitchen sink, with both brands achieving five-star ratings in at least one research category. But they had to settle for four stars overall, ahead of Clark on three stars.
The survey found that ease of cleaning and design are the greatest drivers of satisfaction for consumers, with value for money and variety considered less important. That's something to keep in mind when you go sink shopping. And to help you decide which brand has the best new sink for your home, read on for details about the four compared.
Best-Rated Sinks
Blanco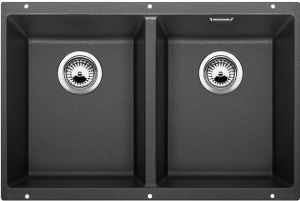 Founded in 1925, German brand Blanco has a long history in the manufacturing industry, now available in retail stores across the globe. Available for purchase in Australia at homeware stores and retailers, Blanco lists all retailers online via its website.
While predominantly offering kitchen sinks, Blanco's range can be categorised into Steelart, Silgranit and Contemporary, giving customers plenty of options when it comes to style, price and size. Available in inset, flush mount and undermount varieties, shoppers can find a sink to fit around their current kitchen design, with stainless steel and black finishes available across all ranges.
Kitchen sink models can additionally include optional accessories, such as a glass cutting board, stainless steel drainer and soap dispenser, as well pop-up handles for easy use, with Blanco also offering a 30-year warranty on all models. Sink dimensions and specifications can additionally be found on the website.
In addition to its five-star rating for overall satisfaction, Blanco earned five stars for variety, with four stars in all remaining categories – ease of cleaning, design and value for money
IKEA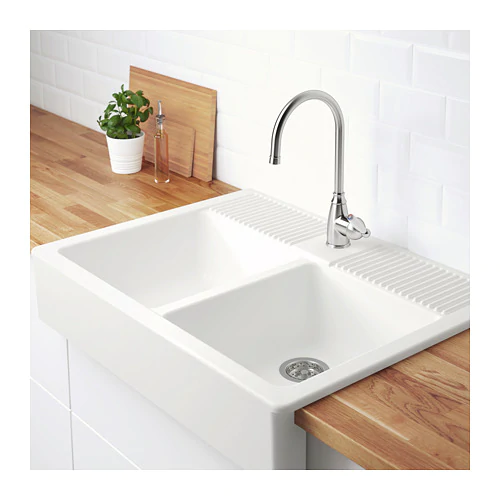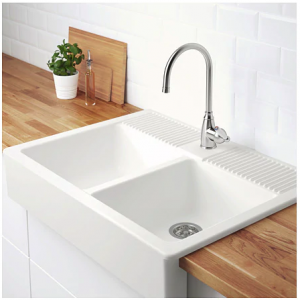 Living up to its reputation of having everything you need to fit out your house, Swedish giant IKEA offers a number of sink models for Aussie households to pick from, including both kitchen and bathroom ranges. While only sold through IKEA, sinks can be purchased online as well as in-store, with delivery and click and collect services available.
For the kitchen, IKEA offers both single and double bowl sinks, available in either an inset or onset model, suiting kitchens of all shapes and sizes. While the tapware may be sold separately, IKEA offers the kitchen sink in a variety of styles and finishes, including white, stainless steel and black, helping to give households a kitchen to impress.
For those after a new bathroom sink, IKEA's range is split into traditional and counter-top basins for those looking for a different style for their bathroom. Shoppers can select from single or double basins, suitable for both those who like having their own space or don't mind sharing. Most models additionally include a strainer and water-trap, with IKEA also listing materials and assembly details on each product online.
Dimensions and sizes are also listed on IKEA's website, with each sink available with a warranty up to 25 years. And as a bonus, the sinks don't come in a flat-pack, although some assembly may be required.
Rated four stars for overall satisfaction and design, IKEA was the only brand to score five stars for ease of cleaning and value for money, while sharing the top spot for variety
Oliveri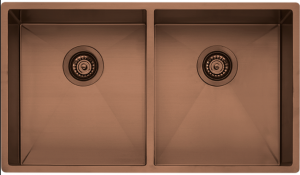 An Australian brand, Oliveri has been operating in the manufacturing industry for 70 years, with the name recognised globally and available for purchase at homeware retailers around the country. Offering sinks of all shapes and sizes, Oliveri may be worth checking out the next time you're in market for a bathroom or kitchen sink upgrade.
Oliveri has plenty to offer, whether you're looking to stick to a traditional style sink, or want something to stand out. Traditional styles, which are available in one or two bowl varieties, include the Apollo, Sonetto, Money, Diaz and Petite ranges, while the Martini, Endeavour and Ultraform ranges will catch your eye if you're looking for a classic style.
If you're searching for something specific, the Titan or Solitaire ranges may be better suited to your needs, with the Titan models boasting larger capacities, while the Solitaire models comes in a round design, ideal for those who may not have a lot of space. Or if you're hoping to make a statement with your kitchen, the Spectra or Santorini ranges may be your best bet, each coming in a variety of colours and finishes to help create an eye-catching aesthetic.
If it's the laundry that you're looking to touch-up, Oliveri has a number of models available, including 45L and 70L tubs, all available in stainless steel finishes and a lifetime manufacturer's warranty.
Scoring the only five-star rating for design, Oliveri was rated four stars for overall satisfaction and variety, while also scoring three stars for ease of cleaning and value for money
Clark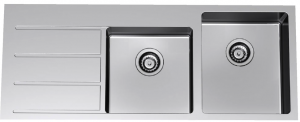 Operating under Australian-owned GWA Group, Clark sinks has been operating since the 1940s, with the company today offering a number of models at retail outlets around the country. Clark provides a 10-year warranty on most sinks, with dimensions and instructions available via its website.
For the kitchen, Clark offers overmount and undermount sinks, with one or two bowl capacities available to help you find one that suits your kitchen and household size. Predominantly available in stainless steel finish, Clark's range includes both single left or right side bowls, allowing you to find one that can slot into your current kitchen space.
For those looking to refit their bathroom, Clark has a number of basins available, although you might have to look elsewhere if you want any other colour but white. Rounded and square basins are readily available, with Clark additionally offering wall-mounted sinks for a different take on the bathroom design.
Rounding out the results, Clark was consistently rated three stars across every category, including design, value for money and overall satisfaction
That sinking feeling
Keeping the sink clean is a touchy subject for many households, with 75% of survey respondents indicating that it annoys them when other people don't clean up. Generally, we're a nation of clean freaks, with 91% claiming that they regularly clean their sink.
Keeping the sink clean can be a struggle however, as 22% stated that they have clogged their sink, while 20% have had to call a plumber to help with clogged drains. Perhaps surprisingly, just 45% of respondents said they have a plunger on hand in case of clogging.
Which sink should I buy?
With survey respondents spending close to $400 on their new sink purchases, it pays to look into all your options and different designs before making a purchase decision, as a sink isn't something you want to be replacing regularly. With 81% of all survey respondents stating that they purchased their sink as part of a renovation, there'll be plenty of designs and styles to take into consideration, so take the time to let it all sink in before you make a decision.
Ultimately, what sink you decide to install in your home will come down to your personal preference, with factors such as size, style and costs all impacting the final decision. As a result, it's always best to do your research before walking into the local hardware store, as you may be able to save some money from going down the drain, while finding a brand that adds an extra touch of class to your bathroom or kitchen.