Fact Checked
Jumping out of the hot shower into the cold is something no one enjoys having to do in those colder winter months. But there's a simple solution so you can stay warmer for longer – bathroom heaters. A bathroom heater can change your attitude about the post shower chill and be a useful appliance for more than just heating. Canstar Blue have put together a handy guide to help you decide whether a bathroom heater is the best choice for you this winter.
Types of bathroom heaters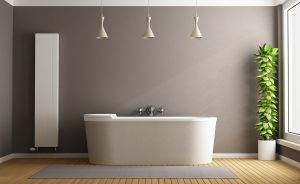 Bathroom heaters are separated into two main categories – installed heaters and portable heaters. An installed heater will generally need to be installed by a professional while portable heaters can be moved from room to room. Portable, wall-mounted and ceiling heaters explain where they are installed whereas infrared, convection and fan forced explain the type of heat the appliance produces. Types of bathroom heaters include: 
Portable heaters

Wall-mounted heaters

Ceiling-installed heaters

Infrared heaters

Convection heaters

Panel heaters

Fan-forced heaters
Are bathroom heaters safe?
Generally speaking, bathroom heaters are safe. They are designed for bathrooms, meaning that their design takes into consideration water, moisture and humidity as well as any other potential hazards. In saying this, if not used correctly, a heater can become dangerous when being used in a bathroom, especially if it is not a bathroom-specific heater. Always read the instructions, storage information and hazard tag of any appliance being used in or around a bathroom or water.  
Benefits of bathroom heaters
There are a number of benefits that bathroom heaters offer outside of just heating your bathroom:
Reduces steam – allowing you to use the mirror straight after a shower or, allowing someone else to use it while you're soaping up in the steam – the holy grail of bathroom sharing.

Reduces the moisture in the air – this helps prevent mould build-up on the bathroom fixtures, on the ceiling and walls.

Saves water and time – there's no need to prolong jumping out of a hot shower if your bathroom is just as warm as the water.
Most energy efficient bathroom heater
Radiant heaters are the most energy efficient heater when used for short periods of time, radiating heat directly onto people or objects in front of the heating unit. The least energy efficient heater is a convection heater as they blow heated air into the space which can be easily lost if a door or window is opened. However, how you use your heater will ultimately depend on how much energy it's using, so keep an eye on it if you're looking to drag out your showers, not your energy bill. 
---
---
How much do bathroom heaters cost?
Bathroom heaters will generally cost between $50 and $900. These price points cover different models of heater from portable to installed models. Installed heaters will generally sit at the higher end of the price scale, whereas you can find small portable heaters under $100. 
Who sells bathroom heaters?
There are a number of brands that sell bathroom heaters that suit different bathroom designs and sizes, including brands such as Nobo, Olimpia and Ventair.  
Nobo Wall Mounted Heater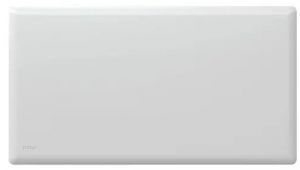 A wall-mounted heater is a great space saver, ideal for those with small bathrooms. Nobo have a slimline panel heater that is especially well suited for those who want to bring the heat but don't want their unit sticking out like a sore thumb. Built at only 5.5cm thick, this heater has concealed air vents to remove visual clutter and can slide in anywhere. This wall mounted heater comes in models from 750W to 2400W ranging in price from $600 to $800 RRP.
Olimpia Ceramic Portable Heater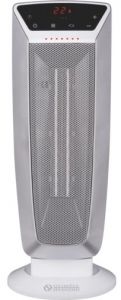 A portable heater is your best friend come winter. Whether you're chilling out on the couch, working hard in the study, or primping in the bathroom, your warm little mate can go wherever you go. The Olimpia Splendid ceramic heater (CALDOSTILE DT) features a touch screen display, remote control, a tip-over switch, and an anti-ice function. It also has the bonus of coming with a high heat output, an oscillating design to encourage warm airflow, and a timer, so you can heat the bathroom before you even walk in. Retailing for about $190, it can be a great choice for not only the bathroom but anywhere in the home. 
Ventair Myka Heater with Fan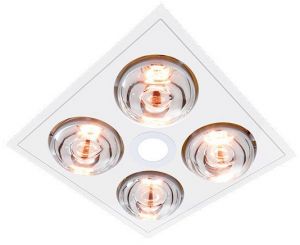 Sometimes you need an appliance that offers more than just one function, and the Ventair Myka 4 is a heater, a light and an exhaust all rolled into one appliance. Its slimline design means it can sit snug in your ceiling, while the four-gang switches mean you can choose when you want light, heat or exhaust. Like other heaters mentioned, it's good for preventing moisture build-up and the radiant heat produces an ambient vibe for your bathroom. Retailing for about $200 it's ideal for a new home build or a bathroom renovation if you're looking to update. 
What to look for in a bathroom heater
A heater may seem like a simple buy with little to no thought necessary, but that's quite the opposite if you want to find exactly what you're looking for. By weighing up all your options and taking into consideration different models, prices, functions and more, you can make the perfect choice. Here are some crucial elements to take into consideration:
Waterproofing:

 Bathrooms are naturally humid places. When it comes to water and electrics, it's a dangerous combo, so if you don't want to battle a fire after your bubble bath, you need to look for a heater with sufficient waterproofing and the necessary safety requirements.

Wattage:

 Every heater comes with a wattage reading. Before you jump to the highest one, consider your heating needs – a small room may require a lower heating capacity, or you may live somewhere that only needs minimal heating at certain times throughout the year. Choosing the right wattage will save you money in the long run.

Size:

 Choose a heater size that fits the room, but bear in mind that some types of heaters throw out more heat than others, regardless of the size. It's more important to match the size of the room to heat output when selecting a unit.

Heating times:

 Don't leave yourself out in the cold – look at how long a heater takes to warm up. If it's too long, it probably isn't worth putting in the bathroom. 

Controls: 

Controls allow you to get the most out of your unit. Here are some common ones to look out for.

A thermostat cuts down on power costs and gives you temperature control

A remote allows you to use the heater from anywhere in the room (or even house!)

Multiple switches that independently control fans, heat, and lights

Safety features such as automatic switch-off, tip-off sensors, drip protection, and waterproofing

A timer will set heating times, or even preheat a room before you enter it
Is a bathroom heater worth it?
Whether a bathroom heater is worth it or not will come down to a number of factors. If you're in a home that's in desperate need of some warmth, particularly if you're stepping out of the shower into a chilly room, then it could be a great purchase. Finding the right heater that suits your bathroom and needs will be an easy choice now that you have all the right tools, and with a wide range of price points and types of heaters, finding a great fit that will keep you toasty all winter long doesn't seem as daunting.
Check out our guides on portable, electric, and panel heaters if you're looking for more information on how to heat your home.
Original Author: Megan Birot