If you're not one for washing dishes by hand, then investing in a compact dishwasher could be the next best purchase. It can be tough justifying purchasing a full-sized dishwasher for a household of two people or for a small apartment, so a small dishwasher is the perfect compromise. Compact dishwashers are typically half the size of a standard dishwasher and come in a range of designs like single drawer, slimline and built-in, but what should you really be considering before you buy? Read Canstar Blue's guide on small dishwashers. 

What is a small dishwasher?
Small dishwashers are smaller than a standard sized dishwasher and feature fewer place settings. Often suitable for smaller kitchens that have less space or for households that only have one or two occupants, small or compact dishwashers often measure at 18 inches, compared to the standard-size 24 inches. 
Types of small dishwashers
There are three main types of compact dishwashers, including freestanding slimline, built-in and single drawer dishwashers. 
Freestanding slimline dishwashers
A freestanding compact dishwasher is a stand-alone unit that can fit into most free spaces in a kitchen. They are slimmer than a standard dishwasher, but come with fewer place settings. 
Built-in compact dishwashers
A built-in compact dishwasher is a smaller model of dishwasher that will be built into a bench. These models can have a two-drawer design or drop-down door design. 
Single drawer dishwashers
Single drawer compact dishwashers are similar to the built-in units in that they have a single drawer capacity for kitchens that are limited on space and can be built-under a benchtop or can sit on the bench. 
How much does a small dishwasher cost?
Compact dishwashers cost between $600 to $2,000 depending on the brand, model and individual features. You can find entry level models below $1,000 in the freestanding dishwasher range, with the built-in and drawer models reaching the top end of the range around $1,500 to $2,000. 
---
Now you know the cost of purchasing your small dishwasher, it's onto the next price point: How much it costs to run your home dishwasher. Lucky for you, Canstar Blue has a dishwasher energy and water cost analysis guide here at the ready.
---
Who sells small dishwashers?
There are a number of popular brands that sell compact dishwashers in Australia in slim-line, single drawer and built-in designs, including Esatto, Bosch and Fisher & Paykel.
Esatto Slimline Dishwasher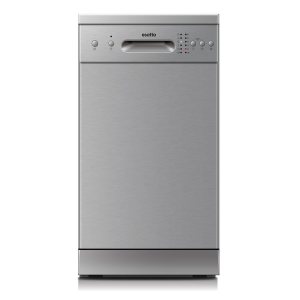 Esatto offers a range of benchtop compact dishwashers and freestanding models of dishwasher to suit those with a smaller kitchen. From most models you can expect a straightforward interior design with cutlery basket and seven to ten wash programs. Although it is a smaller dishwasher, you can still expect high-end features including delayed start, ideal for those with a busier lifestyle, and multiple wash settings including intensive, one hour express and heavy washes. Ranging from $500 to $700 Esatto is very competitively priced with the dishwasher market.  
Bosch Compact Dishwasher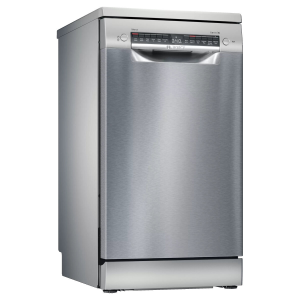 Bosch offers a range of freestanding and built-under compact dishwashers that cost between $1,000 and $1,500. All boasting simple designs that allow for easy loading, they also include EcoSilence drive for a quiet performance and extra dry for a perfect finish. Most models include folding tines and fully adjustable racking systems with folding plate racks in the bottom so you won't have to play Tetris every time you stack the dishwasher. You can expect a six-program set-up as well as extra-dry settings to avoid streaky water marks and a hygiene-plus setting for thoroughly clean dishes.  
Fisher & Paykel DishDrawer Dishwasher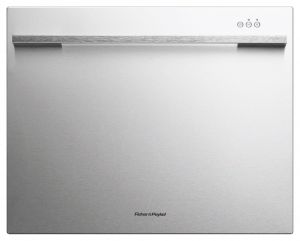 Fisher & Paykel is well known for their DishDrawer dishwashers, offering several in their range with most models sitting between the $1,400 and $2,700 mark. Many of Fisher & Paykel's compact dishwashers are single drawer built-in models, as well as fully integrated models that blend seamlessly into your kitchen's existing design. This design helps reduce the amount of bending you have to do when you load and unload the dishwasher, which is a winner in anyone's book. Fisher & Paykel models also include folding tines, fully adjustable racking systems that accommodate long stemmed wine glasses and other tall kitchen items, along with safety features such as a key lock and child lock, in addition to anti-flood protection and a fault indicator. 
Benefits of small dishwashers
There are a number of benefits in choosing a compact dishwasher, including: 
Water saving:

due to their compact size, most small dishwashers will generally

use less water

than a standard sized dishwasher. To understand their efficiency, always check an appliance's water and

energy efficiency

for more accurate usage. 

Space saving:

compact dishwashers will save you space in the kitchen. If your household doesn't use too many dishes and has limited floor or bench space, a compact dishwasher can be a great choice in the kitchen. 

Time saving:

If you're someone who doesn't have time to wash up dishes after every meal, throwing them in the dishwasher and putting it on for a wash as you walk out the door is ideal. They are a great alternative to bending over the sink and hand washing all of your dishes.   
Is a small dishwasher right for me?
There are a number of factors to take into account if you're considering purchasing a compact dishwasher. While price may not play a huge role, there are plenty of models of compact dishwashers to choose from with their own features that suit individual needs. If you're short on space in the kitchen and shot on time in a day, a compact dishwasher could be the next best purchase for you. 
Original Author: Veronika Hleborodova