Dorf taps into winning formula in tapware review
When it comes to turning your house into a home, it's often the little things that can add character and make the space your own. Picture frames, cushions and even taps can make all the difference when you walk into a room, particularly if you're looking to make a statement with a different style. Taps may not seem like the part of your house that will wow guests, but make a wrong decision and you'll be left with that sinking feeling when you see them heading for the bathroom.
There are plenty of options to consider in the tapware department. In addition to their style and colour, you'll also have to consider the durability and feel of the taps, meaning the decision can take a hands-on approach. Finding the brand that matches your personal preference and budget is a good starting point, which is why Canstar Blue has produced this ratings guide. We've sought the feedback of more than 900 Australian households about the new taps they have bought and installed in the last three years, helping you make a better-informed purchase decision.
You'll find lots of different brands if you go to the right places, but our ratings include five of the biggest names in the game, rated in the following order for overall customer satisfaction:
1st Dorf
2nd Mondella
3rd Caroma
4th Estilo
5th Blanco
While Dorf got top marks in most research categories, some other brands turned on the pressure, with Mondella and Estilo both earning five stars in at least one category. However, Dorf was the clear winner overall, as the only brand to achieve five stars in the important areas of durability and design.
The survey found that durability, value for money and design are the greatest drivers of satisfaction for consumers buying new taps, with ease of cleaning, features and variety considered less important. You may want to keep that in mind the next time you go tap hunting. And read on for details about the five brands in our 2018 review.
Best-Rated Tapware
Dorf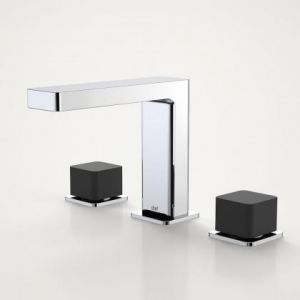 Founded 70 years ago, Australian brand Dorf offers plenty for the house, including bathroom accessories and tapware for the bathroom, laundry and kitchen. Available for purchase from major homewares and hardware retailers, you can look for your local store via Dorf's website, as well as take advantage of the company's style guide and articles if you're stuck for inspiration.
Predominantly specialising in mixer taps for the kitchen, bathroom and laundry, Dorf provides a number of styles and finishes to help create your own aesthetic. Shoppers looking for a traditional style will have plenty to pick from, including the Epic, Hugo, Napoleon and Villa ranges, with goose-neck and pull-down taps additionally available if you have a large capacity sink already installed.
For fans of hot-and-cold taps, Dorf offers the 'Epic Bloc' range for your bathroom, available in a number of sizes to complement your basin size. Consumers can choose from the traditional chrome finish, or mix things up a bit with rose gold or black finishes. Dorf additionally offers a variety of 5-star WELS models, with a 20-year warranty also available with most tapware models.
In addition to a five-star rating for overall satisfaction, Dorf rated five stars for durability, design, ease of cleaning, variety and features, with a four-star rating for value for money
Mondella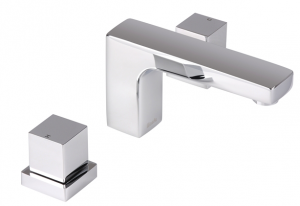 Mondella has tapware for all areas of the house, including the kitchen, bathroom and laundry, as well as sorting out your shower and bath taps if you're really looking to spruce up your look. Available to buy at Bunnings nationwide, Mondella lists prices and specifications on its website, plus style articles and tips.
For the bathroom basin, Mondella provides a range of individual taps and mixers, available in a range of colours and finishes to suit your personal tastes and style. Mondella's tap range also includes a variety of water-saving models, in addition to taller models for those looking to have a bit more space around the basin. Mondella offers a number of colours and finishes for its bathroom range, including stainless steel, chrome, matte black, as well as brass and gold in select products, helping customers to personalise their bathroom to individual tastes.
If you're looking to spruce up the kitchen – or even the laundry – Mondella also has you covered, with a wide range of tap types available. In addition to the classic mixer, Mondella has a number of gooseneck and pull-out models, allowing a bit more room at the sink when it comes to washing the dishes. Models come in a variety of colours, some boasting 6-star WELS ratings for those looking to cut down on their water usage. While the laundry range isn't as extensive, Mondella does offer the traditional hot and cold taps in a number of colours and designs, with chrome, matte black and rose gold models available.
Rated four stars for overall satisfaction, Mondella got top marks for value for money and ease of cleaning, with four stars for design, features and variety, but three stars for durability
Caroma
An Australian brand, Caroma has been operating for more than 75 years, readily available at showrooms and homeware retailers around the country. While predominantly focussing on models for the bathroom, Caroma does offer taps for those looking to update their kitchen.
For the bathroom, Caroma offers the Coolibah, Olida and Piperita ranges, each available in a number of styles and finishes to suit your personal preferences. While they may not be the option to turn to if you're after a mixer model, Caroma's bathroom series includes a number of gooseneck and traditional taps to suit your basin and bathroom size. With product size and specifications available on the website, Caroma additionally offers a number of 5-star WELS models, helping to keep water usage down.
The Piperita range is also available for the kitchen, with a Classic Sink set and Wall set available to suit the layout of your kitchen. While only available in chrome, each set uses hot-and-cold taps, with the Wall set available with large handle taps for easier use. With a 4-star WELS rating, Caroma's kitchen range may be worthwhile for those looking for a classic style, or something that will fit in with most kitchen aesthetics.
In addition to a four-star rating for overall satisfaction, Caroma was rated four stars across most categories, including durability and value for money, while scoring three stars for design
Estilo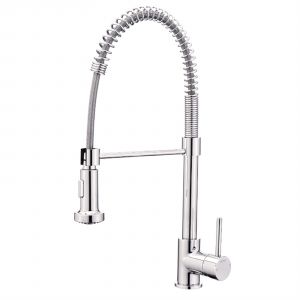 The Estilo tap range is readily available at your local Bunnings warehouse, to suit your kitchen, laundry or bathrooms. If you're after a splash of colour, Estilo may not be the brand for you, but it could be up your alley if you're after a nice chrome or stainless steel finish.
For the bathroom, Estilo provides both the traditional hot-and-cold taps in addition to mixer models, each available with a 12-month warranty. Estilo's range consists of 3 and 4-star WELS rated models, helping to cut down on water usage, while additionally offering a variety of sizes to suit how much bathroom space you have.
For the kitchen, Estilo provides mixer and gooseneck models, each with a minimum 4-star WELS rating to help cut down your next water bill. Estilo models are also well suited for larger sinks, with the goosenecks models available with retractable necks to ensure that you can work your way around the dishes.
A number of laundry models are available, both for the laundry tub as well as the washing machine. Estilo additionally provides details on model sizes and connection types to help ensure you pick up the correct taps for your house, with Bunnings additionally offering to help install most models for you.
While one of only two brands to score five stars for value for money, Estilo was rated three stars across most categories, including design, durability and overall satisfaction, but scored a four-star rating for ease of cleaning
Blanco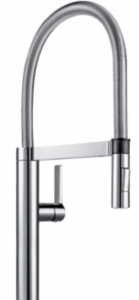 German brand Blanco has plenty of tapware models to complement its sink range, including a number of styles, finishes and types to suit your personal preferences. Available at major hardware and homeware retailers, Blanco is worthwhile checking out if you're big on style.
As with its sink range, Blanco's taps are divided into Steelart, Silgrant and Contemporary ranges, meaning you can purchase the complete set if you're looking for a total makeover. Predominantly available in mixer and gooseneck models, Blanco's range of tapware is available in chrome, stainless steel and black finishes, with a 10-year warranty also available with each model. Blanco also provides 6-star WELS models, making it an environmentally friendly choice for your house.
While Blanco may be better suited for those looking to freshen up their kitchen, there are also a number of bathroom taps available to buy, making it a worthwhile option to consider whether you're renovating your whole house, or just simply looking to update the style.
Rounding out the results, Blanco was rated three stars across all categories, including value for money, features and overall satisfaction
Go with the flow
The colour and finish of your tapware can be just as important as the style and design, as it allows you to express a bit of individuality and flair. When asked about the finish of their tapware, survey respondents reported:
45% Chrome
41% Stainless Steel
4% White
3% Matte Black
2% Brushed Nickel
1% Brass Gold
1% Porcelain
1% Gunmetal
Considering that 48% of respondents stated that they purchased new tapware because they wanted to update the style of their room, the colour and finish can be the final, or even the most important, factor in the decision.
Which tapware should I buy for my house?
Taps might not be at the top of the to-do list when it comes to home renovations, but can often be one of the biggest factors when it comes to giving the bathroom or kitchen a facelift, particularly if you decide to switch up the colour scheme. But with plenty of styles, designs and finishes to choose from, selecting a set of taps that suits your household can often be a tough decision.
Ultimately it will come down to your personal preference, as style, colour and price will all influence which taps you decide to install. A bit of research will also go a long way to ensure that your money doesn't go down the drain, and that your perfect bathroom or kitchen isn't just a pipe dream. With that in mind, we hope our inaugural tap ratings prove helpful.