Fact Checked
How we rate tapware & bathroom fixtures
When it comes to turning your house into a home, it's often the little things that can add character and make the space your own. Picture frames, cushions, and even taps can make all the difference when you walk into a room, particularly if you're looking to make a statement with a different style. Tapware and bathroom plumbing fixtures like showerheads and bath spouts, may not seem like the part of your house that will wow guests, but make a wrong decision and you'll be left with that sinking feeling when you see them heading for the bathroom. To help you find the best tapware and plumbing fixtures for your bathroom, Canstar Blue has compared the top brands in the market to flush out a winner.
---
Find more detailed information on our ratings methodology.
---
Top Tapware & Plumbing Fixture Brand  ̶  Caroma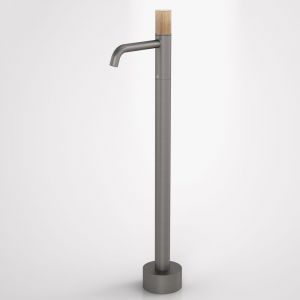 Australian brand Caroma has been operating for more than 75 years and is readily available at showrooms and homeware retailers around the country. While the company mainly caters to the bathroom, Caroma does also offer taps suitable for the kitchen and laundry. Different products available include toilet suites, baths, basins, tapware and mixers as well as showers, among other things.
Caroma's tapware range starts from under $30 for Caravelle Classic Cross coloured handles and goes up to $1,949 for the Elvire progressive freestanding bath filter (pictured). A number of these items are said to be leak-proof and come with a 20-year warranty. Some of Caroma's basins similarly have a long warranty period and are additionally claimed to be stain resistant. Expect to fork out about $111-$800 for shower fixtures and slightly more for bath and basin fixtures.
Caroma alternatively offers toilet suites designed to be accessible for people with less mobility. Items like the Caroma Caravelle Support suite contain an 'Easy Height' pan that requires less bending, and integrated armrests to help when moving to and from the toilet.
Caroma earned five-star reviews for durability, features & functionality, design, range variety, and overall satisfaction. It got four stars for value for money.
Other tapware & plumbing fixture brands
---
Not all tapware and plumbing fixture brands in the market qualify for our ratings (based on minimum survey sample size), but that doesn't mean they're not worth considering. Here are several more brands to check out before making a purchase decision.
Armando Vicario
Billi
Clark
Eden
Flexispray
Franke
Gareth Ashton
Gessi
Grohe
InSinkErator
Inalto
Irwell
Oliveri
Ram Tapware
Smeg
Sussex Taps
Wolfen
What to consider when buying tapware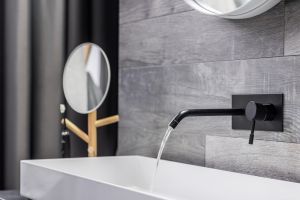 When it comes to finding out what drives customer satisfaction when purchasing tapware or plumbing fixtures, our research revealed the following factors as most important:
Durability: 28%
Features & functionality: 24%
Value for money: 19%
Design: 17%
Variety & range: 12%
When it came to buying a showerhead, features make a difference. A lot of households especially opt for a model with a water-saving function or different types of water pressure. Some people also prefer to buy something with a water filter function or LED lighting.
Did you know Australians spend an average of $181 on new tapware and plumbing fixtures for their bathroom? A quarter (25%) also said their new plumbing fixtures had cost more to install than they expected.
Which tapware brand should you buy for your house?
Caroma proved to be the brand worth purchasing, scrubbing up full marks across nearly all satisfaction drivers. Estilo also seems to be a great pick for both value for money and design.
But ultimately, it will come down to your personal preference, as style, colour and price will all influence what you decide to install. A bit of research will also go a long way to ensure that your money doesn't go down the drain and that your perfect bathroom isn't just a pipe dream.
Tapware might not be at the top of the to-do list when it comes to home renovations but can often be one of the biggest factors when it comes to giving the bathroom a facelift, particularly if you decide to switch up the colour scheme. But with plenty of styles, designs and finishes to choose from, selecting a set of taps and other types of plumbing fixtures that suit your household – and budget – can often be a tough decision. With that in mind, we hope our tap and plumbing fixtures ratings prove helpful.
Meet our consumer experts
---
Megan Birot: Home & Lifestyle Editor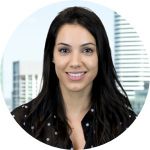 Megan is Canstar Blue's Home & Lifestyle Editor, leading the team that focuses on consumer products and services, ranging from supermarkets and groceries to home and personal appliances and retail stores. She interprets Canstar Blue's bespoke research on the thousands of brands that we compare, rate and review, to help shoppers make better purchasing decisions.
Samantha Howse: Consumer Research Specialist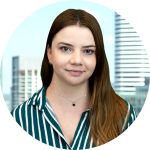 Samantha Howse is Canstar Blue's Consumer Research Specialist, coordinating the consumer research program behind our customer satisfaction awards across Canstar and Canstar Blue in Australia and New Zealand. Sam has earned a Bachelor of Business (Marketing) from Griffith University and, with seven years in market research and 2 years in marketing, she is experienced in survey design, implementation and analysis, coupled with an understanding of marketing principles and best practice.
Picture credits: Dariusz Jarzabek/Shutterstock.com, P A/Shutterstock.com.