Fact Checked
If you've been looking for a smart sous chef to take over your kitchen duties, perhaps you've pondered if investing in a Thermomix is worth the money. The latest entrant to the foray − the Thermomix TM6 − has been hailed as the holy grail of smart cooking appliances, but is it just a hype? Read our review to find out.
What is the Thermomix TM6?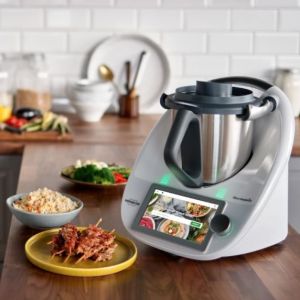 The TM6 is the latest generation of the Thermomix. Vorwerk, the brand behind the beast, says this model is designed to perform 22 different functions, including sous-vide, slow cooking and fermenting, allowing you to make homemade yogurt or kimchi. There's also a pre-cleaning mode, rice cooker mode and kettle function. As far as online reviews go, most consumers confirm this appliance does in fact do what it claims to.
If you haven't heard of Thermomix before, here's a quick recap. Thermomix is an all-in-one thermo food processor that can cook, chop, crush, whip, mix, steam, boil, blend, simmer, stew, emulsify, knead, grind, grate, mill – you name it and the Thermomix can probably do it. It basically performs the tasks of dozens of cooking appliances in one, powerful compact unit. There are currently only two Thermomix models available to purchase in Australia − the TM6 and TM5.
How much does the TM6 cost?
The Thermomix TM6 currently retails for $2,579. While it's a hefty price to pay for a single appliance, it's important to remember that it serves the functions of an additional five or six appliances. By investing in a Thermomix you could ideally save a lot of space and money on other appliances for the kitchen long term. If the price tag feels a little too much, alternative appliances like food processors may be a cheaper choice. 
Thermomix TM5 vs TM6
The major advancement that separates the TM6 from its predecessors, is that it comes with built-in Wi-Fi connectivity. This new feature – not previously available with the TM5 or TM31 – allows you to connect to your home Wi-Fi to access the Thermomix recipe platform Cookidoo for recipe ideas and cooking instructions, directly from the touchscreen. This also allows you to get software updates on the go. Be aware though that Cookidoo is a subscription-based service and that the subscription cost is not included in the overall price. It costs $49 per year, but you do get a bonus 6-month subscription with a Thermomix purchase.
Some other added features for the TM6 include: 
Larger processor and screen for viewing recipes

More heat settings for different types of cooking, like frying and boiling

More accurate scales for precise measurements when following recipes
Model 
TM5
TM6
Price
$2,089
$2,579
Functions
13 cooking functions
22 cooking functions
Heat settings
37°C to 140°C
37°C to 160°C
Maximum capacity
2.2L (9.3 cups)
2.2L (9.3 cups)
Maximum power usage 
1500W
1300W
Blend speed  
From 100 to 10,700 revolutions per minute (rpm)
From 40 to 10,700 rpm
Dimensions (excl. Varoma)
Height: 34.1cm

Width: 32.6cmDepth: 32.6cm

Weight: 7.95kg

Height 34.1cm

Width: 32.6cm

Depth 32.6cm

Weight: 7.95kg
Thermomix TM6 accessories
The Thermomix TM6 comes with many of the same accessories as older models such as the Varoma tray and simmering basket, but you can find additional accessories as well. You can purchase a blade cover and peeler, butterfly whisk and splash guard. There are a number of other retailers that sell additional Thermomix accessories as well.
Purchasing a Thermomix TM6
When it comes to purchasing a Thermomix it can feel like a bit of a commitment given the price, but it offers plenty of functionality that other appliances may not. If you're someone who lives in a busy household with kids it could be an ideal choice to help simplify meal time, whereas if you're living in a smaller household and may not get regular use out of it, the price tag may be a deal breaker. If you're not sold on a Thermomix consider other food processor brands below.  
Picture credit: Thermomix.