If you've been looking for a smart sous chef to take over your kitchen duties, perhaps you've pondered if investing in a Thermomix is worth the money. The latest entrant to the foray − the Thermomix TM6 − has been hailed as the holy grail of smart cooking appliances, but is it just a hype? Read our review to find out.
What is the Thermomix TM6?
The TM6 is the latest generation Thermomix and comes with a recommended retail price (RRP) tag of $2,269. Vorwerk, the brand behind the beast, says this model is designed to perform 22 different functions, including sous-vide, slow cooking and fermenting, to make homemade yogurt or kimchi. There's also a pre-cleaning mode, rice cooker mode and kettle function. As far as online reviews go, most consumers confirm this appliance does in fact do what it claims to.
If you haven't heard of Thermomix before, here's a quick recap. Thermomix is an all-in-one thermo food processor that can (deep breath!) cook, chop, crush, whip, mix, steam, boil, blend, simmer, stew, emulsify, knead, grind, grate, mill – you name it and the Thermomix can probably do it. It basically performs the tasks of dozens of cooking appliances in one, powerful compact unit. There are currently only two Thermomix models available to purchase in Australia − the TM6 and TM5.

What's the difference between the Thermomix TM5 & TM6?
WiFi connectivity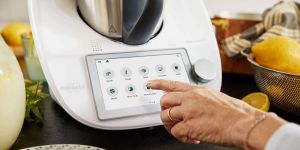 The major advancement that separates the TM6 from its predecessors, is that it comes with built-in WiFi connectivity. This new feature – not previously available with the TM5 or TM31 – allows you to connect to your home WiFi to access the Thermomix recipe platform Cookidoo for recipe ideas and cooking instructions, directly from the touchscreen. This also allows you to get software updates on the go. Be aware though that Cookidoo is a subscription-based service and that the subscription cost is not included in the overall price. It costs $49 per year, but you do get a bonus 6-month subscription with a Thermomix purchase.
Added cooking functions
Another perk of the TM6, is that it comes with an additional nine cooking functions than the TM5. These include:
Pre-cleaning
Rice cooker
Kettle
Thicken (for sauces and custards)
Ferment (for homemade yogurt)
Caramelise (for honeycomb and caramel)
Automatic blending (for smoothies, juices etc.)
Slow cooking
Sous-vide
Larger processor and screen
The TM6 also features a larger 15.2cm x 20.3cm (6.8-inch) full colour touchscreen display and quad-core processor, which has the same processing power as a good smartphone and 16GB of memory (similar to an iPhone 6). This will give you access to a built-in library of more than 50,000 guided recipes in various languages (through Cookidoo) and the pre-programmed Basic Cookbook, more storage space and access to new software features, simultaneously.
More heat settings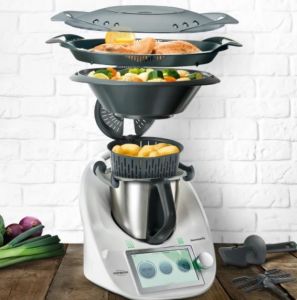 In addition to this, the latest generation Thermomix also comes with higher temperature settings (from 37°C to 160°C), to allow frying and caramelisation. The TM6's mixing bowl and blades were redesigned to withstand these higher temperatures. This means the TM6 bowl, knife and other accessories won't be compatible with the TM5 unit, and vice versa. If you insert a bowl into the wrong device, you'll receive a system error message. On the other hand, both models do come with an interchangeable Varoma − a two-tiered steaming basket which sits on top of the lid. You can also interchange the measuring cup, basket, lid and butterfly whisk on either the TM5 or TM6.
More accurate scale
Another exciting feature that will get bakers and restaurateurs alike excited, is the TM6's integrated scale which now weighs ingredients to the exact gram, as opposed to five-gram increments like with the TM5. This means you'll be able to weigh all your ingredients right in the bowl, instead of having to weigh everything separately with measuring cups and a kitchen scale. This should make cooking and cleaning up a lot easier.
Thermomix TM5 vs TM6
Here's a high-level comparison of the TM5 vs TM6 specs and features:
Model 
TM5
TM6
Price
$2,089
$2,269
Functions
13 cooking functions
22 cooking functions
Heat settings
37°C to 140°C
37°C to 160°C
Maximum capacity
2.2L (9.3 cups)
2.2L (9.3 cups)
Maximum power usage 
1500W
1300W
Blend speed  
From 100 to 10,700 revolutions per minute (rpm)
From 40 to 10,700 rpm
Dimensions (excl. Varoma)
Height: 34.1cm

Width: 32.6cmDepth: 32.6cm

Weight: 7.95kg

Height 34.1cm

Width: 32.6cm

Depth 32.6cm

Weight: 7.95kg
Is the Thermomix TM6 worth the money?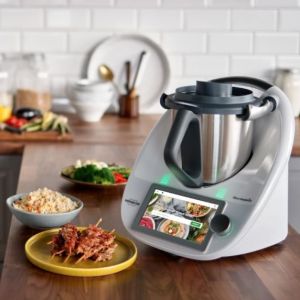 Well, this depends on your budget and the price you're willing to pay for cutting down worktime in the kitchen. As far as value goes, the TM6 definitely offers bang for your buck. It's $2,269 RRP* ($180 dearer than its predecessor the TM5), but does offer a host of new and improved features and functions, which all fit within the same compact unit as the TM5. The TM6 is also more energy efficient too, which means you'll likely save on running costs in the long term. If you're considering investing in the TM6, you don't have to pay the full price upfront, as there are several payment options available (see below). As another option, you could also shop around for Thermomix alternatives.

What are the payment options to buy a Thermomix?
You can buy a Thermomix in one single payment using your credit card, EFT or PayPal. However, if you're looking to stretch your budget, there are other payment options available, including:
Zip Money: This is probably the best payment option. You can get a no deposit finance with 24 months interest free through Zip Money. You'll need to make monthly repayments of $95 if you want to pay off your purchase within the interest free period. Alternatively, you can also opt for minimum monthly repayments of $60, although this means you'll have a balance outstanding at the end of the interest free period, which will be charged at an interest rate of 19.9%.
3-Payment Plan: You could also choose to pay for your Thermomix in three instalments, over a 60-day period. You'll need to make an initial payment of $919 and after 30 days, your second payment of $700 will be deducted, and then the third payment (also $700) will come out 30 days after that. This payment option incurs a $50 administration fee, though.
How do I get a Thermomix in Australia?
Unfortunately, you can't purchase a Thermomix from a standard appliance retailer or department store. The only way to bag yourself one is through an independent Thermomix consultant. They typically host in-home or virtual 'cooking experiences', similar to the good ol' Tupperware parties. You can alternatively apply to host your own in-home cooking experience via the Thermomix website.
About the author of this page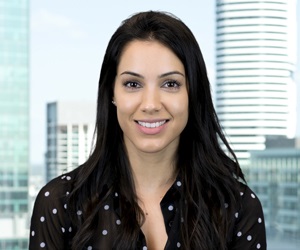 This report was written by Canstar Blue's Home & Lifestyle Content Lead, Megan Birot. She's an expert on household appliances, health & beauty products, as well as all things grocery and shopping. When she's not writing up our research-based ratings reports, Megan spends her time helping consumers make better purchase decisions, whether it's at the supermarket, other retailers, or online, highlighting the best deals and flagging anything you need to be aware of.
Picture credit: Thermomix.