Russell Hobbs: Slow and steady wins the race
Chuck everything into the slow cooker in the morning, and come home to a ready-made dinner. Or throw it on so you don't have to watch over it while you do other things with your time, like other household chores or just kicking back and relaxing. Whatever your purpose, slow cookers are an underrated time saver in the kitchen. That's why we've surveyed hundreds of Australian slow cooker users to find out which brand works best for them.
Our winner for overall customer satisfaction in 2017 also won big in other ratings categories – in fact, it topped the charts with five stars in every category. Russell Hobbs clearly has made its customers happy with its slow cookers. However, Russell Hobbs slow cookers didn't completely outshine the rest of the field, as it tied with other brands for top spot in three categories (ease of use, functions & features and value for money).
The other contending brands this year were Breville, Crock Pot, Kambrook, Kmart Homemaker, Philips, Sunbeam and ALDI Lumina. Some of the outstanding results from these were:
Sunbeam took out five stars for ease of use, functions & features and value for money
Kmart Homemaker achieved five stars on value for money – one of just three brands to do so
The biggest driver of overall customer satisfaction identified from our research was cooking performance – given that we put our trust in slow cookers to cook an entire meal without any human supervision, this is a natural priority. Design and ease of use are also important factors. It seems Aussies don't mind forking out a reasonable amount for a good slow cooker, as long as it lives up to expectations.
Most survey respondents use their slow cooker 1-3 times a week – whether it's for bulk meal prepping, creating particular dishes, or saving time on busy days. Few slow cookers are left to gather dust, so if you dive into a purchase, you'll likely end up using it quite often. With that in mind, let's review each brand from our survey individually, to find out what they have to offer and what it will cost you. But first, let's just clear up some of the basics about slow cookers.
What is a slow cooker?
A slow cooker is a kitchen appliance used for simmering or cooking at low temperatures. Essentially, it's a cooking appliance designed to cook slowly, over the course of several hours. They can be ideal for stews, soups and curries. Slow cookers can also be used for serving big meals, using the keep warm setting.
How do slow cookers work?
Slow cookers are generally comprised of three components – a heating element, a ceramic bowl and a glass lid. The heat generated by the element spreads evenly through the bowl. The steam generated inside the bowl creates a vacuum seal with the lid, helping the pot to retain moisture during cooking.
The low temperature and moisture retention of slow cookers makes it virtually impossible to burn food. This means certain slow cooker recipes permit you to leave the cooker unattended for hours. If you're often too tired to cook after work, slow cookers give you the option to start cooking dinner in the morning and come home to a perfectly cooked meal in the evening.
Russell Hobbs Slow Cookers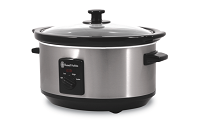 With a choice of five different slow cooker models with capacities ranging from 3.5L up to 7L, Russell Hobbs offers a solution at a number of different price points. Along with the standard three heat settings, wrap around heating element and dishwasher-safe removable non-stick pot, there are a few things that make Russell Hobbs slow cookers stand out. Some models come in a matte black finish rather than the standard stainless steel, while some sport digital displays with timers. Notably, some models offer an 'auto' setting instead of 'keep warm' – this setting starts off cooking at high, and switches over to low when the cooking temperature is reached. The RHSC650 Searing Slow Cooker from Russell Hobbs has a pot designed to sear or saute on a cooktop before transferring the food into the slow cooker. Our inaugural slow cooker ratings winner achieved an outstanding five stars across all categories.