Fact Checked
Crockpot is rated hot in slow cooker ratings
For many of us, the humble slow cooker is an absolute saviour. After all, how can you not love the thought of chucking a few ingredients into a pot before leaving the house and finding a ready-to-serve meal when you get home? Talk about quick and easy! Few appliances can match a slow cooker's ease of use and its convenience can be worth its weight in gold. But when it comes to finding the right slow cooker for your kitchen, some may 'feel the heat' during the decision-making process.
To help you out, Canstar Blue surveyed more than 1,000 Aussies for their feedback on the slow cooker(s) they've recently bought and used. Respondents scored brands on cooking performance, functions and features, ease of use and cleaning, design, value for money and overall satisfaction. Manufacturers that received at least 30 responses are rated and compared in the grid above.
Crockpot simmered to the top in our latest consumer ratings, scoring five-star reviews across the board – including for overall satisfaction!
Best Slow Cookers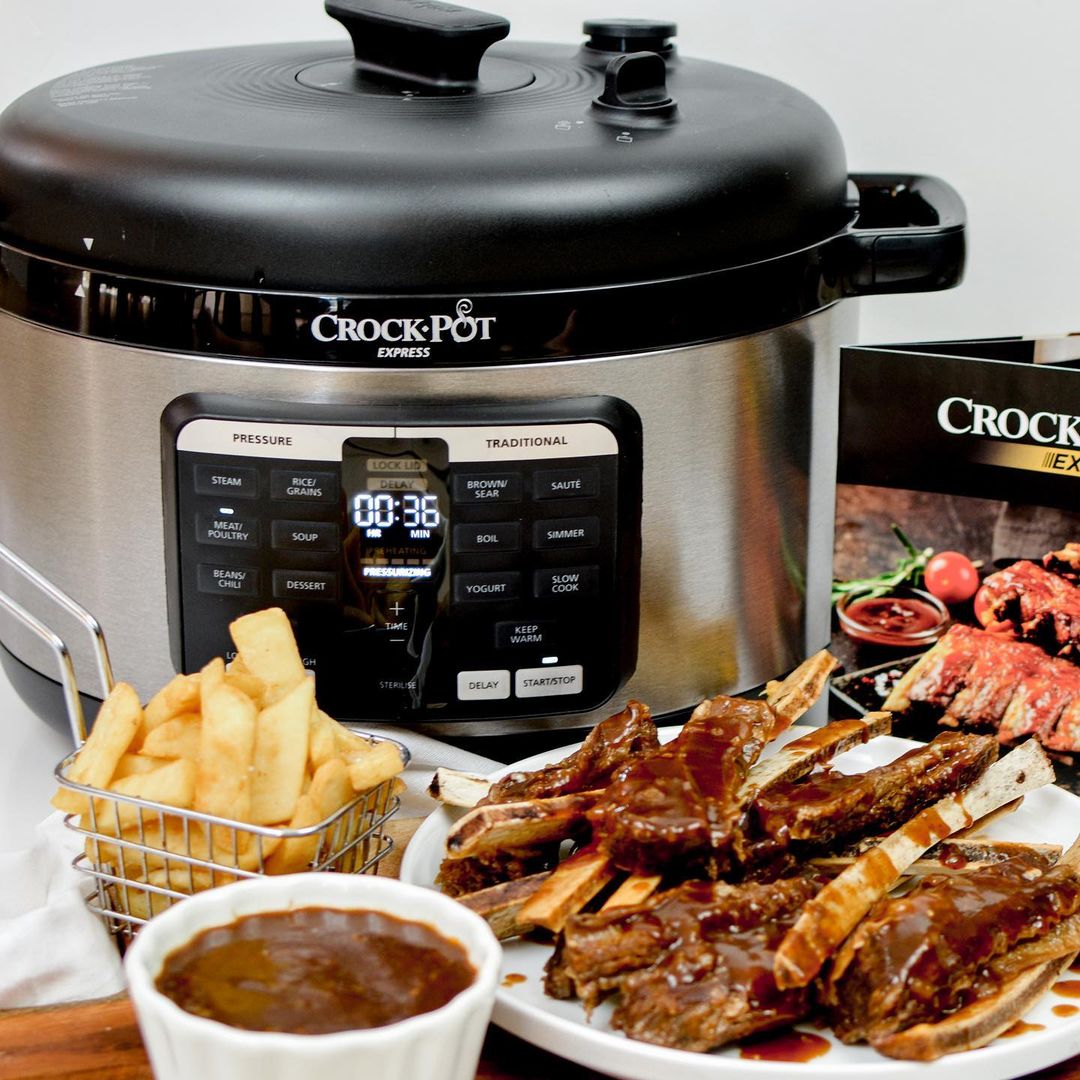 Here are the best slow cookers in Australia, as rated by consumers in Canstar Blue's latest review:
Crockpot
Russell Hobbs
Sunbeam
Kmart
Kambrook
Breville
Contempo (Big W)
ALDI Lumina
Crockpot topped our ratings with five stars for overall satisfaction and all other factors. It was also the only brand to receive a five-star review in any category! Most other manufacturers ended on four stars overall, except for ALDI Lumina which got three stars.
To help you find the right slow cooker for you, let's take a look at what each brand has on offer before we go into detail on how slow cookers work and what to consider when buying one.
Top Slow Cooker Brands
Crockpot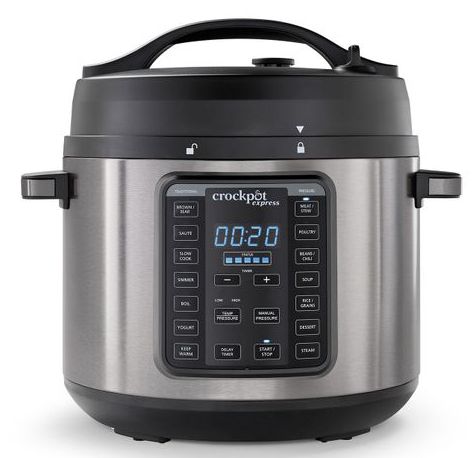 Available at electronic retailers and homeware stores, premium brand Crockpot offers a number of models for all household sizes and culinary levels, with classic slow cookers and multi-cookers available.
Crockpot's introductory model, aptly named Traditional, may be suited for smaller households with a 3.5L capacity, but it includes plenty of features to score plenty of compliments when dinner is served. Including oven-safe materials, the Traditional Cooker includes a wrap-around heating element, as well as multiple heat settings and a keep-warm function to ensure dinner is never served cold.
Other Crockpot models include the Lift & Serve, which includes a hinged lid for easy serving, as well as dishwasher-safe materials for easy clean-up. With a 5.7L capacity, it may be a handy kitchen appliance for larger households or those who like to cook in bulk.
Crockpot's slow cooker range includes:
Crockpot Traditional One Pot Cooker (CHP200): $69 RRP*
Crockpot Choose-A-Crock One Pot Slow Cooker (CHP600): $149 RRP*
Crockpot Sear & Slow Cooker (CHP700): $169 RRP*
Crockpot impressed consumers with five-star reviews in all research areas, namely cooking performance, functions and features, ease of use, ease of cleaning, design, value for money and overall satisfaction.
Russell Hobbs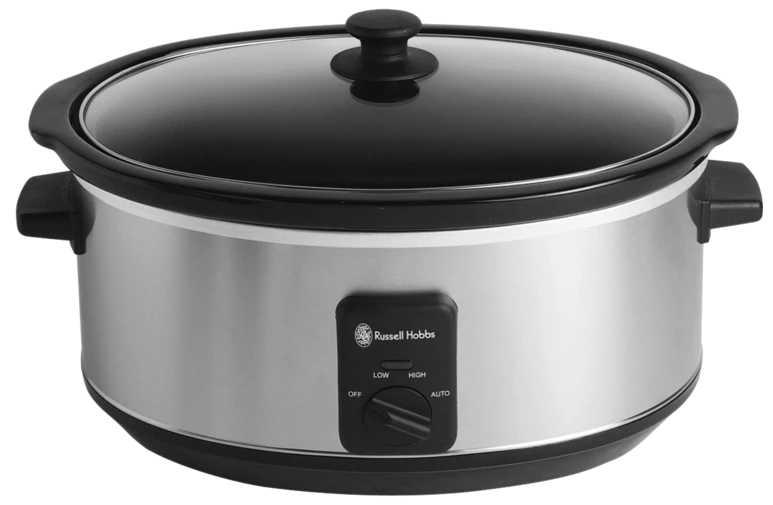 Well-known within the home appliance market, British manufacturer Russell Hobbs has plenty of products on offer to help consumers fill their kitchens, ranging from toasters to microwaves, as well as the humble slow cooker. Available at major homeware stores and electronic retailers, Russell Hobbs has several models available, regardless of whether you're cooking for one, or a mob.
Russell Hobbs' slow cooker range includes models priced from $49.95 up to $129.95, with capacities varying between 3.5L and 7L. In addition to slow cooking, products including the 6L Searing Slow Cooker have a stove-top searing function. This lets you use the removable non-stick bowl on the stove, to boost flavours by searing the ingredients before placing them in the pot to slow cook. This model is said to produce eight serves and contains three heat settings (low, high and keep-warm).
The Russell Hobbs slow cooker range includes:
Russell Hobbs 3.5L Slow Cooker (4443BSS): $49.95 RRP*
Russell Hobbs 6L Searing Slow Cooker (RHSC650BLK): $99.95 RRP*
Russell Hobbs Master Slow Cooker & Sous Vide (RHSV6000): $129.95 RRP*
Russell Hobbs cleared the board with four stars in all research categories, including cooking performance, ease of use and cleaning, design, functions and features, value for money and overall satisfaction.
Sunbeam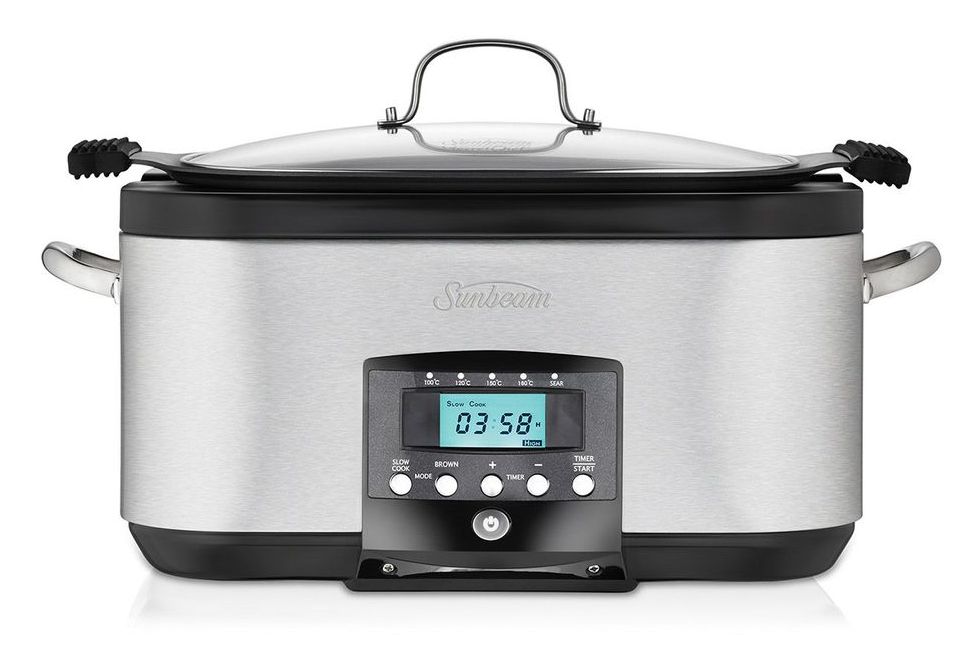 American brand Sunbeam has a number of slow cookers for Aussie families to choose from, including a 'SecretChef' range. Most models offer a 5.5L capacity, although there is a 7.5L option available. Prices range between $64.95 and $189.95.
Each Sunbeam model features a wrap-around heating element, ensuring that your food is evenly cooked throughout, as well as preventing food from sticking to the bottom, making it a handy feature for when it comes time to clean up. Sunbeam's slow cookers also contain dishwasher-safe pans and lids, making it even easier when it's your turn to do the dishes.
Certain Sunbeam slow cookers, including the SecretChef Electronic Sear & Slow Cooker (HP8555) additionally include a frypan function to brown and cook meats before switching to slow cooking. This searing model has an electronic timer and temperature control, along with multiple heat settings to ensure you get the most out of your meal.
If you're looking to mix things up in the kitchen, Sunbeam also offers a sous vide and slow cooker in one, allowing you to cook from a low heat or steam. Including an electronic user panel for temperature control and pre-setting cooking times, the sous vide cooker may be better suited for those looking to get adventurous in the kitchen.
Sunbeam's slow cooker range includes:
Sunbeam SecretChef 7.5L Slow Cooker (HP5530): $69.95 RRP*
Sunbeam SecretChef 5.5L Electronic Slow Cooker (HP5590): $89.95 RRP*
Sunbeam SecretChef 5.5L Electronic Sear & Slow Cooker (HP8555): $189 RRP*
Sunbeam received four-star reviews in all categories, including cooking performance, design, ease of use, functions and features, ease of cleaning, value for money and overall satisfaction.
Kmart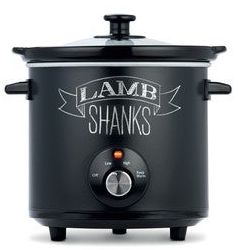 One of the cheapest ranges on the market, homewares giant Kmart provides a number of slow cookers available for shoppers to snatch up, with capacities ranging between 3L and 6.5L to suit most household sizes. These usually cost between $24 and $62.
Available with multiple heating settings, Kmart's slow cookers can be purchased in either black or silver finishes, with a tempered glass lid and removable crock pot. While the Kmart range might not include as many features as some of the other brands available on the market, the discounter may be a worthwhile visit for those on a budget or those who aren't looking for all the bells and whistles.
Kmart's 3L Slow Cooker (pictured) features three settings: low, high, and keep-warm. It's designed with iron housing and chalkboard coating. It comes with a ceramic pot and a tempered glass lid. It's stated to have had durability and performance testing carried before QA approval and is compliant with applicable Australian electrical safety standards.
Kmart's slow cooker range features:
Kmart 5L Slow Cooker: $24 RRP*
Kmart 6.5L Slow Cooker: $42 RRP
Kmart 5.8L Slow Cooker: $62 RRP*
Kmart scored four stars in most areas, namely design, ease of use, ease of cleaning, value for money and overall satisfaction. It got three stars for cooking performance and features.
Kambrook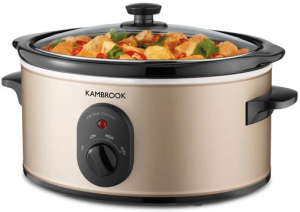 Australian brand Kambrook has been offering household kitchen appliances for over 50 years, with the slow cooker being no exception, although there are only a couple of models available. It's one of the cheapest options available on the market, with prices starting from $79.95 and going up to $129.95.
Its cheapest model is the 'World Of Flavours' slow cooker (pictured) available in a 4.5L capacity with multiple heat settings to match your cooking style and personal preferences. With a wrap-around heating element, Kambrook's model also includes cool-touch handles for increased safety, as well as a dishwasher-safe bowl and lid for easy clean-up.
Kambrook's slow cooker range features:
Kambrook World Of Flavours 4.5L Slow Cooker (KSC450CMP): $79.95 RRP*
Kambrook Temp Control Slow Cooker (KSC655BSS): $129.95 RRP*
Kambrook earned four stars in the majority of research categories, including cooking performance, ease of use and cleaning, design, value for money and overall satisfaction. The only exception was functions and features, where it got three stars.
Breville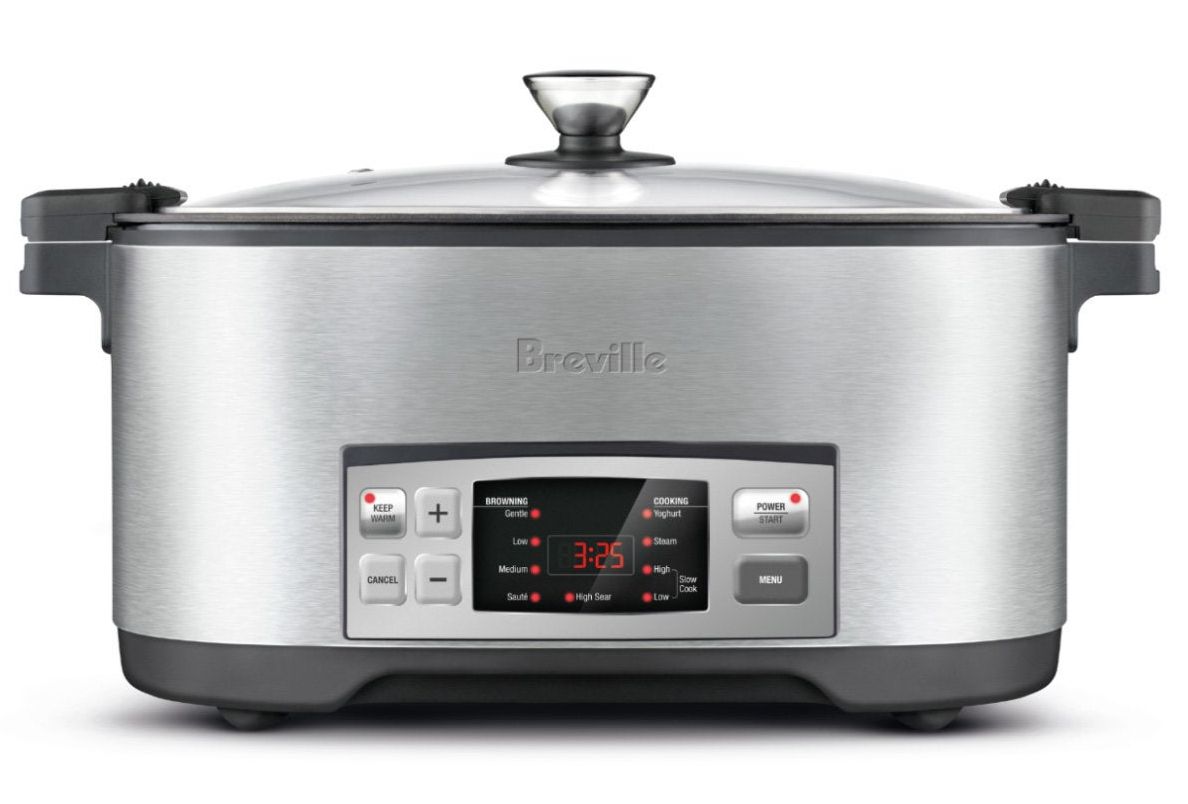 Australian brand Breville is a household name when it comes to kitchen appliances, with several slow cookers to help with your dinner plans. Available to purchase online as well as in-store, you can pick up a Breville slow cooker at major electronics and homeware retailers.
Breville's introductory model, the 'Flavour Maker', is available in 5L and 7L capacities, which might be handy for larger families. The Flavour Maker additionally comes with searing capabilities, allowing users to change up dinner plans to suit different textures and preferences when it comes to what you serve up on the plate. With a stainless-steel finish and a dishwasher-safe lid, the Flavour Maker can also be used on a cooktop for easy use.
Other Breville slow cookers include the 'Smart Temp', which has a programmable timer and a sensor to automatically control the temperature to prevent overheating, and the 'Fast Slow Cooker' which comes with pressure cooker functionality to further open up dinner options.
Breville's slow cooker range includes:
Breville The Flavour Maker (BSC500BSS): $169 RRP*
Breville The Fast Sow Cooker (BPR650BSS): $229 RRP*
Breville The Searing Slow Cooker (LSC650BSS2JAN1): $239 RRP*
Breville achieved four stars in most areas, such as cooking performance, ease of use and cleaning and overall satisfaction. It landed three stars for value for money.
Big W Contempo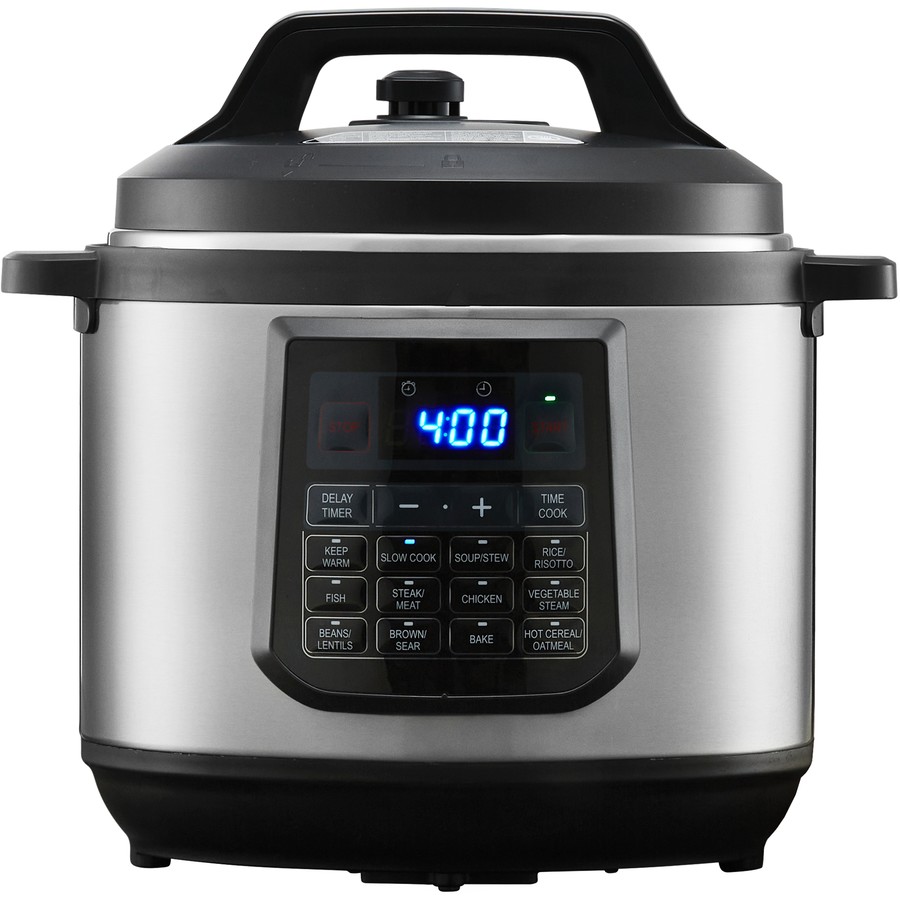 The private label of department store Big W, 'Contempo' appliances are designed to kit out your kitchen without breaking the bank. When it comes to slow cookers, the range is usually limited but offers affordable models between $25 and $99.
Contempo's 5.5L Slow Cooker (XJ-13220C0) is designed to create a variety of meals at home, with three functions: high, low, and warm. It features a glass lid for easy viewing, handles for lifting, and an internal wrap-around heating element for even cooking all the way through, according to the brand. It also has stainless-steel housing.
Big W's Contempo slow cooker range includes:
Big W Contempo 5.5L Slow Cooker (XJ-13220C0): $25 RRP*
Big W Contempo 8L Multi-Cooker (MY-CS8001WP): $99 RRP*
Contempo was rated four stars for ease of use and cleaning, design, value for money and overall satisfaction. It scored three stars for cooking performance and features.
ALDI Lumina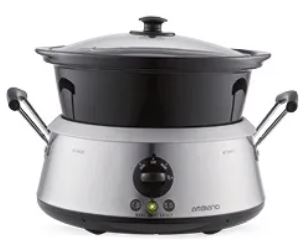 Only available at the occasional Special Buys event, ALDI's slow cookers might be a suitable option for those looking to snag a bargain or trying a slow cooker for the first time. While they may be short in the features department, ALDI's slow cookers might be worth a trip down the middle aisle, if you're looking for something simple to produce slow-cooked meals with. But keep in mind that models may vary with each Special Buys and are only available for a limited time.
ALDI's slow cookers previously included:
Ambiano 7-Quart Slow Cooker: $20 RRP*
ALDI rounded up the results on three stars for overall satisfaction and across the board.
Other slow cooker brands
The brands included above aren't the only ones worth considering. Here are two more household names that have previously featured in our ratings and are worth checking out.
Philips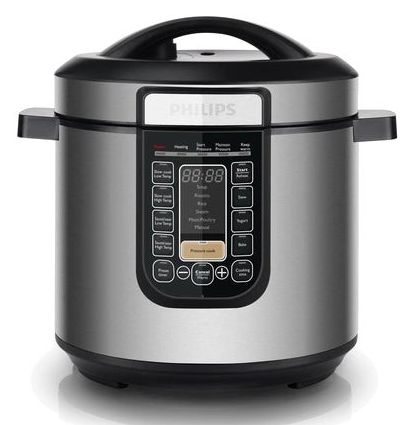 Household electronics manufacturer Philips has just one entry in the slow cooker market, but comes in two different sizes. These include:
Philips Original All-In-One Cooker (HD2237/72): $239 RRP*
Philips XXL All-in-One Cooker (HD2238/72): $349 RRP*
The All-In-One Cooker is a combination of slow cooker, pressure cooker and multi-cooker. With its 6L capacity, progress bar, detachable inner lid for easier cleaning, automatic keep-warm for 12 hours and automatic pressure release, this Philips slow cooker offers plenty of features to add a bit more convenience to an already convenient appliance.
On the Original Cooker version, you can pressure cook with various direct menu buttons (soup, risotto, rice, steam, meat/poultry, and manual). Additional multi-cook programs include steaming, baking and yoghurt. You can also sauté for up to 20 minutes and slow cook for up to 12 hours.
Target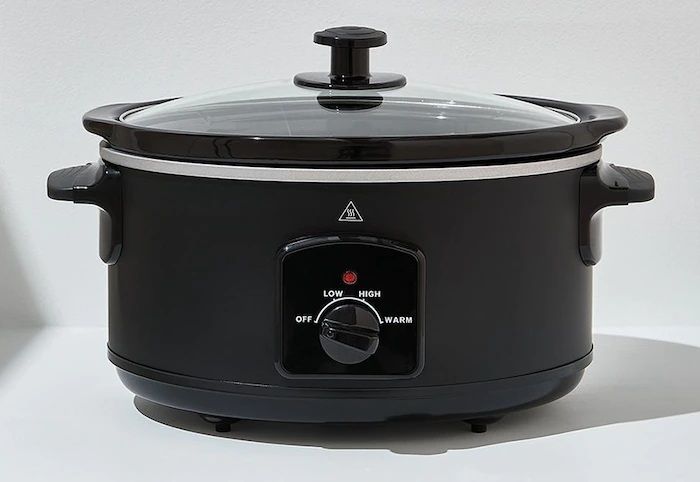 Target is another retailer offering a budget-friendly slow cooker, with its 5.5L model costing under $30. It comes with the basic features you would expect, including a removable ceramic pot for supposedly easy cleaning as well as cool-touch handles.
Target additionally sells a range of slow cookers from several major brands including Russell Hobbs, Crockpot, Sunbeam and Ninja. Prices usually start from $29 and reach up to $299 for all models.
At the time of writing, Target only has one homebrand slow cooker model available:
Target 5.5L Slow Cooker (TARSC1322): $29 RRP*
What is a slow cooker?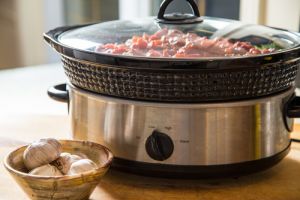 As the name implies, a slow cooker is an appliance that slowly cooks food at low temperatures, helping to bring out flavours and textures you can't generally get from cooking at higher temperatures. Usually used for stews, soups, curries and meats, slow cookers are an ideal option for those looking to cater to plenty of hungry mouths, with many slow cookers featuring a 'keep-warm' function for when dinner is ready, but your guests aren't.
How do slow cookers work?
Slow cookers are generally comprised of three components – a heating element, ceramic bowl, and a lid. The outer case is usually made from metal and uses heating coils to generate heat, before indirectly transferring the warmth to the inner ceramic bowl (or crock pot). The food starts to simmer as soon as the heat begins transferring to the inner pot. But unlike other cooking appliances, this all happens at a low temperature, which is why slow cookers are set to cook for hours or during the day while at work.
What to consider when buying a slow cooker
Here are some important factors to think about when shopping for a new slow cooker:
Capacity
Shape
Settings
Capacity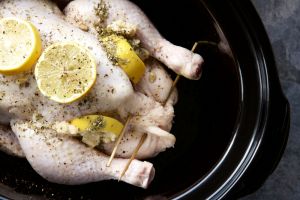 Many brands like Crockpot measure capacity in litres and quarts, with 1-quart equivalent to just under 1L. Generally, 3-quart models and under can be a little restrictive – especially when slow cookers should ideally be filled at least halfway and no more than two-thirds full. A 1-2 quarts slow cooker is typically suitable for creating dips and other side dishes, as well as desserts and small meals for one person. A slow cooker that's between 5-6 quarts is usually the sweet spot for families since it can comfortably feed more than four people and not take up too much benchtop space.
Shape
Most slow cookers are oval in shape, but you can also find rectangular or round models. The different shapes don't amount to any considerable difference in performance, though rectangular slow cookers are generally considered easier to store. Some single-serve slow cookers can also be used as a food warmer. These usually come in a round, compact design with a carry handle.
Settings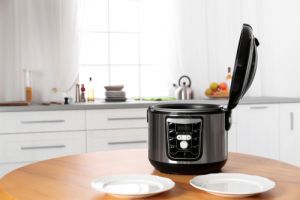 Cheap slow cookers usually have two settings: low and high. Some mid-range slow cookers will include a medium or 'keep-warm' setting. For those who are serious about their slow cooking, some top-tier models have temperature controls that let you perfectly set your cooking temperature.
Here are some functions to look out for:
Automatic adjustment setting: With this setting, when a certain temperature or time is reached the slow cooker will automatically adjust from the higher setting to the low setting. This ensures that your food stays warm until you're ready, without overcooking it.
Touch interface: Buttons and dials are the enemy of any messy cooker – the fewer crevices, the better. Touch interfaces are easy to clean, however, are generally only found on more expensive models.
Delayed start: This feature lets you set your slow cooker to start at a later time. This is a handy setting if you're going out all day but your recipe doesn't require much time to cook.
Timer: Some slow cookers include timers that alert you to when the set cooking time is reached. This isn't an essential feature these days since most of us can set an alarm on our phone, but it's always a bonus if there's one built-in.
Compatibility with smart home devices: Some slow cookers are compatible with smart home systems like Siri, Google Assistant or Amazon's Alexa, which give you complete remote control and monitoring of your cooking and dishes.
Our latest research found that cooking performance and ease of use are the two biggest drivers of satisfaction for slow cookers, ahead of factors like value for money, ease of cleaning, features and design. Our survey respondents also spent an average of $84 on a new slow cooker, which is on the more budget-friendly side. This is worth keeping in mind when you're looking for a new slow cooker – a competitive price is obviously important, but it's also the cooker's performance and functionality that will keep you happy in the long run.
Here are some of the other standout findings from our survey:
Should I buy a slow cooker?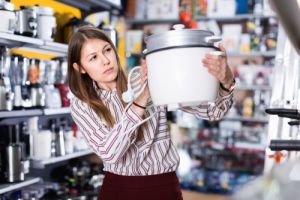 Yes – slow cookers are worth buying, especially if you prefer to 'play the long game' and start preparing meals several hours in advance. This makes the appliance particularly useful for larger households and families that are big on entertaining. You can even serve food straight from the pot, adding extra convenience. Here are some other benefits of getting a slow cooker:
Sturdy: Slow cookers are hardy appliances that can last for many years, depending on the quality and treatment of the appliance.
Low fat: Slow cookers only produce a small amount of evaporation, so there's no need to add oil to your cooking. Using a fattier cut of meat or adding a bit of water (or other liquids like bone broth) should be enough to prevent the food from drying out.
Cheaper ingredients: Slow cookers cook the meat in a way that makes it fall straight off the bone. This means that you can use cheaper cuts of meat, such as chicken thighs, beef brisket, chuck steak, pork shoulder and lamb neck, to create the same delicious meaty dish.
Simple cooking: Chopping ingredients is the most work you'll need to do when slow cooking. While browning vegetables or meat before chucking it in the pot can enhance flavour, it's usually not necessary.
Easy to clean: The ceramic bowl inside a slow cooker is usually removable for easy cleaning. Any leftover residue is usually easy to wipe off after a good soak.
What are the downsides to a slow cooker?
The most glaringly obvious downside to a slow cooker is of course that it's slow at cooking. This means its cooking application is rather restricted. While some of the best slow cookers out there will provide a myriad of features that let them cook a wide range of foods, most cheap models will be limited to three settings – low, high and warm.
Slow cookers tend to be large and bulky, which can be troublesome if cabinet space is at a premium in your kitchen. If storage space is a concern, keep in mind that oval-shaped cookers tend to take up more space than rectangular models.
You may also be interested in:
Which slow cooker should I buy?
Crockpot is the quick and easy solution, according to our latest ratings, satisfying consumers with everything from performance to design and value. Brands such as Russell Hobbs and Sunbeam also left a good impression among those surveyed, receiving respectable four-star reviews across the board. Both manufacturers have also taken out the top spot in Canstar Blue's slow cooker ratings in previous years.
When it comes to putting food on the table, there are plenty of appliances that help create crowd-pleasers, with the slow cooker adding another element when it comes to grabbing a feed. The ability to simply set a timer and come back a few hours later to find a nicely cooked meat dish or curry is often a winner for many households, but which cooker you decide to trust your next meal with can be a tough decision.
Ultimately, which slow cooker you add to your kitchen will come down to your preferences, as well as how many meals you plan on cooking with it. With 18% of survey respondents admitting that they don't use their slow cooker as much as they thought they would, it's important to do your research before you head in-store, because you may find a better deal elsewhere, or even decide that a multi-cooker may actually be a better option for your household.
About the author of this page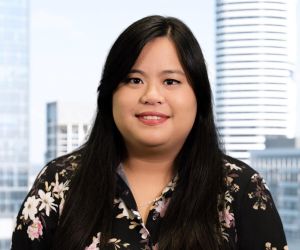 This report was written by Canstar Blue's home & lifestyle journalist, Tahnee-Jae Lopez-Vito. She's an expert on household appliances, grooming products and all things grocery and shopping. In addition to translating our expert research into consumer-friendly ratings reports, Tahnee spends her time helping consumers make better-informed purchase decisions on all manner of consumer goods and services, while highlighting the best deals and anything you need to be aware of.
Picture credits: sherwood/shutterstock.com, Michael Leslie/shutterstock.com, New Africa/shutterstock.com, Kiian Oksana/shutterstock.com
*Prices taken from respective retailer websites, Appliances Online and Bing Lee, correct as of April 2022.