Curtains, padded textiles and sofas can elevate your home décor, but we all know too well that removing stains, spills and dust from fibres in carpets, rugs, and upholstery can be tricky, if not seemingly impossible. That's where spot and upholstery cleaners are a must if you're looking to clean up pet accidents, food crumbs, and reduce everyday wear and tear on your soft surfaces. Check out the best upholstery cleaners to buy.
Do you need an upholstery cleaner?
You can clean most upholstered furniture with a commercial carpet cleaner, upholstery cleaning product or simply with your everyday vacuum, as long as it has an upholstery attachment. However, if you're looking to efficiently strip away stains without damaging your textiles, then an upholstery cleaner is your best bet. These can cost anywhere between $30 (online or from a department store) and $300, depending on the model and brand.
Best upholstery spot cleaners
Here are some of the best upholstery cleaners, based on price, features and functions.
Kogan 9-in-1 Steam Mop: $39.95 RRP*
Hoover PowerDash Go Portable Spot Cleaner: $137 RRP*
Bissell Stain Eraser Pet Handheld Vacuum Cleaner: $169 RRP*
Bissell Handheld SpotClean Carpet Shampooer: $259 RRP*
Bissell SpotClean Turbo: $399 RRP*
Kogan 9-in-1 Steam Mop − $39.95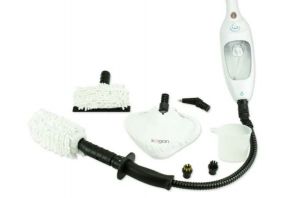 To steam clean nasty spills on your hard floors, couch, curtains, car seats and more, you can't go past this budget multi-purpose steam cleaner from Kogan. It features a garment steamer head to clean garments, fabrics, curtains and other textiles, plus a small hard brush to clean hard-to-reach spaces and tackle car wheels and components.
You can also use it to lift grime from ovens, microwaves and BBQs thanks to its jet nozzle which generates a concentrated steam flow to target tough stains and has a hard grout brush for stuck-on grime. Kogan's 9-in-1 steam mop also comes with a microfibre pad to mop hard floors, and carpet glider attachments for carpets and rugs. For a gadget under $50, what more could you want?

Hoover PowerDash Go Portable Spot Cleaner − $137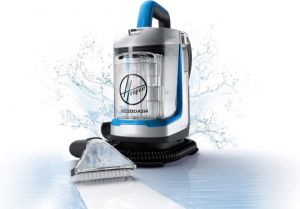 You can tackle any accident, spill or tough stains with little elbow grease thanks to this heavy-duty Hoover spot cleaner (FH13010PC) from Amazon. It features a two-tank system to keep your cleaning solution and dirty water separate making it easier to fill, empty and rinse, plus a 'Spot & Stain' pet tool to pick up pet messes. This Hoover model weighs just under 3kg, which is ideal for cleaning stairs, upholstery or inside the car. It's also sold with its own cleaning solution.

Bissell Stain Eraser Pet Handheld Vacuum Cleaner − $169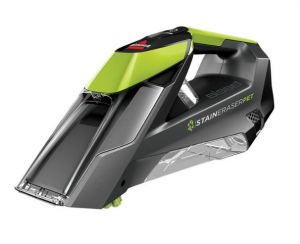 Pets are pure joy…although a little less so when you have to clean up after them. This cordless Bissell stain eraser was specially designed to take care of pet stains and odours, using a powerful cleaning formula. It also comes with a circle brush to clean carpets, mats and rugs, as well as a straight brush for upholstery. And the best part? It has a status LED indicator that displays how much battery you have left and when it's time to recharge. If you're looking for similar options, there are also vacuums for pet hair.

Bissell Handheld SpotClean Carpet Shampooer − $259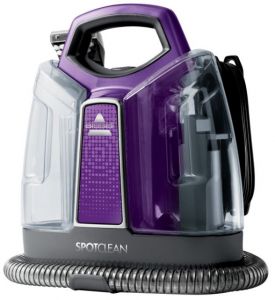 Whether it's wine, food crumbs, soft drink or something extra your pooch has left behind, this Bissell carpet shampooer (36984) has you covered. It uses heatwave technology to maintain constant water temperature and comes with both large and small stain tools, to help you tackle any stain size using just the right amount of cleaning solution for each stain. This model is said to be able to permanently remove most spots from fibres in carpets, rugs, and upholstery.

Bissell SpotClean Turbo − $399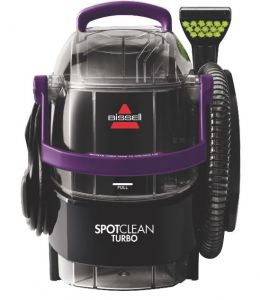 The Bissell SpotClean Turbo (15582) is an all-rounder for all your upholstery and car interiors. It comes with a 3-in-1 upholstery tool, deep stain tool, 2-in-1 crevice tool, and a hydro rinse self-cleaning tool, plus a tool storage bag, a 1.5m hose for hard-to-reach places and a cleaning formula. It features a 2.8L tank capacity, a 6.7m cord and weighs 5.8kg.

What is the best Bissell spot cleaner?
The top-of-the-line Bissell SpotClean Turbo (above) is arguably one of the most powerful portable carpet and upholstery cleaners on the market, with hundreds of five-star reviews online giving it the thumbs up. It uses a combination of steam, cleaning formula, and various handheld suction brushes to efficiently remove stains and dust from carpets, rugs, and upholstery without damaging fibres. It's also said to be super easy to clean thanks to its removable dirty water reservoir.
Can you use a spot cleaner on a couch or mattress?
You can use an upholstery cleaner for most upholstered furniture and soft surfaces, including:
Couches
Sofas
Soft chairs
Mattresses
Curtains
Rugs
Mats
Carpets
Car interiors
As a general rule, it's best to use an upholstery cleaner that uses a combination of steam and a powerful detergent that will penetrate and break up stains and dirt on contact. For a natural alternative, you can also try a mixture of vinegar and baking soda as opposed to a chemical solution.
*Prices taken from respective retailers, correct as of April 2021.
Picture credits: MarkOfShell/Shutterstock.com.