Fact Checked
Upholstery cleaning isn't something you would immediately add into their spring cleaning itinerary but keeping carpets and couches fresh all year round could be the way to go. Upholstery cleaners, also known as spot cleaners, are  handy tools that offer plenty of different uses, from spot cleaning carpets to deep cleaning the couch. Read on to find out more about upholstery cleaning and whether an upholstery cleaner is an appliance worth considering for your home. 
What is an upholstery cleaner?
An upholstery cleaner is an appliance that uses water, steam and detergent to clean fabric items like couches or carpets. Models range from small handheld devices all the way up to larger, more powerful commercial appliances designed to clean larger carpeted areas or furniture. 
How does an upholstery cleaner work?
There are two main types of upholstery cleaners: hot water extraction cleaners and steam cleaners. The hot water extraction method uses hot water and suction to loosen and remove dirt and debris from fabric surfaces. The steam method uses hot steam to loosen dirt and debris and remove it with suction. The steam method won't use as much water, so the carpet or furniture may not take as long to dry, the steam method doesn't provide a deep clean. 
What can you use an upholstery cleaner on?
You can use an upholstery cleaner on any fabric item. Upholstery cleaners are most commonly used for carpets, couches and car seats. This list of items they can be used on is a general guide only:
Couches

Sofas

Soft chairs

Mattresses

Curtains

Rugs

Mats

Carpets

Car interiors.
It's best to read the instructions of the appliance as well as the recommended cleaning method of the item you wish to clean to determine whether the cleaning method suits your item.
How much do upholstery cleaners cost?
Upholstery cleaners range in price from $100 to upwards of $500. Price will vary depending on the size of the appliance and which cleaning method it uses. For smaller, handheld spot cleaners you can expect to spend around $100 to $200,while larger spot cleaners and commercial upholstery cleaners can cost $200 to $500and upwards.  
Who sells upholstery cleaners?
There are a number of brands that sell spot cleaners and upholstery cleaners; two of the largest brands are Bissell and Vax. Both have a number of sizes and types available at varying prices that can be bought direct from the brand or through retailers such as The Good Guys and Harvey Norman. 
Bissell Upholstery Cleaners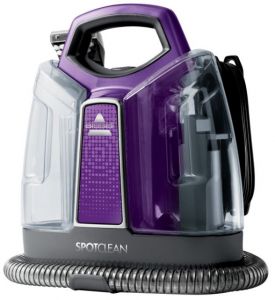 Bissell is a popular brand for appliances such as vacuums, mops and upholstery cleaners. Retailing from $150 to $600, its range of spot cleaners come in a range of sizes from handheld with 230ml capacity up to larger models with 2.8L capacity. Many models come with additional attachments including multiple brush heads, self-cleaning hose tools, dual-tank capacity forclean and dirty water.Some models have antibacterial cleaning capabilities.   
Vax Upholstery Cleaners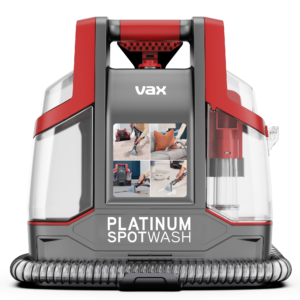 Vax is another brand well-known for its vacuums, mops and steam cleaners. Its spot cleaners retail from $100 to $200, making them a slightly cheaper option compared to other brands. You can expect features such as additional attachments to clean different surfaces and reach tougher spots, a stain-trapper tool and a generous 2.4 meter hose for ease of use in smaller, hard-to-reach spaces. 
Buying an upholstery cleaner
Choosing an upholstery cleaner comes down to a number of factors, including what price you want to pay given how often you'll use the cleaner. There are several models available at different price points making price less of an issue, but whether you need one or not will come down to how often you would use it and what you would use it for. For those with pets who can make a mess, it could be an ideal choice, however if you would only be using it once every few months or less frequently it may not be the right choice.