Fact Checked
Waffles are a breakfast classic if you're someone with a sweet tooth, but aren't the easiest to enjoy without the right tools and appliances. Waffle makers can be a great addition to a kitchen if you enjoy them as a regular meal, but how do you know if a waffle maker is right for you? Read on to find out more in this Canstar Blue guide. 
Types of waffle makers
The waffle maker comes in all shapes, sizes and styles. But regardless of whether you're looking for the classic round waffle maker, ceramic waffle maker, or waffle iron, the appliance is usually built as one of the following:
Standard waffle maker: sits flat on the kitchen bench, and the more common variety that you'll find in homes.

Flip waffle maker: sits slightly elevated from the counter and features a handle designed to twist the appliance 180 degrees. The rotating motion allows the batter to spread and settle in the top plates, rather than flop straight from the spoon onto the bottom plates of the waffle maker.
What to consider when buying a waffle maker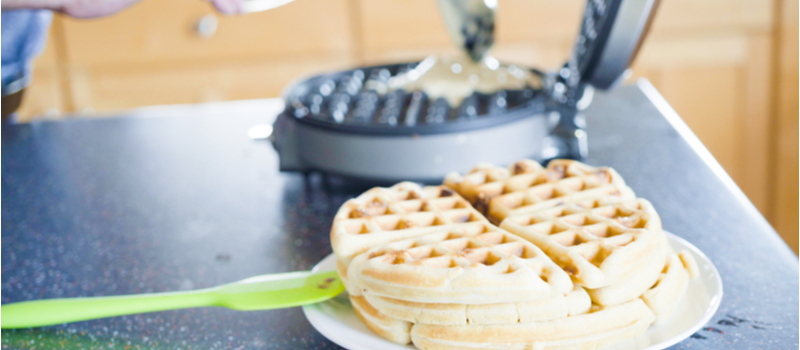 When looking to buy a waffle maker it can be confusing where to start and what to look for. Here are some factors to consider when looking to purchase: 
Shape:

the shape and size of the waffle maker you buy will depend on how much storage space you have as well as the size of waffles you would like to make. 
Waffle style:

Belgian waffles tend to be larger and thicker than your average American version, so you might need to consider purchasing a Belgian waffle maker if you're looking for a strong base to put plenty of ice cream on top.

 
Digital timer:

Are you someone who burns toast? Make mornings easier by picking up a waffle maker with a built-in digital timer. 
Can you use pancake mix in a waffle maker?
Yes, you can use pancake mix in a waffle maker. It will still work well and give you a delicious breakfast food but may not have the same texture as traditional waffles. Using a bottle pancake mix could help speed up the breakfast process by adding water, mixing and pouring it onto the waffle maker. 
How much does a waffle maker cost?
Waffles makers cost from $15 to just over $300 for larger models. The cheaper models will generally be mini waffle makers or a single serving make, whereas more expensive models will be larger family size to make multiple servings at one time. 
Who sells waffle makers?
There are a number of brands that sell waffle makers including Kmart, Breville and Cuisinart. You can buy models direct from the brand or find them at retailers like Harvey Norman and The Good Guys.
Kmart Waffle Maker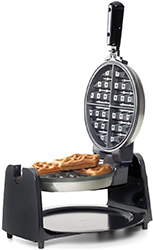 Kmart's budget appliances don't just end at toasters and coffee machines, they also offer waffle makers retailing from $15 to around $40. Features include an adjustable temperature controller, allowing you to try your hand at a few different recipes and a locking lid to secure the waffle batter. The Kmart waffle maker also contains non-stick cooking plates and a cool touch handle for safe use. There's also a rotary feature to apparently smooth down lumps and bumps as well as ensure the batter spreads evenly.
Breville Waffle Maker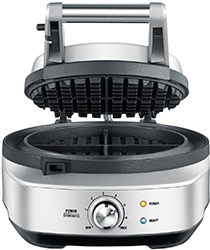 Breville offer a number of waffle makers ranging in price from $100 to just upwards of $300. Its waffle makers feature a non-stick surface and a 'moat' to prevent excess batter from spilling onto your bench. The product also offers seven settings for browning control, which allows you to choose between light and fluffy or golden and crispy waffles. Plus, Breville claims the waffle maker distributes heat evenly to avoid finding crispy edges and raw batter pockets, helping you to make your waffles the talk of the breakfast table.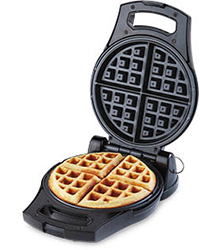 Cuisinart Waffle Maker
Cuisinart offer a number of waffle maker models retailing from $100 to $150. Featuring multiple shade settings to choose the crispiness of your waffles and a non-stick surface, making waffles is simple with an easy clean up. It also features a locking mechanism that prevents batter from leaking so you can put your batter in, lock it and let it cook your waffles to perfection.  
Buying a waffle maker
When it comes to buying a waffle maker the choice you make will come down to personal preference. Not everyone will see use in a waffle maker but if you're a big weekend breakfast entertainer or like to make a treat for your kids on a Sunday, it could be ideal for your kitchen. If you're not sure about a waffle maker, compare sandwich presses and grills below. 
Original Author: Tahnee-Jae Lopez-Vito