Fact Checked
Breville grills competition in grill & sandwich press ratings
The humble grill and sandwich maker may be two of the most underrated kitchen appliances. After all, is there anything better than breaking apart a fresh, warm cheesy toastie in the morning? Even chucking a donut in a sandwich press can provide the perfect afternoon pick me up you never knew you needed.
To find out what makes the cut, we grilled 700 Aussies for their feedback on the grill(s) or sandwich press(es) they've bought and used in the last three years. Respondents scored brands on performance, ease of use, functions and features, ease of cleaning, design, value for money and overall satisfaction. Manufacturers that received at least 30 survey responses are rated in this report.
Breville appeared to be the bread to many shoppers' butter, achieving a smooth five-star review in the majority of categories ─ including overall satisfaction.
Best Grills & Sandwich Presses
Here are the best brands of grills and sandwich presses in Australia, as rated by consumers in our latest review:
Breville
Sunbeam
Kmart
Target
Breville topped our ratings after scoring five-star reviews in six out of seven categories, including performance, functions and features, ease of use and cleaning, design, and overall satisfaction.
Sunbeam and Kmart similarly impressed consumers on ease of use, scoring full marks, with Kmart additionally rating best for value for money. However, both finished slightly behind on four stars for overall satisfaction. Target eventually rounded up the results on three stars for overall satisfaction.
Grills & Sandwich Presses Compared
Breville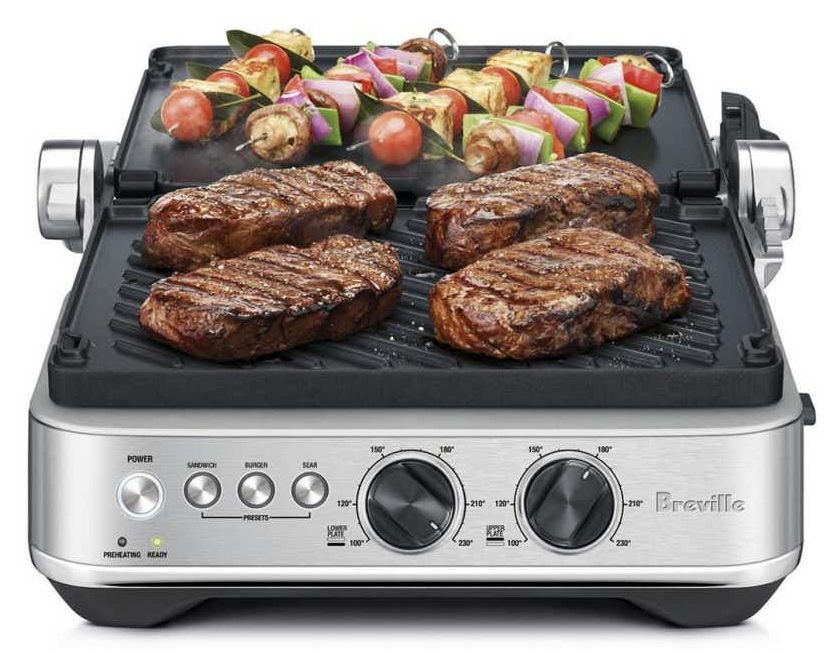 Breville offers a slightly larger range of grills and sandwich presses than most brands. Breville models also come packed with a variety of features that separate them from standard sandwich makers. This includes an integrated probe that supposedly detects the temperature of the meat inside the sandwich and alerts you when it's ready. Some products also provide an LCD display with five settings, including beef, lamb, pork, poultry and fish. One of its latest products, the Sear & Press Grill (pictured), can also be opened flat in BBQ mode to bring outdoor grilling indoors.
Breville prices are also generally heftier than some brands, ranging between $59.95 and $489. Some models include:
Breville the Big One: $59.95 RRP*
Breville the Toast & Melt: $69.95 RRP*
Breville the AdjustaGrill & Press: $149.95 RRP*
Breville the Sear & Press Grill: $349 RRP*
Breville was the top pick across most categories, receiving five-star reviews for performance, ease of use and clean, features, design and overall satisfaction. The only exception was value for money, where it scored three stars.
Sunbeam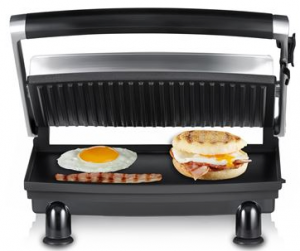 Sunbeam has a variety of grills and sandwich makers to suit different needs and budgets. If you like to stuff more goodies in your sandwiches without having to fork out extra bucks, Sunbeam's Big Fill Toastie models contain deeper and larger plates that supposedly fit 25% more filling than most other models from the brand.
Sunbeam's range starts from $49.95 and reaches up to $169 for flat grills designed to be used both indoors and outdoors. Some models from the range include:
Sunbeam Compact Café Grill: $49.95 RRP*
Sunbeam Compact Café Sandwich Press: $79.95 RRP*
Sunbeam Big Fill Toastie For 4: $84.95 RRP*
Sunbeam Café Sandwich Press: $99.95 RRP*
Sunbeam achieved a solid five-star review for performance and ease of use, before landing on four stars for overall satisfaction and everywhere else.
Kmart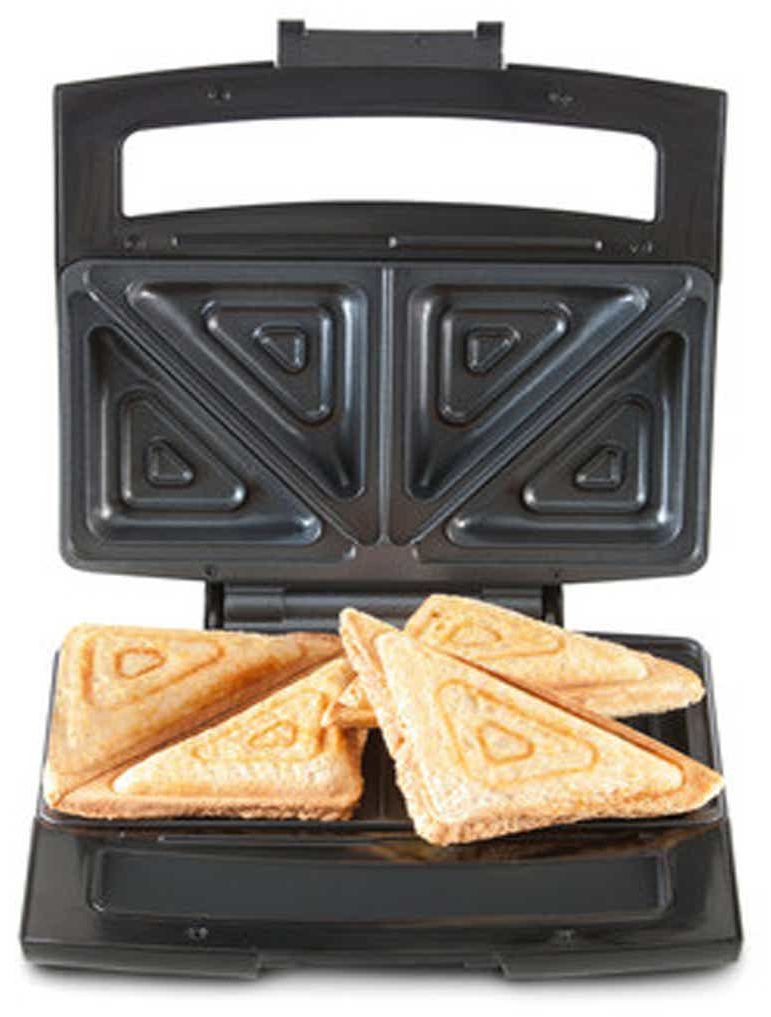 Kmart has a small range of hip pocket-friendly sandwich makers − all priced under $30. The cheapest option is the Sandwich Maker, which retails for just $7.00. It can grill two sandwiches in one sitting (perfect for after-school snacks) and features non-stick plates, a 'Ready' and 'Power On' indicator light as well as a locking latch. Other grills and sandwich makers available from Kmart include:
Kmart Sandwich Maker: $7 RRP*
Kmart Deep Dish Sandwich Maker: $15 RRP*
Kmart 2-Slice Sandwich Press: $19 RRP*
Kmart 4-Slice Sandwich Press: $29 RRP*
Kmart was the only brand to receive a five-star review for value for money. It got four stars for overall satisfaction and in most of the remaining areas, except for functions and features and ease of cleaning, where it got three stars.
Target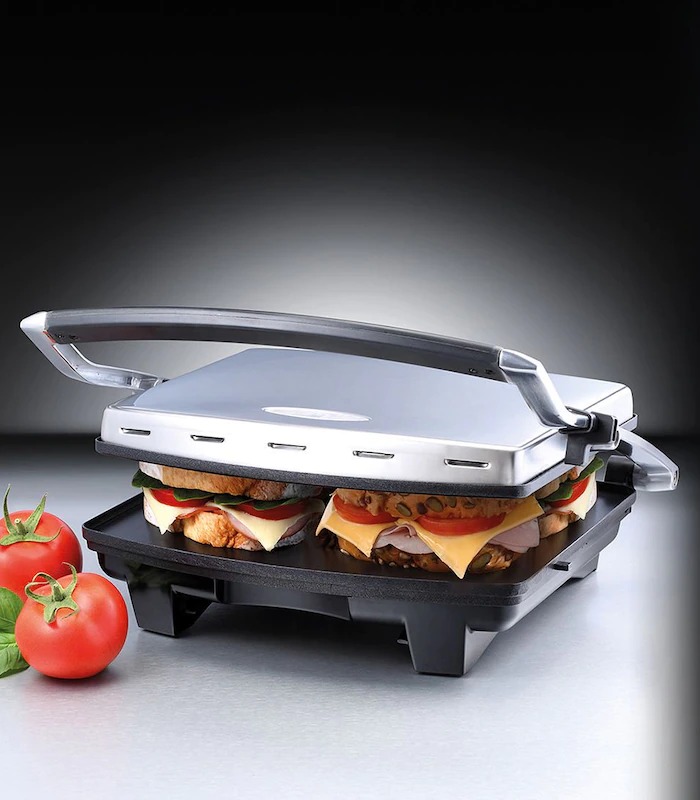 Target dishes out its range of kitchen appliances including budget-friendly grills and sandwich presses, either sold under the Target brand name or Bellini. You can spot Bellini products in Target stores as well as other retailers owned by Wesfarmers, including Bunnings. But just like with other Target-branded appliances, the retailer's range of grills and sandwich makers can change throughout the year.
Prices start from just under $30 and go up towards the $100 mark. At the time of writing, only one model appears online:
Bellini Sandwich Press (B4SL21): $29 RRP*
Target rounded up the scores on four stars for performance, ease of use and functions and features, before ending on three stars for value for money, overall satisfaction, and in the remaining categories.
Other grill & sandwich maker brands
The brands rated in this year's report aren't the only ones worth considering. Here are a few more popular brands that might tickle your tastebuds.
Tefal: currently offers a fairly concise range of grills, plus the Tefal Snack Collection as the brand's only sandwich press. These usually retail between $140 and $399.
Russell Hobbs: provides the Sandwich Press in stainless-steel, red or black, for $59.95.
De'Longhi: provides two models, including the De'Longhi MultiGrill Easy Grill & Barbecue and the De'Longhi MultiGrill Contact Grill & Barbecue, each retailing for $69 and $339 respectively.
Kogan: sells several grills and sandwich presses for anywhere between $69.99 and $149.99.
Big W: provides a few models under the Brilliant Basics and Contempo brands, ranging from $8 up to $19.
George Foreman: usually offers a variety of grills around the $100 mark.
What to consider when buying a grill or sandwich press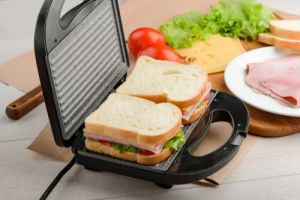 Our survey respondents helped plate up a picture of what they consider important when choosing a grill or sandwich maker.
Two-fifths (41%) of people said that price was their number one reason for choosing a particular brand or model, followed by how easy the appliance was to use (20%) and the size and style (17%). Brand name (11%) and features (9%) were next on the priority list.
How much do grills cost?
Generally, prices for a grill or sandwich press start from around $50 and reach up to around $500. Our research revealed consumers spend an average of $57 on a new model, dropping from $71 last year. Fewer people also said they wished they spent more money on a better grill or sandwich maker (12%, down from 17% in 2020), suggesting that quality doesn't always come at an extra cost.
Naturally, your budget determines which grill you will ultimately go with. The good news is you'll find perfectly capable grills and sandwich presses at different price points to suit a range of budgets.
Design and features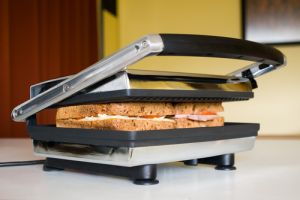 When it comes to choosing the right grill, you should first look at the size you need. Think about the kinds of food you will want to cook on your grill or sandwich press and how many people you might be cooking for. You might also consider how much space you have in your kitchen to store this appliance. While it may be fairly small, large four-slice units can be pretty bulky. Although just 13% of survey respondents said they wished they had purchased a bigger model.
You'll also want to look at any additional features such as slanted designs, allowing excess oil to slide off into an oil drip tray. Plus, non-stick plates might further help with the clean-up. In addition, floating hinges might be useful as they're designed to maintain even pressure on your toastie, especially if you are using thick bread.
Which grill is best for me?
For those on a budget, Kmart, Big W and Target might be several brands to consider with most of their models priced under $30. These are fairly affordable alternatives, especially if you're new to the grilling game and are just trying your luck. However, if you're a serious sandwich or wrap maker, Breville was the best-rated brand for overall customer satisfaction and across other categories, while Sunbeam similarly scored well for performance and ease of use.
When choosing which brand to go with there is plenty to keep in mind. Before jumping into any purchase, it would be wise to do your research so that you find exactly what you're looking for. Our survey revealed that almost one in five consumers (19%) don't use their sandwich press/grill as much as they thought they would. So, before you send your money down the drain, consider if you really need one.
About the author of this page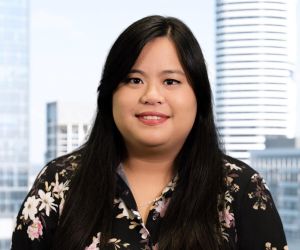 This report was written by Canstar Blue's home & lifestyle journalist, Tahnee-Jae Lopez-Vito. She's an expert on household appliances, grooming products and all things grocery and shopping. In addition to translating our expert research into consumer-friendly ratings reports, Tahnee spends her time helping consumers make better-informed purchase decisions on all manner of consumer goods and services, while highlighting the best deals and anything you need to be aware of.
Picture credits:  Yuriy Golub/Shutterstock.com, Ashley Whitworth/Shutterstock.com.
*Prices are taken from respective retailer websites and Appliances Online, correct as of December 2021.