Google Maps is an essential service for many of us, particularly if you find yourself heading out to a new destination for the first time. But how much does the app cost you? With more and more people relying on smartphone GPS apps for their travels, data is subsequently being consumed at higher rates, which can either leave you without any data, or a pricier phone bill if you go over your monthly limit. If you're worried about your data usage when you're behind the wheel, read on to find out just how much data Google Maps is guzzling.
So, how much data does Google Maps use?
Google Maps uses around 3MB of data per five minutes of use, meaning if you've got an hour-long road trip planned, you can expect to use around 36MB of data. However, factors such as service provider, the type of device you're using as well as what additional settings you may have set on your phone may also impact the overall data usage.
The table below, based on research conducted by WhistleOut through a data tracker, will give you an idea on how much data you'll be using to get to your destination with Google Maps.
| Minutes on Google Maps | Mobile Data Used |
| --- | --- |
| 5 | 3MB |
| 10 | 6MB |
| 20 | 12MB |
| 40 | 24MB |
Source: whistleout.com.au
Nailing down the exact figure for how much data Google Maps uses is ultimately dependent on how you're using the app. If you're zoomed in to track your journey in real time (and you want to see what landmarks and places are on the way), you'll use more data as more information is needed to be passed on. But if you're using the top-down 'Satellite' view – where you just see your arrow and the stretch of road you're on – you'll use less data. However, there's no official word from Google on how much data Google Maps actually uses.
Can you use Google Maps offline?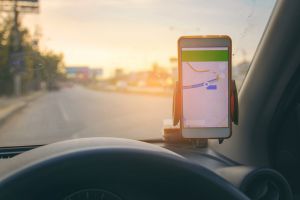 A benefit of Google Maps is its ability to download and save maps for offline navigation, meaning you can download your journey using your home Wi-Fi before you step out the door. This comes in handy when you're looking to save data, but you'll also be without live traffic updates, which may impact on your travel time if there's an accident up ahead.
Can you use Google Maps on iPhone?
iPhone users are now able to choose Google Maps as their preferred GPS system, provided that you're operating with at least the iOS 12+ and an up to date Google Maps app. You can download Google Maps via the App Store here.
Can I connect Google Maps to my car?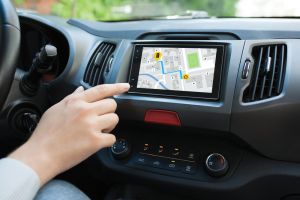 With plenty of vehicles now incorporating infotainment units for extra driver comfort, you can connect Google Maps to your car via Bluetooth. To connect Google Maps to your vehicle, you'll need to pair your phone or tablet to your car, then set your car's audio source to Bluetooth. Open the Google Maps Menu Navigation Settings on your phone and switch on the 'Play Voice over Bluetooth' option to use your car for directions.
Google Maps Compatible Devices
iOS: Google Maps is supported on iOS 10 and above for iPhone, iPad and iMac.
Android: Google Maps is supported on Android 4.4 and above.
Computer/PC: Google Maps is supported on Windows XP, Linux, Windows 7 and up, as well as Chrome OS with an Intel CPU.
What's the deal with Google Maps and data usage?
 While Google Maps remains a go-to for many looking to navigate via phone, the data it uses can add up if you're not careful. Downloading maps offline when preparing to set off may be a wise option when you want to save data, provided you don't mind flying dark when it comes to the traffic conditions. If you're really worried, you can always purchase a GPS navigator, but if you've got plenty of data to spare, there's no harm in using Google Maps to get you where you need to be.
Latest Phone Deals
Looking for a new smartphone? The following table shows selected published 24-month phone plans for the 256GB Samsung Galaxy Note 10+ on Canstar Blue's database, listed in order of cost, from the lowest to highest and then by data allowance, largest to smallest. Use our comparison tool to see plans from a range of other providers. This is a selection of products with links to a referral partner.
Photo Credit: I AM NIKOM/shutterstock.com, CC7/shutterstock.com, Denys Prykhodov/shutterstock.com