There's plenty to be aware of when you get in the driver's seat of your car, particularly if you're heading somewhere you've never been before! Whether it's your first time in a new city, you're trying a new restaurant or you're just looking for a quicker route home, GPS units and sat-navs have become a useful addition to vehicles, particularly if you can't tell your East from your West.
But with so many brands and models available, which one you decide to take as your co-pilot can be a tough choice, particularly as the wrong choice could send you on a wild goose chase, or up a one-way street. If you're in the market for a GPS unit, read on to find out what's available and what you should be keeping an eye out for.
What is GPS?
An abbreviation for Global Positioning System, GPS is a satellite-based navigation system that provides geolocation and time information to a GPS receiver. This essentially allows you to track where you, or others are. First launched into space in 1978, there are currently 24 satellites operating as part of the global system, transmitting on multiple frequencies, including Civilian GPS, which is what you'll likely experience when you jump in the driver's seat.
Do I need a GPS navigator?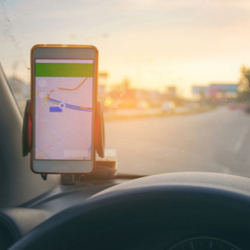 While reassuring to have, the question of whether or not you need a GPS unit will come down to your sense of direction, and where you're going. With the decline of the humble street directory that your parents swore by, GPS units are a common sight in store as well as out on the roads, with industries such as hire car providers offering them as an additional extra.
But with many cities seemingly always under construction, and the itch to jump behind the wheel for a spur-of-the-moment weekend drive always in the back of our minds, a GPS unit can be a useful back-up option if you're not 100% sure where you're going, or want to avoid embarrassing yourself in front of the locals if you're visiting a new city.
With many smartphones now equipped with at least one map function, a GPS unit isn't a modern day essential, but considering how quickly using Maps on your phone can drain your phone's battery, forking out for a GPS unit likely wouldn't be the worst idea you've had. Plus, if you haven't pre-downloaded an offline version of the area you're visiting, you might be out of luck getting anywhere when you lose service.

Shopping for tyres? Check out JAX Tyres & Auto
GPS Navigators available in Australia
There are a number of brands to consider when it comes to picking up a GPS unit in Australia, with some of the more common brands available in store and online listed below.
Garmin
Navman
TomTom
HUDWAY
Garmin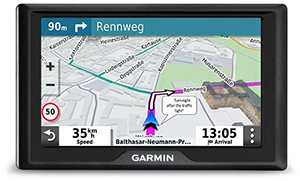 Manufacturing a number of GPS units for land, air and water, American manufacture Garmin has been operating since 1989, with a number of activity trackers and smart watches also available within its range. You can even pair your Garmin GPS unit with a Garmin watch, helping you to stay on the right path after parking the car.
Offering models in the Drive, DriveSmart and DriveAssist ranges, Garmin GPS units are priced between $150 and $500, and can be purchased via the Garmin website, as well as electronics retailers such as JB Hi-Fi and the Good Guys. If you're buying online, you'll be given the option to select a display size – between 5inches to just under 7inches – as well as whether or not you want hands free calling and a built-in dash cam to make the ride easier.
Garmin GPS units also include features such as Garmin Traffic to help you avoid any traffic jams as well as TripAdvisor recommendations for when you're looking for a bite to eat or you're running on empty. Select models also include Bluetooth compatibility, as well as Wi-Fi connectivity to allow better connectivity when you need to make phone calls while out on the road. Specific models include:
Drive 51 GPS unit
DriveSmart 65 GPS with built in Amazon Alexa
RV 780 GPS
Navman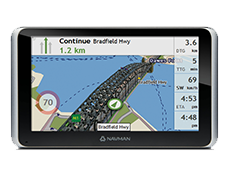 Originally established as Talon, Navman is a New Zealand brand that offers GPS navigators and dash cams to give you some additional peace of mind when you get behind the wheel. Offering a number of models, including the Drive Duo, Ezy and Move ranges, Navman models will set you back between $100 and $500. Navman units are available at a number of electronics retailers, which can be found via the Navman website.
Features include speed limit alerts, 3D junction view so you won't get confused about which lane you have to turn from, as well as Driver Fatigue Alert for when you're on those long car trips. The top of the line models also include built-in dash cams, as well as restaurant and stop-over locations from Lonely Planet and Zomato for when you're looking to stretch your legs. Navman also allows you to trade in your old GPS or dash cam for a discount on a new model, although this offer is only available online. Specific models include:
Move85LM GPS unit
EZY450LMT Bluetooth GPS unit
Drive Duo 2.0 GPS & Dash Cam
TomTom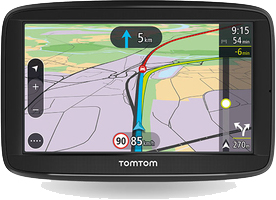 Founded in 1991, Dutch manufacturer TomTom offers a number of navigation-based products, including GPS units for your car, motorbike or truck, as well as activity trackers and sport watches, helping you to stay on course regardless of how you're getting there.
TomTom has the Start, Via and Go ranges, with each line containing a number of models, all priced between $150 and $350, depending on the retailer. Features include speed camera locations, up to date traffic alerts and information, as well as hands free calling. The higher end models are also compatible with Siri and Google Now, adding a bit of user comfort on longer road trips. TomTom also offers connectors and battery cables, as well as a multi-charger to ensure that your GPS unit doesn't leave you stranded with a flat battery. Specific models include:
Start 42 GPS unit
Via 52 GPS unit
Go 520 GPS unit
HUDWAY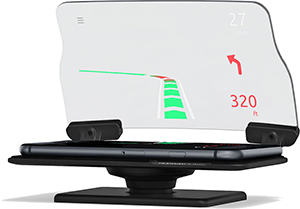 A recent addition to the GPS industry, this start-up company HUDWAY looks to go a different direction to more traditional brands, offering drivers an alternative route to keeping their eyes on the road as well as their GPS unit. Named the HUDWAY Glass, it uses a HUD (Heads Up Display) to give directions, blending into the windscreen to help keep your eyes on the road, as well as making you feel like you're travelling in the future. Information and directions are based on either Google and Apple maps, but offers additional information such as speed limits.
While it may be eye-catching, HUDWAY's range isn't as extensive as other brands in Australia, with only a few models available for purchase through electronics retailers. HUDWAY additionally offers the HUDWAY app, which can help those driving in low visibility conditions. Specific models include:
HUDWAY Glass Heads-Up Display
HUDWAY Cast Heads-Up Display
GPS for motorcycles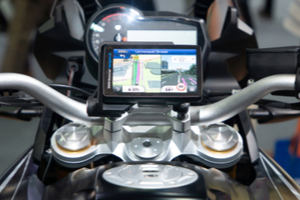 If you prefer two wheels to four, you'll still be able to find a GPS unit to help you stay on the right path, with most of the major brands in Australia offering models suitable for motorbikes and scooters. You might have to fork out a bit more than traditional GPS units however – and may have to settle for only a few options to choose from – but it may be a small price to pay considering the alternative is not knowing where you're going.
Considering you're more exposed to the elements when you're on a bike, and you likely won't have a co-pilot to give you directions, here are a few things to consider before choosing a GPS unit for your motorcycle:
Screen size & interaction – you'll not only need a screen to clearly show you where you're going, but you'll need a screen size that will accommodate and interact with your riding gloves. It's also best to look for a model that offers anti-glare technology, as you don't want your GPS blinding you when the sun is out.
Power – while connecting the unit into the ignition wiring may be tempting, it's best to connect the GPS unit to the battery to avoid any power loss, but be sure to turn it off when you hop off your bike, otherwise you might drain the battery!
Vibration pads – considering there's not much between you and bitumen, your GPS unit is a bit more exposed to the bumps of the road, meaning it may go through a bit more wear and tear. To avoid your GPS unit throwing in the towel early, it may be worth looking into dampening brackets or other padding to keep your GPS firmly in place.
If you're in the market for a new GPS unit for your motorbike, and you're not keen on using maps on your phone, here are a few options that are available in Australia:
TomTom Rider 550 – $599RRP
Garmin Zumo 396 – $649RRP
You may also be interested in:
Are GPS navigators worth it?
There isn't much that's more stressful than being on a busy road and not know where you're going.  While many of us may rely on our phones for directions, looking at your phone screen while out on the road may get you in a bit of trouble, spoiling your time behind the wheel. As a result, a GPS unit may be the safest, and most convenient, way to get from A to B.
Ultimately, which GPS unit you decide to hook up to your ride will come down to your individual circumstances, such as your budget, what type of vehicle you drive or ride, as well as whether or not you want extras such as Bluetooth connectivity or a built-in dash cam. As a result, it's best to look into all of your options before you head to the check out, as it may save you from being taken for a ride.
Picture credit: Andrey_Popov/shutterstock.com, CC7/shutterstock.com, faak/shutterstock.com