Nintendo Switch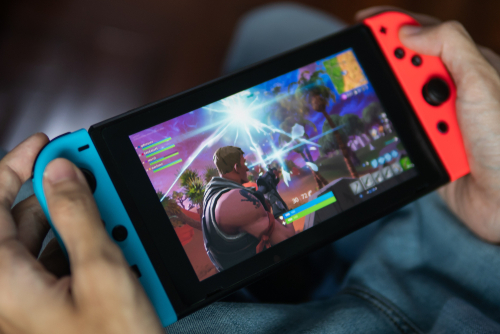 The Nintendo Switch is a handheld multi-customisable gaming device, a contemporary take on gaming devices and entertainment. With detachable and coloured 'Joy-Cons' on each side of the Switch, you can customise your device, connect with friends nearby, play split screen on some iconic Nintendo games, and catch up on your favourite TV show. These are just some of the many facets incorporated into the Nintendo Switch.
What can the Nintendo Switch do?
With a 6.2 inch, multi-touch capacitive touch screen displaying a resolution of 1280 x 720, this device's size and accessibility is what makes it such a unique and sought-after gaming console. The base Switch allows two-player gaming, with each player using a Joy-Con (one controller per person) as you can use/purchase more Joy-Cons for 3+ player games such as Super Smash Bros Ultimate and more.
With HD rumble and advanced vibration features built into each Joy-Con, with a 4 hour + battery life, this device is everything you need when you're on the go and unable to play at home. But when you are home, don't fear the small screen as you can link it with your nearest and biggest television to enable higher resolution and a bigger platform for entertainment + gaming for yourself, friends and family.
What is the Nintendo Switch compatible with?
Compatibility with the switch is very limited, as Nintendo wanted to make the Switch an all-new and dynamic experience, hence not allowing backwards compatibility, a similar pathway to the PlayStation 4. Connection with nearby Switches is allowed, as you can vs your friends on the comfortableness of your own device.
Here are some prices for the Nintendo Switch + accessories and games:
Nintendo Switch Pokemon: Let's Go! series – $69
Nintendo Switch Power Pack and Stand – $79
Nintendo Switch Pro Controller – $99
Nintendo Switch Console – $469
Popular games on the Nintendo Switch include a lot of Nintendo classics both remastered, original and some fresh crowd-favourite games. These include The Legend of Zelda: Breath of the Wild, Super Mario Party, Minecraft, Crash Bandicoot, Mario Kart 8 Deluxe and many more.
Image credit: Wachiwit/Shutterstock.com