Supermarkets and butcher shops around Australia are in short supply of fresh meats amid coronavirus outbreak panic buying. The increase in demand has also seen some meat delivery services temporarily suspend online ordering.
But if you think you'll have to forgo pork on your fork until the pandemic is over, you're mis-steak-en. Thanks to online butchers, you can skip the store, stock up on snags, and get your protein delivered straight to your door!
Here's our quick guide to where you can buy meat online in Australia.
Where to buy meat online in Australia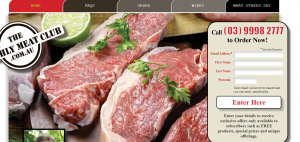 The Monthly Meat Club
The Monthly Meat Club says it offers restaurant quality meat cuts at wholesale prices and the convenience of getting them delivered to your door for under $10. While this online grocer has no minimum order quantity, it only sells bulk meat products, with weight quantities starting from two kilograms for a full eye fillet primal cut.
The Monthly Meat Club has a ready selection of beef, lamb, chicken and pork cuts, as well as mince, sausages and burger patties; which you can order in using an online form. You'll be asked to enter a required quantity to receive an estimated total price before you checkout online. If you don't want to cut up big pieces of meat, you can ask for your products to be trimmed or sliced into steaks and vacuum packed with roughly four to six pieces per bag, although this option will incur extra costs. All orders are dispatched in labelled and dated vacuum-sealed bags.
No minimum order quantity
$9 delivery fee on all orders
Members can access exclusive offers and discounts

Organic Meat Online
Organic Meat Online is a specialty online butcher which offers never frozen, pasture-fed and certified organic meat cuts of all kinds. Organic Meat Online home delivers Australia-wide and provides a large assortment of small goods and quality meats, including grass-fed beef, lamb, certified free-range pork, nitrate-free bacon and even wagyu beef.
The maximum weight of meat per box is about 3.8 kilograms and anything over that will be charged by weight accordingly. All Organic Meat Online products are claimed to be sourced from Australian organic farms and the standard delivery time is usually between one to two business days. You'll need to create an account online before you can browse the full product range and place an order which can be shipped fresh to your chosen home or work address.
Get $10 off your first order
Deliveries available Australia wide from $11.95
PayPal available

The Meat Man
If you're in Sydney, think of the Meat Man as your friendly neighbourhood butcher. It provides premium wholesale meats to caterers and everyday Aussies looking for their protein fix. This online butcher sells a variety of quality meat cuts which you can purchase on the website and get delivered straight to your door anywhere in Sydney. Orders over $100 are delivered free of charge to Sydney metro areas, while deliveries to surrounding areas will incur a delivery fee. You can also opt to click and collect from its flagship Narellan store.
The Meat Man gives you the option to select individual cuts or to buy a ready selection of cuts packed in meat boxes. This online butcher's product range includes beef, chicken, lamb, pork and cured meats. Your order will be dispatched directly to your door in a refrigerated van.
Free delivery on orders over $100
A $25 delivery fee applies to orders outside Sydney metro areas
Orders can be delivered to your door within 48 hours or sooner

Meat at Billy's
Meat at Billy's is Brisbane's self-proclaimed best butcher and offers a wide assortment of meats including beef, poultry, pork, lamb, goat, sausages as well as eggs, ham and charcuterie products. This online butcher also offers Billy's bundles- curated meat boxes you can buy to save time on shopping, as well as ready to cook meats like meatballs and burger patties to save time in the kitchen.
There's also a meat selection for the kids! You can browse all products from the category menu, select your order and proceed to the checkout. A $10 delivery fee applies to orders under $100. Deliveries are available Monday through to Friday (excluding public holidays). You must order before midnight for next weekday delivery.
Free delivery on orders over $100
Click and collect available
Brisbane deliveries only

Super Butcher
Super Butcher is an online wholesale supplier of meat cuts servicing Brisbane, the Gold Coast and Sunshine Coast. Super Butcher only stocks branded beef and can deliver products directly to your door (at home or work) for a flat $27 delivery fee. This online butcher offers a selection of 100% grass-fed and grain-fed beef, chicken, mince, pork and lamb, as well as 'low and slow' BBQ meats.
Super Butcher serves up meat selections custom selected to individuals, based on your preferences and needs. You can also get a meat grading chart with your order so that you can test the quality of your cuts. Meat products are dispatched on ice, in Styrofoam boxes to maintain freshness.
Free delivery for eligible orders over $200
Weekly specials and exclusive offers available when you sign up
Click and collect available

Harris Farm
Harris Farm is an Australian-owned online grocer which services the greater Sydney region. This independent online grocer says it stocks a wide range of quality beef, chicken, pork, veal and lamb cuts, as well as meat alternatives, which you can buy and get delivered to your home or office. Simply filter your meat by type, add to cart and checkout.
Harris Farm also sells fresh produce and deli items including cheeses, seafood and other gourmet grocery products. When you make an order, you'll pay for the heaviest weight quoted for the product online and get the difference refunded when your meat is weighted in store.
Express delivery available
Four-person $250 grocery family boxes available
Daily deliveries to suburbs around Sydney

Picture credits: Alexander Raths / Shutterstock.com.