Hand sanitiser has become somewhat of a liquid gold. The coronavirus outbreak has caused a national shortage of the antibacterial gel, with most supermarkets and stores sold out across the country.
The pandemic panic buying has led many retailers to impose strict purchase limits on sanitiser and other essential items like toilet paper to give shoppers equal opportunity to access them.
If you've tried but haven't managed to get your hands on hand sanitiser, don't despair. We've sussed out where you can find some (subject to availability, of course).
Where to find hand sanitiser in Australia

David Jones
The high-end retailer may specialise in designer fashion, beauty and electricals, but David Jones also stocks a range of organic hand sanitising sprays at a surprisingly low price for a department store.
Free standard delivery Australia wide
Click and collect available
Afterpay available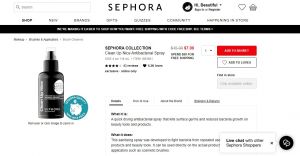 Sephora
The cosmetics store stocks maybe the widest range of makeup, skin care essentials and with that cleaning products for beauty tools like makeup brushes. Sephora sells an antibacterial spray (only available online) which seemingly works like a hand sanitiser and kills surface germs.
Free shipping on orders over $50
Click and collect available
Member offers and discounts available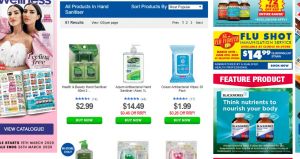 Chemist Warehouse
Hand sanitiser may be sold out in most brick and mortar pharmacies in Australia, but it seems there's still stock available (for now) at Chemist Warehouse online. The pharmacy also stocks antibacterial wipes and other hygiene products like hand soaps.
Free shipping on orders over $50
Click and collect available
Save on best sellers with special offers available each week

Priceline
Priceline is home to all your health and beauty essentials and carries a range of scented hand sanitisers to boot! Stock may be sold out in many bricks and mortar stores, but there are still some product options to purchase online it seems.
Click and collect available for selected stores
New promotions and special offers added each week
Redeem rewards, savings and freebies with Priceline Sister Club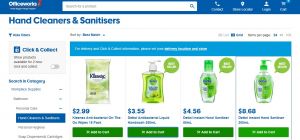 Officeworks
Officeworks may be your go-to for office supplies and the likes, but the retailer also stocks plenty of hand sanitisers, antibacterial wipes and hand soaps from time to time.
Free shipping on orders over $55
Afterpay available
Click and collect available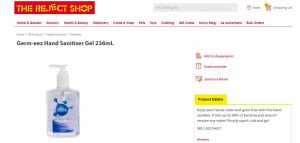 The Reject Shop
The discount variety store is best known for its low-price essentials and knick-knacks, but the Reject Shop also sells toiletries and beauty and hygiene products like hand sanitisers and antibacterial soaps. It may be hard to track down those products in stores, but you can try your luck online.
Click and collect available
Buy bulk and save
5% discount on orders over $300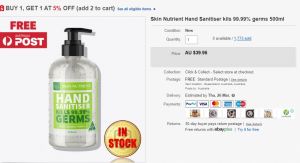 eBay
This online market place trades almost anything, and with millions of product listings added to eBay every day, you should find your fair share of hand sanitisers there. But watch out for over-the-top asking prices!
Exclusive deals and free shipping on select items available with eBay Plus
Wide product range available
New deals added daily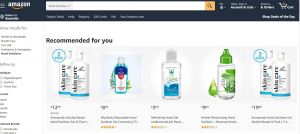 Amazon Australia
Millions of products are being sold through third-party sellers on Amazon every day, which means this online retailer is well stocked in basically everything, including hand sanitisers available in single and dual bottle options when we checked it out.
Free delivery on select items with Amazon Prime
Compare prices for the best deal
Hundreds of special offers available every day

Picture credits: Jamesclark1991/ Shutterstock.com.