FatBlaster Weight Loss Shakes Review & Guide
The weight-loss shake market can be a daunting one to enter, even after talking to your doctor about how to safely go about losing those extra few kilos you may have. With so many brands and products available, it can even seem like the market needs to shed a bit of extra weight! But one brand you've likely seen is FatBlaster,  a brand of diet products that have been popping up on TVCs and in supermarkets for years now. But what is FatBlaster all about? Find out all you need to know about FatBlaster shakes in this Canstar Blue guide.
What is FatBlaster?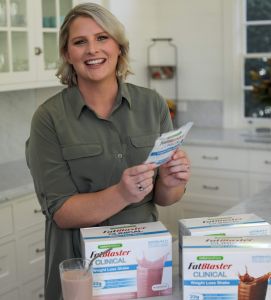 FatBlaster is a weight loss supplement brand, which aims to help people lose weight. It does this by following, what is stated to be, the fundamental principles of healthy weight loss. FatBlaster says it is effective when used in conjunction with a healthy, calorie-reduced diet and exercise. The product range is also designed to assist those looking to maintain a healthy weight once they've reached their goals.
Many FatBlaster items are created with the purpose of suppressing appetite and speeding up the metabolism. The brand's line of diet shakes form part of the FatBlaster six-week program, which includes set meal and workout plans. In addition to meal replacement shakes, FatBlaster also offers plenty of weight loss tablets, diet boosters, Keto-Fit options and detox & cleanse products.
Can I lose weight with FatBlaster shakes?
The FatBlaster program involves a guided six-week meal replacement program, with its aim to help you lose weight and lead a healthier and more active lifestyle. FatBlaster offers the following services and products:
Weekly meal plan
Weekly shopping list
Weekly exercise program
There are three levels to choose from, depending on your weight loss goal. Here's how each option works:
Rapid: Replace two meals a day with a FatBlaster shake
Steady: Replace one meal a day with a FatBlaster shake
Maintenance: Replace one or no meals a day with a FatBlaster Shake
The program also requires you to pick an exercise level, which ranges from beginner to intermediate and advanced.

FatBlaster shakes
The FatBlaster shakes are designed to be used between meals or as a meal replacement to support a balanced and healthy weight loss journey. The shakes come in a variety of flavours and are said to be packed with protein, fibre and vitamins and minerals, to help you feel fuller for longer.
The FlatBlaster range of meal replacement shakes includes:
FatBlaster Weight Loss Shake: $17.99 RRP*
Fatblaster Ultimate Shakes: $19.99 RRP*
NP FatBlaster For Men: $17.49 RRP*
FatBlaster Keto-Fit Shake range: $17.99 RRP*
NP FatBlaster Platinum+ ThermoBurn Shake: $29.99*
We look at a number of these shakes below.
FatBlaster Weight Loss Shake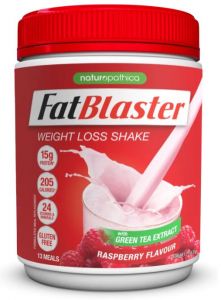 The FatBlaster Weight Loss Shake is described as being a milkshake with much less fat. The range has been re-released to now apparently contain 30% less sugar and is designed to be consumed as a meal replacement or a complete snack. Suitable for those on an energy-controlled diet and exercise program, the FatBlaster Weight Loss Shake is apparently made with protein and fibre to leave you feeling full.
The FastBlaster Weight Loss Shake is sold in 430g tubs and available in flavours like Raspberry, Double Choc Mocha, Vanilla and Chocolate.
FatBlaster Ultimate Shakes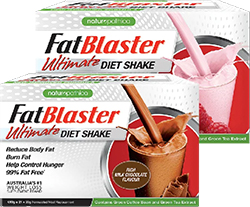 For active people on the go, the FatBlaster Ultimate Shake comes in a pack of 21 sachets you can take with you. Similar to many of the weight loss shakes by the brand, this range is claimed to reduce body fat, burn fat and help control hunger. Exclusively sold at Chemist Warehouse, FatBlaster Ultimate Shakes are available in Cappuccino, Vanilla, Raspberry, and Chocolate.
NP FatBlaster For Men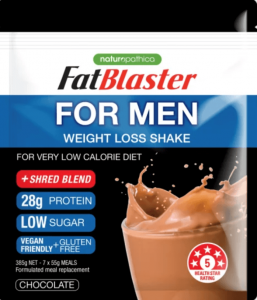 Naturopathica FatBlaster For Men is a low sugar, high protein formula designed for men who are looking to lose weight and build muscle. It contains a 'Shred Blend' made up of guarana and green tea to provide longer lasting energy throughout the day. It comes in 385g pouches or tubs, with seven servings in each. You can choose from Chocolate or Vanilla.
FatBlaster KetoFit Protein Shake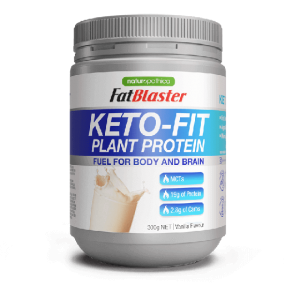 Designed for people on the keto diet, FatBlaster KetoFit Protein Shakes are incredibly low in carbs, and combine either whey protein or plant protein with coconut MCT's to deliver weight loss results. The FatBlaster KetoFit Protein Shake is sold in 300g tubs and available in flavours like Chocolate and Vanilla. The formula also comes in a range of capsules, powders and a bone broth. FatBlaster KetoFit Protein Shakes are sold at Chemist Warehouse and Woolworths.
NP FatBlaster Platinum+ ThermoBurn Shake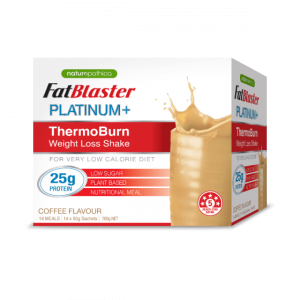 The Naturopathica FatBlaster Platinum + ThermoBurn Shake is described as a pathway to weight loss for those on a low calorie diet or partaking in an intermittent fasting regime. It promises to keep you fuller for longer with its protein formula, packed with vitamins, minerals and fibre. It is also gluten and dairy free, making it accessible to a wider range of dietary requirements. It comes in a pack of 14 sachets each with 55g of product and is available in flavours like Chocolate, Vanilla and Coffee.
How long does it take FatBlaster to work?
The FatBlaster program runs for six weeks, and includes meal plans, recipes, shopping lists and an exercise program. The program is designed to deliver fat burning effects, an increased metabolism, more energy and weight loss. FatBlaster claims you should see these results by the end of the six week program.
Where can I buy FatBlaster shakes?
FatBlaster products are available from retailers Woolworths and Coles or pharmacies like Chemist Warehouse and Priceline. Prices and product availability may vary between retailers.
Is FatBlaster worth the money?
FatBlaster aims to help people achieve their weight loss goals by creating a variety of products claimed to increase calorie burn or lower calorie intake. In turn, this is said to help you burn more calories than what you're eating. This brand might be worth considering if you live an active lifestyle or are currently on a controlled low-calorie diet and exercise program.
But if you think your chances of losing weight with FatBlaster are pretty slim, you may like to compare other weight loss shake brands with our reviews and ratings via the link below. And if you're thinking about opting for a protein shake instead, check out our ratings on protein supplements to see what's available.
About the author of this page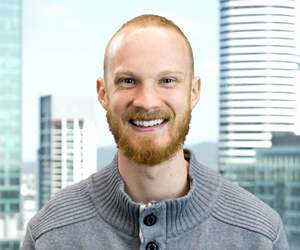 This report was written by Canstar Blue's Site Editor, Dean Heckscher. He's our resident expert on all things automotive, health & fitness, streaming and more. Dean is also one of Canstar Blue's customer research report producers, helping to turn complicated subjects into easily-digestible information for our readers. He's passionate about helping consumers make better-informed purchase decisions on all manner of consumer goods and services.
*Prices are taken from retailer, correct as of January 2021.