Building a makeup kit but don't know where to start? From budget-friendly brands like EcoTools and e.l.f, to celebrity endorsed luxury tools from Artis Brush, we've listed some of the most popular cosmetic brush sets to inspire your collection.
What type of brush should I use?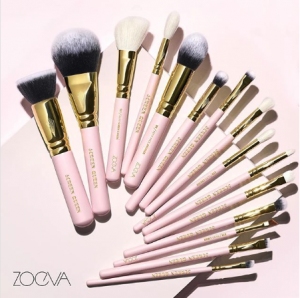 Liquid and cream products like foundations and concealers are best matched with synthetic brushes. This is also the ideal brush type for people who tend to use cream formulas or tend or prefer to apply lipstick with a lip brush. Alternatively, dry products like powder eyeshadow and setting powder are ideally applied with natural brushes.
Unlike synthetic bristles, which are created using man-made fibres like polyester and nylon, natural bristles are crafted from animal hair or fur which contain cuticles that give strong lifting power. This allows the brush to absorb the smallest bit of pigment and ensure everything is blended into the skin seamlessly. But it does mean the brush is more difficult to clean. Natural brushes are also problematic for vegans as well as allergy sufferers and people who tend to suffer bad reactions from natural materials. But generally, the softness of natural bristles is less likely to irritate the skin than synthetic brushes.
Do I need to clean my makeup brushes?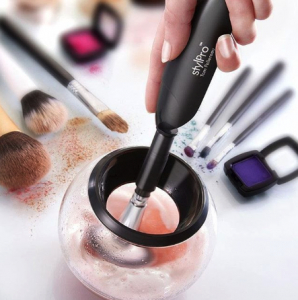 We all know makeup removal and facial cleansing should be part of our daily skincare ritual. The same goes for makeup brushes. Dirty brushes have been reported to breed fungi as well as grow certain types of bacteria such as e-coli. And since bacteria and fungi prefer to grow in wet conditions, brushes used to apply liquid or cream formulas should be cleaned more regularly than dry powder brushes.
While some people swear by cleaning their tools every day, you can just give your brush a quick wash under lukewarm water once a week. You should also do a deep clean once a month to remove any dirt and oil. There are plenty of liquids, gels and waxes available. But products like Johnson's Baby Shampoo can get the job done just as effectively.
Top 10 Makeup Brush Sets
Whether you're working with liquids and creams, powders or emollients, many of these kits are suitable for a variety of formulas. Most come with all the essentials you would need for a basic kit, while certain collections like the Morphe Eye Slay kit are ideal for growing your beauty arsenal. In no particular order, here are a few sets that have got everyone talking.
Real Techniques 'For a Complete Look'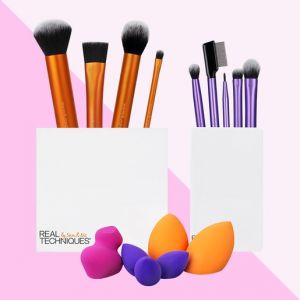 Created by two sisters who have earned a cult following on YouTube and in the beauty world, Real Techniques offers some of the most popular makeup brushes on the market. The Real Techniques 'For a Complete Look' makeup brush set combines two popular core kits: the Real Techniques Flawless Base Set and the Real Techniques Enhanced Eye Set. It also comes with six Miracle Sponges, which come in a pack of six, and two brush cups for storage.
Since the set includes both sponges and a variety of face and eye makeup brushes, the collection is ideal for people who use a variety of application styles, and prefer to create a range of looks. Otherwise, you can just opt for any of the standalone sets. The Real Techniques Flawless Base Set typically retails for $41, while the Real Techniques Enhanced Eye Set costs $45. The Miracle Sponges are similarly available for $44. Each Real Techniques brush is also labelled, making it easier for beginners to follow tutorials and navigate their makeup bags.
The brand is best-known for producing quality makeup tools at affordable prices, with many of the products sold in pharmacy chains like Priceline and Chemist Warehouse.
EcoTools 'Six Piece Starter Set'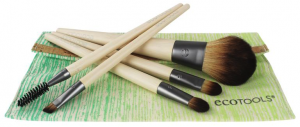 For beginners, the EcoTools Six Piece Starter Collection is a pretty good place to start. One of the leading brands for beauty products, EcoTools is best-known for its 100% cruelty free cosmetic brushes. Each tool is designed with a bamboo handle and is said to be handcrafted and vegan-friendly. The EcoTools Six Piece Starter Set is one of the brand's best-selling products and includes a number of brushes to help you complete a full look.
e.l.f '19 Piece Brush Set'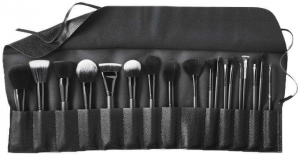 For beauty lovers who want it all, the e.l.f 19 Piece Brush Set has a few items to add to the collection. The collection includes 18 synthetic, vegan and cruelty-free cosmetic brushes wrapped up in a Brush Roll Travel Case. This is an ideal kit if you're planning on doing makeup for other people, but need a starter kit that won't break the bank. e.l.f is available from Kmart.
Tarte 'Tarteist Toolbox Brush Set & Magnetic Palette'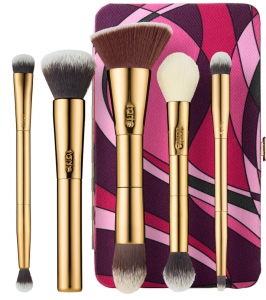 If you want to build your makeup brush collection without overcrowding your storage space, the 2-in-1 Tarteist Toolbox Brush Set might make you want Tarte as your next go-to beauty buy.
Most of the double-ended brushes offer two different sizes to accommodate a variety of needs. Items like the Multi-Use Complexion Brush is ideal for mapping your face with foundation, cream blush, primer, highlighter, colour corrector and contour shades. Other products like the Double-Ended Concealer Brush feature a large domed brush on one side to even out skin tone, while the other end has a more tapered design for precise application like hard-to-reach areas under the eyes and any spot coverage.
The kit also comes with a customisable brush case, which you can transform into a travel-friendly palette. The magnetic palette has offers a number of pots and pans for different removable shadows, blushes, highlighters, contouring and setting powder.
Sigma 'Skincare Brush Set'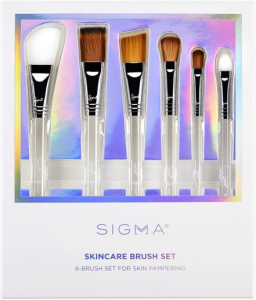 While the Sigma Skincare Brush Set is not like the other sets per se, this doesn't mean you can't incorporate the collection into your daily makeup routine. The Sigma kit can still arm you with a few useful tools to prepare a flawless bas, which will help products apply more smoothly and prevent future makeup-related skin issues.
The Sigma S05, Sigma S10 and Sigma S20 brushes can be used to apply the same moisturiser, face serum and eye cream often applied as part of your normal morning and nighttime skincare and makeup routine. When you apply formulas with your fingers, the brand claims the tugging and pulling motions can actually cause damage to your skin. But using a brush can apparently help avoid this, as well as reduce the amount of product you might waste from the rubbing of your hands. Each brush is also created with antimicrobial, synthetic fibres which are said to be gentle on the skin.
ZOEVA 'Voyager Travel Brush Set'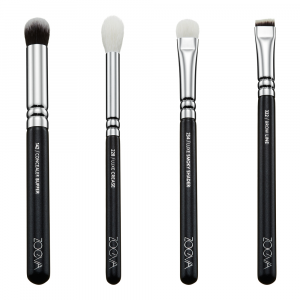 If you're looking for a makeup brush set for quick touch-ups during the day, or a mini travel-size beauty kit for long trips, the ZOEVA Voyager Travel Brush Set should be on your shopping wish list. The four high-quality professional face and eye makeup brushes from Zoeva are claimed to be made from a natural-synthetic hair blend and pure synthetic hair.
The set includes:
Zoeva 142 Concealer Buffer
Zoeva 228 Luxe Crease
Zoeva 234 Luxe Smoky Shader
Zoeva 322 Brow Line
The Voyager Travel Brush Set is the cheapest tool kit from the brand, with other full-size makeup brush sets costing around $60 up to $350.
Morphe 'Eye Slay'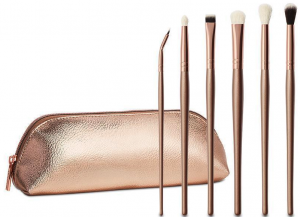 Affordable beauty brand Morphe encourages everyone to creatively use makeup as a way to show the world their 'true, vivid, exploding colors'. So, it only makes sense the Morphe Eye Slay brush set includes all your eye makeup essentials. As the saying goes, 'the eyes are the windows to the soul'.
The six-piece collection features a bent liner brush which is said to feature a 'unique, ergonomic shape' compared to other angled liner brushes. This is said to be an ideal tool for people who want greater control over their brush when applying gel or cream liners. The set will also give you a pencil crease brush to create soft, smudged lines on the outer 'V' of your eye, and an oval shadow brush to help you pack on colour and diffuse edges.
The set is ideal for people looking for a wallet-friendly option. Depending on the type of brush, each Moprhe tool contained in the set usually costs between $4 and $11.
Too Faced 'Pro-Essential Teddy Bear Hair Brush Set'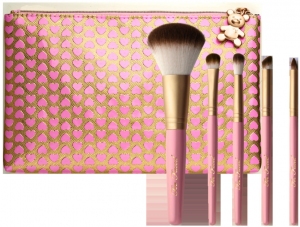 Too Faced is one of the beauty industry's leading brands, winning fans over with its quirky chocolate scented eyeshadow palettes and cheeky product names like 'Hangover Primer' and 'Peach My Cheeks Blush'. And for an all-rounder, Too Faced's Pro-Essential Teddy Bear Hair Brush Set may be the way to go.
The cruelty-free collection comes with five synthetic brushes which can be used on liquids, creams and powders. These set includes:
Powder brush
All-over shadow brush
Blender brush
Contour brush
Liner brush.
Unlike some makeup brush sets, this collection includes a tool specifically designed for contouring. While you can use blush brush or fan brush, or even potentially a kabuki brush, the slanted bristles on the contour brush helps apply product with precision. Using a contour powder or cream two shades darker than your skin tone, sweep the brush just under your cheekbones to highlight your natural contours. Similarly dust the shade along your jawline and hairline. You can then use the same brush to apply highlighter.
Artis Brush 'Elite Collection Smoke Finish 3 Brush Set'

The function of a brush largely depends on the way the size of the brush head as well as the way in which the bristles are specifically angled, tapered, flattened or rounded. That's why if a brush can no longer hold its shape, even after a deep clean, it's usually a sign to throw it out.
Artis claims its brushes are ideal for people who want long shelf life. This is all due to the CosmeFibre, which apparently contains built-in memory to maintain the shape of the brush. The unique fibre is also said to ensure the bristles apply all types of formulas evenly, as well as offer soft application to avoid skin irritation.
The small size and oval shape of the Artis Brush Elite Smoke Oval 4 Brush makes the tool suitable for the eyes and lips. The brush is especially ideal for blending eyeshadows and working around the eye area. The slim design of the Artis Brush Elite Smoke Linear 1 similarly makes a perfect brush for creating a thin line along the lashes or brows, while the Artis Brush Elite Smoke Circle 1 is said to be ideal for spot coverage and lip colour.
Described by some as the Rolex of makeup brushes, these luxury tools don't come cheap. The Artis Brush Elite Collection Smoke Finish 3 Brush Set is one of the more expensive starter options on the market, despite being one of the brand's lower priced items. Some of the other sets like the Artis Brush Elite Collection Gold 10 Brush Set can cost $790.
Bobbi Brown 'Classic Brush Set'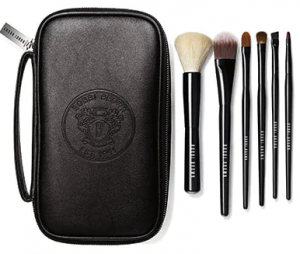 If you're looking to hide blemishes or other common skin issues like rosacea and hyperpigmentation, choose kits like the Bobbi Brown Classic Brush Set which include tools designed for full coverage application. Bristles on brushes like the Bobbi Brown Foundation Brush are tightly packed, making it easier to buff cream and liquid foundations evenly into the skin. The Bobbi Brown Concealer Blending Brush can then be used to conceal under eye bags and fix any eyeshadow fallout.
Alternatively, you can achieve sheer coverage with options like the Bobbi Brown Face Blender Brush which have a flexible bristle design. This brush is also ideal for stippling finishing powder, blush, highlighter and other powder formula.
The six-piece set also offers versatility with the Bobbi Brown Eye Brow Brush and the Bobbi Brown Fine Eye Liner Brush, which can be used on wet or dry products such as gel liner and brow powder.