Don't want to splash cash on free weights to sustain your strength training at home? No problem. Resistance bands can give you as much a good workout as dumbbells and barbells without the hefty price tag.
An exercise band can help target larger muscles like glutes and hamstrings, as well as small underlying muscles like biceps and triceps. They're also affordable, portable and limitless, which makes them the perfect workout tool outside the gym. But what are the best resistance bands? What should you consider? And where do you buy resistance bands? We answer all your questions in this guide.
Do resistance bands actually work?
You can definitely get an effective workout out of resistance bands with the right combination of bands and exercises. In fact, studies have found that elastic resistance training provides similar strength gains when compared to resistance training performed with conventional weights.
That's because resistance bands work much the same way as with free weights. They provide external resistance that your muscles have to work against. The only difference is you're just working against the force of just the band alone, while free weights will have you move against the weight and also gravity for a portion of the exercise.
What are the different types of resistance bands?
Resistance bands come in different sizes, shapes as well as looped and non-looped options, with various benefits attributed to each type. Here's a quick summary of what you need to know below.
Tube resistance bands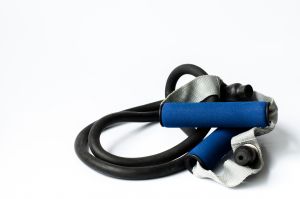 Tube resistance bands or 'fit tubes' are tubular bands (usually made of latex) with handles attached to both ends, to mimic a gym machine and dumbbell equipment. These can easily be anchored to doors or fixtures which is ideal for at home and outside exercise. Fit tubes are best used for upper body exercises like bicep curls, back rows and any press or pull exercises.
Loop resistance bands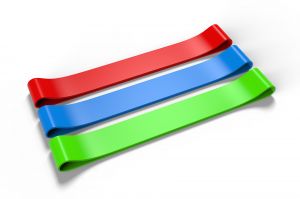 Loop resistance bands or 'fit loops' have a flat rubber band, rather than a tubular surface and loop around continuously to form a single band. Fit loops can be used for any resistance exercise, but tend to work best to train lower body parts like your glutes and hamstrings. These types of bands are also often used in physical therapy for those with injuries or joint pain.
Fabric resistance bands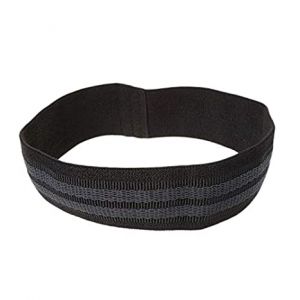 Fabric resistance bands are made with a thin fabric covering to stop the band from rolling up during exercises and are more comfortable than traditional rubber bands. These bands are good for increasing muscle performance and stability but aren't as effective for resistance training. They're best used for lateral movements like the shuffle and lateral lunges.
Figure 8 bands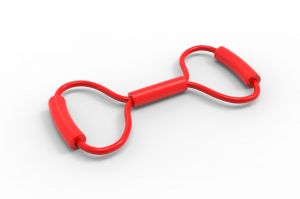 Figure 8 bands, as the name suggests, are bands shaped in an 8 figure with handles at the top and bottom of the band. They can be used for some functional exercises, particularly for the upper body, but are less flexible than tube or loop resistance bands.
Ring resistance band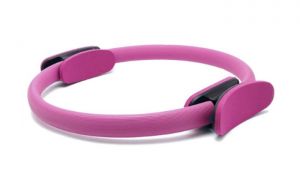 Ring resistance bands are often used for Pilates and consist of a hard ring band with two handles that are attached on opposite sides of the circle. This type of band isn't as versatile as longer or softer bands but can you give you a good burn especially in the lower body.
Where to buy resistance bands
You can buy resistance bands from most sporting goods stores, fitness equipment retailers and department stores, as well as directly from different brands like Nike and Adidas. Prices will vary, but general speaking resistance bands can cost anywhere between $10 and $100. We've handpicked some quality, low-price options for you to consider below.
Rebel Sport
This sporting goods store stocks a decent selection of mid-range resistance bands of varying resistance levels, with prices starting from just $15 for ultra-thin loop bands. Tube bands are also available, as well as power handles and ankle straps to give your home workout a boost.
Here's our top pick for a Rebel Sport resistance band:
PTP M PowerTube ─ RRP $18.99*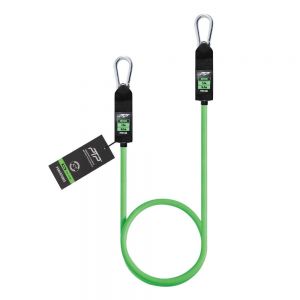 This tube resistance band comes with heavy-duty metal clips to attach handles and help you easily switch between the upper body and lower body workouts. It also features anti-snapping Inner Cord Technology, which is claimed to stop the latex tube band from snapping and overstretching.

Fitness Warehouse
This online retailer stocks a modest selection of different types of resistance bands including tube and loop bands of different widths and resistance levels, as well as extra heavy options for those looking to build muscle fast. Prices start from just $9.99 for basic, ultra-thin loop bands which come in assorted colours.
Here's our top pick for a Fitness Warehouse resistance band:
Xpeed Resist/Assist Band – Super Light ─ RRP $24.99*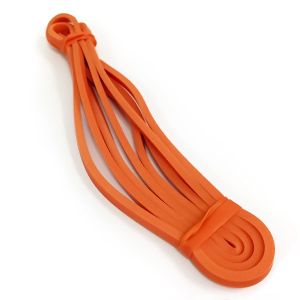 This multi-purpose band can work for beginners and fitness buffs alike, as it can be used to master pull ups and chin ups, as well as tackle more advanced exercises. You can loop the band around as you like to add resistance to your training and vice versa. This band may also be a great addition to a power-lifting session.

Sportitude
Sportitude offers tube, loop and figure 8 resistance bands, with prices starting from just $11.95 for basic loop bands. This retailer also stocks ankle straps and tubes and a portable strength and workout device which is retailing for $249.95 to really take your workout to the next level.
Here's our top pick for a Sportitude resistance band:
Body Concept Resistance Body Toners ─ RRP $22.95*
This figure 8 resistance band is ideal for performing any long and short pull exercises. It's made with high quality latex with a superior stretch and comes in light, medium and strong resistance level options. It's also sold with a small workout guide with 12 exercises to help you stay toned and taut.

Amazon
Amazon has a wide range of resistance bands for all fitness levels and preferences of various makes and resistance levels. Prices start at $9.95 for five natural latex fitness bands. You can opt to buy single bands or resistance bands sets which come with several bands and accessories for the ultimate fat burner workout.
Here's our top pick for a resistance band from Amazon:
Resistance Bands Set ─ RRP $21*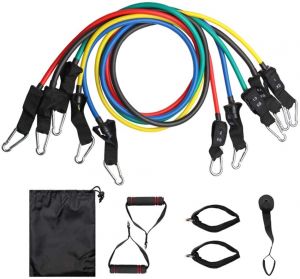 This resistance band set has everything you need at great value. It comes with five tube bands, a door anchor, stretch rope, a figure 8 band, ankle straps, foam handles and an exercise guide for resistance training. What more could you want?

What to consider when buying resistance bands
Because a resistance band is such a versatile fitness tool, with various options on the market, it's important to know what to look for before parting ways with your cash.
Your fitness goals
First and foremost, you need to be clear about your fitness goals. Are you looking to increase your flexibility or to tone up and build muscle? This question is important because there are specific bands designed for yoga and Pilates workouts, that would be no good to you if you're looking to add mass and vice versa. Your fitness goals should dictate your band choice and not the other way around.
Resistance level
All resistance bands come in different sizes, lengths and resistance levels. You'll want to make sure you choose one that gives you enough resistance to work against (like free weights) to build up muscle and increase performance. Most bands are colour-coded according to resistance levels. Your choice will also depend on your fitness level.
Material
Most resistance bands are made of different variations of rubber and as such quality will vary. Some rubber materials tend to overstretch and snap quickly, while others like thermoplastic rubber and genuine latex are generally seen as more durable.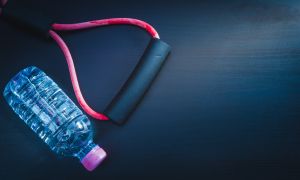 Length
Resistance bands come in varied lengths. Check that your resistance band can stretch as far you need it to for the exercises you intend to perform, with enough resistance. In any case, opt for longer bands which you can usually tie up or wrap around to create your own desired resistance level. If your band is too short, it's near impossible to modify.
Handles
Some resistance bands come with handles and some don't. Whether you want them will depend on your fitness goals and preferences, but generally speaking bands with handles allow you enough grip to execute exercises properly without getting rubber burn, so it's a must in our books.
Cheap resistance bands
Who doesn't like a bargain? If you're looking for cheap resistance bands that will do the job, you simply can't beat department stores.
Kmart resistance bands
Kmart stocks a small range of resistance bands including tube, fabric, loop and non-looped options. Prices start from as little as $6 for a basic latex band with no handles. Stock availability is subject to change.
Here's our top pick for a Kmart resistance band:
12 Level Stretch Strap – RRP $8*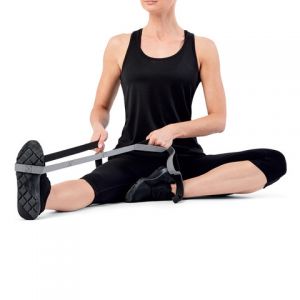 This is the perfect band if you're looking to work on your flexibility or for a cool down stretch after a workout. It features 12 levels of resistance and stitched loops so you can switch between lower and upper body exercises easily.
Target resistance bands
Target offers the widest range of all department stores, with almost every option of resistance band available from loop, tube and flat rubber bands, to figure 8, fabric and specialty bands. Prices start from a measly $8 for power tube bands.
Here's our top pick for a Target resistance band:
Sling Shot Hip Circle 2.0 Resistance Band by Mark Bell – RRP $32*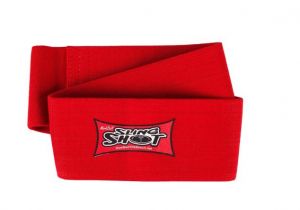 This resistance band is made from a stiffer material than regular bands with a level four elastic build and is especially designed to help you build up smaller muscle groups in your hips and legs. It's also great for warm ups or dynamic movements like lunges and trunk twists.
Big W resistance bands
Big W has the least variety of resistance bands. It stocks just a few flat lined bands and loop rubber bands, with prices also starting from just $8. Stock availability is subject to change.
Here's our top pick for a Big W resistance band:
Circuit Stretch Bands 3 Pack – RRP $8*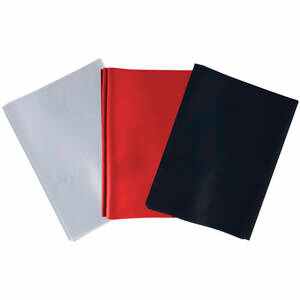 These stretch bands are made with thermoplastic rubber to reduce wear and tear, and come in a three-pack offering three levels of resistance to improve flexibility and strength over time.
Are resistance bands worth it?
A resistance band is an affordable, portable and versatile fitness tool that can help you get the most out of your workouts and even replace free weights entirely if you know the right exercises. And with some costing less than $10 a pop, who wouldn't opt for that convenience?

Picture credits: wavebreakmedia/ Shutterstock.com/ Pornsngar Potibut/ Shutterstock.com/ GO DESIGN/ Shutterstock.com/ Amazon/ GO DESIGN/ Shutterstock.com/ eBay/ Honigjp31/ Shutterstock.com.