For those trying to stick to their New Year's resolution, the frozen food aisle at the supermarket is often a 'no-go' zone. Full of tasty treats – including frozen pizzas, party pies and shelves of mouth-watering ice cream flavours – it tempts even the most seasoned healthy-eating veterans.
But in recent years, health enthusiasts and ice cream connoisseurs have been able to treat themselves a little more often, with the introduction of 'healthier' ice creams, such as low-calorie and high-protein varieties, allowing for a guilt-free snack. But how healthy are they really? In this article, Canstar Blue looks at some of the most popular ice cream brands available in supermarkets, and whether or not they're as guilt-free as you think they are.
Is ice cream bad for you?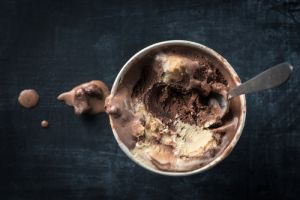 Ice cream is a common sight when you open up the freezer, with plenty of flavours to suit every taste bud. But with the recent rise of healthy lifestyles and #fitness, ice cream has often been blacklisted by gym-goers in order to get head-turning physiques. But do you really need to ditch the ice cream for your dream bod?
The short answer is – maybe. While ice cream is traditionally high in both sugars and fats – which can lead to a variety of health issues and weight gain – ice cream will likely only form a small portion of your nutritional intake, meaning it's unfair to blame one aspect if you're regularly eating takeaways or other unhealthy foods.
In saying that, you have to start somewhere when it comes to losing weight or making a health change, so ice cream may as well be near the top of your list when it comes to giving some foods the flick. But if you're not completely ready to let go of ice creams, this article may be the best thing you'll read today.
What should I look for in 'healthy' ice creams?
Take a stroll down your supermarket's freezer section and you'll likely see lots of brands advertising low-fat options. While this might be appealing at first glance, a quick look at the nutritional information will often tell a different story. In an effort to lower fat intake while still keeping that creamy texture and flavour we all like, some brands will bump up the sugar contents to compensate for the absence of fats, meaning some 'low-fat' options don't equate to a healthier overall option because they're full of sugar.
For a healthier ice cream, look for low intakes of both fats and carbs, while a decent serving of protein wouldn't go amiss either. While you might be distracted by how many calories some brands advertise, some ice creams still have high sugar intakes, meaning all your calories will be coming from unhealthy carbohydrates and sugars.
Healthy ice creams in Aussie supermarkets
Below is a list of some of the brands readily available at your local supermarket, each compared on their nutritional information. In the interests of fairness, we have selected chocolate as the consistent flavour compared, but note there is a difference in serving sizes.
| Brand & Flavour | Protein | Fats | Carbs | Sugars | Calories | Serving Size |
| --- | --- | --- | --- | --- | --- | --- |
| Ben & Jerry's Moo-phoria Chocolate Cookie Affair | 3.1g | 4.7g | 22g | 14.7g | 150 | 68g |
| FroPro Chocolate | 7g | 2.7g | 6.5g | 3.3g | 81 | 67g |
| Halo Top Chocolate | 5g | 2.5g | 13g | 6g | 80 | 64g |
| Over the Moo Choc Choc | 1.2g | 9.1g | 19g | 16.1g | 162 | 61g |
| Skinny Cow Triple Choc Sundae | 3.5g | 2.3g | 27.6g | 21.3g | 149 | 92g |
| The Protein Pantry Dark Choc | 13g | 2.9g | 2.9g | 2.4g | 110 | 65g |
| Tilly's Chewy Gooey Choc Brownie | 3.6g | 3.3g | 12.2g | 5.4g | 80 | 66g |
| WheyWhip Chocolate Protein | 20.2g | 10.6g | 17.2g | 13.1g | 270 | 170g |
Information sourced from ice cream packaging and brand websites, February 2019.       
The ice creams we compared
Ben & Jerry's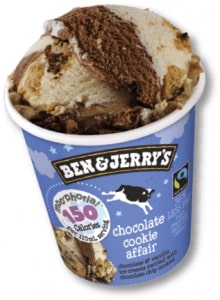 Known for its wide range of flavours, as well as being one of the more expensive options at the supermarket, Ben & Jerry's Moo-phoria is the brand's healthier option for those looking for a treat without the guilt. If you're really looking for something guilt-free, Moo-phoria ice creams are all made from non-GMO sourced ingredients, organic milk and dairy, as well as Fair Trade vanilla and sugar, potentially making it the option for those more environmentally-conscious. Available at supermarkets and local grocers, Ben & Jerry's Moo-phoria ice creams will cost you over $10 for a 460ml tub.
FroPro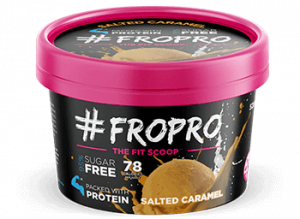 One of the trailblazers of the healthy ice cream industry, FroPro is Australian owned and made, but is only sold at your local Woolworths stores. Available in classic flavours such as chocolate, salted caramel, peanut butter and even toasted coconut, FroPro comes in 520ml tubs, which will set you back $10 at the checkout. All of the nutritional information and ingredients are listed on the FroPro website, with FroPro ice creams additionally gluten free and made from all-natural ingredients, making it a worthwhile option for those looking to clean up their diet.
Halo Top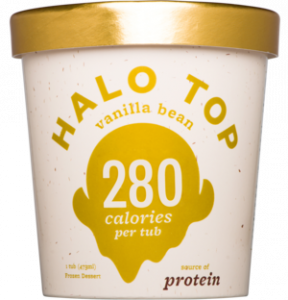 Available at major supermarkets, Halo Top prides itself on having around 300 calories per tub, as well as one of the largest range of flavours. You can choose from classics such as vanilla, chocolate, mint chip and cookie dough, or treat yourself to something different, such as peaches and cream, candy bar and even birthday cake. For those with allergies, Halo Top also offers a dairy-free range, including flavours such as caramel macchiato, toasted coconut and salted caramel, with certain flavours additionally gluten free. Halo Top will set you back around $10 depending on your retailer, with ingredients and nutritional information listed on Halo Top's website.
Over the Moo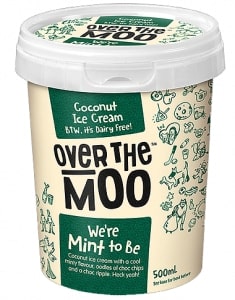 A recent addition to the ice cream industry, Over the Moo focuses on dairy-free ice creams for those who may be lactose-intolerant. Over the Moo is also vegan-friendly, as well as gluten free, making it an ideal option for those with allergies or dietary requirements. While the range sticks to all the classics, including vanilla, chocolate, caramel, mint, and cookies and cream, you can pick up a 500ml tub at Woolworths, IGA and independent grocers, making them an easy option to find for your ice cream cravings. Tubs will set you back around $10 depending on the retailer.
Skinny Cow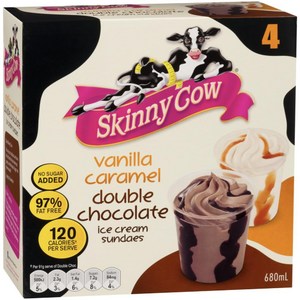 Operating under the Peters ice cream label, Skinny Cow comes in both ice cream cookies and sundaes, allowing you to mix it up when it comes to putting dessert on the table. The sundae flavours include strawberry or passionfruit cheesecake, double or triple choc, as well as vanilla caramel, while the ice cream cookies come in vanilla and mint flavours. Each flavour comes in a pack of four, making them ideal for sharing. Available at major supermarkets, a pack of Skinny Cow ice creams will set you back around $6, making it one of the more affordable options for shoppers. If you're not sure about which ones to pick up at the store, you can find the nutritional information and ingredients via the Skinny Cow website.
The Protein Pantry
Not to be confused with 'My Protein Pantry', The Protein Pantry is available from IGA supermarkets, as well as service stations and convenience stores, with a store locator on the website if you're looking for your closest option. While only offering three flavours – mint choc, salted caramel and dark choc – The Protein Pantry comes in both 175ml tubs and individually wrapped ice creams, making them a handy option for those looking for something sweet on the go. Cheaper than most other brands (although not surprising considering the smaller size), you can pick up The Protein Pantry ice creams for around $5, with the nutritional information and ingredients also available on its website.
Tilly's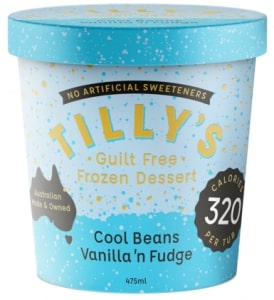 Australian made and owned, Tilly's has recently entered the ice cream market, looking to make a name for itself as one of the lower calorie options. Exclusive to Woolworths, Tilly's is available in only a few flavours, including salted caramel, choc brownie and vanilla fudge, with each flavour coming in 475ml tubs. Similar to other brands, Tilly's boasts around 300 calories per tub, although this will depend on which flavour you go with. Tilly's also states that its ice cream contains no artificial sweeteners, with nutritional information and ingredients available on its website.
WheyWhip
Available at IGA, Foodworks and convenience stores, WheyWhip comes in flavours such as chocolate, peanut butter choc nut, salted caramel, coconut mango and mint choc chip, with 200mL and 500mL tubs available, with the large option costing just under $10. Gluten-free options are available, although you'll have to check the product packaging itself, with the ingredients and allergies not currently listed on the WheyWhip website. If you're looking for something more than ice cream, WheyWhip also produces a range of protein balls for an after-gym treat.
Should I make the switch to healthier ice creams?
Nutrition can be a tricky area, especially when it's different for everyone! While we all have that one friend who doesn't put on any weight no matter how much of a bottomless pit they are, most of us have to watch ourselves when the sweets and treats come around.
While the occasional ice cream will be a welcome treat on those hot summer days, too much ice cream will likely derail your plans for your dream body, owing to the high levels of sugars and fats. But with healthier, low-calorie ice creams limiting some of that sugar and fat intake, they may be a worthwhile option for those who are just starting out on a weight loss journey, or those who just can't say no to their sweet tooth.
If you're after a protein hit, brands like FroPro and WheyWhip offer the highest protein intakes among the compared brands, while if you're looking for a low-calorie treat, FroPro, Tilly's and Halo Top all offer around the same calorie intake – although you'll have to keep an eye on your serving size! Ultimately it will come down to your taste preferences and cravings, but if you're looking to seriously alter your diet, it's always best to consult your GP or a nutritionist before making any big changes.