It's no secret that one of the best ways to cool down on a stinking hot day is going for a swim in the water. It's a common misconception that you won't get burnt when your body is in the water, but it has been proven time and time again that this is not the case – in fact, you can actually get more burnt as the sunscreen rubs off and UV rays penetrate the water. This summer, it's time to say no to nasty burns and questionable tan lines, and hello to safe and harmless fun in the water! Canstar Blue has compiled a list of water resistant sunscreens for your swimming activities – so get ready to slip, slop, slap, SPLASH!
What is water resistant sunscreen?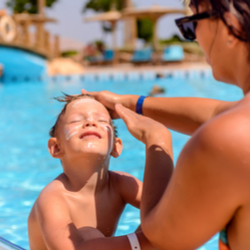 Fairly self-explanatory, water resistant sunscreen is designed to be used whilst swimming, participating in water sports such as surfing and even just for people who tend to sweat a lot in the sun! The formula in the sunscreen binds to the skin and is far less likely to be wiped off from water or sweat.
To be classified as "water resistant", a sunscreen formula must be able to resist a certain period of time underwater and remain the same SPF measurement. For example, a two-hour SPF 30+ sunscreen must remain at SPF 30+ after 2 hours of water immersion. Most sunscreens claim they are resistant to water for up to 4 hours, however re-applying every 1-2 hours is strongly encouraged in order to maintain the same level of protection.
Why is water resistant sunscreen so important?
Getting burnt can put a major dampener on your holiday – but worse than that, can do lifelong damage to your skin. Ultraviolet (UV) radiation from the sun can cause sunburn, premature ageing, eye damage and skin cancer. According to the Cancer Council, more than 11,500 Australian men and women are diagnosed with a melanoma each year, and an estimated 434,000 people are treated for one or more non-melanoma cancers. Skin cancer accounts for more than 80% of all new cases of cancer diagnosed in Australia every year. That's scary stuff!
It is important to always apply sunscreen regularly and wear protective clothing if you know you will be exposed to the sun. When it comes to swimming and water activities, however, sunscreen can easily rub off without people realising. This is why water resistant sunscreen is so essential – it is formulated to stay on the skin for a longer period of time when you get wet (or sweat) and acts as a stronger barrier against the sun than regular sunscreen.
Hot tips:
Just because a sunscreen is "water resistant" doesn't mean that it is waterproof. You still need to be reapplying the same amount every one to two hours.
Always read the labels – don't assume every sunscreen is water resistant and sweat proof.
Like any sunscreen, always apply a thick and even layer over all areas that will be exposed to the sun.
In this case, less is never more – it's always better to have applied too much than not enough!
It is best to apply at least 20 minutes before sun exposure.
When looking for the best water resistant sunscreens, look for bottles labelled "broad spectrum" – this means it protects from both UVA (aging rays) and UVB (burning rays).
Water Resistant Sunscreens
Did you know that 2.7 million Aussies get sunburnt every weekend in summer? Let's change that – and start with some recommendations on the best water resistant sunscreens out there. Here are some of the standout products we've found that claim to be water resistant, listed in no particular order. If you decide to buy any of these, just be sure to check the directions before using and make sure they're right for your specific needs.
Cancer Council Water Sport – SPF 50+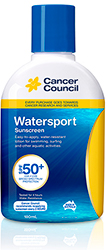 Cancer Council is arguably the ultimate go-to brand for all things sun protection. Their entire range of sunscreens have SPF ratings between 30-50+, are suitable for all skin types, and are tested between 2 and 4 hours of water resistance (Cancer Council recommends reapplying every 2 hours). Their water sport sunscreen has been specifically formulated as a water resistant lotion for swimming, surfing and other aquatic activities.
Retailing at $17.95, this little pocket rocket has a SPF rating of 50+, is broad spectrum for UVA and UVB protection, and has an advanced formula for extra UV protection. The best part is, it is tested to 4 hours of water resistance – but don't let that stop you from reapplying sooner!
UV Natural Sport Sunscreen – SPF 30+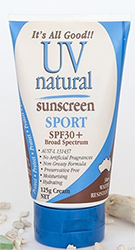 If you're looking for something natural, but still effective, look no further than UV natural's Sport Sunscreen. UV natural boasts they are one of the oldest natural sunscreen brands in Australia and their products are primarily vegan and certified organic with limited or no preservatives. This natural sport sunscreen provides a broad-spectrum SPF 30+, and claims to be water resistant for up to 3 hours.
The formula is non-greasy as the ingredients consist of zinc oxide and a blend of natural oils and extracts. The bottle is pricey at $35.95 for 125 grams, but you pay for a brand free of chemicals.
Sun Bum SPF 50 Original Sunscreen Lotion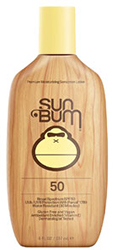 If you're a beach bum, you surely have heard of this Florida based company. Created by a small group of friends in Cocoa Beach who shared a passion for outdoor living, Sun Bum is a high-quality brand of sun care specifically formulated for people who live in the sun. Their Original Moisturising Sunscreen Lotion is a hard hitter – SPF 50+, water resistant for up to 80 minutes without reapplying, broad-spectrum with both UVA and UBA protection, hypo-allergenic and contains only 100% vegan ingredients.
It has also been tested by American company Skin Cancer Foundation and received the tick of approval. What more could you ask for? Purchase it now at Target Australia for $18 a bottle.
NIVEA Protect & Moisture Moisturising Sunscreen Lotion SPF 50+

NIVEA is a brand that has proven itself time and time again when it comes to skin care. Their Protect & Moisture Moisturising Sunscreen Lotion cares for your skin in more ways than one – the company boasts that the sunscreen combines broad spectrum for maximum sun protection against UVA and UVB rays and a moisturising formula to keep your skin soft and healthy. And, of course, the sunscreen wouldn't make this list if it wasn't water resistant – it is advertised as resistant for up to 4 hours (but that doesn't mean you shouldn't reapply regularly).
A variety of stores stock this product, where the 100ml bottle retails between $6-12 – bargain.
Neutrogena Ultra Sheer Face & Body Dry Touch Sunscreen Lotion SPF 50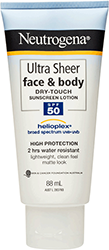 Sunscreen is a summer must – but we'll admit, it doesn't feel great rubbing it all over your face. Ladies especially can be prone to skipping application on the face, usually due to their makeup or not wanting to look and feel sticky or gross. Luckily, Neutrogena has been thinking of you with their Ultra Sheer Face & Body Lotion – a sheer sunscreen made specifically for the face, as well as the body. The Californian brand boasts that the sunscreen is lightweight, oil-free and non-comedogenic, which will leave your face free from that well-known greasy feeling.
Not only is it great for the face, but the matte finish sunscreen is SPF50+, provides a balanced broad-spectrum UVA and UVB protection, and is obviously water resistant (for up to 2 hours). So, ladies (and men) this one is for you! Find it at your local stores and chemists for $16.99.
Don't forget to slip, slop and slap your way towards beautiful and healthy skin this summer!
Original author: Maddy Morwood