Protecting your skin from the sun should be a priority in Australia, making sunscreen your best friend when you're out and about. In this guide, we're specifically talking about zinc oxide sunscreen and how it works. We've also rounded up a list of brands that offer zinc-based options. Read on to find out all the details.
What is zinc?
When you're in the sun, you get exposed to two forms of UV radiation – UVA and UVB. Zinc oxide is a physical filter that blocks both UVA and UVB rays:
UVA: damages skin at the cell level and can contribute to skin ageing and wrinkling
UVB: penetrates into the top layer of the skin and is responsible for sunburn, which is a significant risk factor for skin cancer
Zinc oxide sits on top of the skin, which is why it's called a physical blocker.
What brands offer zinc sunscreen?
According to the Australian Department of Health, technology to micronise zinc oxide was not previously available, which meant bright streaks across the cheeks – like the iconic green and gold duo. Being visible on skin made some people reluctant to use zinc sunscreen in the past. However, in recent times this issue has been addressed by decreasing the particle size of the ingredient and in turn, brands are offering zinc sunscreen that goes on clear. The following list features your traditional bright coloured zincs, as well as invisible options.
Cancer Council

The Classic range from Cancer Council are zinc-based creams. From around $10 to $15, you have the option between zinc sticks and a standard tube option. All types are stated to be made in Australia and have been tested to offer four hours of water resistance. However, Cancer Council recommends reapplying every two hours.
Cancer Council SPF 50+ Classic Skin Tone Zinc Stick (12g): boasted to be a no mess, lightweight sunscreen in a portable stick
Cancer Council SPF 50+ Classic White Zinc Stick (12g): same as above but in a white colour
Cancer Council SPF 50+ Classic Triple Pack Zinc Stick (12g x 3): the pack includes a green, white and gold colour
Cancer Council SPF 50+ Classic Sunscreen (100ml): stated to have a moisturising formula with Aloe Vera and Vitamin E, plus a tropical scent
These are claimed to be suitable for all skin types.
Le Tan
Le Tan sunscreen is Australian-made and owned. It offers just one zinc-based option at the time of writing, which is a trio pack with a retail price tag of $11.99. These are stated to offer four-hour water resistance, plus hydrate the skin with Vitamin E & Aloe Vera. It's claimed to be free from oxybenzone and paraben as well as vegan friendly.
Le Tan SPF 50 + Zinc Sticks Trio (15g): colours include blue, yellow and green
Slip the portable zinc sticks into your pocket and rock the different colours to a festival or sporting event.
You may also be interested in:
Invisible Zinc

As the name suggests, the full range of sunscreens from Invisible Zinc is zinc-based. In addition, its line-up is boasted to offer sun protection without the thick zinc cream look. Expect prices from around $18 for its Junior Clip On sunscreen to about $35 for its tinted moisturisers.
Invisible Zinc SPF 50+ 4 Hour Water Resistant (50ml or 100ml): claimed to be low irritant for sensitive skin and children, plus sweat resistant, ideal for sport and outdoor use. It also has an airless pump design
Invisible Zinc SPF 50+ Face and Body Sunscreen (150g): stated to be suitable for all skin types and contains moisturising ingredients
Invisible Zinc SPF 50+ Junior Clip On Sunscreen (60g): claimed to be free from parabens and suitable for all skin types including children
Invisible Zinc SPF 30+ Facial Moisturiser (50ml): facial moisturiser lotion with zinc oxide protection and anti-pollution film stated to assist in neutralising environmental pollutants, chemicals and smoke
Invisible Zinc Tinted Daywear SPF 30+ (50g): a 3-in-1 option that combines zinc sunscreen, daily moisturiser and sheer foundation into one product
Invisible Zinc SPF 50+ Sheer Defence Facial Moisturiser (50g): a moisturiser with SPF 50+ that also has two tinted varieties available including light and medium
All options are claimed to be light and non-greasy, plus easily absorbed.
Neutrogena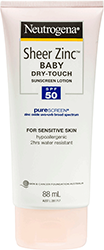 Neutrogena is an American brand that offers a Sheer Zinc range. All are stated to be hypoallergenic and dermatologically tested, plus fragrant free and dye free.
Neutrogena Sheer Zinc Body Lotion SPF50 (88ml): non-greasy lotion suitable for sensitive skin, according to Neutrogena
Neutrogena Sheer Zinc Baby Lotion SPF50 (88ml): claimed to be tear-free and not sting babies' eyes
Neutrogena Sheer Zinc Face Lotion SPF50 (59ml): stated to be suitable for daily use with vitamin E, a skin conditioning anti-oxidant
All options are stated to provide two-hour wanter resistance. They're also aimed to have a lightweight formula and dry invisible.
Key Sun

Key Sun Zinke has been protecting Aussies from the sun since 1969, with all products made in Australia. It has branched to other lines including vitamins and supplements, but still offers sunscreen as its main range. Its Zinke sticks retail for $4, with prices going up to around $19 for its 200g tube Clear Zinke sunscreen.
Key Sun Zinke Stick SPF 50+ (5g): available in yellow, tan, green, red, blue, pink or white colour options
Clear Zinke Babies & Toddlers SPF 50+ Roll On (100ml): stated to be dermatologically tested for sensitive skin, plus non-irritating and fragrance free
Clear Zinke SPF 50+ Roll On (100ml): claimed to provide four-hour water resistance with added vitamin E and Aloe Vera
Key Sun Clear Zinke SPF 50+ (50g, 100g or 200g): same as the above but in a tube form
Key Sun Tanne or White Zinke SPF 30+ (50g): aside from the clear option above, this range is available in white or tan colour with a slightly lower SPF of 30+
Key Sun Zinke sunscreen boasts the latest sunscreen technology, plus formulas with anti-oxidant vitamin C.
Bottom line on zinc sunscreen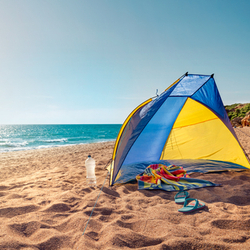 Zinc oxide is a physical blocker that reflects and scatters UV radiation. While all sunscreen in Australia protects from UVB rays, Cancer Council recommends using broad-spectrum sunscreen. Any sunscreen labelled "broad-spectrum" will have zinc oxide in it that covers both UVA and UVB rays.
Apart from sunscreen, it's important to be wise when you're out in the sun and follow the guidelines set out by the Cancer Council – slip on some sun-protective clothing, slop on some sunscreen, slap on a hat, seek shade and slide on some sunglasses. To help you compare sunscreen brands on a number of key variables, why not check out our star ratings via the link below.
Original Author: Veronika Hleborodova