If you're looking to stay fit and 'zen out' while in isolation, the ancient art of yoga can help you do just that, and with minimal equipment! All you need is a good internet connection to stream your workout and a yoga mat to support your attempt at the downward dog.
The importance of a good quality yoga mat is often understated, but it's fundamental to help you keep good posture by supporting your spine when executing poses, and to help keep you steady in your practice, with cushioning in case you fall. That's why you shouldn't settle for just any old yoga mat.
But, where do you buy a good yoga mat? Are there different types? And what do you need to look out for? We answer all your questions in this yoga mats buying guide.
Why is a yoga mat necessary?
A yoga mat is necessary for the same reason you should wear running shoes when you hit the pavement – for extra support and to avoid injury. Yoga mats are designed to cling firmly to a hard floor surface for steadiness, to provide cushioning for your routines and poses, and to help prevent slips and injuries. They also provide insulation from the ground. Although yoga mats are made specifically for practicing yoga, you can use them for Pilates, or any other home workout.
Where to buy yoga mats
You can buy yoga mats at sporting goods stores, fitness equipment retailers and department stores, as well as directly from different brands, so there are a few options to consider. For a simple exercise accessory, prices for yoga mats can vary widely depending on retailers – anywhere between $10 and $100. We've handpicked some quality, low-price options for you to consider below.
Lululemon
This athletic apparel retailer stocks a small range of premium reversible and rolling yoga mats which come in 3mm and 5mm thickness, as well as yoga mat bags for easy travelling. Most products come in different colour options including grey, black, pink and blue. Prices start from $25 up to $89.
Here's our top pick for a Lululemon yoga mat:
Loop It Up Mat Strap – RRP $25*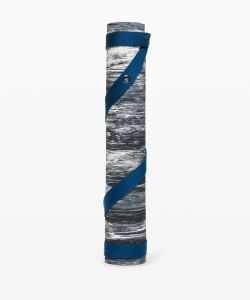 This double duty yoga mat is made of durable nylon-blend webbing and comes with buckle-free closure on both ends to make your post Savasana roll-ups a breeze. The mat strap could double as a stretching strap (perfect for classes) and has eyelets to attach your keys and other accessories to. This mat is available to purchase on Afterpay.

Gaiam
This popular brand specialises in all things yoga and has a wide collection of Pilates and yoga mats ranging in thickness from 1.5mm to 6mm in standard latex-free and premium fabrics. Gaiam (pronounced "guy-um") mats are also free from harmful phthalates, underpinning the philosophy of yoga to protect and nurture one's earth and health. This brand also offers other accessories like yoga straps, blocks and socks. Prices start from $29.99 up to $79.99.
Here's our top pick for a Gaiam yoga mat:
Gaiam Performance Essential Support 4.5mm Yoga Mat – RRP $39.99*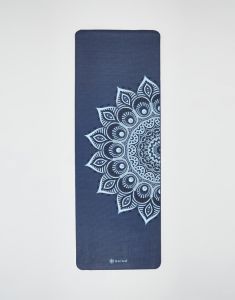 This Mandala design yoga mat is ideal for those new to yoga and is best suited for restorative to slower paced practises. Its 4.5mm thickness provides a little extra cushioning combined with a ridged, light-tac surface to help your alignment in poses. It also comes with three complimentary full-length online yoga courses with your purchase.

Rebel Sport
This sporting goods store stocks a selection of elementary and premium yoga mats from brands such as Gaiam and Bahe, in different thickness options and colours. There's even an ecofriendly option with a natural cork top layer and Pilates mats available. Prices range from $49.99 to $79.95. Rebel Sport offers free delivery on all orders over $150.
Here's our top pick for a Rebel Sport yoga mat:
Gaiam Premium Support Yoga Mat 6mm – RRP $49.99*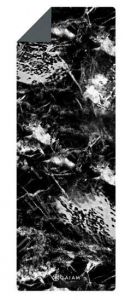 This yoga mat offers 6mm of thick cushioning for extra comfort and support. It's ideal for beginner yogis looking to stretch out and have adequate support when learning new poses. This mat is also free from latex and phthalates, which is better for you and the planet. It also comes with a bonus online yoga practice course.

Yoga Mat Store Online
This is a one stop shop for all types of yoga mats made of ecofriendly, natural rubber and ranging in thickness from 3.4mm to 6.5mm. This online retailer stocks thick, high-density mats and ultra-thin folding mats which are available in a range of designs and colours. There's even a yoga mat with a foldable incline wedge ramp. Prices start from $49.99 up to $129.
Here's our top pick for a yoga mat from Yoga Mat Store Online:
Gaiam Yoga Mat Premium Print Extra Thick Non Slip – RRP $57*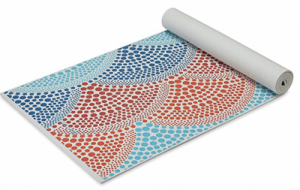 This polyvinyl chloride (PVC) yoga mat is extra thick (6mm) for additional cushioning of your joints when doing yoga or exercise, but also lightweight which makes it a breeze to carry around and store. It also features a textured sticky non-slip surface for traction and superior grip and is available in different designs. You also get a free bonus downloadable yoga workout with your purchase.

Cheap yoga mats to buy
It's hard to argue against a bargain, so if you're looking for a budget yoga mat that will do the job, but without all the bells and whistles, then there's no better way to go than budget department stores. Plus, any excuse to go to Kmart is a good one, right?
Kmart yoga mats
Kmart offers a decent range of PVC, non-slip yoga and fitness mats to help you get better traction and grip while performing your yoga poses. Kmart yoga mats come in assorted colours including blue, pink and grey and prices start from as little as $7.50!
Here's our top pick for a Kmart yoga mat:
Non-Slip Yoga Mat – RRP $7.50*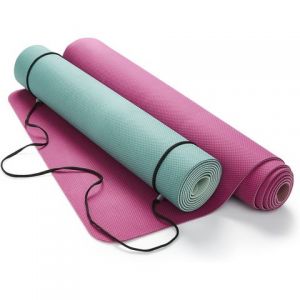 This 4mm yoga mat is reversible, non-slip and comes with carry strap which makes it the perfect yoga mat for beginners or anyone taking up yoga just for fun. It's made of thermoplastic rubber which is more eco-friendly than PVC, so it's not a bad buy for the price of a large coffee. It comes in blue and pink.
Big W yoga mats
Big W stocks only a few yoga mats depending on the season. PVC and rubber-made options are available in 6mm thickness with a non-slip textured surface, with prices starting from $10.
Here's our top pick for a Big W yoga mat:
OZtrail Foam Earth Mat 10mm – RRP $10*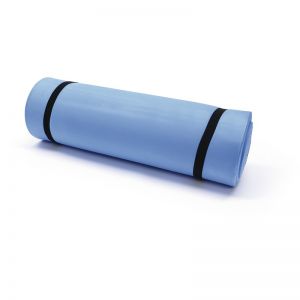 This shock absorbing closed cell foam mat can be used for yoga, the gym, at home and even while you go camping. The mat is laminated with silver foil to provide added insulation on cold or frozen grounds. It comes in only one colour- silver blue.
Target yoga mats
Of all the department stores, Target has by far the largest selection of yoga mats at a modest price. Its range includes options from popular brands like Gaiam, Manduka, Yeti, Khataland and more. There's even a yoga mat for little yogis! Prices start from $15.99 up to $100.
Here's our top pick for a Target yoga mat:
Stott Pilates Eco-Friendly Pilates & Yoga Mat – RRP $35*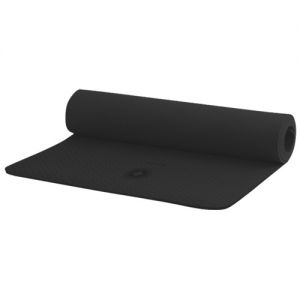 This eco-friendly, recyclable and decomposable mat is perfect for yoga, plus Pilates and most floor exercises thanks to its 2.5mm thickness which will cushion your spine on hard surfaces. It's a reversible mat and comes with a carry strap so you can take it anywhere.
What are the different types of yoga mats?
Contrary to what you might believe, not all yoga mats are created equal. They can come in several different fabrics, sizes, textures and colours. If you're serious about buying the right yoga mat for yourself, we've got a summary of each type below.
Basic stick yoga mat: This is the standard and most common type of yoga mat. It usually features a textured grip to avoid slipping on the floor and to help keep your body steady during poses. It's usually made of PVC which isn't ideal for the environment but it's cheap, making it ideal for those on a budget.
Plastic elastomer yoga mat: This mat is environmentally friendly and the best choice for those with sensitive skin as it doesn't contain PVC, latex and other toxic materials. It's made from a synthetic rubber called TPE (thermal plastic elastomer) which is closed-cell and prevents fluid absorption. This type of mat is slip-resistant and provides good traction to help you nail your handstands and it offers adequate cushioning. It doesn't usually have the best grip though, so it's best suited for light yoga and Pilates.
Rubber yoga mat: The rubber mat was one of the first types of yoga mat materials introduced and cork is used to increase grip. This type of yoga mat is made with natural, non-toxic and biodegradable rubber materials and remains popular today among novice yogis. However, it's heavier than PVC mats and not as durable.
Cotton and hemp yoga mat: This mat is au naturel, made with cotton and hemp to create a soft fabric, perfect for absorbing sweat easily. It does the job in terms of providing cushioning but it doesn't offer much traction. This is definitely more suitable for experienced yogis.
Jute mat: This may just be the greenest yoga mat on the market, made from biodegradable jute fibres (which come from a vegetable plant) and Polymer Environmental Resin (PER). This type of mat usually features open-cell sweat absorption, good cushioning and traction and is ideal for all yoga types.

What to look for when shopping for yoga mats
Thickness
Naturally, you'll want a yoga mat that provides just the right cushioning you need to support your poses and provide enough padding for your joints. As a general rule, 3-4mm is the average thickness of a standard yoga mat. If you're an experienced or travelling yogi, you could go lighter with a 1.5mm or 2mm mat which is easy to carry and store. However, if you're new to yoga or have existing injuries you should opt for thicker mats which are around 6mm for extra cushioning.
Material
Most yoga mats are made from one of three materials: PVC, rubber or plastic elastomer. Most low-end mats are made of PVC which is lightweight and cheap but not eco-friendly. Rubber mats tend to be heavier and steadier than PVC mats and better for the environment as they're composed of natural materials but aren't as durable. On the other hand, plastic elastomer mats are soft, usually extremely light and biodegradable.

Grip
In yoga mats lingo, stickiness and grip are often used interchangeably. In short, grip or stickiness is what stops you from slipping or sliding on your mat. There are two types – a dry grip and a wet grip. The former is often used for any kind of floor exercises in dry conditions to give you stability during exercises, while the latter is particularly important if you plan on taking hot yoga sessions (or if you sweat a lot) as the mat is designed to retain its grip when wet. Ideally, look for an option that offers both.
Reversibility
Double duty yoga mats are the norm now. Most are reversible with a non-slip textured surface for added grip on one side, and have a softer, more absorbent surface which remains sticky when wet on the other.
Price
Price is of course an important consideration for any purchase. If you're an experienced yogi then a heavy-duty, high-quality, durable yoga mat with all the bells and whistles could be worth the splurge as you progress with your practise. However, if you're just starting out and practising yoga leisurely then a mid-range mat with good cushioning and grip is really all you need for now.
Is a yoga mat worth buying?
Would you attempt competitive swimming without goggles? Probably not. Then you shouldn't forgo a yoga mat for practising yoga either. It's an essential accessory designed to help you get the most out of your poses and exercises, to keep you grounded and to support your spine and joints. Considering the various options available and that you could buy one for as little as $10, there's really no reason to skip out on it.

Picture credits: TierneyMJ/Shutterstock.com, Syda Productions/Shutterstock.com, LanaSweet/ Shutterstock.com.