Punching things can not only be therapeutic, but can prove to be a tough workout, especially if you're using proper equipment. With boxing and mixed martial arts arguably the epitome of fitness in terms of combining cardio fitness, muscle endurance and strength, punching bags are a good investment in any home gym. But what should you look at buying to deliver a knockout workout? With so many options available on the market, you may be quickly floored, but Canstar Blue is here to help pick you up from the canvas with this buying guide on all things punching bags.
Types of punching bags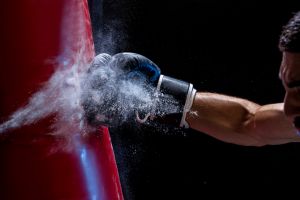 While to the untrained eye they may all appear to be more or less the same (they get hit and don't hit back), there are actually a variety of punching bag types, with most focussing on different areas such as hand-eye coordination, punching technique, speed, or a combination of elements. Here's a rundown of what types of punching bags you'll likely come across when you're looking to glove up, and what they're used for:
Traditional heavy bag
Long heavy bag
Angled heavy bag
Teardrop heavy bag
Wrecking ball punching bag
Wall mounted punching bag
Free standing punching bag
Body Opponent Bag
Reflex bag
Speed bag
Double end bag
Aqua bag

Traditional heavy bag
As the name suggests, the traditional heavy bag is the most common punching bag you'll likely find on the market or in the gym. Generally hanging from the ceiling from a chain, the heavy bag is what most people will envision when they think of boxing or martial arts training. The traditional heavy bag lets you work out a variety of punches, kicks and other blows, and generally comes in a variety of sizes, weights and materials, making it the most versatile option for your training sessions.
Long heavy bag
Known as the 'banana bag', the long heavy bag gets its name from being thinner and, you guessed it, longer than a traditional punching bag. Like traditional punching bags, banana bags are generally hung from the ceiling, but are primarily used for mixed martial arts training as the longer length is ideal for practicing low kicks.

Angled heavy bag
Available as either a single angle or double angle model, the angled heavy bag is used as it loosely resembles the shape of a body, allowing you to focus on landing blows where they should go, with angled heavy bags also generally hung from the ceiling to help you adjust to fighting different sized opponents.
Teardrop heavy bag
Teardrop punching bags can be used for a variety of activities, including the traditional striking training, with smaller, slimmer bags used for training movement and defence as they generally swing more than the heavier, wider, bags.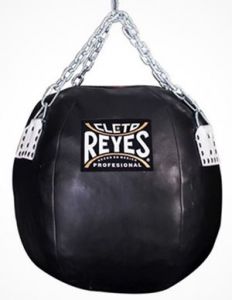 Wrecking ball punching bag
More common in boxing gyms, wrecking ball punching bags are traditionally used to focus on uppercut punches, as well as movement drills. Like most punching bags, wrecking ball bags are hung from the ceiling, and are generally heavier than teardrop bags, meaning you'll want to make sure you duck out of the way when it swings your way.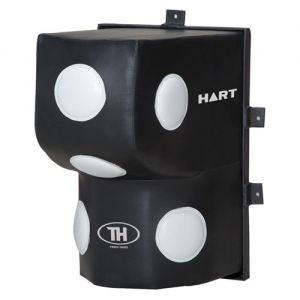 Wall mounted punching bag
As the name suggests, this punching bag is mounted to the wall, with the main focus of this bag to perfect uppercuts and other punches that you'd likely want to land from face-on. The drawback is that you'll only be able to hit the bag straight on, meaning the focus will be on your punching power and technique, rather than movement.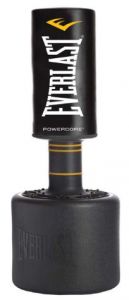 Free standing punching bags
Free standing punching bags are ideal for those after a more traditional training session, but don't have space to hang a bag from the ceiling. Coming in a variety of shapes, sizes, weights and materials, free standing bags are more portable than other bags, and allow you to train multiple areas, including movement and striking.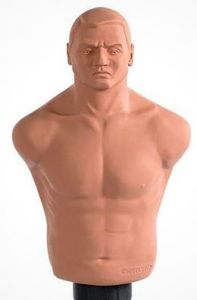 Body Opponent Bags
Affectionally known in fighting circles as BOB, the Body Opponent Bag is essentially a replica of a person that you get to hit. Made to mimic the body shape of a person, and made with material that's closer to flesh to give you a better simulation when landing blows, BOB is a common version of a free-standing bag.

Reflex bag
A smaller, lighter bag, the reflex bag is a variation of the free-standing punching bag, although focusses on reflexes and movement rather than landing blows. The bag itself is generally on a pole that bends when the bag is hit, allowing it to bounce back quickly to promote blocking or movement.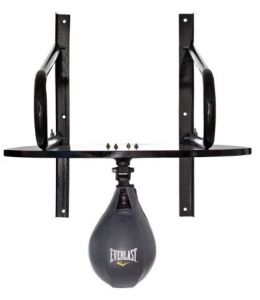 Speed bag
Another bag that is well known both inside and outside the boxing gym, the speed bag focusses on hand speed, coordination and rhythm. The speed bag is filled with air to allow for quick movements and easy strikes, with the unit generally mounted against a wall.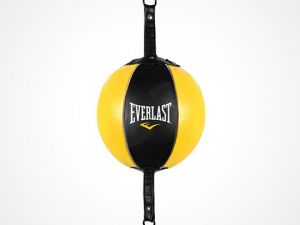 Double end bag
Known also as 'floor to ceiling bags', double end bags are smaller, air-filled bags that are attached to two straps which are connected to the floor and ceiling, creating tension for the bag to bounce back and forth. The double end bag is used for a variety of training areas, including striking, movement, hand speed and blocking, depending on how fast the bag is moving.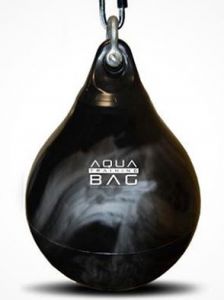 Aqua bag
The aqua bag is a newer addition to the punching bag market, and is filled with water rather than the traditional sand or padding, but looks and works similar to a wrecking ball or tear drop punching bag. Filling the bag with water allows for a different feel when striking, as well as ensures the bag stays in place more, allowing for a bit of variety during a training session.

Things to consider when buying a punching bag
Now that you've got a bit more of an idea about punching bags under your belt, here's what you should generally consider before heading down to the shops to land a deal.
Type: With so many punching bags available, it's important to figure out what type of training you want to do, as that will influence what type of bag you should buy. If you're just looking to get a bit of boxing in as part of a home workout, then a free standing or traditional punching bag will suit you best, while if you're looking to improve a certain part of your sparring, it may pay off to look at more specialised bags such as the wall mounted bag or speed bag.
Space: Most punching bags aren't small, so if you're looking at a traditional punching bag for your home gym, you may need to look at how much space you have – and if you can actually hang the bag from the ceiling. If you're looking at getting a reflex bag or a double end bag, you'll also have to consider how much room they have to bounce around with, as putting them in a cramped space will impact the effectiveness of your workout.
Size & Weight: Punching bags often come in a variety of sizes, including different widths, lengths and weights, making it an important area to consider, especially as buying a bag that's too heavy for you can also increase your risk of injuring your hand or wrist while training.
Material & Padding: Punching bags often come in a number of materials and with a variety of padding options. Punching bags are generally made of either leather or synthetics such as vinyl or plastic, with leather considered the most long-lasting, although – unsurprisingly – anything that is punched or kicked for long enough will eventually fall apart. Padding materials often comprise of either sand, air, water or textile, each with different resistances and feels, allowing you to find something comfortable to hit. As a result, it may be best to get a few hits in at the store to see which feels best.
Price: As with most purchases, how much money you have in the bank will play a major factor in which brand and model you end up walking out the door with. But don't let the price tag land a one-two combo on your chin, as a bit of research can help you find a punching bag that fits the bill perfectly.
Punching bag brands
With the punching bag market packing plenty of brands and models, just what is available on the market? Explore some of the major brands below.
Everlast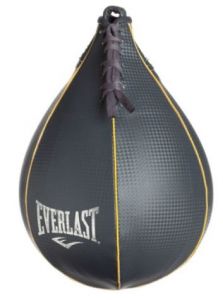 If you're a fan of fighting sports such as MMA or boxing, you've likely come across Everlast equipment. Offering products from mitts and gloves all the way through to full size boxing rings, Everlast offers a number of punching bags, including heavy bags, free standing bags and specialty bags. Everlast punching bags are available to purchase through retailers and wholesalers, as well as directly through its website, with other fitness gear additionally available.
Punch Equipment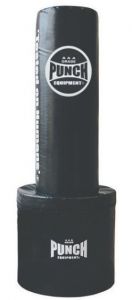 Offering a variety of gear to cover multiple forms of fighting sports including Muay Thai, MMA and boxing, Punch Equipment's lineup of punching bags includes free standing models, heavy bags as well as specialty gear such as speed bags and other accessories to help you get the most out of your training session. Punch Equipment is available online through its website, or through retailers and wholesalers which can also be found via the store locator on the Punch Equipment website.
Smai

Known for a variety of home gym equipment and weight sets, Smai also offers a number of punching bags to improve your home setup, including heavy bags, free standing bags as well as accessories such as dummies for MMA training. Like most other brands, Smai can be purchased through retailers and wholesalers, or directly through its website.
Morgan Sports

Dealing in boxing and fitness equipment, Morgan Sports equipment offers a number of punching bags, including heavy bags, free standing bags and specialty bags such as speed and reflex bags. Morgan Sports also offers a number of accessories for other fighting styles and sports, including mitts, guards and gloves, and is available at registered retailers as well as via its website.
Fairtex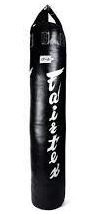 Focusing primarily on fighting sports, including MMA, Muay Thai, boxing and kick boxing, Fairtex offers a number of protective gear and accessories, as well as punching bags in its range. You may have to look elsewhere if you're looking for speed or reflex bags, but Fairtex offers a number of heavy bags to choose from, with a variety of lengths, sizes and weights available, allowing you to find the best one for your needs.
How much do punching bags cost?
How much a punching bag will cost will depend on what type of bag you're buying, but generally, a speed punching bag will set you back between $50 to $100, with most other punching bags costing between $100 and $1,000, depending on the model, type, material and brand.
Where can I buy a punching bag?
Punching bags can be purchased at a variety of retailers, including Kmart, sporting goods stores like Rebel Sports, and fitness equipment wholesalers, as well as directly through the brands themselves.

Are punching bags safe?
Like most exercise equipment, you'll have to take precautions when using a punching bag for the first time, as while you may have Rocky montages running through your head, swinging for the fences a few minutes after you've set up your bag may do more damage than good. Ensure that you have the proper equipment such as strapping tape and gloves before a workout, and that your bag is secured in place before you start hitting it, and if you're just getting back into the ring, it's always best to consult with your GP before embarking on a new exercise regime.
Are punching bags worth buying?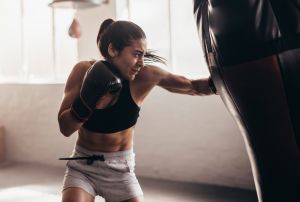 Working out can be a tough slog, but getting to hit something always seems to make it a bit easier. If you're a professional, or looking to become a professional, investing in high quality punching bags will pay off down the road, as will investing in multiple types of punching bags, allowing you to focus on different areas of your arsenal. But if you're just looking to throw on the gloves and work up a sweat, you can find something that will get the job done without breaking the bank. At the end of the day, a bit of research into what's available on the market and what you may need for a good workout can help you save time and money down the road, allowing you to walk away as the champ.

Picture credits: wavebreakmedia/shutterstock.com, nazarovsergey/shutterstock.com, Jacob Lund/shutterstock.com