Review of ALDI cleaning products
ALDI first opened in Australia in 2001 and has become a favourite for many Aussies across the country. With a mission to provide high quality products at low prices, the discount supermarket chain says it aims to use suppliers that meet Australian quality assurance standards, while undertaking independent testing to meet its specifications. So, how do ALDI's home cleaning products stack up in the real world?
ALDI Dishwashing Liquids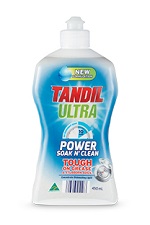 ALDI offers two different types of dishwashing liquids – the Green Action Dishwashing Liquid and Tandil Ultra Dishwashing Liquid (pictured).
The Green Action Dishwashing Liquid is made in Australia and comes in a standard 600ml bottle. There are three fragrances to choose from:
Lemon grass and kaffir lime
Pomegranate and mango
Vanilla
The scent of a dishwashing liquid can make a slight but noticeable difference to the cleaning experience. With three varieties on offer, you'll have to decide whether you want something sweet, fresh or zesty.
The Tandil Ultra Dishwashing Liquid comes in a standard 450ml bottle and includes four varieties. One of the Tandil liquids has a 10 minute 'leave in and soak' formula while the three other liquids are separated into three fragrances:
Orange citrus
Lemon
Lemon and lime
The Tandil Ultra Dishwashing Liquid in particular is regarded to give value for money, as well as being an effective dishwashing liquid.
ALDI Dishwasher Detergents
In the dishwasher space, ALDI has two dishwashing tablet options available including the Logix Complete Dishwashing Tablets and the Logix Platinum Automatic Dishwashing Tablets. The standard sizes are a 30 pack for the Complete range and a 40 pack for the Platinum range. Both dishwashing tablets come in a lemon fragrance and use dissolvable wrappers.
ALDI Bathroom Cleaners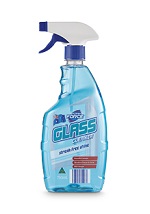 For bathroom solutions, ALDI offers its Power Force Glass Cleaner in a 750ml bottle and the Power Force Heavy Duty Cleaner with thick bleach in a 1.25L bottle.
ALDI Floor Cleaners
When it comes to floor cleaners, ALDI offers Power Force Pro Floor Cleaner in a 750ml bottle. Similar to other ALDI cleaning products, it offers three fragrances in the range to give an option to whichever scent you prefer:
ALDI Multipurpose Cleaners
ALDI has three types for Power Force Disinfectant cleaners including the Power Force Disinfectant liquid, the Power Force Disinfectant wipes packet and Power Force Disinfectant wipes tub container. The liquid format is available in three fragrances:
The Power Force household packet wipes are separated into three categories, including Protect 'n' clean disinfectant wipes, Glass cleaning wipes and Flushable bathroom wipes with lemon scent. There is also a choice of disinfectant wipes or textured wipes in the tub container size. The wipes are said to be safe to use on most hard surfaces.
Standard multipurpose cleaner sizes are a 1L bottle for disinfectant liquid, a 50 pack for packet wipes and a choice of 30 or 40 packs for tub containers.
ALDI Toilet Cleaners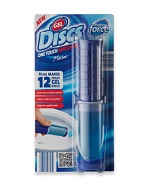 To keep your toilet smelling fresh, ALDI provides three fragrance varieties of the Power Force Toilet Gel Discs:
Standard size is a 75ml tube, which makes 12 gel discs with a one touch application.
Should I use ALDI cleaning products?
ALDI aims to deliver value for money across its range of cleaning products. Each product line has only one or two different options to cover all the basics. This may help those who don't like having too many options, but also may have others looking for specific items elsewhere. Nevertheless, it has quite a few fragrance options in its product lines to suit a variety of tastes. If you're looking for a product to help keep you within your budget, ALDI may have the cleaning product for you. You may also like to have a look at online reviews – such as ours – to see how ALDI products compare with other brands.
About the author of this page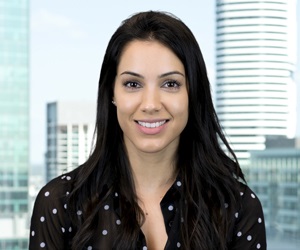 This report was written by Canstar Blue's Home & Lifestyle Content Lead, Megan Birot. She's an expert on household appliances, health & beauty products, as well as all things grocery and shopping. When she's not writing up our research-based ratings reports, Megan spends her time helping consumers make better purchase decisions, whether it's at the supermarket, other retailers, or online, highlighting the best deals and flagging anything you need to be aware of.