BeefEater BBQs Review
BeefEater has an extensive range of barbecues for all the meat lovers, from its Signature models to its portable BUGG barbecues. It aims to provide functional yet stylish designs along with durability. Let's explore all that BeefEater has to offer by diving into the specs and features of its BBQ models.
BeefEater Mobile Range
Beef Eater BBQs use gas and have a LPG connection, which is a popular choice for Australian's due to its convenience. In the mobile range you will find several series – Signature, Discover, BUGG and Clubman.
Signature Series
The signature range boasts a powerful side burner, an integrated quartz start ignition as well as a convection roasting hood. All models include a temperature gauge and warming rack. A distinct feature with the Beef Eater BBQ is the removable hood that includes a viewing window for you to check on your food without letting the heat escape.
Signature SL4000 5 Burner Mobile BBQ – BS30060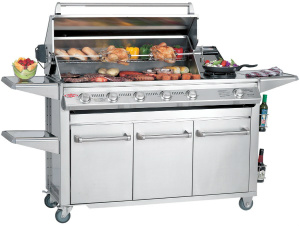 With this model you will find the Beef Eater's 'Vaporizer' grid design and a grease collecting tray. It uses a reflector system to reduce flare. A safety feature included is a blue safety LED light, which remains lit while the BBQ is on. This BBQ may be a good addition to the backyard if you are planning to host the next family gathering as it is designed with a side burner that provides 21MJ/hr heat output and can be used for stirring up sauces, stir-fries or simply for steaming.
The cart itself is aimed to provide enough room and convenience to move around with adjustable shelves, multipurpose drawers and built in cabinets. There is an optional ice bucket that can be attached also. This model features 5 burners but you can also find this one with 4 if you are looking for something a little smaller. The construction uses 304 grade stainless steel cooktop, which is claimed to be corrosive resistant, hygienic as well as easy maintenance.
Trolley features:
Adjustable shelves
Built-in cabinets
Condiment rack
Storage racks
Towel rack
Storage compartment
Optional waste bin, ice bucket and paper towel holder
Signature Premium Plus 5 Burner Mobile – BS19640
Another model from the Signature range is the Signature Premium Plus 5 Burner Mobile BBQ. Similarly to the design above, it features a side burner, an integrated quartz start ignition as well as an integrated Convection Roasting Hood. It has a 'Vaporizer' grid and reflector system with anti-flare technology for safety. Constructed with a rust resistant stainless steel cooktop, this Signature Premium model has all the same trolley features as the model above except without the waste bin, ice bucket and towel holder.
Signature 3000E 5 Burner Mobile Barbecue – BS19252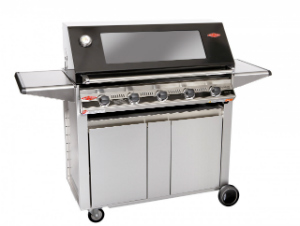 A distinct feature with this model in the range is the black, porcelain enamel look. With its integrated quartz start ignition and integrated Convection Roasting Hood, the design is very similar to the previous two models. It features adjustable shelves, built-in cabinets and a storage compartment, giving you plenty of space to store your essential barbecue utensils. Being a slightly smaller BBQ, it is designed without a side burner. Nevertheless, its equipped with 5 burners and a uses porcelain enamel construction as well as the 'Vaporizer' grid & reflector system with anti-flare technology.
Discover Series
One way that the Discover range differs from the Signature range is its design, with most BBQs having a black powdered appearance.
Discover 1100S 5 burner mobile Barbecue – BD47950
The discover 1000S 5 burner model is equipped with a side burner, integrated quartz start ignition, and integrated Convection Roasting Hood. It uses the 'Vaporizer' grid and reflector system with anti-flare technology. The 5 burners with this BBQ provide 17MJ/hr burner power (80000 BTU), giving you enough power to cook for a number of people in one time. For its construction it is designed with stainless steel doors for its storage compartment and durable rust resistant stainless steel cooktop. If you think 5 burners will be too many for your family, you may like to consider the 4 burner model.
Discovery 1100E 3 Burner Mobile Barbecue – BD47832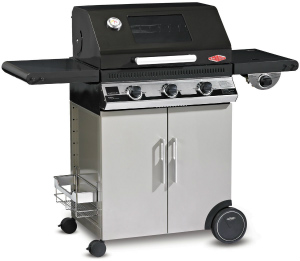 This model is available with – 3, 4 and 5 burners – so depending how often you intend to use the BBQ and for how many people, you may like to choose accordingly. In terms of design features, there isn't much difference in this model from the one above, apart from coming in black vitreous enamel finish. The 3 burner models provides 17MJ/hr burner power with 51,000 (BTU) and all are equipped with side burners.
Discover 1000E 5 Burner Barbeque – BDMG524BA
Designed with a black porcelain enamel BBQ frame finish, the Discover 1000E 5 Burner is claimed to have a powerful side burner as well as a durable rust resistant cast iron cooktop. It is designed on a powder coated steel trolley with lockable castor wheels. Additional features include a temperature gauge, warming rack and the 'Vaporiser' grid and reflector system. This model is also available with 4 burners but features cast iron burner material instead of stainless steel.
BUGG Series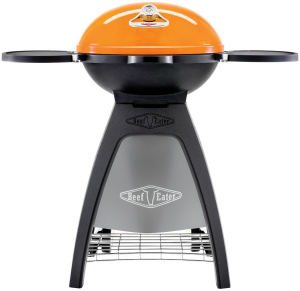 For a shiny BBQ that is its own backyard feature, you may like to consider the BUGG barbecues. Coming in a number of bright colours, this series is compact in size yet is claimed to be big on technology. You can choose from an amber colour, a limited addition red or a more traditional grey or black finish. All models have 1 grill and 2 burners.
A popular model is the amber BUGG mobile BBQ with Trolley (BB49924). It features heat control that is claimed to eliminate flare-ups. It uses an enamel coated hood, an alloy diecast handle and an integrated thermometer. Side trays can be stored away along with the detachable shelves and accessory hooks.
Compact barbecues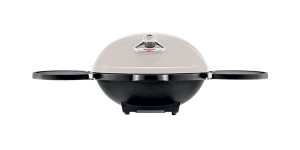 For a more compact design, there are a number of models in this range that are available without the stand. If you are after a lightweight BBQ to take anywhere, the BUGG mobile barbeque is designed with a locked-in grease tray for no spills. It may provide a more easy to clean and pack away BBQ option. Despite its compact size it is claimed to deliver powerful performance. As it uses the same Quartz Start ignition that can be found across the full range and 2 burners so there is no doubt about it.
BIGG BUGG barbecues
If you are after a large cooking surface, the BIGG BUGG provides 31,278 BTU burner power compared to 19,000 BTU in the previous models. With a weight of 44.7kg, it's the priciest BUGG yet it still provides just two burners. If you will be cooking for just the family, two burners should suffice. Additionally it is claimed to have dual temperature control for even heat distribution and reduce flare ups. It comes with more compartments, a large tray and side trays that lock in for extra prep space and can be stored away.
Clubman Series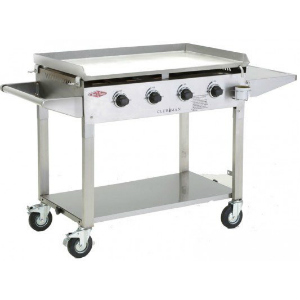 Discovery Clubman 4 Burner Mobile BBQ is designed for family events as well as for schools and sporting clubs. It has four burners providing 18MJ/hr burner power with an integrated quartz start ignition. It's designed with a 304 grade stainless steel cooktop and a removable, weather proof lid. If you're throwing an event at the local park or anywhere else outdoors, this is definitely an option you may like to consider as it's designed with folding legs for extra mobility. You won't find a side burner with this BBQ but it does provide a large cooking area, coming in at 830mm in height and 520mm in depth. There are two colour variations – stainless steel or black powder coat finish.
You may also be interested in:
Built-In Range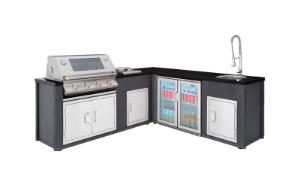 For a built in BBQ, you will find a number of models from the Signature and Discovery series including the Signature SL4000 5 Burner and the Discovery 1100E 3 Burner Barbecue. All specs and features are the same except for additional compartments. A useful aspect of built in models, is that it allows for you to customise your own cooking space.
Outdoor Kitchens are also available in the Artisan range. The Artisan Outdoor Kitchen Signature 3000SS model can be bought as the full system or customised with an additional grill and fridge module. It features four burners as well as a stainless steel roasting hood and cook tops. Similarly to other Beef Eater models, you can be sure to find this BBQ equipped with anti-flare technology.
Should I go home with a BeefEater BBQ?
There are a number of options to choose from in the BeefEater BBQ range. Whether you're looking to host a backyard BBQ or just an intimate dinner with the family, there are BBQ models that may suit you. For a compact design, the BUGG mobile barbecue comes with two burners and can suffice for a small family gathering. If you are after a bit more power, you may like to consider the Signature SL4000 5 Burner Mobile BBQ (BS30060) as it offers you five burners and additional storage compartments to entertain with ease.
BeefEater BBQs tend to sit in the mid to high end price range depending on the type of BBQ. When choosing a BBQ it would be wise to consider the quality of its build material, its reliability and design as well as extra features. To help with this, you can find our customer satisfaction ratings for BBQ's via the link below.
About the author of this page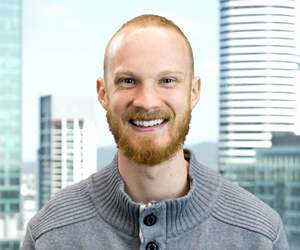 This report was written by Canstar Blue's Content Projects Lead, Dean Heckscher. He's our resident expert on all things automotive, health & fitness, streaming and more. Dean is also one of Canstar Blue's customer research report producers, helping to turn complicated subjects into easily-digestible information for our readers. He's passionate about helping consumers make better-informed purchase decisions on all manner of consumer goods and services.
What do customers think about BeefEater BBQs?
In 2020, Australian customers gave BeefEater 4 out of 5 stars for overall customer satisfaction for BBQs.