Posted by Tahnee-Jae Lopez-Vito January 15th 2019
Billabong BBQs Review & Guide
Fire up the grill with Billabong's hot selection of barbecues available at Barbecues Galore. The brand is described as an ideal place to start roasting for home chefs, with popular cooking methods such as Low & Slow. Beginners might also find the product range hard to resist, with a number of starter packs and smaller barbecues on the table. Some of the products include kettle BBQs, offset smoker models and a two-burner on trolley BBQ. Check out our guide below to see a number of the barbecues available and their prices.
Billabong BBQs
Billabong is generally a budget-friendly barbecue brand, which seems to specialise in models for BBQ beginners, or those looking to keep things fairly simply. But just because the prices are cheap, doesn't necessarily mean you're getting a budget barbecue. If you're looking for a basic BBQ for those summer afternoons in the garden, Billabong is likely to have something for you. Its BBQs include:
The Billabong Tabletop Kettle BBQ: $60.95
The Billabong Kettle BBQ: $159
The Billabong 2 on Trolley BBQ: $249
The Billabong Offset Smoker Bundle $262.80
Billabong Tabletop Kettle BBQ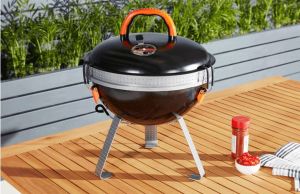 Don't have enough space for a full-sized barbecue at home? The Billabong Tabletop Kettle model is a bite-sized unit you can fit pretty much anywhere. Featuring a firebox with a high temperature painted steel design, the unit sits on a stand and offers approximately 335mm worth of cooking space. Some of the features are said to include:
Kettle style barbeque
Runs on charcoal
Chrome Plated Steel cooking grill
Removable windshield
Upper and lower air vents
Easy assembly
The Billabong Tabletop Kettle comes with a 1 year warranty on its Firebox, as well as other parts.
Billabong Kettle BBQ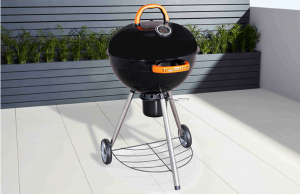 Love the Billabong Tabletop Kettle, but need more room to sizzle? The Billabong Kettle style barbecue is a large alternative, offering convenient features like a large removable ash catcher and a bottom storage shelf. It also has two wheels attached to move the unit around.
Main cooking area measuring approximately 538mm
Charcoal BBQ
Porcelain Enamelled Steel
Mild Steel fire grate
XL temperature gauge.
The Billabong Kettle BBQ includes a 1 year warranty on the Firebox and all other components.
Billabong 2 on Trolley BBQ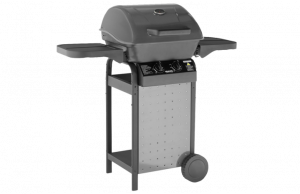 Want a barbecue that will keep the juices in, and prevent any cooking fat from leaking out? The brand claims the Billabong 2 on Trolley is pressed from one sheet of metal, which apparently helps the body of the barbecue stay strong and durable. This is said to prevent any cooking fat from leaking out like other lower priced models on the market.
The Billabong 2 on Trolley might be something to consider if you want a pretty versatile Billabong barbecue. The integrated warming rack is designed to add extra cooking space, or allow roasting capabilities. Other features include:
Uses LPG fuel
Cast Iron cooking grill
Freestanding unit.
The Billabong 2 on Trolley includes two main burners, with each burner using 9.5 Megajoules.
Billabong Offset Smoker Bundle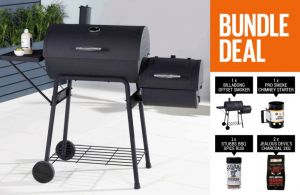 New to the world of barbecuing? Or are you just hungry for a barbecue that will give you value for your buck? The Billabong Offset Smoker Bundle has a couple of features to satisfy the curious cook at home.
The bundle includes the Billabong Pro Smoke Charcoal Chimney Starter, plus a useful tool for people who have difficulties with firing up their BBQ charcoal. The pack even includes a Stubbs BBQ Spice Rub for people who also need a little help in the taste department. If you're just starting out in the world of Low & Slow barbecuing, you might also be happy to know the Billabong Offset Smoker is apparently easy to transport. So, you can simultaneously cook and entertain for hours.
Some features include:
Durable steel lid and firebox
Vitreous enameled steel grills
Chrome warming rack
side shelf
Temperature gauge.
The Billabong Offset Smoker Bundle Pack is similarly available for a slightly lower price.
Does Billabong grill other BBQ brands?
Start sizzling with Billabong's range of budget-friendly barbecues. The product selection includes a small number of kettle units, offset smoker models, and a two-burner on trolley BBQ. Billabong seems to be a particularly hot option for beginners, especially with starter packs like the Billabong Pro Smoke Charcoal Chimney Starter. Compared to some units on the market, models like the Billabong Kettle and Billabong Kettle Tabletop are also smaller in size. This might encourage new cooks to take up more barbecuing due to a potentially less intimidating setup.
Billabong has earned a respectable rating in our customer satisfaction surveys. It has received consistent results across categories such as value for money, cooking performance, ease of cleaning and durability. Other brands to compare and consider include Ziegler & Brown, Weber and Jumbuck. Hit the link below to visit our latest ratings report.
About the author of this page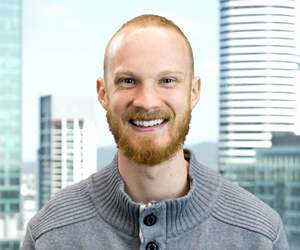 This report was written by Canstar Blue's Content Projects Lead, Dean Heckscher. He's our resident expert on all things automotive, health & fitness, streaming and more. Dean is also one of Canstar Blue's customer research report producers, helping to turn complicated subjects into easily-digestible information for our readers. He's passionate about helping consumers make better-informed purchase decisions on all manner of consumer goods and services.
What do customers think about Billabong BBQs?
In 2019, Australian customers gave Billabong 3 out of 5 stars for overall customer satisfaction for BBQs.