Barbecuing is a perfect way to enjoy a snag or steak for many Aussies, and with the sun shining almost every weekend, why not have a compact BBQ to throw in the boot before you head out with the family or friends. Portable barbecues are an ideal companion for your camping trips, beach days and small family dinners. To help find the right one for you, we've compiled a list of brands you might like to consider, along with what to expect when buying one.
Portable BBQ Brands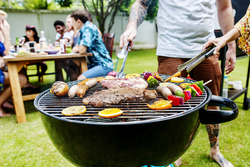 With Australia being a hot spot for BBQs, there are plenty of portable options on the market. Here's a list of a few big-name brands out there:
BeefEater
Billabong
Everdure
Gasmate
Jumbuck
Weber
Ziegler & Brown
Let's now go into the specs and features of each brand to see which has the best deal for you.
BeefEater

BeefEater shows off a vast range of portable barbecues, with shiny chrome designs providing a premium choice. Its portable range sits under the name 'BUGG', which features a range of bright colours from red to amber as well as classic black and grey.
Despite its compact size, it's claimed to be big on technology. All models within this range have one grill and two burners. You can buy a BUGG with a trolley or by itself to stand on a table. All portable BBQs are stated to have integrated Quartz Start ignition to fire up the first time each time. In addition, these bad boys feature dual temperature control to help ensure even heat without flare-ups, according to BeefEater. BUGG's can be had from as low as $399 and as much as $799 for a Bigg BUGG with a stand.

Billabong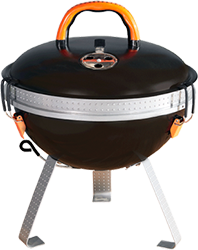 Billabong has a fairly small range of BBQs and just one model that qualifies as a portable. Billabong's Tabletop kettle (charcoal) retails for $69.95. It features a removable wind shield, upper and lower air vents and is boasted for easy assembly. It can stand comfortably on a table with three legs included.
Expect a chrome plated steel cooking grill and an assembled size of 375mm (W) x 490mm (H). Its Firebox is stated to be made from high temperature painted steel and comes with a one year warranty. Billabong is a brand available through Barbeques Galore.

Everdure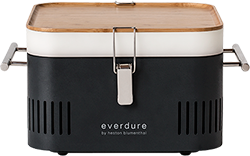 Everdure features a number of portable BBQs with unique designs. Its Cube BBQs (pictured), by TV chef Heston Blumenthal, are boasted for an authentic charcoal cooking experience, whether you're home or away. It's made from lightweight steel along with a high temperature finish and even cool-to-the-touch handles for easy movability. In addition, you'll find a food-grade storage tray and bamboo preparation board all in the one compact design.
Others in the range include Everdure's Charcoal Fusion BBQs and the Neo Buddy BBQs. Everdure Cube BBQs start from $199, but others can go up to the $999 mark such as for its Fusion BBQ with a built-in rotisserie. You can find Everdure BBQs from a number of retailers including Bunnings.

Gasmate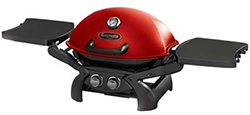 Gasmate has quite a range of portable BBQs. Odyssey is Gasmate's major portable BBQ design, featuring a distinctive domed hood and removable wing-like side shelves. Integrated trolleys can be purchased separately. Another unique model is its Star Wars inspired grill designed with solar array wings (i.e. cast aluminium side shelves) and tractor beam landing collar (i.e. cast aluminium legs) to strike fear into the hearts of your enemy snags and steaks.
Others within the range include the Adventurer, Voyager, Cruiser and Rio. The Adventurer is boasted for a design that folds down flat with a carry handle for maximum portability while the Cruiser features a non-stick cooking surface and a half rack above the grill to keep cooked items warm while you grill the rest. Expect to pay between $300 and $500 for its portable range, however its Star Wars Grill might have you paying a little bit extra for the novelty.

Jumbuck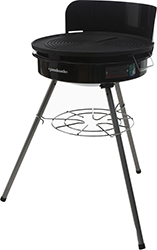 Jumbuck steers towards the budget friendly end of the spectrum with its portable, charcoal and kettle BBQs. Its portable round hotplate model ($58.90 RRP) is lightweight with a collapsible frame and screw legs for easy storage in the car. It's equipped with one stainless steel burner and a cast iron hotplate. It's most expensive is a medium sized Rondo BBQ spit roaster ($229 RRP) ideal for achieving slow cooking of large pieces of meat over a wood or heat bead fuelled fire, as boasted by Jumbuck. Expect an adjustable rotisserie, 240V volt power and a chrome plated grill.
Jumbuck is one of the cheaper brands from the list, with most of its portable BBQs priced under $100. So, if you're after a BBQ without the bells and whistles, then this might be the one for you. Jumbuck is also another brand available from Bunnings.

Weber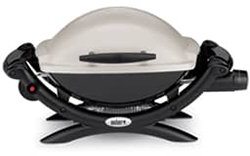 Weber is renowned for pioneering the dome-shaped kettle grill 50 year ago, and has come a long way since then. Portable BBQ types from Weber include charcoal, gas and electric. Its Baby Q is deemed the "Anywhere BBQ", ideal to take with you to the beach, the bush or the backyard with no sacrifices on cooking performance, according to Weber. While its well-known for its compact Weber Q's, it also has a specific portable series, which includes Weber Jumbo Joe, Weber Go-Anywhere and Weber Smokey Joe, which are all charcoal BBQs.
Prices sit between $110 and $700. From the high-end of the range expect its electric Weber Pulse 2000 designed with an integrated iGrill smart technology, allowing you to measure the grill temperature and track food progress via an app. How about that for convenience!

Ziegler & Brown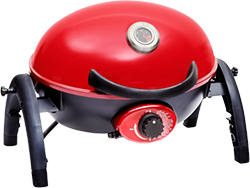 Ziegler & Brown BBQs are boasted to be designed by Australians, for Australians, and offer a large range of portable options. Its most prominent model is the 'Ziggy' which comes in a range of colours and sizes. Expect one to three burners along with options for both natural gas and LPG.
Prices for its portable range start from $349 for its 1-burner portable grill and go up to $1,089 for its 3-burner triple grill bundle pack that also comes with a cart. Design features of its 3-burner model include a high dome roasting hood for additional capacity, plus side shelves that can lift out and fold in for easy storage, plus its signature flame thrower ignition to help ensure that the BBQ stays lit by automatically re-lighting a burner should one go out in windy conditions. Ziegler & Brown's barbecues are available exclusively through Barbeques Galore.

What to consider when buying a portable BBQ
Portable BBQ Types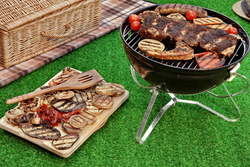 Portable BBQs are available in all fuel types including charcoal, LPG, electric and propane. It's important to note that charcoal BBQs are not suitable for balconies, so if you're looking for one specifically for that, perhaps another type would be best. Here's what you can expect from each type:
Gas: for a fast and efficient cooking experience but with some intricate parts than need to be kept clean
Charcoal: for an authentic hot coal roasting experience but can be a pain to clean up its ashes
Electric: requires access to a power point but has a quick heat up time, ideal for balconies
Propane: having a gas line to your outdoor area might be costly, so an alternative is propane tanks
How much do portable BBQs costs?
Portable BBQs can range from anywhere between $60 and $1,000. As far as the cheapest models from each brand go, this is what we found at the time of writing:
| Price | Brand | Model | Type |
| --- | --- | --- | --- |
| $58.90 | Jumbuck | Portable Round Hotplate BBQ | LPG |
| $69.95 | Billabong | Tabletop Kettle (BBPAC) | Charcoal |
| $109.95 | Weber | Smokey Joe (K10024) | Charcoal |
| $199 | Everdure | Cube | Charcoal |
| $299 | Gasmate | Odyssey 1 | LPG |
| $349 | Ziegler & Brown | Portable Grill (ZG1GRK) | LPG |
| $399 | Beefeater | Bugg Mobile BBQ (BB18324) | Charcoal |
Source: Respective brand websites and Bunnings, October 2018
Features to Consider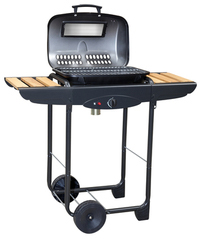 Deciding on which portable BBQ to choose will depend on what's important to you when you're cooking. These might include:
Hood: can trap heat inside and roast, bake or make pizzas. It's important to note the size of the hood as some brands boast extra capacity for large roasts
Material: there are three main types including stainless steel (tough and long-lasting but more prone to fingerprints), porcelain enamel (tough and non-porous) and cast iron (tough and easy to clean)
Ignition: push-button gas BBQs can ignite automatically for an easy start-up while other types might take a longer time to heat up
Burners: the more burners you have the more food you can prepare in one go. If there's more than one burner, you might like to check if they can be controlled independently, so you can cook at different temperatures
Accessories: depending on how you will use your portable BBQ, you might like to consider what accessories it comes with such as any additional side tables, trolley, or cart and cooking surface layout (e.g. change from a grill to a hotplate).
Pros & Cons of Portable BBQs
The main advantage of owning a portable barbecue is that you can take it with you almost anywhere. They're typically lightweight, compact and portable, plus they're usually easy to carry, with most being designed with handles. They can be an ideal option for those camping weekend outings, or impromptu get-togethers at home. Some portable BBQs are also designed with detachable shelves, giving you the option to add additional space if you need it.
The main downfall, however, is their size, especially if you're cooking for a large group, or hoping to cook a giant roast. Most portable BBQs come with just one or two burners, but if you're not fussed about cooking in several batches, then you might be OK.
Should I Buy a Portable BBQ?
Portable BBQs are becoming an increasingly popular choice for many Aussies. If you're limited on space, they're compact size makes them an ideal option to fit almost anywhere – especially if you only have a small balcony to work with. While it's cliché to say bigger is better, it might not be worth investing in a major-league BBQ if you're not going to use it. Yes, you might need to cook in smaller batches with a portable BBQ, but if it's just two stakes you're needing to whip up, then perhaps it's the way to go.
Portable BBQs can be expensive, so before you make your choice, it's important to do your research as you wouldn't want to have that hefty price tag go to waste. Follow the link below for our latest reviews and ratings.
Original Author: Veronika Hleborodova