Pillow Talk Review & Guide
Want to enjoy a comfortable night's sleep without tossing and turning over the dread of waking up to a deflated pillow drenched in sweat during the warmer months? Finding the right pillow can be really difficult. But depending on your sleeping position, the type of material used, and other important factors, Pillow Talk has a range of options that may help you find your perfect match.
Since opening its first store in 1977, Pillow Talk has become a household name and one of the largest home linen specialists in Australia. The company has 62 stores right across the country, with products also available from its website. It offers wide a range of quality products, including European pillowcases, electric blankets, valances, quilt covers, shower accessories, kitchenware, and home fragrances. Pillow Talk also owns brands such as MUSE, Hilton, Habitat, and Essentials, available in-store and online.
But when it comes to pillows, Pillow Talk is hard to beat. From bamboo blends to cotton and microfibre options, Pillow Talk features over 60 different pillows at a variety of price points. To help you search for your ultimate pillow, we have produced the following guide to see what's on offer at Pillow Talk.
The Pillow Talk Range
From hypoallergenic pillows with anti-dust mite treatment to magnetic pillows with apparent healing properties, Pillow Talk provides a wide range of products to suit different needs. The different types of fabrics available include:
Polyester

Microfibre

Chipped memory foam

Memory foam

Softec foam

Latex

Feather/down
Feather and Down Pillows
Pillow Talk offers several feather and down pillows from the Greenfirst, Hilton and Pillow Talk Naturals collection. You can expect to fork out between $75 and $379 across the entire range.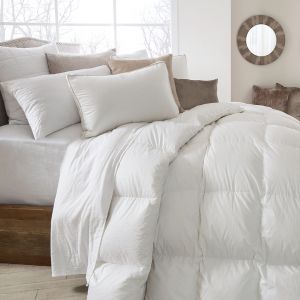 Some pillows currently available include:
Pillow Talk Naturals Queen 30/70% Surround Duck Down Pillows
Pillow Talk Naturals King 30/70% Surround Duck Down Pillows
Greenfirst 50/50 Duck Down Surround Pillow
Hilton Superior 90/10 Goose Down Pillow
Gel Top Pillow
Avoid night sweats and hot flushes ruining a good night's sleep with gel top pillows. Using premium quality microfibre, this range is said to create an instant cooling effect to target the head, neck, and shoulders.
A gel top pillow currently available from Pillow Talk is the Hilton Relax Therapy Gel Pillow, which usually has a price tag of $129. It's described as having a gel-infused memory foam fill and removable cooling cover. While memory foam is designed to mould to your specific neck and head shape, this kind of pillow is boasted of providing better spinal alignment.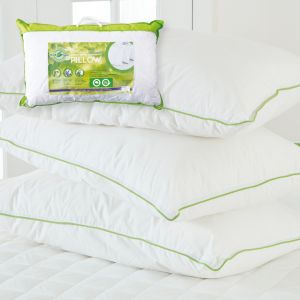 Greenfirst Pillows
According to Pillow Talk, Greenfirst microfibre pillows offer a hypoallergenic solution against dust mites. Soft cotton covers from the brand are claimed to be treated with Greenfirst, a natural and anti-dust mite treatment made using lemon, lavender and eucalyptus essential oil extracts.
These pillows have twin-needled edging with green self-piping, and contain a 350g microfibre fill for pillows in the standard size (48cm x 73cm). There is an option to have a smaller amount of filling in the junior size, which has the same dimensions as the standard size pillow. Baby size (40cm x 60cm) pillows are also available with 150g of microfibre fill.
Does Pillow Talk have the right pillow for me?
There you have it – now you can see why Pillow Talk is one of the most well-known home linen specialists in Australia. From wool pillows to gel top pillows, the Australian-owned and operated company provides a range of pillows in different sizes and densities. The products also contain different features to target conditions such as asthma, hot flushes, and muscular and arthritic pain. But with so many pillow brands out there, it pays to shop around. Check out our latest customer satisfaction ratings for pillows via the link below.
About the author of this page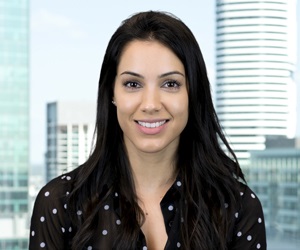 This report was written by Canstar Blue's Home & Lifestyle Content Lead, Megan Birot. She's an expert on household appliances, health & beauty products, as well as all things grocery and shopping. When she's not writing up our research-based ratings reports, Megan spends her time helping consumers make better purchase decisions, whether it's at the supermarket, other retailers, or online, highlighting the best deals and flagging anything you need to be aware of.
How does Pillow Talk rate?
In 2021, Australian consumers gave Pillow Talk 4 out of 5 stars for overall customer satisfaction for pillows.