Target Pillows Review & Guide
Do you sleep in a fetal position with your knees pressed into your body? Or do you wake up face down with your arms sprawled wildly across the bed? Finding the best pillow for your sleeping position can be difficult. But Target's bedding range attempts to resolve one of the biggest factors in getting a good night's sleep.
Target's bedding collection offers a range of pillows to suit many sleepers and a diverse selection of sleeping positions. The products are available at a wide range of price points, with pillows ranging between $5 and $59. But most of the items are typically between $10 and $15. Most styles come in either a medium or high profile, although Target tends to only create the pillow in one size.
To help you find your match, we have compiled a list of the different sleeping types and the various pillows available at Target.
Target Pillow Range
The different sleeping positions Target caters to include:
Side Sleepers
Back Sleepers
Tummy Sleepers
All Sleepers
Side Sleepers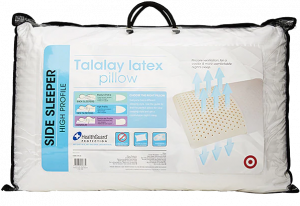 For people who prefer to sleep on their side, the Talalay latex pillow in the high profile may be your next perfect pillow. The product has also been treated with 'Healthguard' protection to ensure the pillow has antibacterial and antimicrobial protection, and is safe against dust mite. This is available in the standard size.
Back Sleepers
The Medium Support Back Sleeper Gusseted Pillow may be a suitable option if you prefer to sleep on your back. This product features a polyester fill, encased in a cotton japara cover. The gussets on the side of the pillow are also said to offer additional support and help the pillow keep its shape. The pillow may be suitable for allergy sufferers as it been treated with Healthguard protection.
Tummy Sleepers
For people who tend to sleep on their tummy, the Soft Support Tummy Sleeper Gusseted Pillow may be a solution to a perfect night's sleep. This features a polyester fill, encased in a breathable cotton japara cover. It is also stated the gussets on the side offer additional support and help keep the shape of the pillow.
You may also be interested in:
All Sleepers
If you're unsure as to what type of sleeper you are, or if you consider yourself as an all-rounder sleeper, Target offers a range of pillows specifically made to suit a variety of people.
One of the pillows is the Down Surround Pillow. It contains a high loft and, while it offers medium support, the pillow is said to provide more support than other pillows. The pillow includes a feather and down fill and is suitable for all types of sleeping positions. Allergy sufferers may also find this pillow ideal as it's been treated with Ultra fresh antibacterial protection.
If you're looking for extra support while you sleep, especially if you sleep on your back or side, the Talalay Latex Contour Pillow may be the ideal pillow as it follows the shape of your head and neck. It's been treated with antibacterial and antimicrobial protection, and is naturally anti-dust mite due to the type of latex used. The pillow is also stated to promote good ventilation to regulate temperature and keep you cool while you sleep. The Dual Core Pillow is also ideal for both side and back sleepers. The inner core is made from dense foam and wrapped in polyester fibre, which is said to promote resilience, comfort and support. This firm pillow is ideal for allergy and asthma sufferers as the cotton japara cover is low allergenic and treated with Healthguard to ensure antimicrobial, antibacterial, and anti-dust mite protection.
Are Target's cheap pillows up to the job?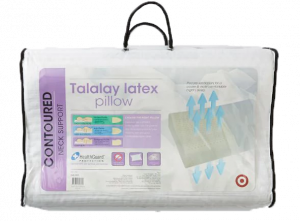 Sometimes searching for a suitable pillow can be difficult, especially if you're unsure of what to look for. Pillows from Target's bedding range are categorised by sleeping position, which might make the process a bit easier. These positions include tummy sleeper, back sleeper, side sleeper and all sleepers. Whether you want a pillow to mould to the shape of your head and neck, or whether you want a European pillow to decorate the bedroom, there are various styles of pillows suitable for a range of people and purposes.
Many of the pillows from Target are also suitable for allergy and asthma sufferers. Each item from the Target pillows collection has received Healthguard treatment, ensuring each item contains antibacterial, antimicrobial, and anti-dust mite protection. Most of the items cost between $10 and $15, although some items like the Down Surround Pillow usually have a higher price tag.
With some brands specialising in certain materials or needs, make sure to check out what else is on the market. Canstar Blue has plenty of reviews and ratings on a wide selection of pillows to help you choose the one that's best for you. Follow the link below to find our customer satisfaction ratings.